In the third season of the hit show Ted Lasso, AFC Richmond (the team Ted coaches) struggles to wrap their heads around a new scheme/formation cooked up by Coach Lasso. At halftime, finger pointing ensues as they find themselves down 3-0. Jamie Tartt, one of the team's star players, speaks up and tells his teammates that they are approaching it wrong.

"Play through me, not to me," Tartt tells them. When his teammates then begin to play through him, he effectively becomes the conduit for all of Richmond's offense. They are able to avoid the shutout by scoring a tic-tac-toe goal, with Tartt facilitating the whole thing.
Related: Red Wings 2023 Draft Coverage
While the show is about soccer – er, football – the concept of playing through a player is one that translates to the game of hockey as well. If you're looking for a prospect in the 2023 NHL Entry Draft that can be that kind of facilitator for his team, Gabe Perreault is your guy.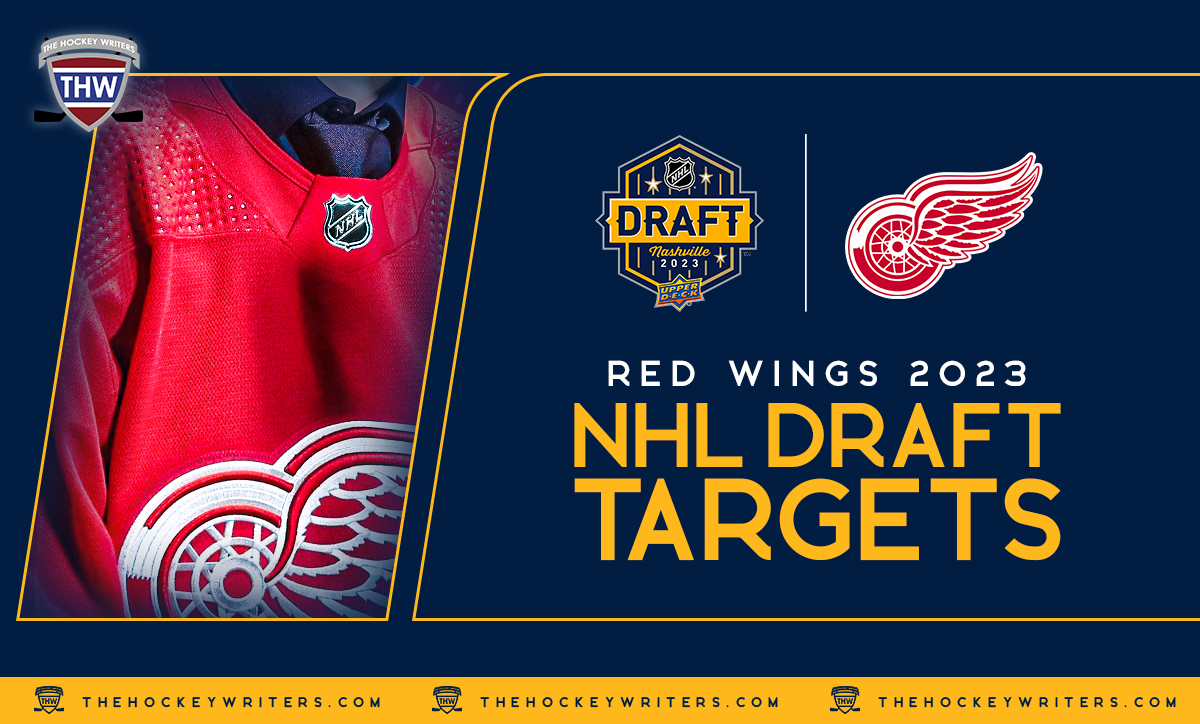 To say Perreault is a polarizing player in this year's draft is maybe a bit harsh, but opinions on him certainly vary. His strongest believers will tell you that he is comfortably one of the top-10 prospects in this year's draft class. Less optimistic people will tell you he is definitely a top-20 prospect in this class. But what cannot be debated is that the U.S. National U18 Team's offense flowed through him this season.
Perreault's Toolkit
Perreault is the type of player you can gameplan around. He thinks the game very well, and he is able to translate that understanding of the game to the ice itself. He is able to create and find passing lanes, and he's more than okay with being the "tic" in a "tic-tac-toe" goal. By every definition of the word, he is a true playmaker out on the ice.
That pure playmaking ability, along with his ability to finish plays as a shooter, allowed him to finish the season with 53 goals and 132 points. Not only is that point total a new record for the program, but that is also two more goals than teammate Will Smith had, and Smith is widely expected to go fifth, fourth, and even third overall when the picks are finally made. Perreault is a potent offensive producer, and what makes that sustainable over the course of his career is that the real strength of his game is the supercomputer inside his head.
Related: 2023 NHL Draft Guide
---
Latest News & Highlight
---
As a goal-scorer, Perreault is quite good at opening himself up as a shooting option. He has slick hands all over the ice, and that allows him to create shooting lanes from every scoring area of the ice. He is also able to buy time for himself as a puck carrier, holding the puck tight to his stick while he waits for the play to develop. It's easy to envision him becoming a power play quarterback in his prime because he always seems to have the puck, and he always seems to know what to do with it.
Perreault is also a good competitor. He engages in board battles, and he battles hard to maintain possession when he has an attacker on him. He's a player you can gameplan around because he has the ability to execute a play, and effectively scramble when the play falls apart. He's going to be a good player in the NHL, it's just a matter of how high his ceiling is.
Perreault's Areas to Improve
Perreault's biggest thing might just be to put on some weight. Even if that is oversimplifying it, at 5-foot-11, 165 pounds, adding some muscle to his bones will go a long way towards helping him become a consistent producer in the NHL. He's got the skill and tools to be an elite player someday, but he'll have to be able to endure the physical grind of the regular season and a long playoff run.
The other area of concern that is often highlighted is Perreault's lack of high-end speed. The smaller a player is, the more speed you typically want to see out of a player. While I don't think he is a great skater by any means, I don't think his skating will inhibit him much. After all, he's the facilitator – the play is supposed to go through him, not to him.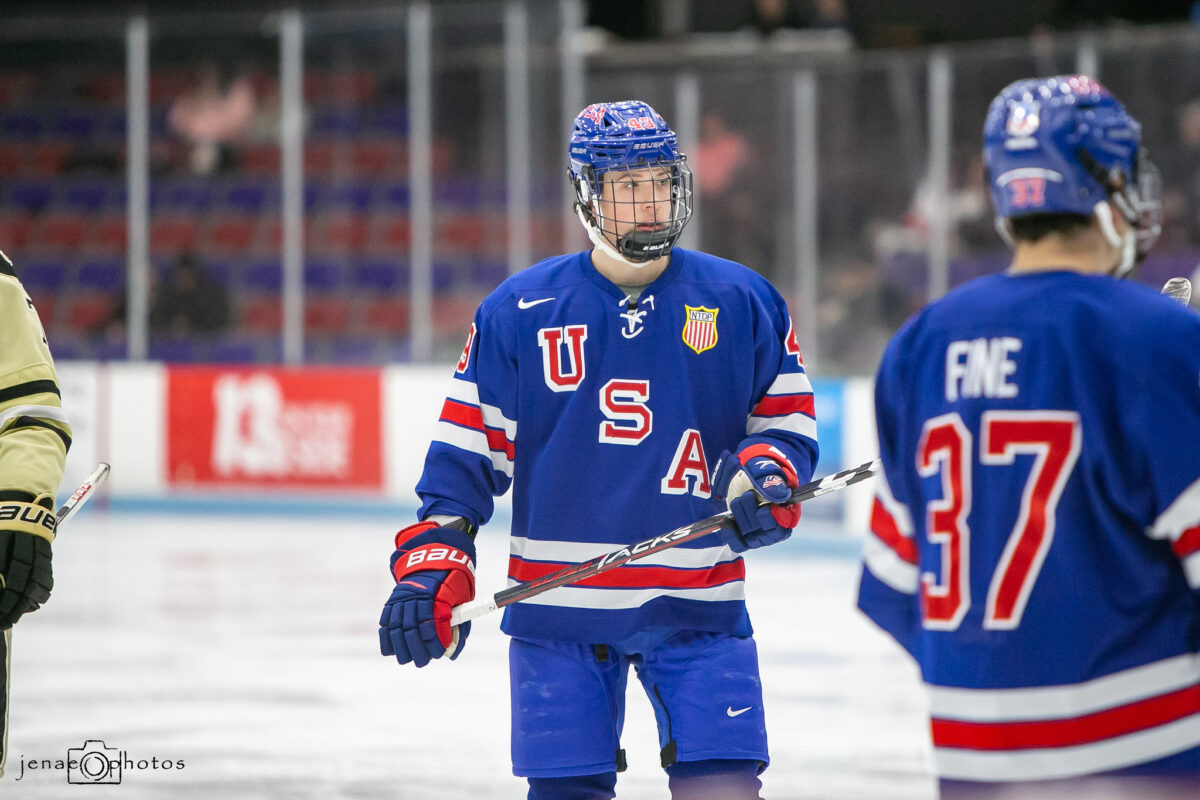 That concept highlights another area of potential concern when considering how high to draft Perreault. He's a crafty playmaker that can finish plays too, but his offensive potential is likely tied to the quality of his linemates. To quote Tony Ferrari of The Hockey News, he's "the ultimate complimentary player." Depending on where you're picking, a complimentary player likely isn't what you're looking for.
NHL Readiness
Elements of Perreault's game would translate to the NHL right away. He's smart and skilled enough to make a play on the power play, and I bet he'd get some people excited during training camp. As it is, he is committed to Boston College for next season and will have the opportunity to play with 2022 first round pick Cutter Gauthier along with several other NHL-drafted prospects.
All of that is to say that he is at least a year away. Beyond that, a season in the American Hockey League may be needed depending on how his season with Boston College goes. I would be shocked if he was any more than two years away, though, so his timeline shouldn't be a concern.
Perreault's Fit with the Red Wings
If Perreault was a center, he would probably become the Red Wings' top prospect if they drafted him. Regardless, his hockey IQ would instantly become the best in Detroit's prospect pool, and he would project as a future play facilitator in the Red Wings' top six. Paired with a center like Dylan Larkin, Perreault would be able to display the skillset that has him in the discussion of the who the top players in the 2023 draft are.
However, there's a fair argument to be made that the Red Wings already have enough playmakers in their lineup and coming up through the pipeline. What they lack are players that can score a clutch goal or take a game over when things aren't looking good. Perreault is the type of player that can help a player do that, but he isn't that type of player himself. That does not, however, negate the fact that he is a highly-skilled prospect that would be a great add to the pipeline.
Best Player Available
If Perreault is on the board at ninth overall, he'll be in that conversation of the best players available. But for the Red Wings, he probably isn't the right fit for what they need, at least not at ninth overall. If, by chance, he is on the board when the Red Wings are on the clock at 17th overall, he probably provides too much value to pass on him at that point. You take his talent there and you figure out what to do with it later.
What Others Are Saying
"He has some skating issues that will need a fair amount of work, but his intellect makes up for it. He has a great shot, excellent passing habits and good puck skill. If Perreault is the third-best player on a line, he has all of the tools to help push play positively. He needs a play driver, but he can do a lot to make an impact despite the limitations." – Tony Ferrari, The Hockey News
"Perreault's greatest concern this season was perceived reliance on his teammates to get stuff done. But you don't break the 100-point barrier by accident, especially when so few players have managed to do so. The biggest hangup is his skating, but he plays a similar skilled offensive game to Lucas Raymond's." – Steven Ellis, Daily Faceoff
"Perreault is going to be an asset on the power play for whichever team drafts him. He has the ability to play along the perimeter and distribute to his teammates, and also hang around the net looking for soft areas off the back post for scoring chances. That's the role I'd look to play him in." – Sean Raggio, The Hockey Writers
---