Back in January, I did an early look at potential draft picks for the Toronto Maple Leafs. Even though they initially traded their first rounder in the Ryan O'Reilly trade, they were able to get one back for Rasmus Sandin.
In that piece, there were some standout names that are still in the realm of possibility for the Maple Leafs to take. There's Oshawa Generals centre Calum Ritchie and London Knights defenseman Oliver Bonk, who I am very high on. The same goes with Tom Willander, though it's likely he'll be gone before they select. With the draft around the corner, I thought I'd take a look at five more names, including some that could be steals if they fall in the draft.
Related: 2023 NHL Draft Rankings: Forbes' Top 128 Rankings
Without further ado, here are some more potential targets for the Maple Leafs at 28th overall.
Quentin Musty, LW, Sudbury Wolves (OHL)
Central Scouting: 14th (among NA skaters)
Baracchini's rank: 30th
Quentin Musty is definitely one name that should be at the top of the Maple Leafs' list. He was very productive in his draft year, finishing second on the Wolves in scoring with 78 points and first in assists with 58. 
Musty didn't have the best start to this season as there was a mix of inconsistency, dealing with mononucleosis and a coaching change. However, he was able to bounce back and show his dominance.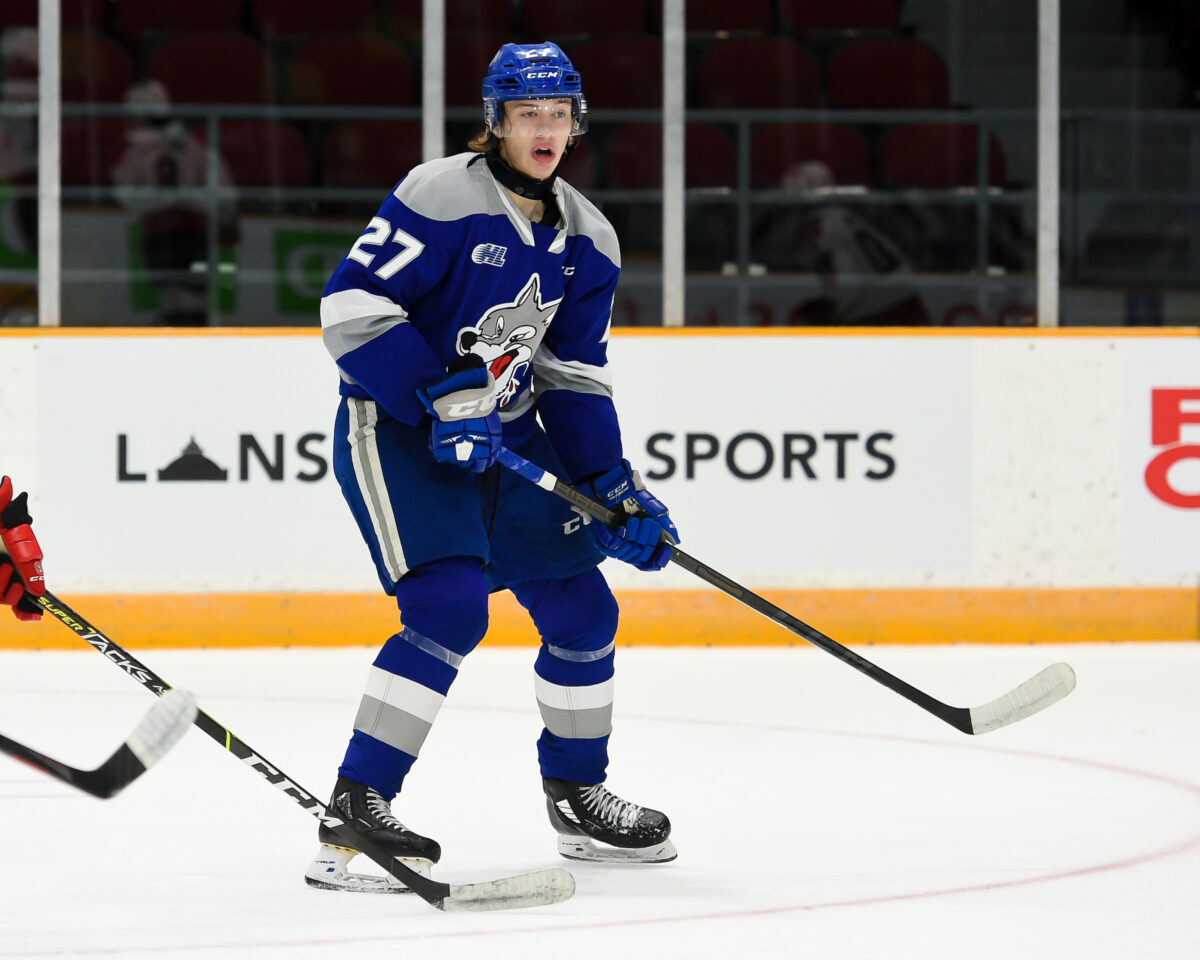 Musty boasts a strong power forward game with a playmaking element. He has some of the best hands and vision in the draft, displaying great puck control and soft touches to make moves effortlessly in the open ice. He uses his size to his advantage in any situation, shielding the puck well and to get the inside edge to separate opponent form the puck. He displays a great work ethic in the corners or along the boards to win puck battles. He can look to shoot the puck more as he has a quick release and is always in position to receive the pass and get a quick shot off.
With his ability to have that skilled, power forward game, he's definitely someone that can benefit a team like the Maple Leafs late in the first round. The skills that he has is very reminiscent to that of Matthew Knies. He fits the bill of what this team needs up front.
Gavin Brindley, RW, University of Michigan (NCAA)
Central Scouting: 23rd (among NA skaters)
Baracchini's rank: 24th
While all the attention was on Adam Fantilli, Gavin Brindley didn't look out of place in his freshman season with Michigan. He managed to put up 38 points in 41 games and finished fifth in team scoring. 
Depsite being 5-foot-9, 157 pounds, Brindley shows no fear when he is on the ice. He's extremely energetic, as he has a strong work ethic and motor every single shift. He plays at a high level of pace as he's extremely quick with his moves and decision making. He displays great speed on the attack and edges to manoeuvre out of tight spaces to find the middle of the ice. 
Brindley has great puck control and skills. He does a great job at using the whole ice surface, using all directions to his advantage to shake off attackers and open things up. He's an excellent passer with great accuracy, finding teammates and connecting with them in the open ice. Even without the puck, he's always making himself open and providing good puck support.
Brindley is a very dynamic player, who can be aggressive on the forecheck or even provide a strong defensive game. He has a great IQ as he's one step ahead of the competition. This is something the Maple Leafs have looked for in the past and he has just that. 
Tanner Molendyk, D, Saskatoon Blades (WHL)
Central Scouting: 28th (among NA skaters)
Baracchini's rank: 33rd
If there's one player that isn't getting enough attention as a defender, it's Tanner Molendyk. While he may not be the biggest offensive producer, his overall game stands out as he displays great confidence and smarts when he's on the ice. 

Molendyk is a very smooth and smart two-way player that can provide support on the offense, either leading or being an option on a rush attack. He's a great passer on the breakout and can find the cross seams with ease. He's very sound positionally within his own end and his head is always up following the play, making adjustments as it unfolds. He isn't afraid of even going up against team's top players as he thrives on being relied on to shut things down when he needs to.
"That's something that I take huge pride in," Molendyk said. "Taking on those top guys is huge. You see your game expand when you're playing against those guys."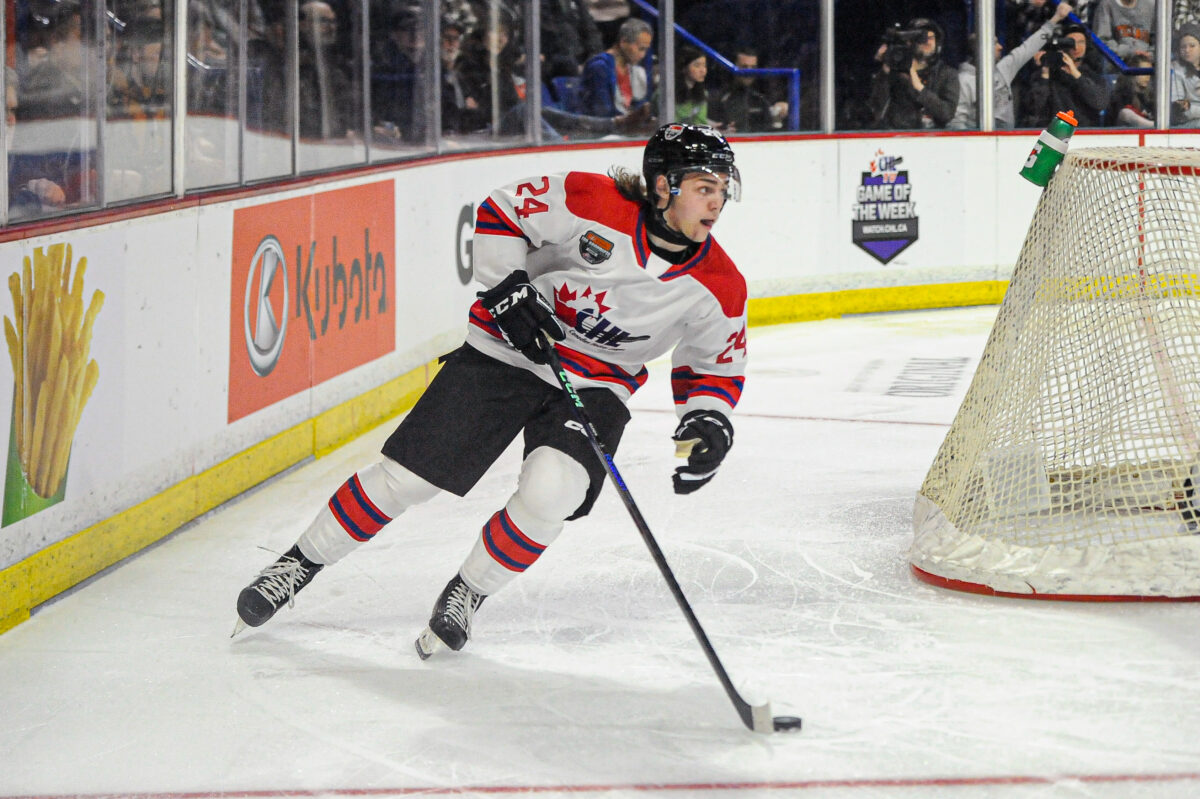 Moldenyk also has great composure on the ice. He's calm and doesn't falter in high pressure situations as he's always in position. He's great at boxing out players in front of the net and is always getting into the shooting lanes to block a shot or disrupt a play. It's something that has stuck with him as a result of his personality. 
"I think just being laid back, Molendyk said. "I've always been a chill guy off the ice. I think how you are off the ice is going to resemble on the ice."
He has gained a lot of appreciation from his peers. Brayden Yager from the Moose Jaw Warriors gave a great review of his play at the combine and thinks that he's someone that should gain more attention.
Related: Meet the Steal of the 2023 NHL Draft
"You watch him skate, he's so effortless," Yager said about Molendyk. "He makes a great first pass which is pretty important as a d-man. He's a player that should go pretty high."
Molendyk's work ethic and strong two-way play is something that the Maple Leafs value. While he isn't the most dynamic, he's extremely effective on both sides of the puck. Having a calm mentality like him where he shows great poise is a great attribute to have at his age.
Ethan Gauthier, RW, Sherbrooke Phoenix (QMJHL)
Central Scouting: 16th (among NA skaters)
Baracchini's rank: 25th
Aggressive, tenacious, ruthless and energetic, those are probably the best words to describe Ethan Gauthier. Every single shift, he's giving it his all as he shows no stop to his game when he's on the attack. He's physical, quick and is always making life miserable for the opposition in all three zones. It's his defining attribute and something that defines his game. 
"Definitely my physicality," Gauthier said. "Good on forechecks, good around the net. I like to finish my hits and obviously, I'm a guy with good skills and good shot to complete that power forward game."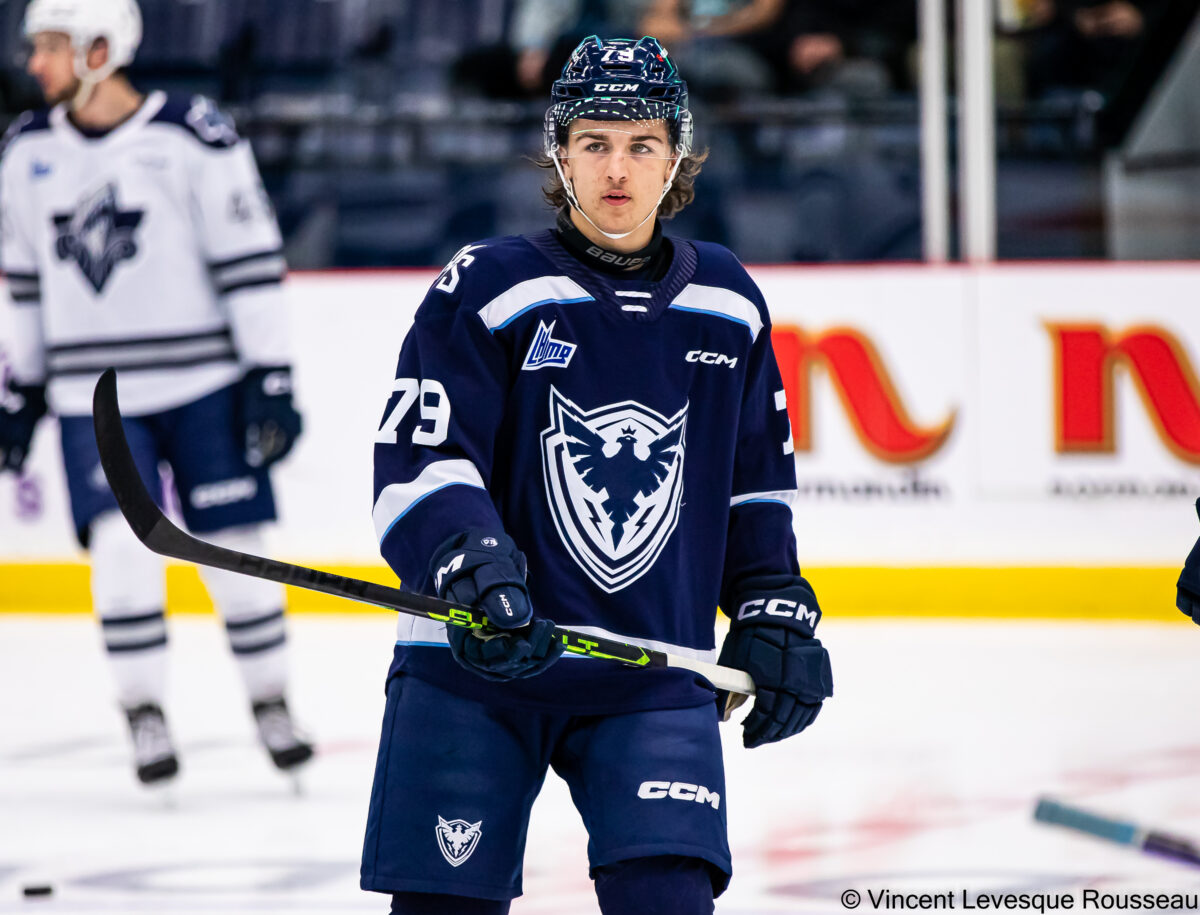 Ethan takes on that physical and tenacious play from his father, Denis, as he was known for that style of play as well. He plays with that edge to go along with the hockey sense and offensive game that he possesses. He's got great puck skills, can make steady passing plays and is always attacking the net for a scoring chance. He's always in motion, making himself available for an outlet play or to provide support for his teammates.
His offensive production is a sticking point as he could look to be a bit more consistent. There were stretches this season where he went on a hot streak and then a cold one. If he can maintain that consistency, along with his work ethic and energy, Gauthier's stock could rise.
Koehn Ziemmer, RW, Prince George Cougars (WHL)
Central Scouting: 25th (among NA skaters)
Baracchini's rank: 26th
While this draft is packed full of goal scorers at the top of the board, there are plenty of other options later in the draft. Koehn Ziemmer is one of them. Over the last two seasons in the Western Hockey League, Ziemmer has tallied 71 goals. 41 of them came in his draft year where he finished seventh in the league. 
Ziemmer is just a dynamic threat when the puck is on his stick. He has a strong and accurate release, beating goaltenders from far out with his swift wrist shot. Along with that, he has soft hands to pull off moves in tight of the net. He displays great patience and timing to pick his spot to get the puck off quick and bury his opportunity. He's also a great passer, displaying those same quick hands to distribute the puck and make quick plays to spot his teammates. He's got great size to battle in the corners and make an open ice hit.
He needs to work on his first few steps and improve his speed, but if he adds that element, he will be even more dangerous.
Potential Fallers
While these names are potential targets, there is the potential for other top names to drop in the draft. While I have these prospects ranked higher, if they're available for the Maple Leafs, they should take them.
Brayden Yager, C, Moose Jaw Warriors (WHL)
Central Scouting: 11th (among NA skaters)
Baracchini's rank: 15th
I kind of get the sense that Yager may drop in this draft. He is known for putting the puck in the back of the net and while his goal scoring production didn't quite match what he did in 2021-22, he provided a more playmaking game which could be beneficial as a two-way and versatile centreman. 
---
Latest News & Highlight
---
Otto Stenberg, C/W, Frölunda HK J20 (Naionell)
Central Scouting: 6th (among EU skaters)
Baracchini's rank: 16th
Otto Stenberg had a standout performance at the U18 Championship with 16 points in seven games for Sweden. He possesses a very well-rounded and responsible game while still being a creative and dynamic player offensively. Having the smarts and skill already at a high level would benefit the Maple Leafs if he drops.
Riley Heidt, C, Prince George Cougars (WHL)
Central Scouting: 21st (among NA skaters)
Baracchini's rank: 20th
I mentioned Riley Heidt as a target in my first target piece. Even though I'm very high on him, the possibility to fall is there. He's a quick and speedy playmaking centre, showing great anticipation to pick off plays and transition quickly to offense. He has soft hands, great edges and speed and a tenacious side that makes him extremely competitive.
Who are you hoping the Maple Leafs select? Have your say in the comment section.
---
Sign up for our regular 'Maple Leafs Newsletter' for all the latest.