Welcome to The Hockey Writers' Final 2023 Draft Rankings, a combination of the rankings from our top prospects writers. This is the culmination of a year-plus of scouting and writing, hundreds of hours of work and hockey are combined here. This list is a compilation of Peter Baracchini's Final Rankings (Top 128), Devin Little's Final Rankings (Top-64), Andrew Forbes' Final Rankings (Top 128) and my own (Logan Horn's) Final Rankings (Top-160). I combined each of our final rankings of the top prospects in the class and found the average ranking spot, then organized the top-32 prospects based on their average draft position.
We don't all agree on every prospect (though admittedly I'm the biggest contrarian of the group), with Russians Daniil But and Dmitri Simashev standing out as major points of disagreement. But's rankings varied from 14th to 38th, and Simashev from 16th to 40th, highlighting how varied opinions are on even some of the top prospects. Colby Barlow was another prospect with rankings ranging from as early as ninth overall and as low as 19th. Another guy we were split on was Otto Stenberg, with rankings spread from 14th to 35th overall.

Thank you all for reading our draft rankings coverage for the 2023 NHL Draft this year, it means so much to us, and your support and readership is what makes this work possible. Now, take a look at The Hockey Writers' combined Top-32 ranking for the 2023 Draft class!
1. Connor Bedard, C, Regina Pats (WHL)
Expectations were unfairly high for Connor Bedard coming into his draft year, with the "generational talent" label floating around in many draft conversations. To say he has met those expectations would be a profound understatement. Bedard has crushed all expectations this year and has firmly planted himself in the first overall position.
Related: 2023 NHL Draft Guide
I can't think of a first overall pick so far above the rest of the competition since Connor McDavid back in 2015, of course some tried to argue for Jack Eichel (as they do now for Adam Fantilli), but that argument doesn't hold up well under scrutiny. Auston Matthews had Patrik Laine, Jack Hughes had Kaapo Kakko, and Alexis Lafreniere had Quinton Byfiled, it's hard for top prospects to separate themselves from the pack but Bedard has done just that.
2. Adam Fantilli, C, University of Michigan (NCAA)
Adam Fantilli is an absolute monster with the puck, with the skill, skating, and strength to beat defenders no matter how they approach him. Good luck taking the puck away from him because he can easily move around you with his excellent skating or truck through you with his solid 6-foot-2, 185-pound frame.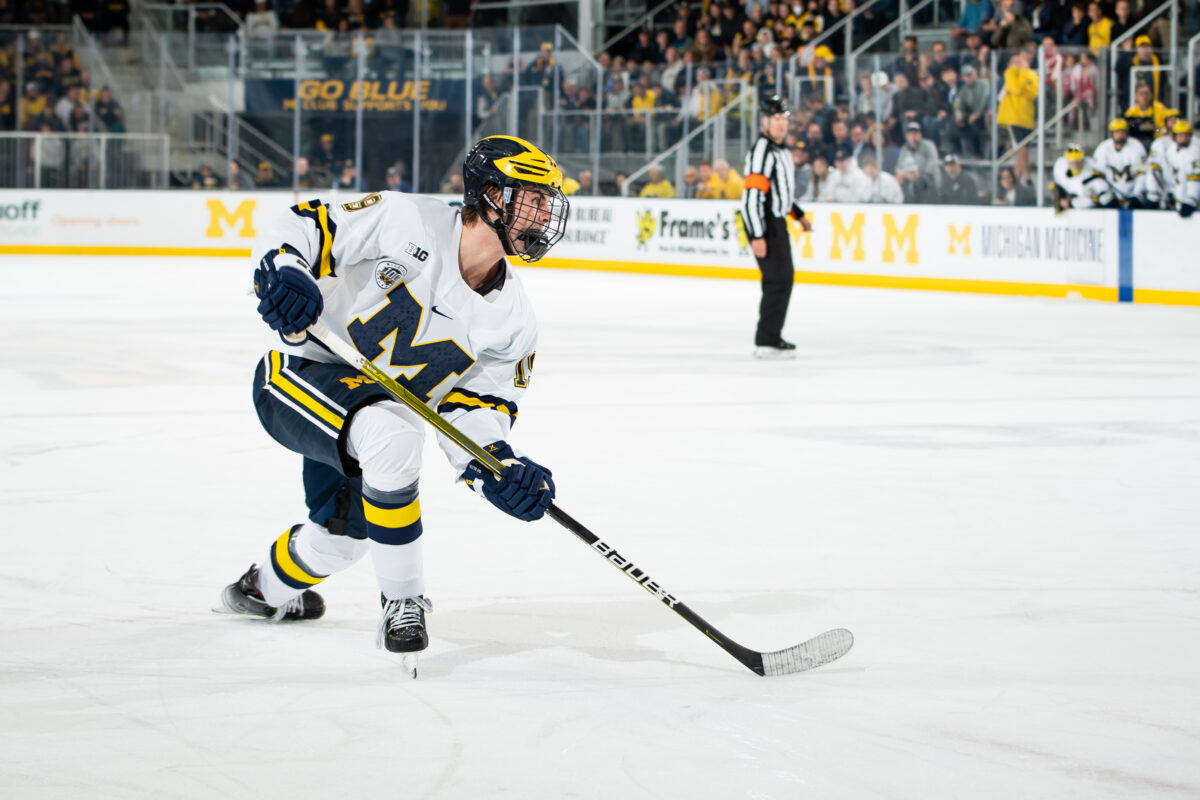 Fantilli authored one of the most impressive draft eligible NCAA seasons in recent memory with the only competition being Jack Eichel's dominant 2014-15 season (71 points in 40 games or 1.78 points per game). Fantilli's final stat line was 27 goals and 61 points in 33 NCAA games (1.85 points per game) on a University of Michigan team filled to the brim with talent. Eichel followed up his draft year with 56 points in the NHL, how many will Fantilli have next year?
3. Leo Carlsson, C/W, Örebro HK (SHL)
With an excellent year in the Swedish Hockey League (SHL) as a 17-year-old Leo Carlsson has shot up draft boards and made the top tier of the draft one player larger. The SHL demands a lot of players when it comes to physicality and defensive effort, both of which Carlsson has excelled at. He didn't look out of place against men and scored points at an excellent rate for a draft eligible player.
Carlsson's ability to find and make space off the puck is also impressive for such a young player playing against grown men. He has the potential to make a real impact in the NHL as soon as next year considering his success on both ends of the ice in Sweden thus far.
4. Matvei Michkov, HK Sochi (KHL)
Matvei Michkov might just be the smartest player in this draft class, with an incredible ability to manipulate opposing defenses. He has a great shot, but more often than not he scores goals because he slipped his defender and managed to find the space and time necessary to score a goal. While Bedard scores by shooting a wrister as hard as possible, trying to punch a hole through the goalie, Michkov will outsmart the defense and score by finding holes in coverage.
In the lower leagues of Russian hockey Michkov was able to cheat for offense a lot which was making some people I've talked to a bit nervous about how his game would translate to the NHL. However, his play in the KHL put those questions to rest as he played a much more disciplined two-way game effort wise and still managed to score a ton of points.
5. Will Smith, C, USA U18 (NTDP)
Will Smith has established himself as one of the very best prospects in this draft with his continued dominance as a member of the United States National Team Development Program where he scored just over two points per game. Before this season, the only player to ever score at a rate of two points per game on the U18 team for a full season is Jack Hughes, you might have heard of him.
After spending much of the season on the outside looking in at the top tier of prospects in this year's draft, Smith seems to have gained some traction as the fifth member of that group. His dominant showing at the U18 WJC certainly helped his case, and there are reportedly scouts who have him ranked as high as third overall.
6. Zach Benson, LW, Winnipeg ICE (WHL)
Zach Benson is one of the most skilled and creative players in this draft, and the only things holding him back are his size and his underwhelming speed. I'm not all that worried about either (5-foot-9, 160 pounds) because he has the tenacity and elusiveness that smaller players need to have to make a difference at the NHL level these days. Benson outscored two of his teammates in Matthew Savoie and Conor Geekie who were both drafted in the top-11 of the 2022 Draft.
He also outscored most of the WHL for that matter (finished the season behind only Bedard and Chase Wheatcroft), dominating the opposition when he has possession. He shows off his edgework and hands best while playing through traffic as he just seems to be nearly impossible to nail down and knock off the puck. Benson might be the most competitive player in the whole draft, constantly giving his all in puck battles which leads to him winning a lot more of them than you'd expect from a player his size. If he can add another gear (or two) to his max speed, Benson would be an absolute force in transition. 
7. Ryan Leonard, C/RW, USA U18 (NTDP)
Ryan Leonard is a high energy winger who never takes his foot off the gas in terms of both speed and effort. He uses his speed and skill to blow by defenders in the neutral zone and pressure in-zone defenders who struggle to anticipate his next move. His playmaking and shot aren't exceptional, but they're both good enough to be reasonably effective in the NHL someday. While he may not have the consistently elite skill that his line mates show (though he still has a very high skill level), Leonard is what I like to call a snowplow.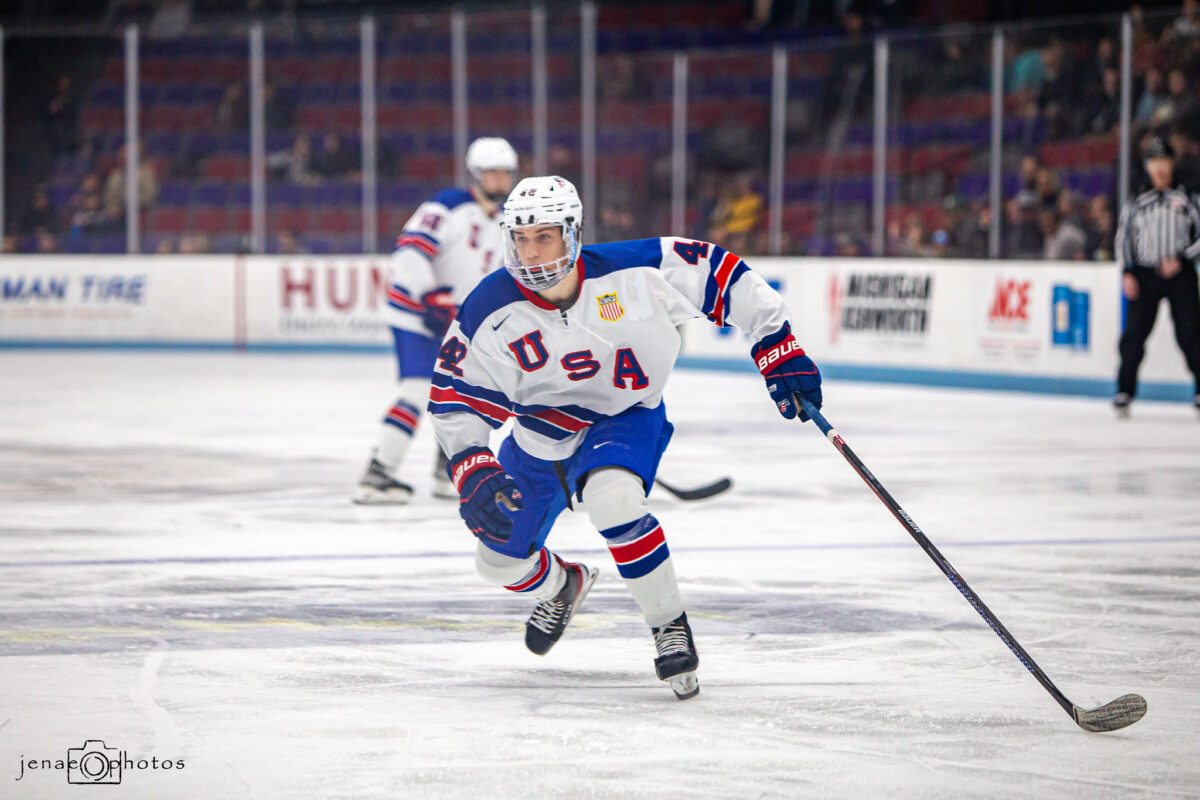 A snowplow is a player who does all the hard work and clears the way for his teammates, making their jobs far easier by forechecking, winning puck battles, and playing through traffic to make space for linemates. That isn't to say those are the only things he's good for, because Leonard is clearly a very skilled player who I expect to score in bunches in the NHL.
8. Dalibor Dvorsky, C, AIK (Allsvenskan)
Dalibor Dvorsky is another player who has been impressive this season against men, playing in HockeyAllsvenskan, the second-tier Swedish professional league, for most of this season. He scored a bit below a half point per game there and spent a few games in the J20 Nationell as well, Sweden's top junior league, where he showed that he was clearly a step above his age group, scoring over two points per game.
9. Oliver Moore, C, USA U18 (NTDP)
Oliver Moore is the best skater in this draft class with blazing speed and excellent agility. The combination of his skating, shot, and quick hands makes him a really fun offensive weapon. He is agile enough that I expect he'll be very successful on zone entries in the NHL some day, giving his team a chance to control play in the offensive zone every time he touches the puck. He produced solid offense this year for the USA U-18 team (on par with guys like Matt Boldy and Frank Nazar in the past) which is made more impressive by the fact that he has spent most of that time playing on the second line behind the Smith, Leonard, Perreault trio. 
10. David Reinbacher, RD, Kloten (NL)
I believe Austrian defender David Reinbacher is the best defenseman in the 2023 Draft class right now and I expect that he will be the first defender off the board come draft day, probably going in the first eight selections. Reinbacher is a 6-foot-2 defender with a right-handed shot and great mobility who is playing lots of minutes in the National League (NL), Switzerland's top professional men's league. He's a very responsible defender who shuts down tons of rush attempts with an active stick and stellar positioning.
11. Colby Barlow, LW, Owen Sound Attack (OHL)
After scoring 30 goals as a rookie in the OHL last season, Colby Barlow has been on my radar as a pro-sized winger with a legit NHL-caliber shot. He's got good tools all around with solid speed, stick skills, and defensive play. Barlow was also named captain of the Owen Sound Attack at just 17 which speaks to his maturity and leadership abilities. He had another excellent year goal-scoring wise with 46 goals in 59 OHL games this year.
12. Axel Sandin Pellikka, RD, Skellefteå AIK (SHL)
Axel Sandin Pellikka is a right-handed offensive defenseman who has put up points at a remarkable rate in J20 Nationell, the top Swedish junior league. Sandin Pellikka had a great showing for Sweden at the World Juniors, improving his draft considerably. The way he patrolled the blue line for Sweden on the powerplay was very impressive and the trust that he earned from his coaches as a 17-year-old spoke volumes. 
13. Nate Danielson, C, Brandon Wheat Kings (WHL)
Few centers in junior hockey enter their draft year as well-rounded as Nate Danielson. His consistency, effort, speed, and skill make him a coach's dream even though he doesn't have the dynamic offensive qualities of some of his peers.
Related: Horn's Two Round 2023 Mock Draft
Danielson is great at attacking the middle of the ice which makes up for his lack of a finishing touch because it leads to a plethora of chances that better line mates would finish at a solid clip. He has also taken a step forward in terms of production, placing him firmly as one of the top-20 scorers in the WHL. 
14. Matthew Wood, LW, University of Connecticut (NCAA)
I was eager to see how Matthew Wood would adjust to the college game after he dominated the British Columbia Hockey League (BCHL) last year, leading the league in goals and points as a 16-year-old. His freshman results are extremely positive with Wood being one of the top rookie point scorers and one of the top scorers on his team despite being the youngest player in all of men's NCAA hockey.
15. Gabe Perreault, LW USA U18 (NTDP)
Gabriel Perrault looks like someone who could be a power play specialist at the next level with great skill and smarts in the offensive zone. He can pick apart opposing defenses with pin-point passes and sly fakes, and his effort level is admirable. Perreault is one of the most creative and intelligent players in this year's draft he is great at weaving his way out of trouble when defenders collapse around him, either with a pass or his lightning-quick hands.
16. Brayden Yager, C, Moose Jaw Warriors (WHL)
Brayden Yager has been talked about in the public scouting sphere for nearly as long as Connor Bedard, being drafted third overall in the 2020 WHL Bantam Draft and winning the CHL Rookie of the Year award last year on the back of a remarkable 34-goal, 59-point rookie season. His transition game, defensive play, and wicked wrist shot make him the most important player on his WHL team on many nights.
17. Eduard Sale, RW, HK Kometa Brno (Czechia)
Eduard Sale is a great offensive winger who led all U20 players in scoring as a 17-year-old in the top Czechian professional league. He has struggled a bit against men, looking most comfortable while dictating play from the flanks at even strength and on the power play.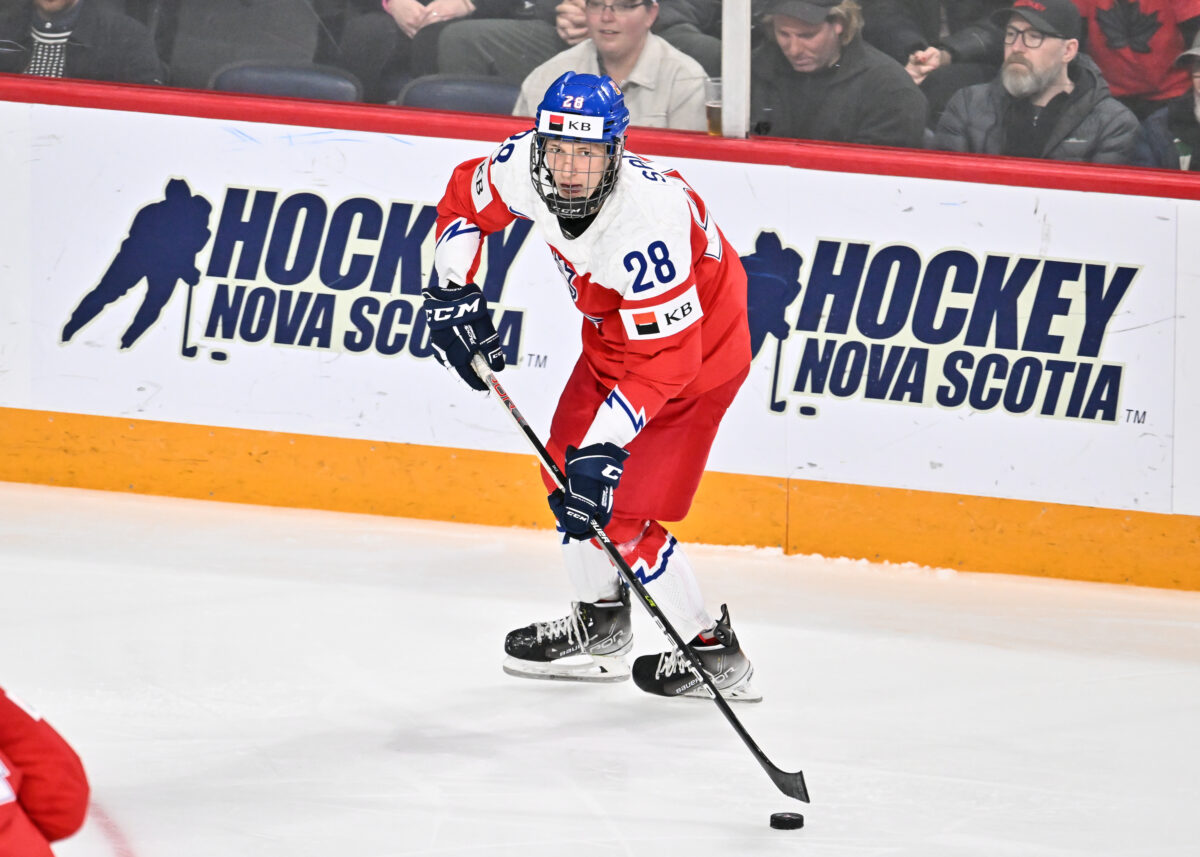 I could no longer justify ranking Sale in the top 10 because his play this year has been a bit underwhelming with the exception of his Hlinka Gretzky tournament performance which was doing a lot of the heavy lifting of keeping him in the top 10 conversation.
18. Andrew Cristall, LW, Kelowna Rockets (WHL)
One of the most skilled and slippery players in this draft is Andrew Cristall, one of the only draft eligible players in the WHL who was able to roughly keep pace with Bedard in terms of production this year. Holding steady at about 1.7 points per game, Cristall has shown improvements following his impressive 69-point WHL rookie season last year. He draws tons of attention in the offensive zone and is great at making smart plays under pressure to help open teammates up, making their jobs much easier.
19. Tom Willander, RD, Rögle BK J20 (J20 Nationell)
Tom Willander is one of the very best skaters in the draft this year, which allows him to carry the puck out of his own zone and lets him take some risks offensively while still recovering quickly enough on the back-check. He's got a good two-way game, though he'll likely provide more value on defense than offense. Willander burst onto the mainstream stage following his excellent showing at the U18s where he anchored Sweden's second pairing and competed with Axel Sandin Pellikka for the title of the best defender on the team.
20. Riley Heidt, C, Prince George Cougars (WHL)
Riley Heidt's excellent acceleration and edge work make him a natural choice as the lead puck carrier for zone entries and he has excelled in that role with the Prince George Cougars. His playmaking skills either at full speed or after settling in the offensive zone are impressive and make him a very mobile and shifty threat whenever he has the puck. Good habits away from the puck lead me to believe he will be a reliable NHLer with top-six forward upside.
21. Otto Stenberg, C/LW, Frölunda HK J20 (J20 Nationell)
Before the season began, many people saw Otto Stenberg as a top-10 prospect for this draft following his incredible performance for Team Sweden at the Hlinka Gretzky Cup. The way he dodges checks and evades pressure is impressive, but the way he attacks the middle of the ice is what I like most about him.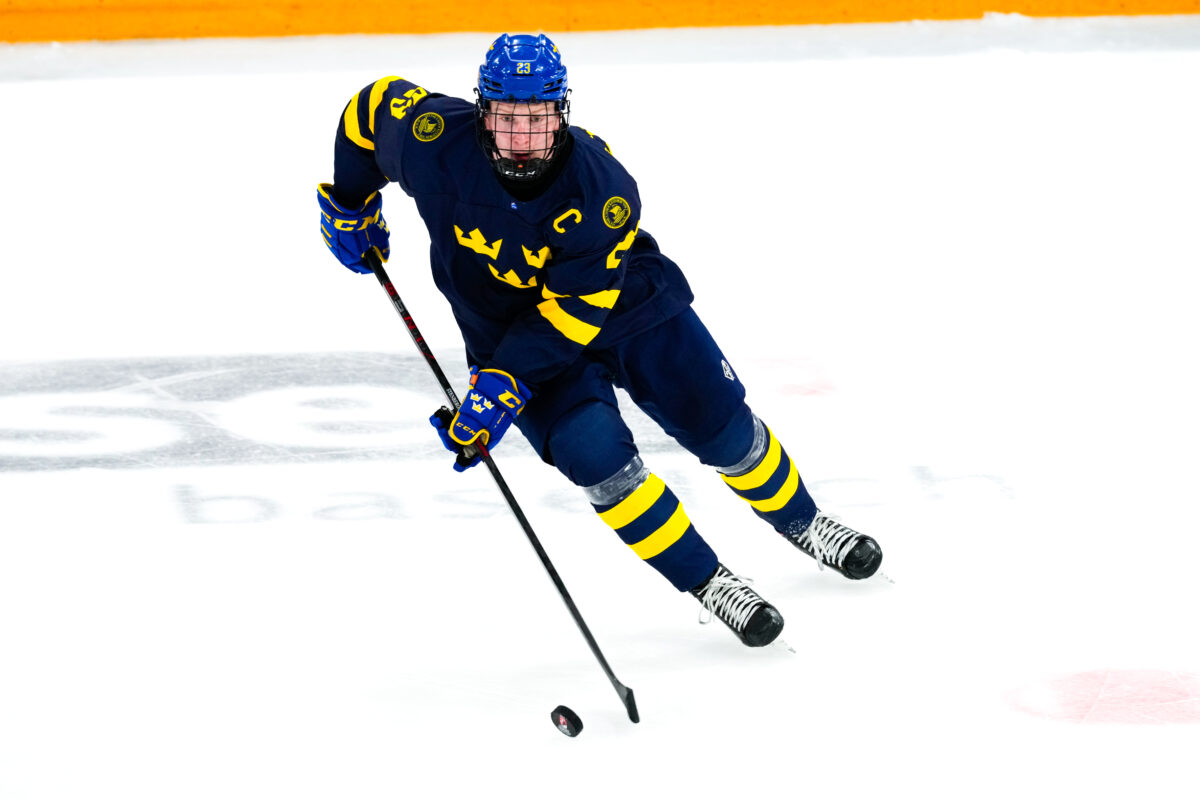 Stenberg is never the biggest guy on the ice, but he'll drop a shoulder and push his way to the dangerous areas of the ice without hesitation. I don't see Stenberg having top-six potential, especially as a centerman, but I expect there will be an NHL role for him someday either as a 3C or a middle-six winger.
22. Quentin Musty, LW, Sudbury Wolves (OHL)
Quentin Musty is an athletic winger who can beat goalies with his hard shot or by crashing the net and scoring in tight. He isn't much of a factor defensively, and struggles with consistency at times, but his shot and playmaking are tough to ignore. Musty is on the younger side of the draft class with a July birthday so he has plenty of time to grow into the potential that he has shown thus far and increase his draft stock even further.
23. Samuel Honzek, LW/C, Vancouver Giants (WHL)
Samuel Honzek has played and succeeded on both special teams this year and his size and strength have made him too much for opposing defenders to handle on more than a few occasions. He is a great skater, which makes him a pest on the forecheck where he does a lot of damage both with his high motor and his large frame. 
24. Calum Ritchie, C, Oshawa Generals (OHL)
Calum Ritchie has great puck skills and sometimes it looks like he has glued the puck to his stick while carving through defenders or when he's on a breakaway. His skills make him very well suited as a center at the next level with good size, a coveted right-handed shot, good defensive habits (kills penalties quite well), and solid faceoff results. He has the tools to be a top-16 player in the draft easily, but his offensive game never really popped this year, partly due to an injury that he played through for most of the year, and I don't see him going too much earlier than this unless a team really believes he's got more offense to give.
25. Gavin Brindley, C/LW, University of Michigan (NCAA)
Gavin Brindley is a 5-foot-9 forward who has been excellent in the NCAA as an 18-year-old freshman, a very impressive feat. His skating is top-tier in the draft class, and his high energy level makes him a possession monster. His combination of speed and effort will make him a very flexible player who can fill in whatever role is needed of him, which earned him time on all four of Michigan's lines this year before landing next to Fantilli for the final months.
26. Dmitri Simashev, LD, Loko Yaroslavl (MHL)
Dmitri Simashev is a very intriguing prospect with the size/skating combo (6-foot-4) that is so coveted in the modern NHL. He has every physical tool you could hope for, and uses each of them well, with the speed, strength, and reach to be a really great top-four defender in the NHL. However, his offensive production has left much to be desired, leaving questions about if he will have much offense to provide in the NHL someday.
27. Mikhail Gulyayev, LD, Omskie Yastreby (MHL)
Mikhail Gulyayev is an intelligent, offensively-minded defenseman who has found moderate success in the top Russian pro leagues this year while dominating the Russian junior circuit whenever he plays against his peers. He is a mobile defenseman who fits the mold of the modern puck-moving defender and power play quarterback.
28. Daniil But, LW, Loko Yaroslavl (MHL)
Daniil But is one of the larger players in the entire draft class standing at 6-foot-5 despite just turning 18 in February. He has the size that NHL general managers dream of, and he has great puck skills and shooting mechanics for a player of his size. His skating grew on me throughout the year, with enough speed and agility to really use his size to his advantage, powering through defenders.
Related: 10 Bold Prediction for the 2023 NHL Draft
But's shot is heavy, a symptom of his raw strength as well as his shooting mechanics, and he can even be seen pulling the puck towards his skates in the moment before shooting to change the angle and to make the opposing goalie's life even tougher. The power and cleverness to his release make it clear that his shot will be an NHL-caliber weapon, especially as a finisher on the powerplay. 
29. Jayden Perron, RW, Chicago Steel (USHL)
Jayden Perron is an excellent play-driving winger with tons of offensive talent. Although he is just 5-foot-9, Perron is earning more and more buzz as a potential first rounder due to his excellent skating, playmaking, and offensive awareness. He's great at changing speeds in transition to separate himself from defenders before either making a move around them or passing to an open teammate. Perron is so agile that his lack of size and strength don't often hinder his game, however he will need to develop a bit of a physical game (like Logan Stankoven has) if he wants to grow into his ultimate potential as a top-six forward in the NHL.
30. Gracyn Sawchyn, C, Seattle Thunderbirds (WHL)
Gracyn Sawchyn has a very high motor and is constantly skating and making small, smart plays all over the ice. Sawchyn is reliable defensively and is a great forechecker, making him an absolute nuisance for opposing forwards who aren't likely to get a lot of space when he's on the ice.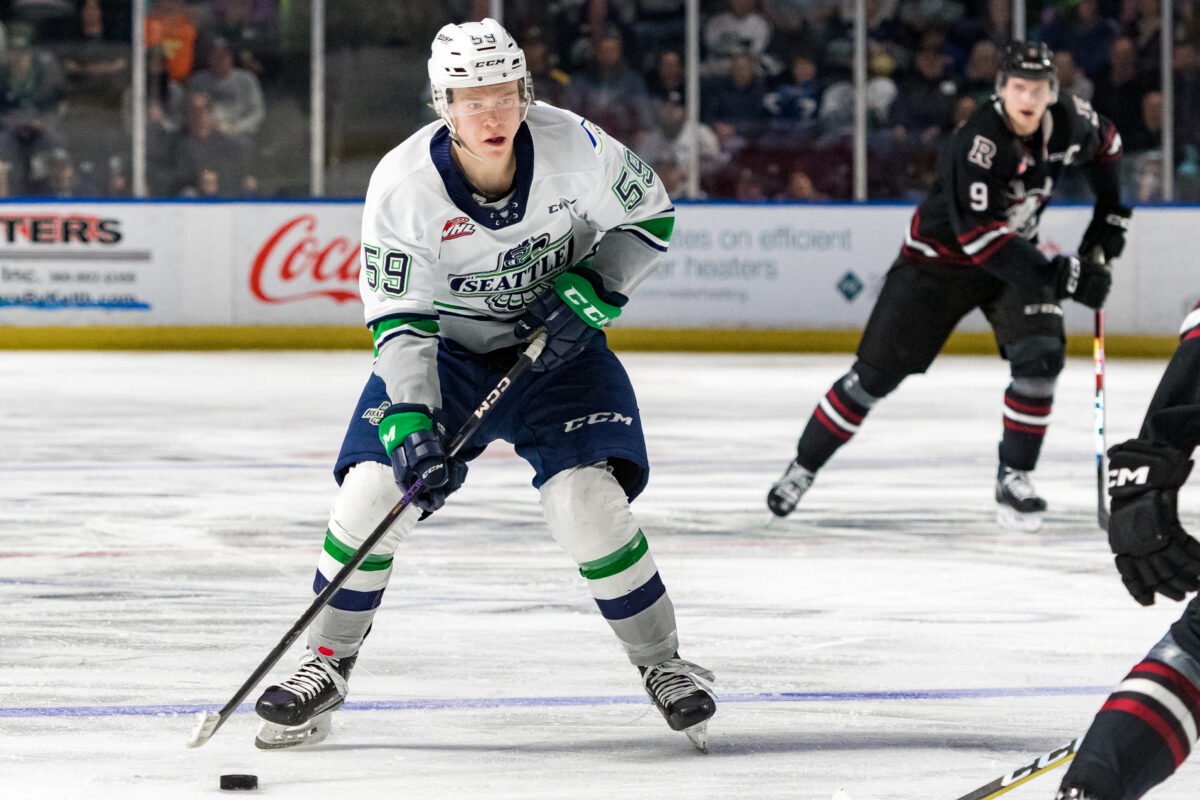 He forces turnovers at a remarkable rate, and while his shot and playmaking aren't anything to write home about, they should serve him well enough in the NHL. The real calling card of Sawchyn's offensive game is his hands. I could count on one hand the number of draft eligible players with quicker side-to-side hands than him and he is quite confident using that advantage to blow by or through defenders.
31. Oliver Bonk, RD, London Knights (OHL)
Oliver Bonk is a good two-way defenseman who has a tool kit that is in high-demand in today's NHL. He's a big (6-foot-2), right-handed defenseman who competes hard, defends well, and has a bit of a physical edge. Bonk isn't likely to earn minutes on an NHL powerplay, but he projects as a decent puck mover. His physical game will only continue to improve as he continues to grow into his frame, allowing him to control play defensively even more than he already does. Bonk could be a really solid second-pairing defender one day, so I expect he'll be selected a bit higher than this on draft day.
32. Ethan Gauthier, RW, Sherbrooke Phoenix (QMJHL)
Ethan Gauthier is one of the most consistent players in this draft class in terms of effort and habits, not just production. He's a hard worker who makes his team better whenever he steps on the ice. Gauthier has great 1-on-1 skill, allowing him to regularly beat defensemen in juniors. He cooled off following an incredibly hot start to the QMJHL season production-wise, but his smart and reliable habits never wavered. I watch him and I see an NHL player with the kind of well-rounded, high-effort skill set that could see him move around an NHL lineup (in a good way) someday provided his lack of speed doesn't hinder him too much.
Honourable Mentions: