Now that it is less than two weeks away, I wanted to take this chance to make a few predictions about the 2023 NHL Entry Draft. While there's no question who is going to be going first overall (and there hasn't been since January), there are always some surprises waiting for fans on draft day. Teams like the Columbus Blue Jackets and the Detroit Red Wings never seem to care about public consensus and love to make a surprising pick or two.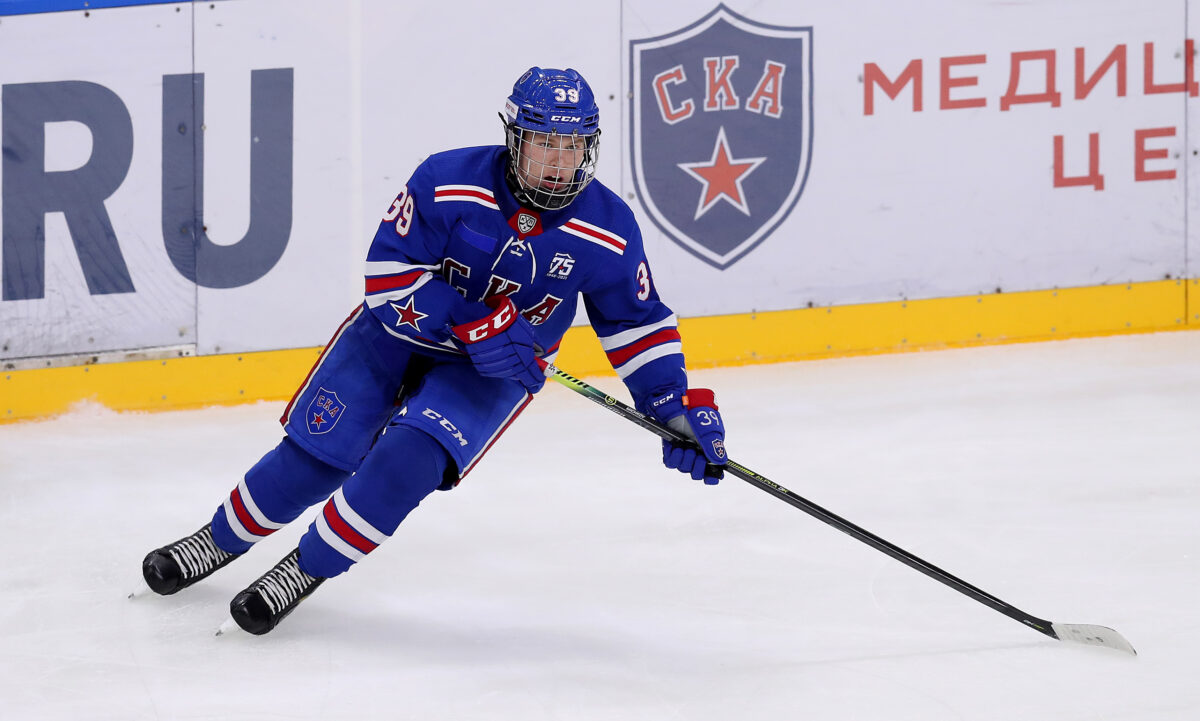 It's always a good idea to go into the draft expecting the unexpected, and that's just what I'm trying to do today. I made a list of predictions and whittled it down to my favourite 10, the kind of predictions you share all over Twitter if they're right and ignore completely after the fact if they were wrong. Let's take a look at some of my swings this year and then we'll have to wait until the Draft takes place on June 28-29 to find out how accurate they were.
1. Michkov Falls Out of Top 7
Matvei Michkov, once seen as Bedard's only real competition for first overall, is one of the most complicated prospects to evaluate in years. His contract situation, which will see him play another three full seasons in Russia, when coupled with the Russian Factor and the Russian war in the Ukraine have done serious damage to his draft stock, making it an open question where he will end up on draft day despite being a clear top-3 pick based on talent.
Related: 2023 NHL Draft Guide

Some people are convincing themselves that he's too risky of a player size/style wise, but I think those people just want a reason to pass on him because there are so many factors at play. Michkov has the talent to be a first overall pick in most normal drafts, but this year's draft is far from normal and the teams at the top will be much more likely to take a safer pick in Adam Fantilli or Leo Carlsson than risk their job selecting Michkov.
However, once the top group of prospects are gone by fifth overall and the Montreal Canadiens are faced with the choice between risking the Michkov pick or selecting someone with a significantly lower talent level, that's where the real drama will appear. I think multiple teams will pass on Michkov, leading to him landing with either the Washington Capitals at eighth overall or the Detroit Red Wings at ninth. 
Both teams have history with great Russian players, and are in positions to take on that risk. The rebuilding Philadelphia Flyers could take him at seventh overall, but I expect they'll be looking for a bit safer of a pick as well. Michkov's skill with the puck and his elite level hockey sense make him one of the best prospects we've seen in years, but I still think he'll fall out of the top seven on day one of the 2023 Draft.
2. Reinbacher Is Selected 5th Overall
There has been a lot of talk this year about how weak this draft class is when it comes to high end defensive prospects. While I tend to agree with that sentiment, there are still several great prospects on the back-end who will hear their name called in the first round this year. Will that be based on merit or on need? You decide.
It seemed for much of the year that this would be the first time in 19 years that we haven't seen a defenseman taken in the top-five of the NHL Draft, but I think David Reinbacher is talented enough to keep that streak alive. Reinbacher is an incredibly mature two-way player who excelled in a good pro league this year, earning serious top-four minutes in the top professional league in Switzerland. He has the size, the right-handed shot, the defensive maturity, and has shown enough glimpses of a great puck moving game that he has established himself as the top defender in the draft this year in most people's minds. 
---
Latest News & Highlights
---
The Montreal Canadiens will have a ton of pressure on them at fifth overall this year, as that's where the drama will really begin. Do they select Matvei Michkov and risk the contract/Russia situation (assuming he even falls to them)? Do they take the draft's best defenseman as a future building block of their group? Do they swing for upside on Dalibor Dvorsky as a hopeful top-six, goal scoring center? I have them going for defense, but their pick will be a major wild card.
3. Tom Willander Is Second Defender Off the Board
Tom Willander has risen considerably up draft boards following his dominant showing for Sweden at the U18 World Championship. He played over 30 minutes of ice time against Team USA in the Gold Medal game and was relied upon heavily throughout the tournament at even strength and the powerplay. Willander is the best skating defenseman in this class for my money (though Tanner Molendyk is close), and he defends very well.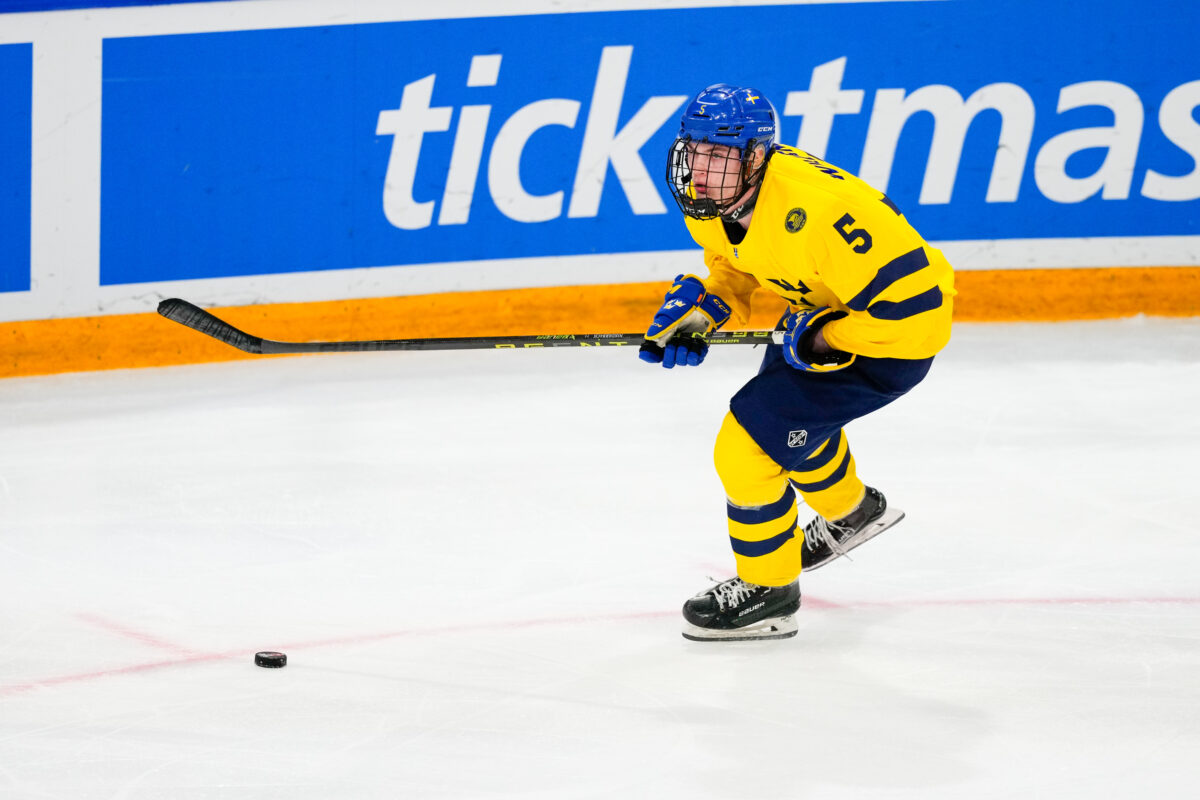 I think that Willander's height (6-foot-2), defensive reliability, and skating will be enough for him to be the second defender selected in the 2023 Draft, likely in the top 12 picks or so. His countryman Axel Sandin Pellikka has been seen as the consensus second-best defender in the class for quite some time, but I think he'll be passed on in favor of Willander simply because of the two inch height difference between the two. Sandin Pellikka certainly has higher potential, but Willander is a very easy player to project into an NHL lineup and that's why I think he'll hear his name shortly after Reinbacher's.
Bonus Super Specific Prediction: Willander is drafted 11th overall to the Vancouver Canucks
4. Andrew Cristall Falls to the Second Round
Andrew Cristall has been an incredibly polarizing player all season. He put up ridiculous offensive numbers in the WHL this year for a Kelowna Rockets team that didn't give him a whole lot of help. However, his size (5-foot-10), and his below-average speed have been huge question marks. Very few players who are 5-foot-10 or shorter succeed in the NHL without an excellent skating ability, but those who do have multiple other elite tools, which gives Cristall a chance when you consider his hockey sense and shot.
Regardless, I think there will be a great number of teams who are scared off with Cristall because of the serious chance that he can't keep up at NHL speed and he will fall into the second round, roughly the 33-50 range, despite having the production and skill-level of a typical top-16 pick.
5. Michael Hrabal Goes on Day 1
When people talk about how deep the 2023 NHL Draft is, they should really follow it up by saying "at forward", because the lack of top defensive prospects is only matched by the lack of high-end goaltending talent. Nevertheless, I think that Michael Hrabal presents an intriguing enough package that a team will reach a bit for him at the end of the first round.
Related: Horn's 2023 Two-Round Mock Draft
Hrabal has ideal size for an NHL goalie (6-foot-6) and shows some of the same raw skill of a young Jakub Markstrom. He has a strong lower-body and tracks the puck well, but his best attribute is his ability to read the game in front of him and stay a step ahead of an opposing puck carrier. I see him as the best goaltending prospect in the class, and I expect at least a few NHL teams would agree.
Bonus Super Specific Prediction: Hrabal will be selected 26th overall by the San Jose Sharks
6. Will Smith Goes 3rd Overall
In all likelihood, the 2023 Draft begins at third overall with Connor Bedard and Adam Fantilli going first and second overall respectively. The Columbus Blue Jackets will have a difficult decision to make at three, with great prospects like Matvei Michkov, Will Smith, and Leo Carlsson all likely on the board. Conventional wisdom would say that Matvei Michkov is the best player on the board and that Leo Carlsson is next up, especially considering his ability to play center. However, Columbus has not been beholden to consensus in recent drafts, and I think they'll select Smith at third.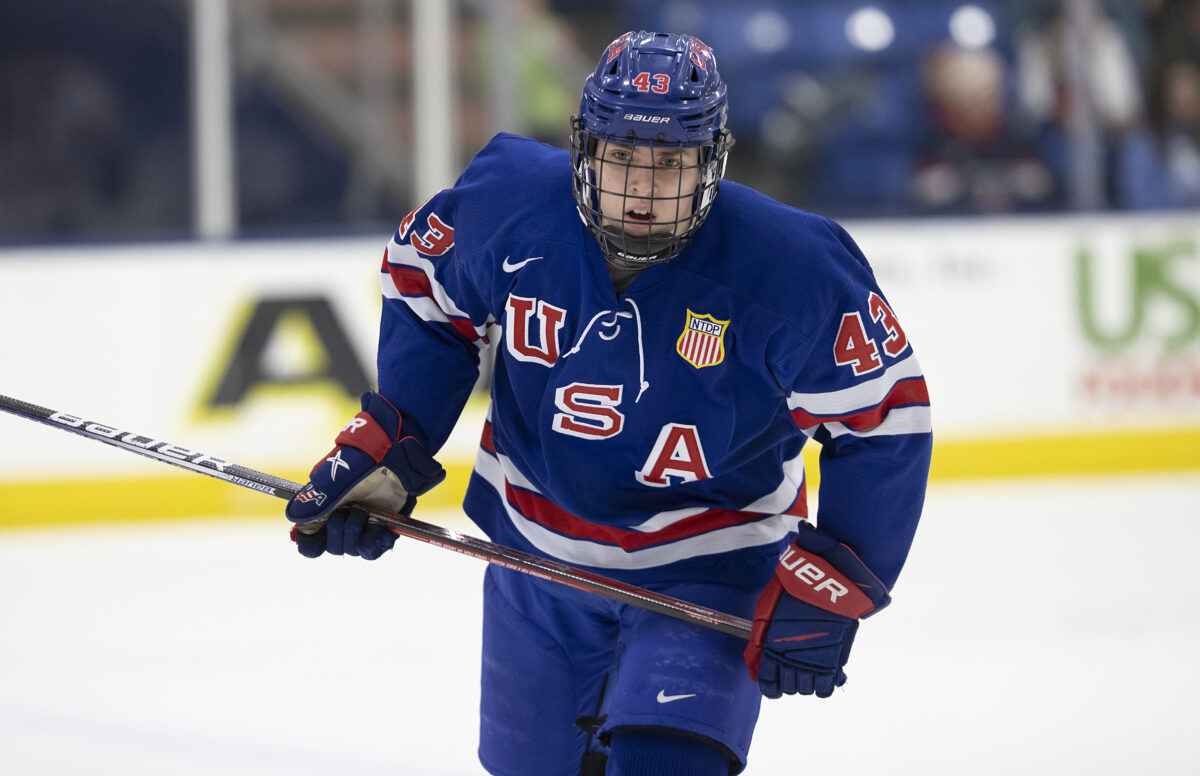 Carlsson was great at the World Championship as Sweden's first-line center, showing off his excellent puck skills and creativity. However, Smith had a similar performance for Team USA at the U18s where he was a dominant offensive force. The Blue Jackets need a top-six center with this pick, preferably one who can center their top-line going forward, and while both have a chance to be that someday, I think Smith's style as a point-producing, dynamic offensive threat will be appealing enough to Columbus that he'll be their pick. 
Carlsson projects as a bit more of a two-way center with a bit less NHL offense due to his skating which is slightly below average at this point (he still projects to be an excellent NHL center to be clear) while Smith's dynamic skating, shiftiness, and shot bring an element of offense so desperately needed in Columbus.
7. David Edstrom Rises Into First Round
David Edstrom, like Willander, has seen his draft stock rise exponentially following his great showing for Sweden at the U18s. He was one of the team's top centers, even spending time on the first line, and his combination of size (6-foot-3) and two-way conscience endeared him to many scouts and prospect writers alike. 
Edstrom was seen as a likely second rounder before the tournament, ranked 25th among International skaters (which could even be the third or fourth round), but I believe he will be selected on the first day of the 2023 Draft. He competes very hard which is why his defensive game is so excellent, but he skates really well too which makes him a formidable force on the rush as there aren't many defenders who are happy to see a 6-foot-3 center screaming up the ice at them.
I think he has enough offense in his game to potentially end up as a good second line center, but his skill set also lends itself really well to him becoming an excellent third line center as well, should the offense not translate too well into the NHL. Edstrom kills penalties very well and is great in puck battles along the boards and around the net, earning him the trust of coaches and teammates very quickly.
8. Thomas Milic Goes Undrafted . . . Again
Thomas Milic has been one of the best goalies in the WHL for the last two seasons, being named to the second all-star team for the WHL's US division in 2021-22 after helping the Seattle Thunderbirds go on a late run in the WHL playoffs. He was riding high following that run and while his teammates Kevin Korchinski and Reid Schaefer rose into the first round of the 2022 NHL Draft, Milic went undrafted for the second time in a row.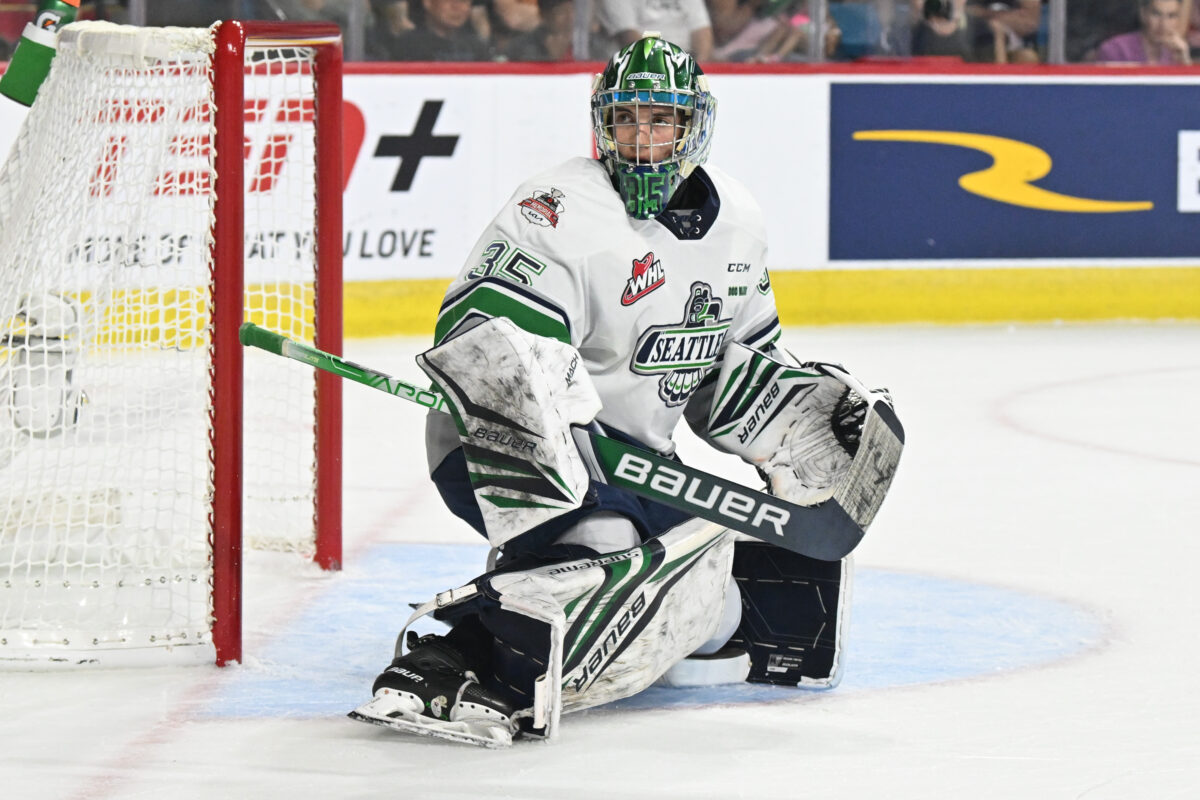 Part of the reason was his size, as there are fewer and fewer goalies who are 6-feet tall in the NHL each year, and another was his relatively small sample size, with his original draft year being mostly lost to the pandemic, with Milic ultimately only playing nine games that year. He used that as fuel, becoming one of the best goalies in junior hockey this year.
Milic was named to the first all-star team for the CHL, won the gold medal as Canada's starter at the World Juniors, and was named the WHL playoff MVP, all after leading the entire WHL in save percentage and goals against average. Regardless, NHL Central Scouting only has him ranked 28th overall among North American goalies, the kind of range that predicts a player won't be drafted at all. 
Despite all his accolades and his brilliant performance this season, I think Milic will go undrafted once again, as he lacks ideal NHL size. If Milic makes it through the draft process again without any NHL team claiming him, I am 100% sure that he will have an AHL contract waiting for him this summer from an NHL team who wants to give him a shot, just not with a draft pick. For the record, I think Milic would be a fine pick in the third or fourth round, but it doesn't feel too likely to me at this point.
9. Samuel Honzek Goes Top 16
Samuel Honzek is one of the biggest risers over the course of the season, starting off as a relatively unknown prospect from Slovakia who decided to try his hand in the WHL after being selected in the CHL Import Draft by the Vancouver Giants. As soon as the WHL season kicked off, it became clear that the Giants had something in Honzek.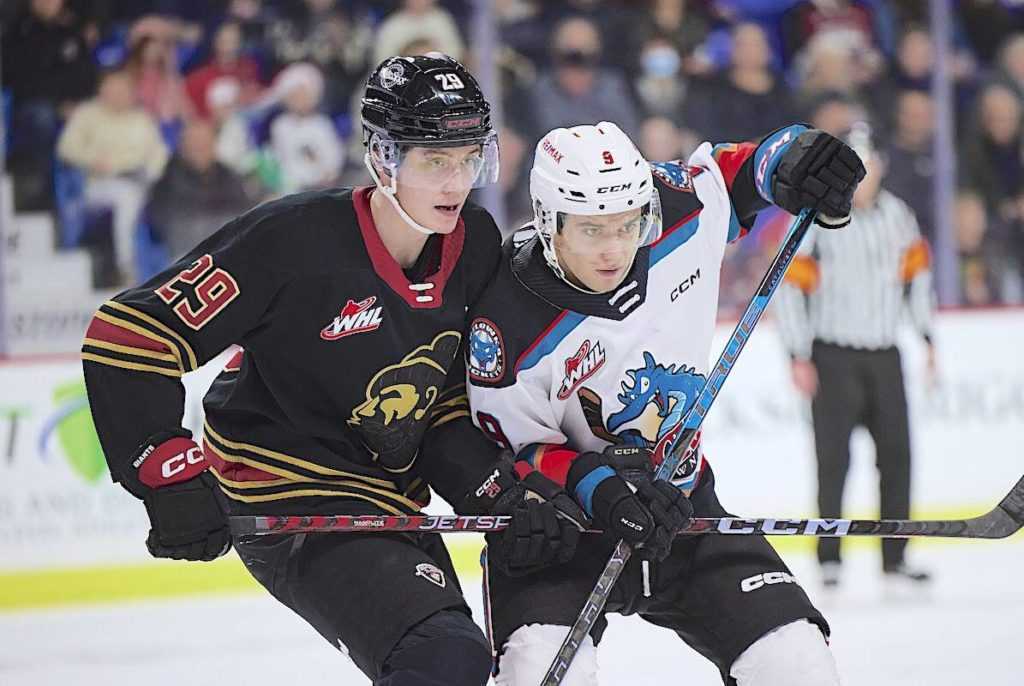 He's a massive (6-foot-4) winger who skates very well, has a hard shot, and plays a respectable two-way game. What team doesn't want that type of player? That question was rhetorical but I'll answer it anyway, none of them! There's no team in the NHL that doesn't want a big, two-way winger with legit NHL offense, which is why I think he's going to rise higher in the draft than some fans might expect.
Related: NHL 2023 Draft Rankings – Horn's Final Top 160
Honzek was excellent on both special teams this season and is proficient in puck battles, not just because of his large frame (though he does leverage his size well), but because he's got a great work ethic. I think Honzek is going to be drafted in the top-16, likely by a team that's looking for help sooner than later (Penguins, Flames, Canucks?).
Bonus Super Specific Prediction: He'll be the fourth CHL player drafted behind only Bedard, Benson, and Danielson
10. Daniil But Will be the Second Russian to be Drafted
There's no point in questioning who will be the first Russian player selected this year (unless day one of the draft gets really wacky), with Michkov holding that spot for the last three years or so. However, there's a big question mark when it comes to the second Russian off the board. Will it be Dmitri Simashev, the big defender who skates like the wind and likely has the highest defensive potential in the entire class? Will it be Mikhail Gulyayev, who plays a more typical offensive defenseman style?
My prediction is that it'll be Daniil But, a massive winger with a wicked shot and a surprisingly good skating ability. He's phenomenal at protecting the puck with his body and his long reach, something that allows him to make difficult cuts into the middle of the ice look routine. But has absolutely massive upside as an NHL sniper with a relatively unique physical profile.
Bonus Super Specific Prediction: Drafted in the Top 20