In Steve Yzerman's pre-draft media availability earlier this week, he noted that the Detroit Red Wings are still looking to add more goaltenders to their prospect pool. The last goalie that was drafted by Detroit was Sebastian Cossa back in the 2021 NHL Draft at 15th overall, and the front office is looking to add another at some point in the upcoming draft.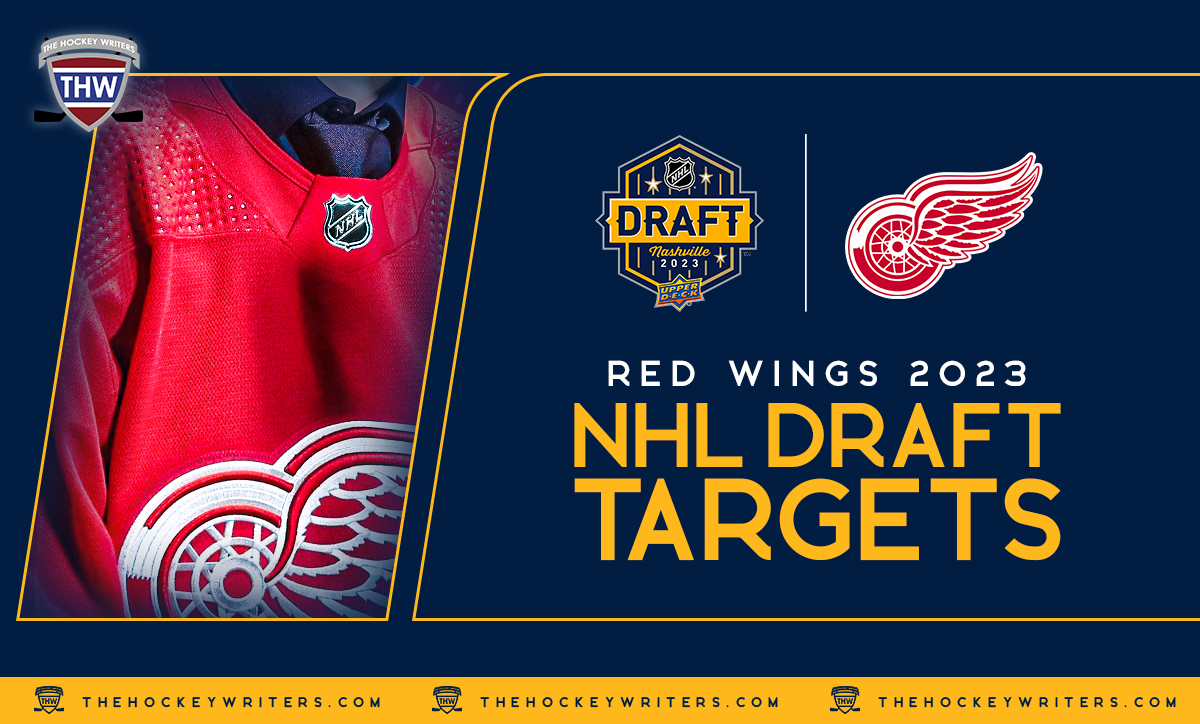 As you may or may not know, there has been a bit of strain in the goaltending department in the last few seasons. Here are three goaltenders that the Red Wings should consider adding in the upcoming 2023 NHL Draft.
Michael Hrabal – Omaha (USHL)
Likely the best available goaltender in his draft class, Michael Hrabal has heaps of potential. He recorded a .908 save percentage (SV%) and a 2.86 goals-against average (GAA) with the Omaha Lancers this season which is a solid first season playing outside of the junior leagues in Czechia. He represented Czechia on the international stage twice – with a .930 SV% in the U18 World Junior Championship and a .927 SV% in the International Junior Tournament. Committed to the University of Massachusetts for the 2023-24 season, he is making a name for himself due to his speed, post security, and overall fun-to-watch style of play.
Related: Red Wings Draft Coverage
---
Latest News & Highlights
---
"Hrabal's combination of traits plus performance distinguish him; he's a 6-foot-6 goaltender who moves very well. He reminds me of big, athletic, young goalies like Sebastian Cossa, who was drafted at No. 15, and Mads Sogaard who went 37th. I'm guessing Hrabal ends somewhere in between those two on draft day."

– Corey Pronman (from "2023 NHL Draft goalie rankings: Which prospects have the best chance of breaking through?," The Athletic, June 12, 2023)
Since Hrabal has this much potential, athleticism, and size, he is a contender to be picked in the first round. If that is the case, the most likely pick the Red Wings would have to use to secure him would be their second first-round pick, 17th overall – if it is not moved as part of a trade before then. However, he might not end up going in the first round due to the sheer amount of talented skaters in his draft class. 
Trey Augustine – USNTDP
Coming in right behind Hrabal in most rankings is Trey Augustine. Committed to playing at Michigan State University this upcoming year, he has spent the past two seasons with the U.S. National Team Development Program (NTDP). He played for three separate NTDP teams in the 2022-23 season and recorded a .943 SV% at the U17 level, a .925 SV% at the U18 level, and a .928 SV% on the NTDP Juniors team. He also represented the United States at the U18 and U20 World Junior Championships this past year where the U18 team won gold and the U20 brought home bronze.

"He's consistent, and that's what everyone wants. He's always there, he's in the right spot, he's not overly active and doesn't put himself in bad situations. He controls the puck, which at this level is really important. He's a quiet warrior, quiet worker. Every day he shows up and gets after it." – Kevin Reiter
Ranked third amongst all North American goaltenders by NHL Central Scouting and falling in the 33rd-77th range in most other rankings, he's a viable candidate for the Red Wings to select. Again, this is such a talented draft class that very talented players will fall lower than anticipated and goalies aren't every team's priority in the first round. While he is very talented, he would not be my first choice out of this draft class since I'd like to see him play at a higher level for a bit. But for a third-round pick, he would be a steal.
Adam Gajan – Chippewa (NAHL)
After a standout performance for the Slovaks at the 2023 World Juniors, it is nearly impossible to not include Adam Gajan in this conversation. You may know him best for his lights-out performance against Team USA where his 33 saves brought Slovakia to a 6-3 victory. He was primarily with the Chippewa Steel in the 2022-23 season where he had a 2.57 GAA and .917 SV% in the regular season. He also spent six games with the Green Bay Gamblers of the United States Hockey League (USHL) and posted a 5-1-0 record, 2.48 GAA, .906 SV%, and a 27-save shutout.
"Teams have already fallen in love with his size and athleticism, as few goalies available can match him in either area. When he drops his pads, he can effectively cover the entire bottom half of the net yet still maintain his mobility to slide around the crease. Should a skater try to get around him to the other side, he can shoot out a leg or go into a split. If they instead decide to go up high, it's not like they have many more options; while on his knees, he still takes up the majority of the net, and he can swivel his torso to take the puck right in the chest or arm. He doesn't have a fantastic glove hand, but his ability to get right in front of the puck quickly makes him incredibly effective at his job."

– Dayton Reimer, The Hockey Writers
On top of having great athleticism, Gajan is a skilled puck handler and has a certain aura of confidence that sets him apart from other goaltenders in his draft class. If he is still available in the second round, I would say it is a no-brainer if the Red Wings didn't already snag a goalie in the first round. 
Ultimately, I would love to see the Red Wings draft a goalie at some point this year. These three goalies are some of the best talents in their draft class but there are lots of other candidates that would also be a great fit in Detroit. I would be a little surprised to see them draft one in the first round but hey, we've seen Yzerman trade up to draft a goalie 15th overall just a few years ago, so anything goes!
---
---