When the Detroit Red Wings make their first round selection in the 2017 NHL Entry Draft, it will be their highest pick since drafting Keith Primeau third overall in 1990. With such a good position in the draft, how does Hockeytown approach it?
In the latest chapter of the Red Wings' offseason guide, we'll take a look at the possibilities of trading up or back, what Detroit needs, players who'll likely be available when the Red Wings walk up to the podium, and the likely best choice for the ninth overall selection.
Post-Draft Top 25 Under-25 Rankings
Free Agency Outlook
Trade Up?
Should the rich attempt to get richer? Though the Red Wings are in a great spot to select an impact player with the ninth overall pick, it might not hurt to find out what it would take to move up a few spots.
New Jersey and Philadelphia are pretty much locked in at #1 and #2, but Dallas has been putting feelers out for what teams would offer to acquire the third overall pick. In addition, Vegas GM George McPhee may want to stockpile futures, so he might be willing to trade slightly back from #6.
If the tea leaves are reading a certain way, don't be surprised to see the Red Wings move up. The cost would likely start with the #9 and #38 picks, but Detroit also has four third round picks that could help them trade back into the second round.
Trade Back?
Alternatively, the Red Wings could trade back to stockpile more picks. If they believe "their guy" will be available later on in the draft, why not acquire an extra pick or two? While the draft may not include as many top-tier talents as in recent years, scouts and analysts differ greatly on that next tier of players – those who the Red Wings would be choosing from in their current draft position.
Last year, Detroit traded back four spots to move Pavel Datsyuk's contract. In return, they acquired picks that turned into Dennis Cholowski and Filip Hronek. (Arizona took Jakob Chychrun with the Red Wings' original pick.) Maybe they'll move back again to acquire this year's version of Hronek and cap space. Having additional assets could pay off in one way or another down the road.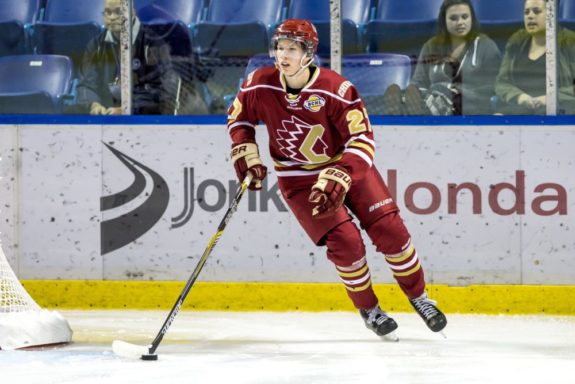 Options at #9
To accurately project what Detroit needs most in the 2017 NHL Entry Draft, we need to look at where the Red Wings will be five years into the future. In five years, their top pick will be 23-years-old and entering the prime of their career.
If nothing from today's team changes, here is Detroit's projected depth chart for the start of the 2021-22 season. Players' ages are in (parenthesis).
| | | |
| --- | --- | --- |
| LW | C | RW |
| Tomas Tatar (30) | Dylan Larkin (25) | Anthony Mantha (27) |
| Andreas Athanasiou (27) | Riley Sheahan (29) | Evgeny Svechnikov (24) |
| Gustav Nyquist (32) | Frans Nielsen (37) | Tyler Bertuzzi (26) |
| Givani Smith (23) | Axel Holmstrom (25) | Justin Abdelkader (34) |
| Dominic Turgeon (26) | Christoffer Ehn (25) | Dylan Sadowy (25) |
| | | |
| --- | --- | --- |
| LHD | RHD | G |
| Dennis Cholowski (23) | Filip Hronek (23) | Petr Mrazek (29) |
| Danny DeKeyser (31) | Vili Saarijarvi (24) | Jared Coreau (29) |
| Joe Hicketts (25) | Nick Jensen (31) | Joren van Pottelberghe (24) |
| Xavier Ouellet (28) | Jordan Sambrook (23) | |
Though things will certainly change between now and then, this exercise is simply done to evaluate where Detroit's top prospect would fit in. And by looking at the above depth chart, center and defense appear to be the two biggest areas of need.
Lucky for Detroit, those two positions have some depth early on in the draft. If the Red Wings stay put at #9, they'll have a few options to consider for their selection. Here's how the draft could play out ahead of Detroit's pick:
| | | | |
| --- | --- | --- | --- |
| Pick | Team | Need | Selection |
| 1 | New Jersey | Best Available | Nolan Patrick |
| 2 | Philadelphia | Best Available | Nico Hischier |
| 3 | Dallas | Defense | Miro Heiskanen |
| 4 | Colorado | Best Available | Casey Mittelstadt |
| 5 | Vancouver | Best Available | Gabriel Vilardi |
| 6 | Vegas | Best Available | Cody Glass |
| 7 | Arizona | Best Available | Owen Tippett |
| 8 | Buffalo | Defense | Cale Makar |
So, who's left?
Timothy Liljegren
Once considered the best defenseman in the draft, Timothy Liljegren had a rough 2016-17 season as he contracted and recovered from mononucleosis. The right-handed defenseman does have a high ceiling with great offensive upside but needs to improve in his own end. Liljegren also plans to stay in Sweden at least one more year before moving to the North American game. More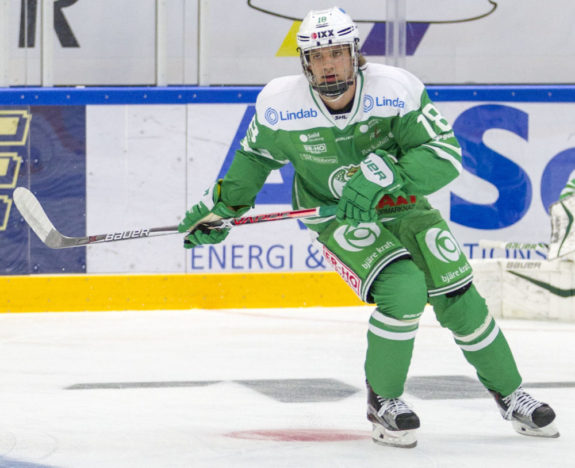 Michael Rasmussen
If Detroit decided to trade back, Michael Rasmussen may still be available a few picks later. The hulking center from the WHL averaged over a point per game, but scouts can't agree on whether he's a top pick or not. Rasmussen does check a few boxes for the Red Wings though: center, size, goal scorer, and physical nature. More
Elias Pettersson
Having been compared to both Henrik Zetterberg and Pavel Datsyuk, Swedish forward Elias Pettersson seems like a perfect fit the Red Wings. His hockey IQ and playmaking skills are the main reasons why scouts think of the Euro Twins. But, like Mittelstadt and Liljegren, Pettersson has a small frame (161 lbs) that needs to be filled out before joining the Red Wings. More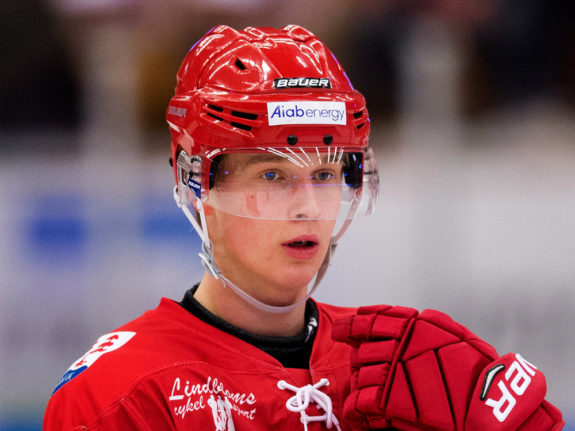 Martin Necas
Like Pettersson, Martin Necas is a playmaking center who needs to bulk up. Necas, however, has a right-handed shot, unlike Pettersson. He also has some serious wheels and experience playing against grown men in the Czech Republic's top league. Detroit has shown some interest in Necas already – they had dinner with the prospect during the 2017 NHL Draft Combine. More
Other Options
It's very possible Glass, Tippett, and/or Makar are available when the Red Wings step up to the podium. All three would address needs and would be great additions to the organization.
"The Detroit Red Wings Select…"
If the Red Wings got their way, selecting Liljegren would be the ideal choice for the ninth overall pick. The Swedish defenseman has tremendous offensive talent and a right-handed shot – two attributes the Red Wings desperately need.
This quote by THW's David Carlsson should be enough evidence needed to get on board with drafting Liljegren: "Liljegren projects as a top-pairing defenseman in the NHL. Also, he is the kind of player you could build your first power play formation around." Sign me up.
Which player do you hope the Detroit Red Wings will draft? Comment below with your choice.