While most of the attention will be on the Detroit Red Wings' five picks in the first two rounds of the 2023 NHL Draft, general manager Steve Yzerman still has five other selections beyond the second round that could unearth some potential gems. In the past, that's where his best work has come as he's selected Amadeus Lombardi (fourth round, 2022), Carter Mazur (third round, 2021), Red Savage (fourth round, 2021), Donovan Sebrango (third round, 2020), and Eemil Viro (third round, 2020) in recent years. And who can forget sixth-round steal Elmer Soderblom in 2019, who appears to have the ceiling of a power forward capable of taking over a game at a moment's notice?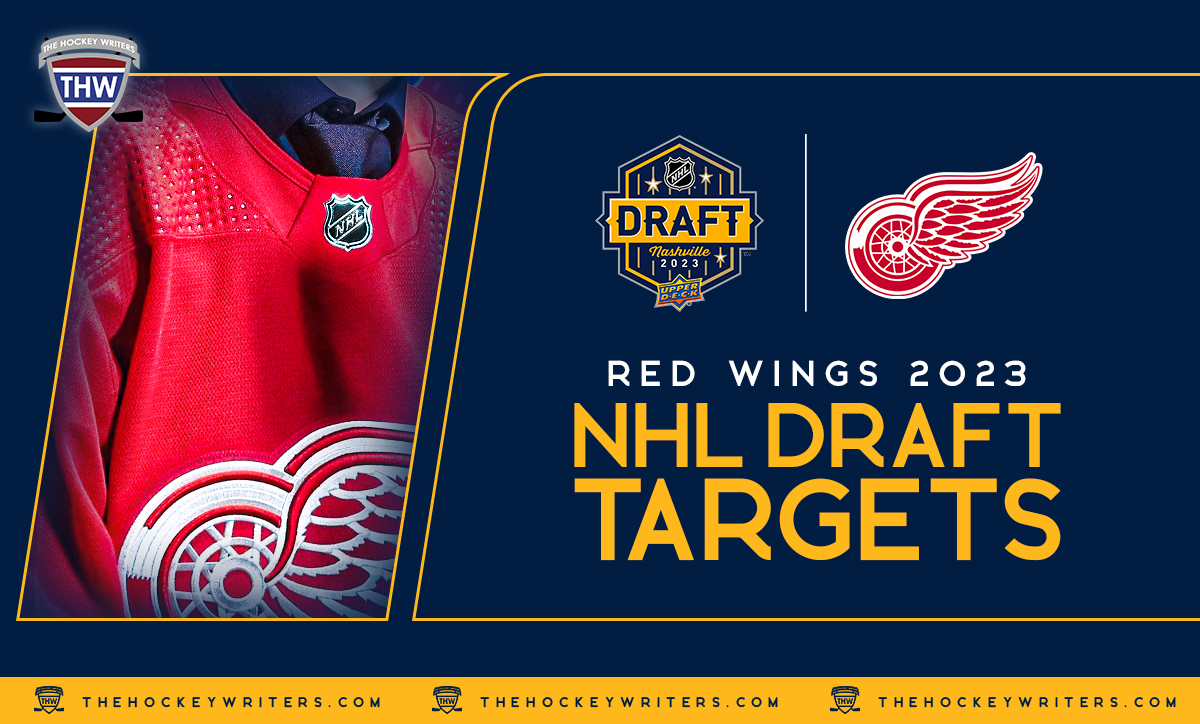 The bottom line is, Yzerman and his scouting staff have been able to find value in the later rounds. While we don't yet know whether all of them will become key members of the Red Wings in the future, they all have intriguing potential as NHL players. And that's about all you can ask for from late-round picks, who generally have a low probability of making it to the big leagues.
So with all that said, let's take a look at three prospects that Yzerman and company could be targeting in the later rounds of the 2023 Draft.
Ian Scherzer, Center, Rogle BK J20 (J20 Nationell)
Ian Scherzer first got on scouts' radars at the 2023 World Juniors where he scored a goal and three points for Team Austria. He had people talking in the stands as he made his presence felt with his work ethic and relentless forecheck. He was named a top-three player by the end of the tournament and caught The Hockey Writers' Blain Potvin's eye as a player that raised his stock for the upcoming draft.
Scherzer didn't dominate on the scoreboard, but he was by far Austria's best player game in and game out and brought his work boots every shift. That alone should garner some attention from Yzerman and Kris Draper who displayed that type of intensity in their glory days with the Red Wings in the 2000s.
Related: Red Wings 2023 Draft Coverage
---
Latest News & Highlight
---
Apart from the World Juniors, Scherzer also played for Rogle BK in the J20 Nationell, the same organization that housed countryman and current Red Wings top prospect Marco Kasper in his draft year. So, I am sure they have scouted him already and have a good idea of what type of player he is. He didn't have the best year statistically recording only seven goals and 15 points in 38 games between the J18 and J20 levels, but scoring likely won't be his game. At his peak, he will be a useful utility player capable of playing on the penalty kill and providing energy in the bottom-six.
Scherzer likely will fall into the fifth or sixth round, considering his underwhelming year offensively and the fact that he only appears on one major ranking outlet (McKeen's Hockey at 169th). THW's Logan Horn also has him 160th in his final rankings, which would place him right at the end of the fifth round. All in all, he could be worth a flyer there and seems like a player Yzerman would gravitate toward selecting.
Aram Minnetian, Right Defense, USNTDP Juniors (USHL)
It's no secret that the Red Wings are strong on their left side prospect-wise with Simon Edvinsson leading the way. They also have William Wallinder, Albert Johansson, Eemil Viro, the list goes on. Basically, what I am saying is, they need more right-handed defensemen in their system. And with their propensity to select players from the United States Hockey League (USHL) in recent years (nine since Yzerman took over in 2019), Aram Minnetian could be a solid pick beyond the second round.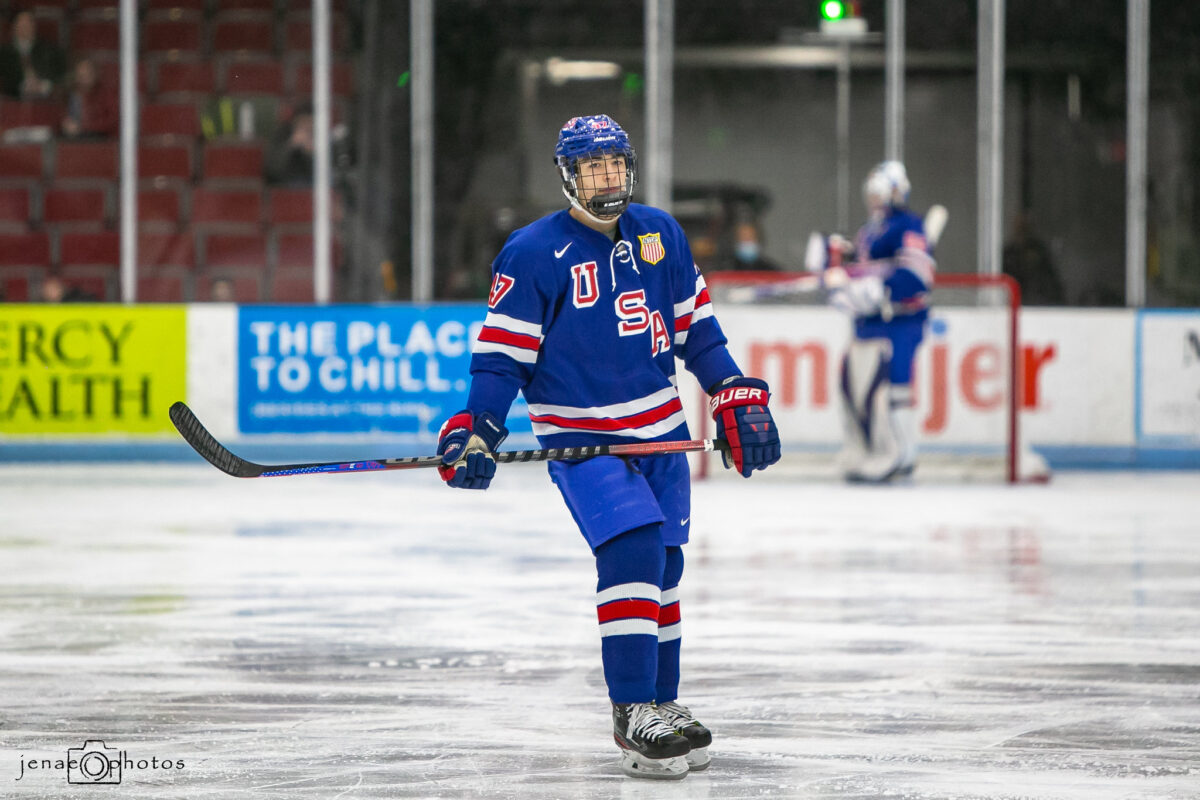 Playing for the US National Team Development Program, Minnetian put up seven goals and 37 points with the U18 team and the USNTDP Juniors in the USHL. He also was named to Team USA for the 2023 World U18 Championship where he scored a goal and four assists in seven games en route to a gold medal.
To succeed in the NHL these days you have to be able to skate, especially if you are a defenseman. Minnetian doesn't have to worry about that since skating is one of his biggest strengths. Since he played forward in high school, he is also comfortable handling the puck and has a pretty good shot, all attributes that could make him a threat at the next level. Offense is obviously his first thought when skating up the ice, but he is also a pretty good defender, as Dayton Reimer of The Hockey Writers states in his prospect profile.
And while he is more of an offensive defenseman, he's shown good defensive instincts. He defends the rush well and can make the right reads in the neutral zone to break up the opposition's attack. Once Minnetian matures, he should be a bigger point producer from the blue line. The tools are there — rush game, puck-moving ability, etc. Now, it's about refining his game once he gets to Boston College.
---

---
Ranked everywhere from 46th (Elite Prospects) to 81st overall (Draft Prospects Hockey), Minnetian is all over the place when it comes to what the industry thinks about him and his skill set. The range of rankings is likely due to the lack of production in his draft year, as his offensive game didn't translate to points on the scoresheet. However, as Dayton said, the tools are there, it's just a matter of sorting them into a toolbox when he hits the college track in the fall.
Zeb Forsfjall, Center, Skellefteå AIK (SHL)
Of course, when talking about Red Wings prospects and past stars, Sweden always comes up in the conversation. So, it's only natural that I choose a Swede to talk about as a potential mid-to-late-round pick. This time, it's Zeb Forsfjall, a 5-foot-9 center that hails from Skellefteå. While he's fallen down draft boards since the start of the season, he is still an intriguing prospect to keep an eye on in the later rounds.
Brought into the spotlight a bit more after the U18s and his eight-point performance, Forsfjall seems to thrive when he wears the Tre Kronor. Over his entire international career, he has nine goals and 31 points in 35 games. He probably won't be known for that type of offense when he hits pro, but he should thrive as a dependable two-way center that can kill penalties and throw up the occasional 20-goal season. We all know how valuable those types of players can be in the playoffs – and if his production in short tournaments is any indication of future success, he could potentially even be a Mike Peca or Fernando Pisani; someone that flies under the radar in the regular season, but busts out with insane numbers in the postseason.
Another prospect that experts can't agree on, Forsfjall is ranked to go as low as 141st (McKeen's Hockey) to as high as 49th overall (THW's Peter Baracchini). So, he might be a viable candidate for the later rounds, or maybe not. Either way, the Red Wings should look at selecting him given his potential to be an impact middle-six center – even though he hasn't shown it offensively yet.
The Red Wings have shown in the past that they are capable of finding gems in the later rounds. With the depth available in this draft, it's more than likely Yzerman will find another one. Will it be one of the above three prospects? We will just have to wait until June 29 to find out.