After scoring 28 goals in 57 games as a rookie in 2013-14, Gustav Nyquist looked like the heir to an aging Pavel Datsyuk and Henrik Zetterberg, but four years later, he could be on his way out of Detroit.
He had played a combined 40 games over the previous two years, where he scored four goals and 13 points. But in 2013-14, a wave of injuries forced his call-up and the then-24-year-old seized his NHL opportunity immediately with two goals in his first game.
Nyquist proved to be a highly-skilled winger with elusive speed and a strong hockey sense. Early signs indicated the Swede was another successful member of general manager Ken Holland's system of over-ripening prospects.
Maturing in Maine, Growing in Grand Rapids
Nyquist played two seasons for the Malmo Redhawks of Sweden's Under-20 SuperElit league from 2006-08. He scored 21 goals and 44 points in 42 games as a rookie and added another 11 goals and 31 points in 24 games in his second season, a pace of 1.29 points per game.
Related: Darren Helm's Offseason Trade Value
He was drafted in the fourth round, 121st overall in 2008 by Detroit and committed to the NCAA's University of Maine. The Black Bears were coming off their worst season in 14 years and even with three solid campaigns from Nyquist, the program remained in a lull, going 34-37-10 in that span.
Nyquist led the team with 13 goals and 32 points in 38 games as a freshman. In his second year, he paced the team once again with 19 goals, and his 61 points led all of the NCAA. He didn't match his league-leading 61 points from the season prior, but the junior still managed 18 goals and 51 points.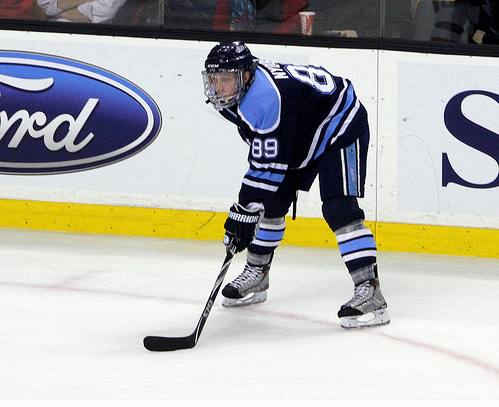 It was enough for him to earn an entry-level contract from the Red Wings, and he made an immediate impact at the next level. In a season-ending eight-game stint in 2010-11, he scored a goal and four points with Detroit's AHL affiliate, the Grand Rapids Griffins.
Related: Abdelkader's Offseason Trade Value
Nyquist maintained a point-per-game pace in each of the next three seasons with the Griffins, totaling 52 goals and 139 points in 129 games. In 2013-14 a rash of injuries launched Nyquist into a top-six role with the Red Wings and he never looked back.
Detroit Days
Nyquist earned a few NHL stints during his first two campaigns with the Griffins. In his rookie AHL season he got into 18 games with the Red Wings, scoring a goal and seven points, but the team wanted him to continue to build his confidence, add strength and work on his two-way play.
In 2012-13, he got into another 22 games, chipping in three goals and six points as the coaching staff still kept him sheltered from opponents.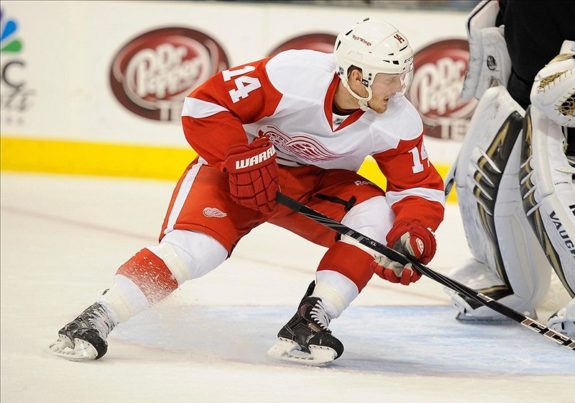 The next season, a long string of injuries threatened Detroit's playoff streak as go-to forwards Henrik Zetterberg and Pavel Datsyuk played in just 45 games apiece. Other notable players had injuries that forced them to watch varying chunks of the season from the press box, as well.
Detroit was forced to play its prospects, enter Nyquist and Tomas Tatar, who jumped into full-time action. Nyquist scored 28 goals and 48 points in just 57 games as the 24-year-old earned his playing time.
Nyquist remained effective in his first full season, scoring 27 goals and 54 points as his speed, evasiveness and creative offense continued to impress as a 25-year-old. It's stood as his career year, as he finished each of the past three years with 43, 48 and 40 points, and just one 20-goal season (2017-18).
Nyquist's Trade Value
Still just 28, Nyquist has plenty of hockey left in him and with the right linemates, could get back to being a reliable 20-goal and 50-point winger. Given the incoming youth, the team's need for cap space, and Nyquist's expiring contract, those years may be elsewhere.
Related: Ken Holland's Red Wings Rebuild Is Rolling
With one year remaining at a $4.75-million cap hit, Nyquist should generate real interest from teams willing to give him a change of scenery and better linemates. He remains fast, evasive and gifted with the puck, and for any team looking for top-six wingers with no future commitment, he's low-risk, high-reward. He's also expecting much more out of himself in 2018-19.
Anybody that doubts Nyquist can be first around a track forgot Ottawa.https://t.co/wOHAMTccCD

— George Malik (@georgemalik) May 7, 2016
It's never easy to determine a player's value, but Nyquist could fetch a third-round draft pick or mid-level prospect in return. It would go a long way for a team already stockpiled with 11 picks in the 2018 draft. It would also free up more cap space to re-sign restricted free agents (RFA) Dylan Larkin, Anthony Mantha, Tyler Bertuzzi and Martin Frk.
Full disclosure: Unless Holland thinks a roster shakeup can make Detroit the 2018-19 version of this year's Colorado Avalanche, Nyquist will likely remain in Detroit and be dangled at the trade deadline.
That means Nyquist will play 2018-19 in Detroit and Holland will hope he can squeeze a decent draft pick out of him on deadline day. It's a gamble should the lack of security weigh on Nyquist's production or if an injury hinders his trade value, such as Mike Green this year.