As we approach the 2023 NHL Draft, the Detroit Red Wings stand to be a busy team. In addition to their final scouting meetings, the team needs to prepare for the opening of free agency and spend time working the phone lines to see how the trade market is shaping up.

With these events on the horizon, there are a few topics I wanted to touch on—trades, prospects, and goalies—and how they're all intertwined.
Red Wings Need to Consider Big Trades
Since Steve Yzerman took over as general manager of the Red Wings, building through the draft has been the organization's core philosophy.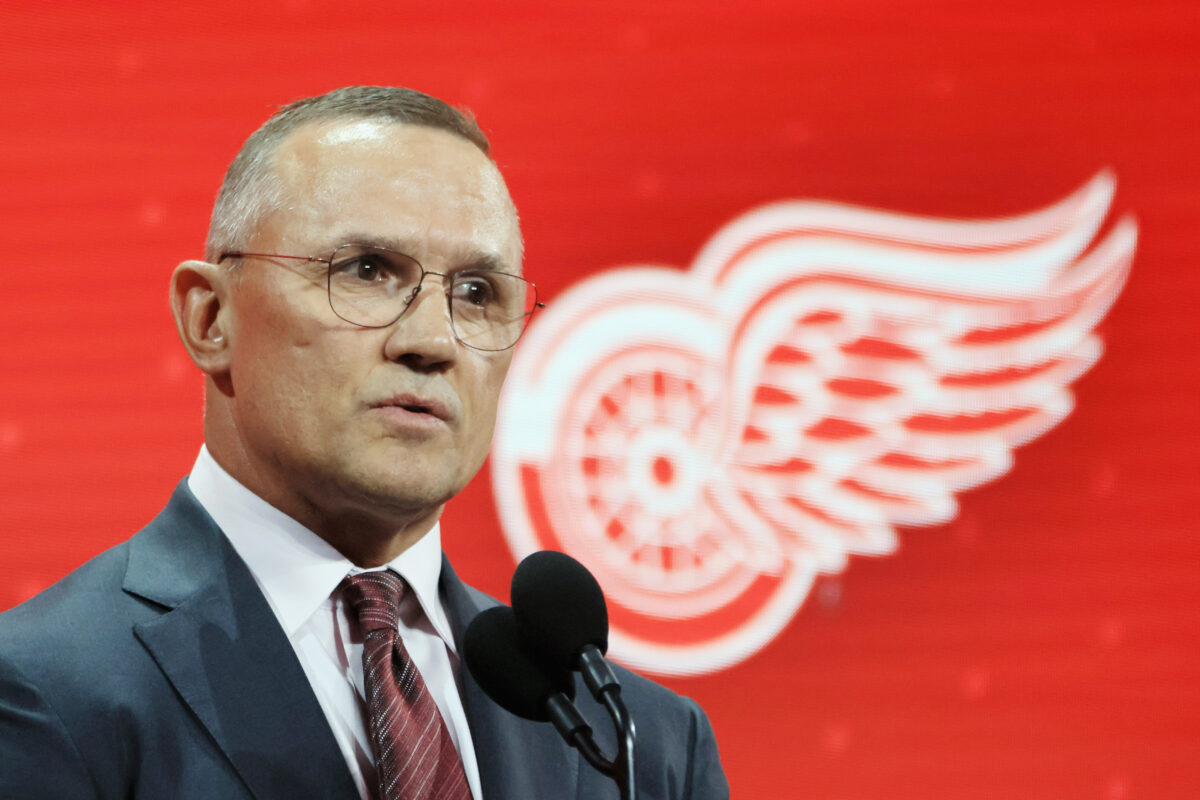 But what if we're taking "build through the draft" too literally?
Could it be possible to acquire as many draft picks as possible, then flip some of those picks and recently drafted players for additional core pieces? I certainly think so. In fact, that approach has been a commonality among the last four Stanley Cup champions.
Vegas Golden Knights
Mark Stone
Jack Eichel
Chandler Stephenson
Adin Hill
Colorado Avalanche
Nazem Kadri
Andre Burakovsky
Devon Toews
Darcy Kuemper
Tampa Bay Lightning
Ryan McDonagh
Mikhail Sergachev
St. Louis Blues
Ryan O'Reilly
Brayden Schenn
None of the core players listed above were drafted by the team they won the Stanley Cup with. All were acquired for picks, prospects, or young NHLers.
Related: Red Wings News & Rumors: DeBrincat, Free Agents & More
---
Latest News & Highlights
---
You can't win by only building with players you draft. Sure, top-10 selections are going to help significantly. But beyond those picks, you need to trade players and draft choices to accumulate value. It's a smart plan to deal surplus picks and prospects for players that fill clear organizational needs and could be part of the future in Detroit. Better yet, find organizations that have surpluses where the Red Wings have deficits, such as the Los Angeles Kings and their right defensemen.
Red Wings' Top 25 Prospects
When thinking about which prospects the Red Wings might be willing to part with in a trade, I referred back to my organizational depth overview. There, prospects are ranked within their position groups, but not in an overall manner. To remedy this, I present to you my top-25 rankings:
Simon Edvinsson – LD
Marco Kasper – C
Sebastian Cossa – G
William Wallinder – LD
Carter Mazur – RW
Elmer Soderblom – LW
Albert Johansson – LD
Cross Hanas – LW
Amadeus Lombardi – C
Dmitri Buchelnikov – LW
Alexandre Doucet – C
Jared McIsaac – LD
Dylan James – LW
Shai Buium – LD
Donovan Sebrango – LD
Theodor Niederbach – C
Anton Johansson – RD
Red Savage – C
Antti Tuomisto – RD
Eemil Viro – LD
Liam Dower Nilsson – C
Seth Barton – RD
Carter Gylander – G
Cooper Moore – LD
Owen Mehlenbacher – C
Overall, this is a pretty balanced prospect pipeline. There are three defensemen in the top 10, and 11 total in the top 25. Similarly, there are 12 forwards in the top 25 and a good distribution across the three positions.
If anything, the Red Wings don't have much depth at right defense. That, and goalie, which brings me to…
Red Wings Need to Draft a Goalie
Yes, that's correct. The Red Wings need more depth in net – even with Sebastian Cossa in the fold.
This isn't knock on Cossa – he has been developing just fine since Detroit took him in the first round of the 2021 draft. He still has "goalie of the future" written all over him.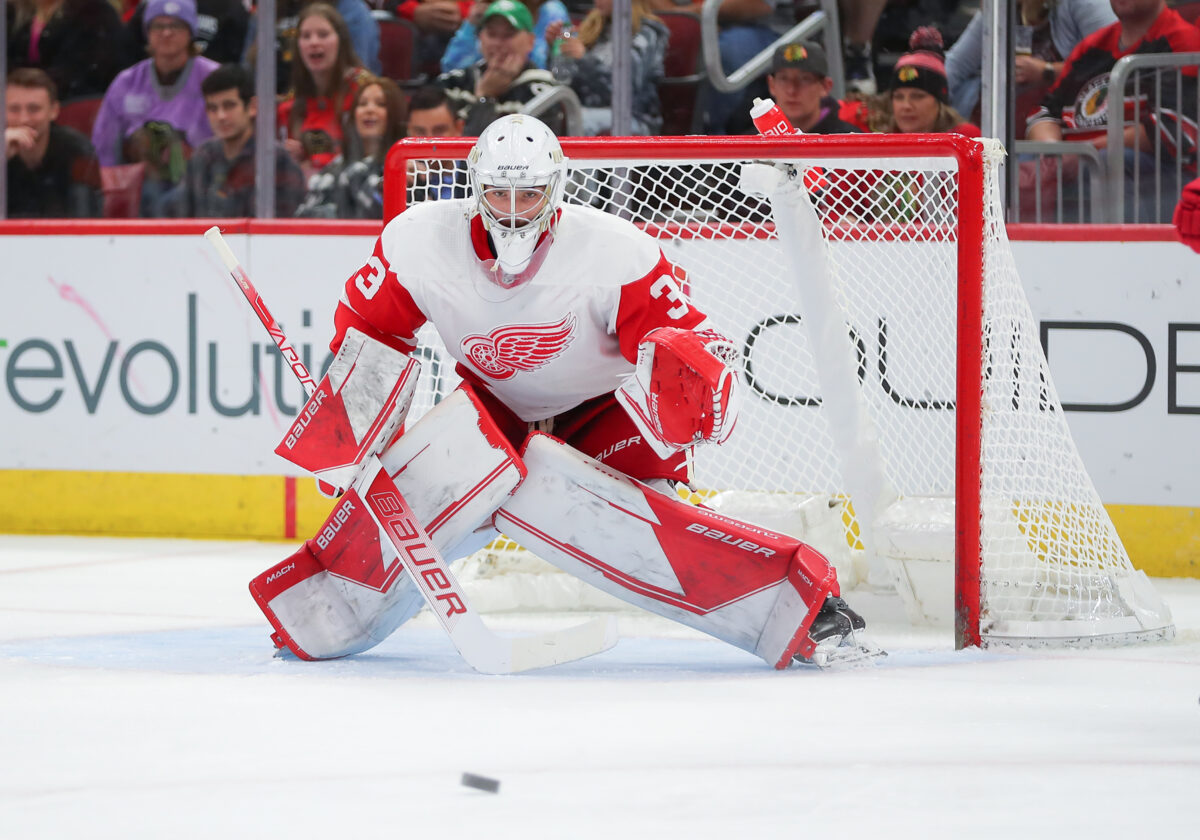 The Red Wings just don't have any depth beyond him. There's no guarantee Carter Gylander signs after his final collegiate season – let alone develops into an NHL netminder. Jan Bednar is also in the system, but looks more like a career minor league goalie.
That's it. That's all the depth the Red Wings have.
And that's why Detroit needs to draft a goalie at some point during the 2023 draft. A goalie with a long development runway is preferred – someone bound for college hockey or in a European league. In these circumstances, the Red Wings have four-plus years to watch this player develop, whereas they only have two years to decide if a Canadian junior hockey goalie is part of the future before their signing rights expire.
Related: THW's Free 2023 NHL Draft Guide
I mentioned Ian Blomquist in my draft preview as someone to target in the later rounds. Damian Clara, Adam Gajan, Ruslan Khazheyev, and Max Lundgren should be considered as well.
Regardless of who the Red Wings draft, they'll have more depth at the position. And if the goalie they select pans out, then they'll have a surplus at the position that can be leveraged in one way or another.
***
The NHL has its own economy. Supply and demand dominates everything, just as it does in the business world. The Red Wings need to embrace this – accumulate surplus, deal the surplus to address deficits, and build value along the way. That's how they go from a middling team to a contender, especially if the draft lottery isn't going to do them any favors.