The Pittsburgh Penguins managed to reach the Stanley Cup playoffs for the ninth consecutive season. It took them until the very last game of the season to secure a playoff berth and first-year general manager Jim Rutherford's tenure has been controversial.
Take a look at Part 1: Free Agency
Take a look at Part 3: Outlook
Let's take a look at how Rutherford performed throughout the year, continuing with the trades made.
James Neal To Nashville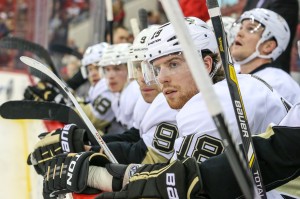 While it's a known fact that Patric Hornqvist has fit with the Penguins much better than James Neal did, the trade was not one of Rutherford's finest.
The addition of Hornqvist was slam dunk, but he is only part of the story. From the start, the Penguins should not have acquired Nick Spaling because it was going to cause salary cap problems and there have been reports that associate general manager Jason Botteril was against it from the start.
Not only did Rutherford acquire Spaling, but he then grossly overpaid him. His career year with Nashville was a result of being overdeployed in the Predators top-six, not because he was having a breakout year.
The more a player is on the ice, the more points they will produce, it's pretty simple.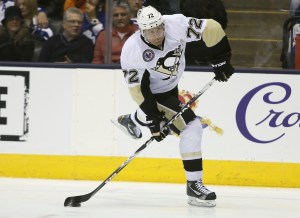 The fundamental problem with the Neal trade is that over half of the league showed interest in trading for him and Rutherford seemingly took the first adequate offer to reach his ears.
Taking into account that Neal had a less than stellar reputation off the field, why would so many teams still be interested in him?
Simply because he was an incredibility productive player alongside Evgeni Malkin and teams were looking for a scoring wing who could play with a superstar.
So why did Rutherford not try and maximize Neal's value?
Instead of trading Neal for Hornqvist plus a few draft picks, he settled for Spaling and Hornqvist.
Nick Spaling's contract was a big part of the Penguins late-season salary cap woes and overall this was not a good trade for Pittsburgh. Not because Hornqvist did not fit better, but because Rutherford did not maximize the return he could have received from Neal.
Phillip Samuelsson's Departure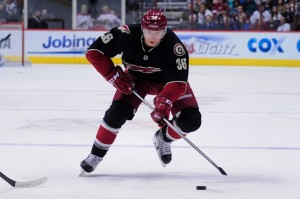 Much to my chagrin, the Penguins did not have faith in defensive prospect Phillip Samuelsson and when they needed forward help, he was one of their few trade chips.
Realistically, Samuelsson's ceiling is as a bottom pairing NHL defender, maybe second pairing if he works incredibly hard to hone his craft.
Rutherford sent Samuelsson packing to the Arizona Coyotes for forward Rob Klinkhammer and a conditional 5th round draft pick, which the Penguins will not be receiving.
More than anything this was a lateral move, Klinkhammer is a big power forward, but has almost no offensive capabilities.
He hung around the Penguins bottom-six for a while before being traded again.
David Perron to Pittsburgh
Rob Klinkhammer was a Penguin for 10 games before he was sent to the Edmonton Oilers with an unprotected first-round draft pick. The return was forward David Perron.
The talented goal scorer had a history of being a streaky player and he lived up to that reputation.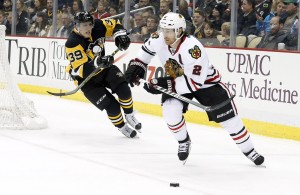 Perron debuted on the Pens with fire in his stomach, he started off as an incredibly productive scorer in the top-six, but was invisible by the end of the season.
It was later revealed that Perron had played months with a fractured rib and was in a great deal of pain while playing.
With a full offseason to heal and develop chemistry with Sidney Crosby and Malkin, Perron will be a fine addition to the Penguins top-six for the foreseeable future.
This could be considered the best trade that Rutherford made this season, but I think there's still one later in the article that might be even better.
Goc-Lapierre Swap
A lot of Penguins fans have the wrong impression from Maxim Lapierre because of his heroics during the first few games of the playoffs.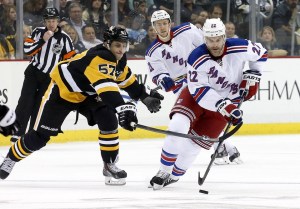 People have said that Lapierre was brought in to harass playoff opponents and he did that, but that was it.
The trade was Marcel Goc to St. Louis and Maxim Lapierre to Pittsburgh.
While Goc was not an offensive force, he was great at blocking shots and shot suppression. In other words, Goc was what the Penguins needed out of a fourth line center, a defensive player who could keep shots away from the net.
Maxim Lapierre is neither an offensive nor defensive force. Trading for Lapierre was another in the long string of mistakes by Rutherford.
Daniel Winnik Acquisition
This trade made absolutely no sense.
The Penguins had the opportunity to sign Daniel Winnik as an unrestricted free agent last summer. But, the Penguins are the Penguins and decided to send Zach Sill, a 2016 second-round pick and a 2015 fourth-round pick for Winnik.
Why?
Signing a player like Winnik for around $1 million as a free agent is a good value for the franchise, trading away a high and mid-range draft pick, plus a player, is terrible for the future of the organization.
Simon Despres to Anaheim
Discussing this trade is like beating a dead horse, it's already dead.
I've already examined this trade before, which can be found here.
Sending Simon Despres to Anaheim for Ben Lovejoy looked terrible when it happened, it still looks terrible and it's always going to look terrible.
Imagine the irony if Despres had won the Stanley Cup with the Anaheim Ducks.
The Ian Cole Heist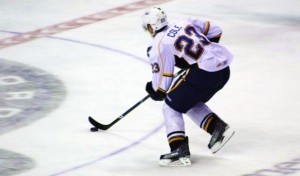 Robert Bortuzzo was a fan favorite, he was not the biggest or the most defensive, but he could throw his body around.
Fans loved the energy and monster hits he brought to the ice every night. However, Bortuzzo seemingly had hit his ceiling as a bottom pairing defender.
The former first round pick, Ian Cole, was buried in St. Louis' blueline. The Penguins proposed a swap of Bortuzzo for Cole.
It's safe to say the Penguins pulled off quite a heist, in a new system Cole has thrived.
He's a restricted free agent, but it's almost guaranteed that the Penguins bring him back on a long-term deal. Ian Cole looks ready to assume a role in the top-four and that is great news for Pittsburgh.
Overview
The Penguins would be much better off if Rutherford had performed as well as he had during free agency in regards to trades.
Adding David Perron and Ian Cole in the long run are going to be great acquisitions.
However, in this case the good does not outweigh the bad. Just about every other trade the Penguins regressed because of and there's a pattern of failing to maximize value in negotiations.
General manager Jim Rutherford needs to take some time this offseason and study the trade market because after one season, it's explicitly clear that he could use some improvement in his negotiating skills.
Michael Pityk is an analyst who has written for numerous sites since beginning his professional career. He's acted as a credentialed member of the media for the Philadelphia Phillies, Philadelphia Flyers, Pittsburgh Pirates and the Pittsburgh Penguins. His work has been featured in Sports Illustrated, The Sports Journal, MSN, PensLabyrinth, Montreal Hockey Talk, ESPN Pittsburgh, The Hockey Writers, Todays SlapShot and The Bleacher Report. He formerly was the editor of Pens Labyrinth and an analyst for The Sports Journal. Michael presently acts as an NHL Analyst for The Hockey Writers