As the Russian Ruble continues to plummet, the Kontinental Hockey League's future hangs in the balance. The Russian-based league once considered to rival the NHL is now fighting to stay alive because of circumstances far from the ice surface.
A Different World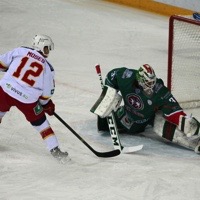 Long before the current economic landscape took shape, many players have been contending with outdated, old-world practices and sub-par conditions, which has been especially daunting for foreign (non-Russian) players. Austrian goaltender Bernd Brückler detailed his experiences in the KHL in This is Russia: Life in the KHL – Doctors, Bazas and Millions of Air Miles.
Among the aspects referenced are old dirty and bloody hospitals, unidentified pills force-fed to players, old and frightening plane rides, bizarre and sometimes uncertain payments, rigorous training camps and hotels lacking common amenities.
One of the strangest practices is the use of bazas. The word baza translates to base or grounds in English, but is more commonly referred to as jail by players. A baza is a compound where teams stay the night before a home game or if a losing streak occurs, could end up staying weeks at a time. Brückler describes the baza as follows:
As soon as I had arrived in Nizhny, I understood the baza was going to be bad news. I wasn't alone in feeling uncomfortable with the baza; all the import players shared my concern. The Czech guys and  [Swedish forward] Joakim [Lindström] were very much against staying there.

To say that the Torpedo baza was "in the middle of nowhere" is not a figure of speech. I dare you to try to find it on Google Maps. There may be street maps of Nizhny for sale these days, but the Torpedo baza won't be on it.  It was an old, two-storey red-brick building some 40 kilometers, or 45 kilometers by car, from the city in the middle of the forest., a good five kilometers off the highway on a backroad.

Just like in the Red Army's barracks, our rooms had two single beds by the walls and a tiny TV set – with only Russian channels, of course. Two nightstands added the finishing touch to the room's Spartan look. Each room shared a bathroom with another, so four players would generally share one bathroom. There was no internet, of course. "Internet at the baza would mean that the team is treated too nice," they said.
The Hockey Oligarchy
Everything in Russia is ruled by a select few wealthy individuals, and the KHL is no exception. Hence, why the league is in such dire straights because of the current economic troubles. Many of the teams are financed through contributions from larger organizations such as Gazprom Export, Dalspetsstory and Investbank and many times Vladimir Putin himself has a direct influence.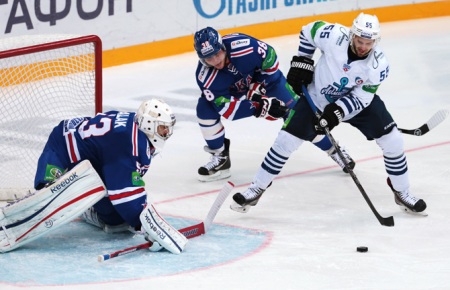 Money has been how the league has been able to poach international talent from North America and Europe as well as lure back Russian talent, sometimes even throwing in tax exemptions. However, with the Russian Ruble collapsing, what was once a lucrative contract for many players, is amounting to little more than nothing.
Previously, it had been common practice for a foreign player to negotiate a fixed United States Dollar to Russian Ruble rate upon signing his contract. If advised correctly, players could turn a large profit depending on the exchange rate that was negotiated. When describing the negotiations surrounding his first KHL contract, Brückler writes:
My first year's salary was $550,000 after taxes. That negotiated salary was then converted into rubles, which was the actual salary in my contract. After the offer, I had thirty days to choose the dollar-ruble exchange rate that would be locked for the season. [My contract's] exchange rate worked to my advantage in the end, so I ended up making some extra money.

I was locked in at 34.7 rubles against the dollar, so my salary in Russia was 18,975,000 rubles. Every time you get paid, the exchange rate is different, because you get paid in rubles. From the time I signed in April, by the time I got paid in August, a few months had passed and the rate already dropped to 32, which meant that I made an additional 370,000 rubles ($12,000) on my first paycheck.  
However, players today are paid in rubles, which makes contracts a lot more volatile. It's up to players to exchange their rubles on their own, whenever they see fit. This has caused all of the current KHL contracts to depreciate in value, which is especially cumbersome for foreign players. Since July, the ruble has lost about half its value against the US Dollar. Even worse, some players haven't been getting paid at all.
Defenceman Ilari Melart, who plays in the KHL, told Finnish media today he hasn't been paid since October. They're only getting meal money.

— James Mirtle (@mirtle) December 18, 2014
Along with a volatile economic climate, the KHL's biggest hinderance to growth is Russian culture. The nation's old world style (better known as doing things "the Russian way") has made it challenging for most foreign players to adapt to the league and the surrounding lifestyle, creating austere conditions. A league that was once considered to rival the NHL must change many of its ways to not only contend, but keep itself afloat.
As an American based in Amsterdam, Joe provides a unique hockey insight, bringing a global perspective to the game. Joe has several years of experience covering the game on both a domestic and international level, including being credentialed for multiple World and World Junior Championships.