On Oct. 5, 2019, Metropolitan Riveters forward Tatiana Shatalova stepped on the ice at ProSkate Ice Arena in Monmouth Junction, New Jersey to make history as the youngest athlete to play in a National Women's Hockey League (NWHL) game, at just 20 years old.
The Riveters were in a rebuilding phase at the start of the 2019-20 season, with a lot of new faces on the roster. Shatalova was one of them; a young, emerging player from Minsk, Belarus with a lot of energy and a lot to learn having only played in Russia arenas. Now, with her rookie season under her belt, this Riv has proven she can play in the NWHL and will continue her career in the 2020-21 season.
Adapting to New Surroundings
Shatalova was born in August 1999. She first laced up her skates at the age of six, not a surprise for someone living in a country that neighbors Russia. Shatalova made her professional career debut at just 16-years-old with Biryusa Krasnoyarsk in the Russian Women's Hockey League (ZhHL) in 2015, scoring five goals and two assists in 19 games. Although she made her professional debut younger than someone would typically think, this is not uncommon when it comes to the ZhHL.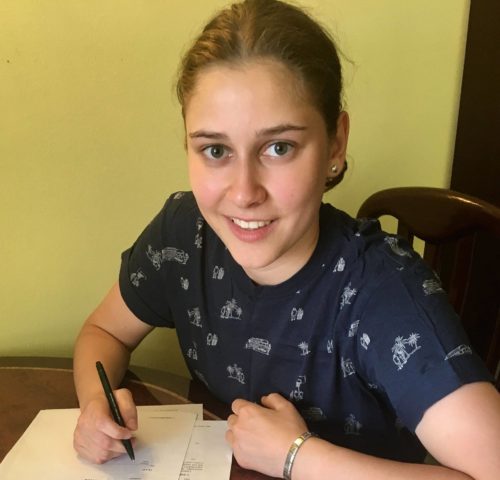 Playing at this level was an accomplishment, as she was playing alongside women much older. She was also a member of Team Russia in the U18 Women's World Championship in 2016 and 2017, winning bronze in 2017. Shatalova played three more seasons in the ZhHL, raking up 29 more points (16 goals, 13 assists) in the process as she developed into the swift forward she is now.
Related: Riveters' Tatiana Shatalova Has an Affinity for Valeri Kharlamov
Shatalova was 19 when she packed her bags and made the move from Minsk to the New York Metropolitan Area. A new home, a new team and a new way of life were waiting for her in New Jersey.
Showing off Her Style
General manager Kate Whitman Annis and head coach Ivo Mocek were ready to welcome Shatalova with open arms and she had a great support team to help her adjust. The Rivs had a big class of rookies and NWHL newcomers going into that season who were new to professional hockey. 
As Shatalova started to practice she faced a language barrier but fellow rookie and the first NWHL athlete to be from Kazakhstan, Bulbul Kartanbay also knew Russian and made Shatalova feel more comfortable as she learned English.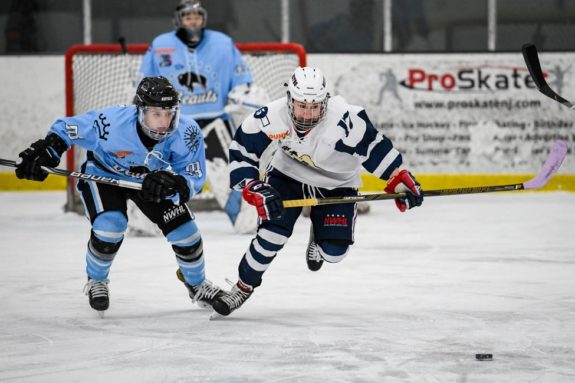 This high level of hockey can be intimidating to a youthful player, but Shatalova already had that professional experience playing in Russia. She took this as an incentive to develop her game, using every opportunity to show off her aggressive offensive style and speedy skating. She played 23 games in her rookie season, scoring two goals and 10 assists.
Her first goal was the game-winner at the Buffalo Believes Classic on Dec. 28, as the Metro beat the Buffalo Beauts 7-4. The second was a snipe against the Boston Pride on Jan. 20 after carrying the puck down the ice from the far circles. She also scored a shootout goal against the Minnesota Whitecaps.
It is easy to find Shatalova on the ice. Whether she's in the corners battling for the puck, deking and zig-zagging through the other team, or skating from each blue line in swift fashion, she is always noticeable. Her work ethic is paying off, though her aggressive style was sometimes questioned and shake-ups after the whistle sometimes happened. Shatalova is still young and developing, and her game will mature in time.
More additions to the Rivs roster like Paige Voight will complement Shatalova's speed, as Voight also has some speed to her game. Defenseman Sammy Kolowrat is also quick and aggressive. She can work with Shatalova to help keep the puck in the offensive zone, or help Shatalova move the puck down the ice in the upcoming season.
Shatalova Is Not Going Anywhere
Shatalova has become an essential piece of this team. She knows how to play hockey and how to move the puck, and although she may not be a top scorer yet, the potential is there.
Her roots are now in the New York Metropolitan Area, where she has joined the rest of the Rivs who are practicing at Montclair State University Ice Arena. Her speed and determination will only grow as she ages and gets to play in more NWHL games. Expect her to cement her career in North American professional hockey.
---
---