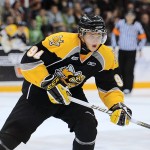 The OHL enters its third week and almost all teams have received their key players back from NHL main camps. Of course, there are a few OHL stars left competing for those coveted final spots in hopes of jumping to the big leagues. In this week's OHL Rundown we take a look at those players fighting for an NHL gig but also tell you who's hot in the Ontario Hockey League. Plus, the OHL Rundown keeps you informed of all of your OHL news around the league. Each week, the Rundown will highlight players performing well and specifically address those players in their NHL draft year.
OHLers IN THE NHL PRESEASON LIMELIGHT
Brandon Saad (Saginaw Spirit) – The Spirit has struggled without their star forward as they currently sit last in the West Division with a record of 1-4. However, Saad himself is exceeding all expectations with the Blackhawks and word on the street is that Saad will make the opening day roster (for at least a 9-game stint).
Ryan Strome (Niagara Ice Dogs) – The 2011 fifth overall selection remains with the Islanders after Sunday's cuts and will likely get himself a 9-game look before the Isle make their final decision. In my opinion, Strome will be returned to Niagara and will have a better chance come next year of becoming a full time NHLer.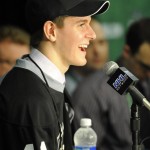 Mark Scheifele (Barrie Colts) – As I tweeted earlier last week, the Barrie Colts are doing a great job at supplying the Jets (formerly Thrashers) with ripe OHL talent. Last year, the Colts lost Alexander Burmistrov to the Thrashers immediately after being selected 8th overall in 2010. Bryan Little is also another Colt graduate playing for the Jets organization.
The Jets/Thrashers are no strangers to playing their first round picks as Zach Bogosian, Evander Kane and Alexander Burmistrov all jumped to the NHL immediately after being drafted. The young Scheifele is making a very strong case with 4 goals and 8 points in 5 pre-season games, ranking him tied for first and second respectively in preseason scoring. Scheifele has recently signed with Winnipeg indicating that the Jets are keeping him around for a while longer.
Ryan Murphy (Kitchener Rangers) – The Kitchener Rangers knew that Ryan Murphy would challenge for an NHL roster spot as they understand the elite talent he brings to the game. The Carolina Canes are giving their top 2011 draft pick a long look and it is beginning to look as though Murphy will be in the lineup when the Canes' regular season gets underway on Friday. Whether he stays for the 10th game remains to be seen but Murphy is a player who has the ability to force himself onto the roster. Will the Hurricanes keep another Kitchener Ranger star for the second year in a row? My prediction: Murphy will eventually be sent back to Kitchener as teammate Faulk is an easier defenseman to call up from the AHL's Charlotte Checkers
2012 NHL DRAFT ELIGIBLE PLAYER NEWS
10 Most Interesting Players to Keep an Eye On
The Future Considerations website is running a good section in preparation for the 2012 NHL Entry Draft and you can view their ten most interesting players to keep an eye on in each CHL league.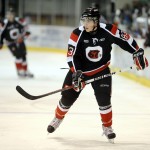 For the OHL, FC's Sean Lafortune lists his ten most interesting players including players Adam Pelech (Erie Otters), Slater Koekkoek (Peterborough Petes), Scott Laughton (Oshawa Generals), Daniel Altshuller (Oshawa Generals), Andreas Athanasious (London Knights), Thomas Wilson (Plymouth Whalers), Jesse Graham (Niagara Ice Dogs), Ben Johnson (Windsor Spitfires) and red-hot Cody Ceci (Ottawa 67's).
Check out FC's articles on the most interesting players in the WHL and QMJHL as well and you might as well add the USHL kids too.
2012 NHL Draft Eligible Olli Maatta – The London daily free press takes a closer look at top import pick and the Hunter's decision to draft the Finnish rearguard. "Finnished product"
Yakky-Watch – Yakupov tops FC's October 2012 Draft Ranking. There is no shortage of draft rankings on the internet but it is always good debating each and every one of them.
Belleville Bulls' Brendan Gaunce – Video interview
Nate Sager takes on a new video endeavor for Yahoo! Sports as he prepares for the draft. Featured below is a video interview with draft eligible Brendan Gaunce (Belleville Bulls).

Strong Draft Year Start for Storm Defender Matt Finn (2012 Draft Eligible)
The Storm knew that they needed their young players to step up for the team to remain competitive and defenseman Matt Finn has done just that. Finn has one goal and four points in five OHL games to start the season. The Toronto native is the featured player over at the 2012OHLdrafteligibleplayers blog.
FLAWLESS RECORDS
Only two teams remain undefeated after week two and both conferences are home to one team each. The Mississauga St.Michael's Majors sit at an impressive 5-0-0 record after defeating Owen Sound Friday night in a OHL Championship rematch.
In the Western Conference, the London Knights have continued to surge as the OHL's most underrated team. London has allowed an impressive league low 6 goals against while working their way to a 4-0-0 record. The Knights have strengthened their roster with the additions of Jarred Tinordi, Scott Harrington, and Jared Knight after they were released by their NHL clubs. Jared Knight notched his first career OHL hat trick this past weekend in their 8-2 win over Sudbury on Friday.
GALCHEYUK TO MISS UP TO 6 WEEKS
The Sarnia Sting will be without star forward Alex Galchenyuk for longer than initially expected as Galchenyuk isn't expected back before Halloween and likely will remain out until mid-November. Nail Yakupov will be flying solo for a little while longer but that doesn't appear to be slowing him down after recording two goals and two assists in Sarnia's 7-2 win over Sudbury Saturday night to move them to 2-1-1 on the season.
MARK VISENTIN SIDELINED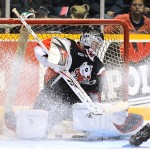 It appears that the Niagara Ice Dogs will lose their starting goaltender Mark Visentin for a few weeks after he "tweaked his groin" Friday night. The injury isn't considered to be serious but Visentin will miss some time and it's a situation to watch. The Phoenix Coyote draft pick is 0-1-0 on the season with a 4.86 GAA and .833 save percentage.
WORLD JUNIOR POWER RANKINGS
Sportsnet's Patrick King takes a look at some players vying for spots on Team Canada for the upcoming Under-20 World Junior Championships and whether they are trending hot or cold at the moment. Several key OHLers are featured in the story.
SOUNDBITS FROM THE OHL

OHL News Radio with Terry Doyle speaks with Ottawa Senators draft pick and Plymouth Whaler Stefan Noesen. Full episode can be found here.
SIGHTS FROM THE OHL

First Year OHLer (former QMJHL player) Mitchell Porowski scores a beauty for the Brampton Battalion

FIGHT: Windsor's Ty Bilcke vs. Ottawa's Michal Cajkovsky.

FIGHT: London's Olli Maatta (1st OHL Fight) vs. Guelph's Tyler Bertuzzi

BMO CHL MASTERCARD TOP 10 RANKINGS
Below are the CHL team rankings ending week two. The ranking list will be updated for Week 3 once the CHL releases the information.
Last week's rankings were:
1 Saint John Sea Dogs (3-3-0-0)
2 London Knights (2-0-0-0)
3 Red Deer Rebels (2-0-0-0)
4 Victoriaville Tigres (5-2-0-0)
5 Portland Winterhawks (2-1-0-0)
6 Baie-Comeau Drakkar (6-1-0-0)
7 Shawinigan Cataractes (5-2-0-0)
8 Ottawa 67's (2-0-0-0)
9 Kelowna Rockets (1-0-0-0)
10 Mississauga St. Michael's Majors (2-0-0-0)
Honourable Mention:
Regina Pats (2-0-0-0)
Sarnia Sting (1-1-0-0)
Quebec Remparts (3-2-1-0)
TOP OHL SCORERS (ending Sunday, October 2nd)
1. Tanner Pearson (Barrie Colts): 5GP-6G-8A-14P
2. Zach Hall (Barrie Colts): 5GP-4G-9A-13P
3. Sean Monahan (Ottawa 67's): 5GP-6G-6A-12P

TOP OHL DEFENCEMEN SCORERS
1. Cody Ceci (Ottawa 67's): 5GP-2G-6A-8P
2. Matt Petgrave (Owen Sound Attack): 6GP-2G-6A-8P
3. Jay Gilbert (Owen Sound Attack): 6GP-0G-6A-6P
TOP OHL ROOKIE SCORERS
1. Max Domi (London Knights): 4GP-4G-2A-6P
2. Nick Ritchie (Peterborough Petes): 5GP-4G-1A-5P
3. Brett Gustavsen (Ottawa 67's): 5GP-2G-3A-5P
OHL PLAYER OF THE WEEK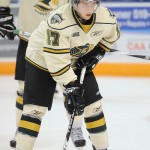 The Ontario Hockey League has announced that London Knight Seth Griffith is the OHL Player of the Week after posting two goals and six points in two games keeping the Knight's undefeated on the season.  Seth Griffith was passed over in last year's NHL Entry Draft and hails from the town of Wallaceburg, Ontario.  Griffith appears to be seeking revenge on those NHL teams.
Congratulations to Seth Griffith (who is a local kid to my parts of the woods)! Well deserved!