In the final part of the "Not-so-obvious Calder Candidates" we take a look at three more players – one forward, one defenseman and a goaltender who have a chance at reeling in the NHL's rookie hardware.
In the opening article, Zac Dalpe, Brendan Smith and Mark Dekanich highlighted the trio of not-so-obvious Calder candidates.  Two of those players have received bad news as Smith will start the season serving a five game suspension handed out by Brendan Shanahan after a head shot to Chicago's Ben Smith.  Dekanich will start the season on the injured reserve after news revealed that he has a high ankle sprain that will keep him out of action for a few months. Since posting the opening article, Dalpe has quickly become a favourite "sleeper" of many people.
All three remain in contention and join the likes of Hodgson, Blum and Enroth (Part Two's candidates) in the race for rookie supremacy.  Let's take a look at the final trio flying under the radar this season.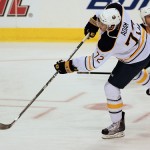 Forward – Luke Adam (Buffalo Sabres)
The native of St.John's, Newfoundland has been climbing the depth chart quickly after being named the AHL's Rookie of the Year after scoring 29 goals and 62 points in 57 AHL contests last season.  The smart two-way forward was the third Portland Pirates player to receive Rookie of the Year honours in as many seasons (Nathan Gerbe and Tyler Ennis received the previous honours).
The former second round draft pick (2008, 44th) has had a strong pre-season playing alongside Thomas Vanek and Jason Pominville on most nights.  Adam has shown that he belongs and that his work ethic is second to none as he has factored in on a lot of the Sabres' scoring chances.  At 6-foot-2-inches and over 200 pounds, Adam gives the Buffalo Sabres the size they have been lacking up front.  His strong play has earned him a roster spot for opening day as the team travels to Europe.
Adam, a former 7th overall selection in the QMJHL Draft, went on to score 113 goals and 220 points in 236 games playing for St.John's, Montreal and Cape Breton.  Last season, Adam was recalled for 19 games with Buffalo where he recorded four points.  Look for him to continue to fight his way up a loaded Sabres roster and if an injury strikes a key guy like Vanek, Ennis or Gerbe, then the competitive Adam could earn some valuable top nine minutes.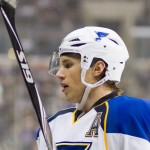 Defenseman – Stefan Elliott (Colorado Avalanche)
To put it bluntly, Stefan Elliott tore the Western Hockey League apart last season posting a remarkable 31 goals and 81 points in 71 games en route to winning the WHL's Top Defenseman award. The Saskatoon Blade continued his dominance into the playoffs where he scored another eight points in ten games. His performance eventually earned him a five game call up to the Lake Erie Monsters of the AHL (2 points).
In the 2009 draft, Elliott slipped to Colorado who held the 49th pick after all major scouting bureaus had the North Vancouver defenseman ranked 32nd or better (ISS-32nd, CSB-17th, TSN-23rd, THN-27th).
Elliott oozes offense, and while some people criticize his physicality, the Avalanche drafted a smart two-way defenseman capable of big minutes.  It was the play of Stefan Elliott that allowed GM Greg Sherman to trade away top prospect defenseman Kevin Shattenkirk in a deal to acquire former first overall pick Erik Johnson from St.Louis.  Elliott has made the final cuts in Denver beating out teammate Tyson Barrie (assigned to Lake Erie) and will get a look on the Avalanche powerplay to start the season.
The high scoring junior star has a chance to become an immediate contributor to the Avs backend.  The defensive aspects of Elliott's game will need to be refined but look for the organization to remain patient with him.

Goaltender – Anders Lindback (Nashville Predators)
Not unlike the other goaltending "Not-so-obvious Calder Candidates", Anders Lindback has serious competition ahead of him in the depth charts.  Unfortunately, Lindback will need to see an injury to star netminder Pekka Rinne to earn a chance to compete for the Calder.
Rinne, who has quickly emerged as an elite NHL goaltender, will earn the bulk of starts for the stingy Predators team.  However, Lindback, the 6-foot-6-inch Swedish goaltender, could quickly become a Calder favourite if the unflappable Rinne misses any time.
Nashville is a place where goaltenders love to play due to the defensive style of game the Predators implement making it easier to post impressive goaltending statistics.  Lindback was the fifth last player selected in the 2008 draft at 207th overall and has proven to be a steal for the Predators organization.  Last season, Lindback appeared in 22 NHL games (3 games under the Calder eligibility limit) and posted a respectable 11-5-2 record while giving up 2.60 goals per game, a 915 save percentage and two shutouts.  The future appears bright for the Galve, Sweden native as the Predators are extremely comfortable playing the lanky netminder in all situations.
Look for Lindback to start the season as Rinne's backup but the potential for Anders to earn some valuable starts and post impressive numbers definitely exists. Physically, Rinne and Lindback form the league's tallest netminding duo at almost thirteen feet of goaltending but technically, the tandem could just be the best in the National Hockey League.

There you have it – nine potential sleepers to win the Calder Trophy.  Zac Dalpe, Cody Hodgson and Luke Adam highlight the forwards capable of unseating favourites Brayden Schenn, Gabriel Landeskog and Ryan Nugent-Hopkins (among others).  On the backend, Brendan Smith, Jonathon Blum and Stefan Elliott should see the ice time to post productive numbers and while they have some obstacles to overcome these three defenders will challenge rookie sensation Adam Larsson on the blue line.  The longshots of this series have to be the goaltenders.  Dekanich, Enroth and Lindback are all keepers who require injuries to some of the NHL's elite goaltenders (Mason, Miller and Rinne) but injuries are no strangers to the game (as Dekanich can attest to) and it's the perfect opportunity for rookie netminders to take advantage of.
The 2011 freshman crop is fairly wide open and there does not appear to be one consensus pick to win the Calder Trophy.  Going with a number one overall pick like Nugent-Hopkins would be a smart bet, but the #1 overall pick hasn't won the Calder since Patrick Kane did in 2008.   In today's NHL, everyone cheers for the underdog and this season's Calder crop has plenty of them.  When the Calder voting takes place next spring, do not be surprised to see some of the nine names listed above on ballots around the league.
Follow prospects writer Brendan Ross on twitter @rossyyoungblood for all things prospect and OHL.