With the 2023-24 season right around the corner, expectations for the Buffalo Sabres are pretty high, as they should be. In 2022-23, the Sabres finished just one point shy of a playoff spot, so making the postseason is the natural next step for a young, still-developing team that played 82 meaningful games a season ago.
With that said, and with many reasons for optimism, there are also some reasons to be cautious heading into the season.
Sabres Goaltending
As much as I believe in Devon Levi, his experience — or lack thereof — could be an issue. Assuming he jumps into the starter's role, while never playing more than 41 games at any level, could mean that he struggles in the second half due to fatigue. After all, 34 of those games were played in the NCAA. He will be working much harder on a game-to-game basis in Buffalo than he did in college.
Beyond Levi, Eric Comrie and Ukko-Pekka Luukkonen don't provide much reason for confidence should Levi burn out or miss time with injury. Comrie has never played more than a backup role, with a career save percentage (SV%) under .900. Luukkonen started over 30 games last season, but again, boasts an unimpressive SV%. All that's to say, the goaltending depth leaves more questions than answers should these two have to play meaningful minutes this season.
Jack Quinn's Injury
In late June, Jack Quinn underwent Achilles surgery and will be out until mid-late December, at the earliest. The Sabres have the depth and high-end prospects to make up for his absence to start the season, but when an up-and-coming stud exiting a solid rookie season goes down with a ruptured Achilles, it stings.
Related: 3 Sabres That Need to Impress Right Away This Season
---
Latest News & Highlights
---
Without Quinn, Casey Mittelstadt or Victor Olofsson should jump into the top-six for at least a few months (which may also result in occasional call-ups for Matthew Savoie or Jiri Kulich). This isn't necessarily a bad thing — Mittelstadt is coming off career highs across the board (15 goals, 44 assists, and 59 points), and Olofsson is coming off of a career-high 28-goal season. Both players are more than capable of slotting in for Quinn until the calendar flips to 2024.
It's no secret that Olofsson is, and has been, on the trade block, and it might still be in the Sabres' best interest to move him before the season starts. However, Quinn's injury will likely force general manager Kevyn Adams to stand pat and not make any moves until the trade deadline. Should Olofsson be moved, inexperienced players like Kulich or Savoie would be forced into a semi-permanent, top-nine role, which they might not be ready for. Kulich, in particular, will more likely than not be the first to fill that spot, considering his recent success with the Rochester Americans, but he has yet to step on NHL ice, and being forced into a meaningful role might be cause for concern.
Sabres' Individual Regression
PDO, or shooting percentage (S%) plus SV%, is a simple way to quantify luck. On average, S%, when added to SV%, equals exactly 1. When the total surpasses one, it signifies that a player or team has benefited from some puck luck and that the puck probably shouldn't have gone in so often. Conversely, when a player's PDO is under 1, they were unlucky and likely should have had more goals than they did. PDO values of 1.02 or 0.98 are considered the thresholds for regression — either back down to Earth or positive regression to the mean of 1.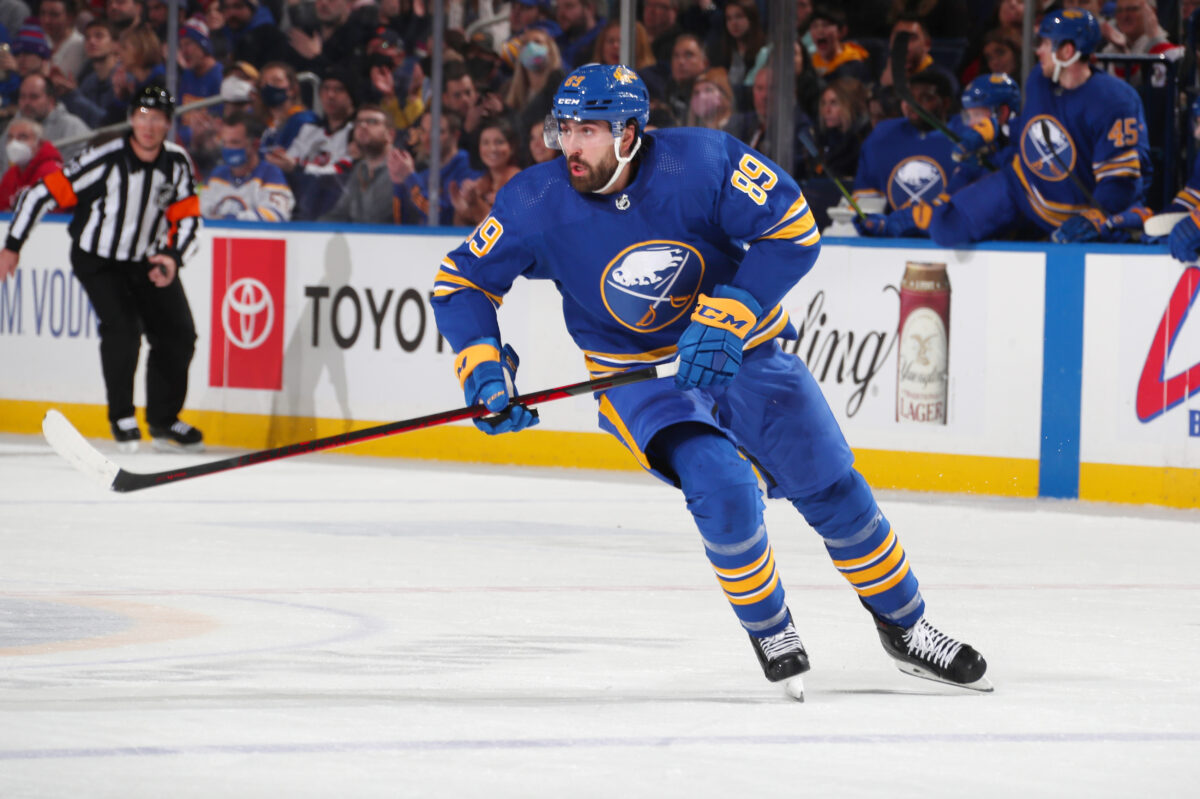 With that in mind, several players on the Sabres posted PDOs well over 1 last season. In fact, the entire top line of Jeff Skinner, Tage Thompson, and Alex Tuch posted high values. Skinner and Tuch put up PDOs of 1.026 and 1.021, respectively, while Thompson was closer to the mean, at 1.011. Expect some regression from Tuch and Skinner, but Thompson's success could be somewhat sustainable. The same goes for Quinn and Dylan Cozens, who respectively posted PDOs of 1.007 and 1.002.
Depth on Defense
The Sabres' two most important defensemen are very, very good. Rasmus Dahlin solidified himself as one of the NHL's premier defensemen, and Owen Power looked right at home, at least offensively, averaging almost 24 minutes a night. Beyond them, the defense is a bit shaky, to say the least. Mattias Samuelsson took a step backward after a successful season in 2022-23; far too often were there mishaps in his own end.
After Samuelsson, the defense corps has two new additions — Erik Johnson and Connor Clifton — and Henri Jokiharju. To put it lightly, Jokiharju has struggled at the NHL level. In five seasons, he has never posted a positive expected goals share (xGF%), and despite a bit of an improvement in 2022-23, he floundered at both ends of the ice. Clifton is a solid addition to the blue line, with positive micro-stats all around.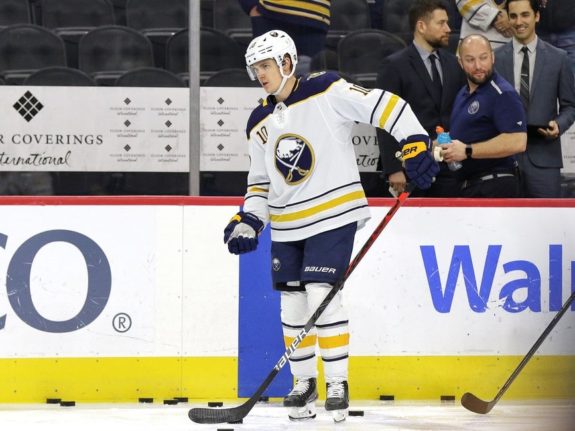 Erik Johnson, though, is aging rather poorly. Last season, he produced just eight points in 63 games on a team that ranked ninth in goals scored. On top of his decrease in production, he was the only Colorado Avalanche defenseman with at least 900 even-strength minutes to post an xGF% under 50%, at 47.26%.
If the young defensemen, Samuelsson and Jokiharju, don't step up in a significant way, the Sabres' defense is once again going to be a question mark; the team allowed the seventh most goals against and posted a team-wide xGF% under 50% last season. If Buffalo has playoff aspirations, which should be the expectation, they need to improve defensively.
Sabres' Playoff Hopes
With goaltending and defensive depth being legitimate concerns, and regression from a couple of players likely, locking in the Sabres as a playoff team is somewhat premature. With that said, the reasons for optimism outweigh the reasons for tempering expectations. As such, fans should assume that the Sabres will play another 82 meaningful games and expect a playoff berth as a reward for their patience.
---

---