Andrew Shaw is a player that holds undeniable value for the Chicago Blackhawks. The expectations weren't very high for the pending restricted free-agent (RFA) forward who was drafted by the Blackhawks with the 139th overall pick in the 2011 NHL Entry Draft. Unlike most late-round draft picks, however, the odds were stacked even higher against Shaw after he was undrafted in his first two draft-eligible years. The odds of making an NHL roster are stacked against every NHL draft pick, and the odds of a fifth round draft pick making an impact in the league is very low.
Shaw's ability to find success at the NHL level is even more impressive due to the adversity that he's faced early on in his hockey career.
Shaw has posted solid statistics over his career as a member of the Blackhawks, which are additional to the other factors that he brings to the team. A gritty, effective energy player who drives possession in all situations, Shaw has been crucial to the Blackhawks' success over the last few seasons.
Unfortunately for Shaw, Chicago is a team that is in a win-now mode and as a result, he may be too expensive for the team moving forward. There are various factors that will go into the final decision on Shaw, including his role on the team on-and-off the ice, the threat of an offer-sheet, and his willingness to stay with the club on a reasonable contract.
Support from Teammates and Coaches
As is the case with locker rooms in just about every sport, a good attitude and chemistry with teammates goes a long way. Shaw is a player who has the utmost respect from his peers within the locker room, and it's clear that they all want him to remain with the Blackhawks following this offseason.
A vote of confidence from any veteran player in a locker room is a positive, but getting that vote from the 2016 Art Ross Trophy winner is something that simply cannot be ignored.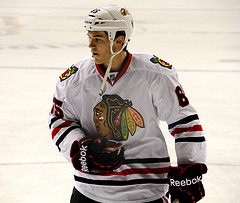 "He's a big part of our team, whether it's his personality or the way he plays on the ice," Patrick Kane, the 2016 Art Ross Trophy winner said. "We all love a guy like a Shawzie, so it would be sad to see him go, for sure. I think we're all expecting to see him back next year."
As mentioned by Mark Lazerus of the Chicago Sun-Times, Blackhawks' head coach Joel Quenneville has had his share of players traded away, despite them being invaluable to his team. From Andrew Ladd and Dustin Byfuglien in 2010, to Troy Brouwer in 2011, Dave Bolland in 2013, Nick Leddy in 2014, and most recently, Brandon Saad, Patrick Sharp, and Johnny Oduya in 2015, many important players have been traded by the Quenneville-coached Blackhawks. That hasn't stopped the illustrious head coach from making his thoughts known on Shaw's contract situation.
"Every guy's merits are stronger than others, and Shawzie's argument is as tough as you're ever going to get, because he brings so much to the table that you appreciate," Quenneville said following the Blackhawks elimination from the playoffs. "He's irreplaceable in that regard."
Offer Sheet Compensation
If Shaw and the Blackhawks fail to reach an agreement by July 1, then the threat of an offer-sheet will become a factor for general manager Stan Bowman.
Under the current CBA, the offer-sheet compensation is distributed as follows:
If a contract is signed for $1,205,377 or below – No Compensation
If a contract is signed for $1,205,377 to $1,826,328 – Third-round pick
If a contract is signed for $1,826,328 to $3,652,659 – Second-round pick
If a contract is signed for $3,652,659 to $5,478,986 – First and Third-round pick
If a contract is signed for $5,478,986 to $7,305,316 – First, Second, and Third-round pick
If a contract is signed for $7,305,316 to $9,131,645 – Two First-round picks, and a Second and Third-round pick
If a contract is signed for $9,131,645 and above – Four first-round picks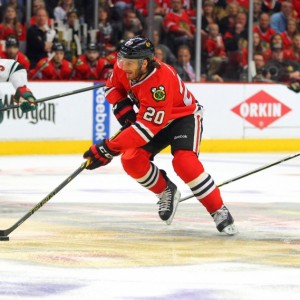 Bowman and the Blackhawks will likely do everything in their power to avoid the threat of an offer-sheet as they attempted to do with Brandon Saad just one year ago. The difference between Saad and Shaw, however, is that Shaw shouldn't be demanding the $6,000,000 per season to remain with the Blackhawks that his former teammate did, a number that simply priced Saad out of Chicago's organization. Shaw could be looking for a contract worth upwards of $3,500,000 which, would give the Blackhawks either a second-round pick, or a first and a third-round pick depending on the exact number and assuming it doesn't exceed $5,478,986.
When asked about the possibility of an offer-sheet, Bowman had this to say:
"We'll get that (cap) number over the next two months, and once we get that, we'll make it work and put a team together that fits, and is competitive," Bowman said. "So I can't answer that (yet). I don't have enough information to answer that. But certainly, we'd like to try and do what we can to bring him here."
The Blackhawks may look to trade away Shaw's rights in a deal similarly to how they traded Saad's last season if a deal cannot be reached prior to July 1. It would best suit Chicago to try and package Shaw's rights in an attempt to fill in another area of need, rather than settle for draft picks. The Blackhawks could be looking for additional defensive depth as a fall-back plan for the Michal Kempny signing, or help on the left wing with Andrew Ladd being informed it's unlikely he'll be re-signed in Chicago.
Bowman is among the best general managers in the entire NHL, and he will make the best decision for his club when the time is right; whether that's trading away Shaw's rights, re-signing him to a contract, or simply waiting for an offer-sheet to force his hand.
Andrew Shaw Wants to be a Blackhawk
One factor that will work in favor of the Blackhawks is the fact that Shaw wants to remain with the team that gave him a chance after going undrafted twice.
"I want to be back here," Shaw said. "I've been in Chicago for five years now, and I've made this place my home."
It isn't lost on Shaw that he's exceeded all expectations to this point in his career, and that should help the Blackhawks above all else.
"Look where I've made it, and look where I came from," Shaw said. "I've overachieved from what I thought I was going to get out of life."
Despite saying that, Shaw's agent will make sure that his client received fair value in his next contract. There is still the possibilty that Chicago can convince Shaw to take a hometown discount if they're lucky, but only time will tell. Signing a contract worth $3,500,000 per season over the course of a three-year deal could be feasible for the Blackhawks as Shaw has already shown the ability to play in multiple roles on the team. From a role player in the bottom-six, to a top-six winger alongside Jonathan Toews, Shaw can be called upon in a cinch to provide quality minutes for his team.
It isn't clear what the future holds for Shaw and the Blackhawks, but it would be a shame to see No. 65 in a different uniform next season. At just 24-years old, Shaw is just starting to enter his prime. The Blackhawks would be wise to maximize their value by signing him to a team-friendly deal, or trading him for a team-friendly return.