Of the many questions yet to be answered ahead of the 2018-19 National Hockey League season, the fate of Slava Voynov is perhaps the most impactful.
Voynov, once a rising star defenseman with the Los Angeles Kings, was arrested on charges of domestic violence against his wife, Marta Varlamova, in October 2014. Initially charged with a felony, Voynov accepted a plea deal of 90 days in jail and three years probation, with stipulations he must also complete a domestic violence course, pay a fine and do community service.
After serving his time, Voynov elected to forgo deportation proceedings and returned to Russia voluntarily. Now, he has regained permission to enter the United States, and is eligible to apply for a visa starting July 2.
So July 2 is the date when Slava Voynov (he's in US now) can apply for a US work visa #LAKings

— Igor Eronko (@IgorEronko) June 10, 2018
Granted, there might still be some obstacles to Voynov resuming his career in North America but, assuming those hurdles are cleared, the NHL has an interesting dilemma on its hands. With many teams sure to be interested in his services, what is the NHL to do?
Why Do NHL Teams Want Voynov?
First off, make no mistake: Voynov is a good hockey player.
A member of the Stanley Cup-winning Kings in both 2012 and 2014, Voynov was playing more than 23 minutes per game at the time of his arrest, second on the team, and had averaged 0.43 points per game in his career up until that point, equal to 35 over the course of an 82-game season – rather good, for a defenseman.
His play in Russia's Kontinental Hockey League the past three years has been good as well, tallying 75 points in 139 combined regular season and playoff games since joining KHL powerhouse SKA Saint Petersburg.
Are NHL Teams Wary of Voynov's History?
Of course, he's a confirmed domestic abuser – not a good look for a professional sports franchise. Still, there are many teams that have apparently inquired about Voynov, while many more are sure to come out of the woodwork in the coming weeks.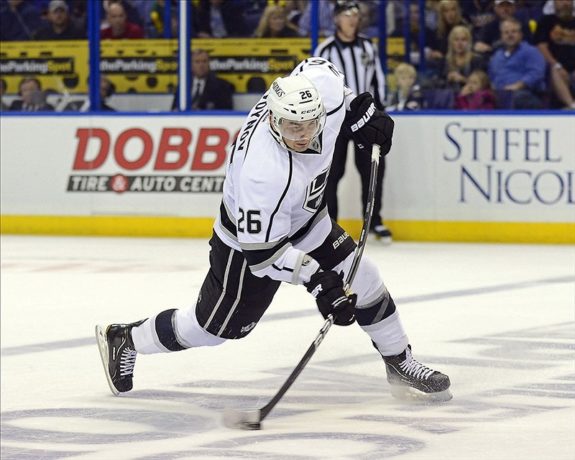 More than a few NHL teams rang up the Chicago Blackhawks to ask about Patrick Kane, after one of the superstar winger's many alleged indiscretions (the criminal investigation was later dropped, and the NHL found no wrongdoing, either). The league also takes every opportunity to use Kane, who has all the charisma of plywood and a history of controversy a mile long, to sell the game.
Meanwhile, Evander Kane, caught on film causing a disturbance at a Buffalo nightclub (which was not deemed worthy of punishment) after a litany of other alleged indiscretions, was a big acquisition at this year's trade deadline and just signed a seven-year, $49 million contract with the San Jose Sharks.
It's important to note that neither of these players were convicted. Their mention was merely to illustrate the fact that, baggage or not, so long as someone is good at hockey, there will be NHL teams interested in their services.
Arguments for Voynov's NHL Reinstatement
And why shouldn't they be?
The job of each NHL team is to assemble a group of players good enough to win the Stanley Cup. If a player is legally entitled to work in North America, why shouldn't teams have a right to pursue them?
Team Pride Trumps Public Opinion
The court of public opinion can be brutal, so even pursuing Voynov, let alone signing him, may reflect poorly on an NHL team according to public opinion – not to mention the league as a whole for making it possible. However, professional athletes, like most celebrities, are not treated like ordinary people. Many fans are willing to overlook political and personal views some consider distasteful and will defend their heroes to the last.
Any outrage has the potential to simply fade into the footnotes of history once the puck drops.
Has Voynov Served His Time?
Some may not consider Voynov to have been adequately punished. After all, his initial felony charge carried a maximum penalty of nine years in prison, while he served less than two months. However, he did miss out on the final four years of his six-year, $25 million contract after it was terminated by the Kings and, though he apparently made even more per season in the KHL, Voynov still likely cost himself the chance to strike it rich as an unrestricted free agent in the NHL.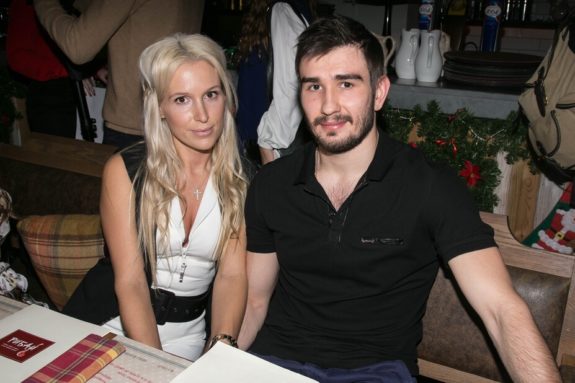 Playing in Russia for millions of dollars may not seem like punishment, but Voynov simply took the deal offered to him by the legal system, pleading no contest to a reduced charge. Anyone offered the same deal in such a situation would likely do the same.
If another league was willing to take him in and pay him money to ply his trade, why should that reflect badly on him? On the justice system, perhaps. On the KHL, even. But on Voynov? After being charged, he did what almost any other person in his position would do.
He committed a crime, that much we know. However disappointing one might find his punishment, that's not his fault. Whatever the public perception, now that he is allowed back into the United States and is eligible to apply for a visa, it can be argued that he's served his time, just the same as any other criminal.
And what if he's changed? What if he's served his time, feels genuine remorse, and is fully rehabilitated and deserving of a second chance? The incident was nearly four years ago, after all, giving him a long time to think about his actions and their consequences, as well as to develop the maturity that can only come with age and experience.
Arguments Against Voynov's NHL Reinstatement
Of course, it can be argued domestic abuse is worse than most other crimes. Maybe, in this case, once is enough.
Nothing Unclear About Voynov's Crime
There are no allegations here, no extenuating circumstances, nothing up for interpretation. Voynov's guilty and everyone knows it.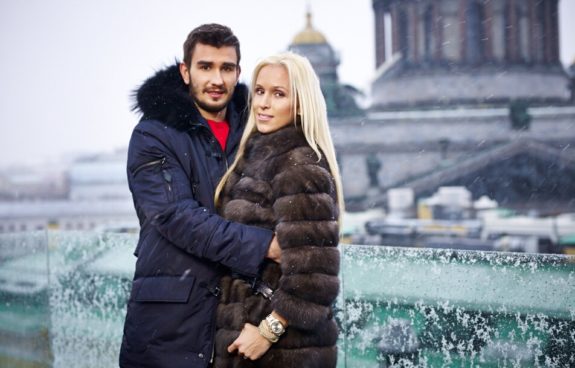 Even worse, his wife expressed to police the incident was "not the first time" he'd abused her, so the "second-chance" argument is weakened substantially.
Reinstating Voynov Harmful to NHL's Brand
With regards to the league, the NHL is not just an on-ice product – it's a brand, as are its teams.
The Kings sullied their reputation back in 2014 by sneaking Voynov into a practice while he was under investigation. That wasn't a good look and it's also disturbing that the players and staff were so ready and willing to bring the perpetrator of such an offense back into the fold. Prospective employers should prepare for an exponentially worse backlash should they choose to engage him now.
The NHL should look no further than the National Football League when it comes to how to handle – or, rather, how not to handle – domestic abuse. Like the NFL, the NHL is already besieged by allegations of impropriety surrounding the awareness, diagnosis and treatment of concussions. I doubt leniency towards domestic abusers will improve their standing in the court of public opinion.
Women and Children Hurt Voynov's Case
Unlike the NFL, the NHL has to scratch and claw for fans in some markets and is generally terrible at marketing itself. I would love to know how the NHL, which likes to think of itself as a staunch supporter of You Can Play and women's hockey, along with other progressive causes, plans on rationalizing the reinstatement of Voynov to its female fans – not to mention victims of domestic abuse, female or otherwise.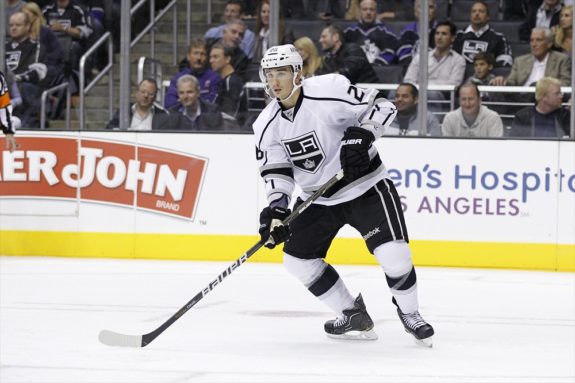 Plus, what happens when Voynov goes out to a community event to meet and mingle with fans? What if a child goes home, looks up his new hero and finds out about his past? What happens when he or she hears about Voynov's case? What happens when a developing mind associates success, athletic or otherwise, with the ability to circumvent societal norms, to enjoy significant advantages before the law and relative impunity in one's profession?
This isn't an issue of personal vice, like drugs or alcohol. This is different. If the NHL reinstates Slava Voynov, the act will be seen by some as tacit acceptance of domestic abuse – so long as the perpetrator is good at hockey, of course.
NHL Has Problem With Complacency
If the Kings are anything to go by, the NHL already has a problem with players and teams not taking domestic abuse seriously. If the Kanes are anything to go by, the NHL already has problems with players and teams not taking any (alleged) criminal indiscretions seriously. Heck, Ryan O'Reilly of the Buffalo Sabres allegedly crashed his truck into a Tim Hortons while intoxicated and then fled the scene and was nominated for the Bill Masterton Memorial Trophy the very next season.
It's in the league's best interests to address serious legal and ethical issues by severely punishing the individuals responsible. In Voynov's case, he may indeed be allowed back in the United States and he may be eligible for a visa, but the NHL is a private organization – as is every one of its teams – and is under no obligation to employ him.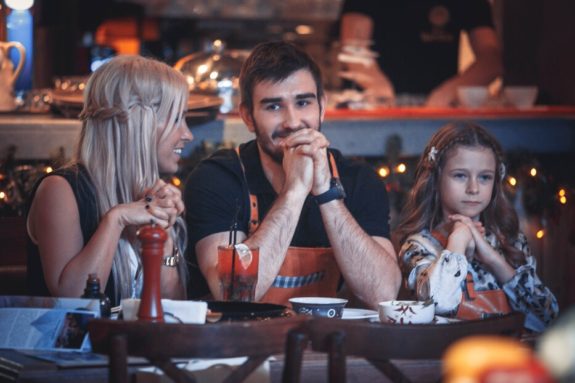 Society's reaction has changed dramatically over the past few years when it comes to this sort of thing. For instance, Winnipeg Jets legend Bobby Hull stayed away from a reunion of one of the best lines in hockey history, thanks to general disgust at the sordid details of his personal life. Meanwhile, the NHL barred Voynov from participating in the 2016 World Cup of Hockey, another positive step.
Technicalities Not a Good Defense
Look at the debate over whether the NHL should participate in the Winter Olympics: The league is, technically, under no obligation to attend. However, for the good of public perception, not to mention the good of the game, they really should go.
Likewise, the league, technically, shouldn't be barring a capable hockey player eligible to work from playing in their league. However, for the good of public perception, not to mention the good of the game, they really, really should.
Voynov Case Illustrates NHL's Need for Clarity, Consistency
We all laugh about the murkiness of offside and goaltender interference, but domestic abuse is decidedly unfunny. Whatever they end up doing with Voynov, the NHL needs a clear, codified policy – and consistent implementation of that policy – when it comes to cases of domestic abuse.
Whatever the Voynov verdict ends up being, the NHL needs to step up, end the debate and put this matter to bed once and for all, because this issue isn't going away anytime soon.
Whether they're willing to gamble and reinstate Voynov, potentially sullying a brand riding a wave of popularity after an unfathomably successful expansion season and a Cup victory for a living legend, or whether they want nothing whatsoever to do with him, depriving the best league in the world of a talented player in order to address broader organisational issues, remains to be seen.
Whatever the result, it will shape the perceptions of the league, not to mention whatever teams are involved, for generations to come.