He's projected to go within the top three of the upcoming NHL Entry Draft. While some have him atop the rankings, others have him sitting right behind Rasmus Dahlin – a franchise-type defenceman out of Sweden.
Regardless of where he goes in this year's draft, Barrie Colts' rookie Andrei Svechnikov will undoubtedly help whichever team is lucky enough to acquire his rights. That said, every skilled player can be shut down to some extent.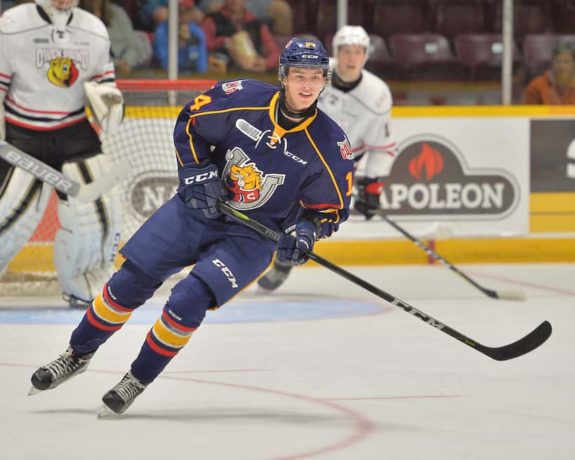 No, maybe you can't stop them completely as we've seen with players like Connor McDavid, Sidney Crosby and others with that raw hockey talent, but you can limit their success – something the London Knights have tried to do against Svechnikov in their matchups this season. Part of that was matching lines – which left defenceman Shane Collins out against the Colts' forward for the most part.
Svechnikov's Numbers
In his first year in the OHL, the 17-year-old has shown extreme talent in limited time. Thanks to injury, he's played just 38 games for the Colts this season with 34 goals and 59 points. He also tallied seven points in seven games for Russia at the U20 World Junior Championship in Buffalo.
Related: Interview With Young Phenom Andrei Svechnikov
As for his two games against the Knights this season, he has had some success. In fact, he has two goals and an assist in two games against London this season – with his better performance coming at Budweiser Gardens in London on Feb. 2.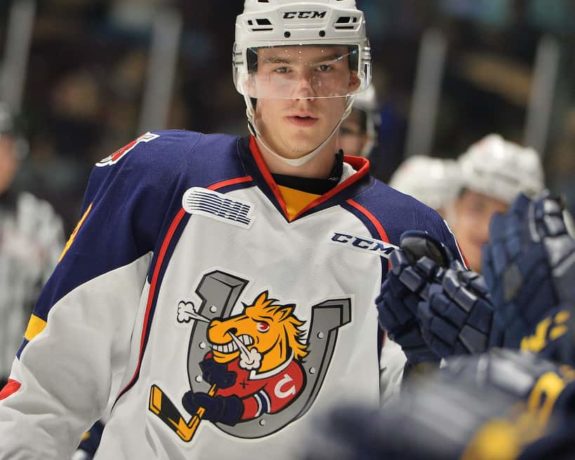 That night, Collins was the defender most used against the Russian sniper with fellow NHL draft-eligible prospect, Evan Bouchard, filling in for the remaining time against Svechnikov.
While the Barrie forward did tally a goal and an assist in the matchup, he seemed somewhat frustrated by the shadow that was Collins – one of the talented forwards few weaknesses. You see, when frustrated Svechnikov is known for taking penalties. In fact, he's racked up 54 minutes so far this season to go along with his 59 points. Something he'll need to work on as teams with that kind of talent want to see it on the ice.
Still, how is it possible to defend a player who has had 20 multi-point games this season, and six games of three or more points? As Collins describes it, not easy.
Collins on Defending Svechnikov
While he's not the most offensive defenceman for the Knights, Collins has come up big when the team needs him to defend against some of the league's top players.
So far, the first-year OHLer has lived up to role – with Svechnikov being just one of the players he's had to shadow this season. And while he knows just how talented the Colts' forward is, he recognized that there are opportunities to shut down the top prospect.
"I mean, he's a real good player and you have to watch him closely," he said about defending Svechnikov. "He's really tricky, he's good on his edges and, I mean, we didn't do a good enough job, I didn't think of shutting him down, but props to him. He's a good player."
But Collins didn't stop there. He explained that even with players with Svechnikov's skill set, there are weaknesses that you have to pounce on as an opposing player.
"You just want to turn the puck up ice as soon as you can because you know he's going to kind of lag behind and wait for a turnover," said Collins. "You know you can kind of get odd man rushes against that top line they have because they're looking to have the puck come right back. I mean, they're kind of cheating a little bit behind you. But defensively you just want to stay on him and make sure you've got their sticks tied up and that you're within a stick length to kind of get on him if the puck comes to him right away."
Collins had a unique perspective in their meetings this season, getting a chance to play against the Russian forward up close and personal. And while Svechnikov did find a way to get on the scoresheet, as was mentioned earlier, Collins was able to break down just how to beat the talented forward from a defender's perspective.
That said, if teams are looking to shut down Svechnikov for the remainder of the season and into his professional career, Collins might have an edge in knowing just want needs to be done.