The Calgary Flames have many talented players playing for their American Hockey League affiliate, the Stockton Heat. Many of these players could very well be key players in the Flames' future. Some of the prospects appear to be NHL ready, whereas some of them may never be in the NHL. In this article, I discuss who I think is NHL ready, who might play in the NHL in the future, and who looks like a bust.
NHL Ready
Mark Jankowski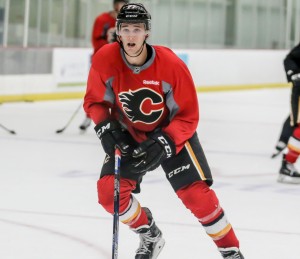 The Flames lack of depth at center could make a solid case for Jankowski to be in Calgary. T22-year-old put up 27 goals and 29 assists in 64 games played. Along with that he had one goal and four assists in the five playoff games. After this season Jankowski is by far the Flames top prospect, he is a big body at 6'4″ and 205 pounds, and has a rocket of a shot. For a good part of the season the Flames struggled on the power play, Jankowski was always the go-to guy on the power play in Stockton and he had success with it.
The former 2012 first-round pick can offer consistent scoring, as well as a big body who can play physical and also contribute on the power play. His success didn't go unnoticed, he played one NHL game this season, a 2-1 overtime loss to the New York Islanders. With the Flames situation up the middle, I think it should be a no-brainer to give Jankowski a real shot in the big leagues.
Rasmus Andersson
Arguably the Flames top D prospect, Andersson spent about a month up in the NHL. Andersson was originally an emergency recall when Michael Stone went down with an injury. However after Stone healed he stayed with the Flames sitting up in the press boxes for most of his time. He finally got his first NHL action in the season finale against San Jose, a 3-1 loss.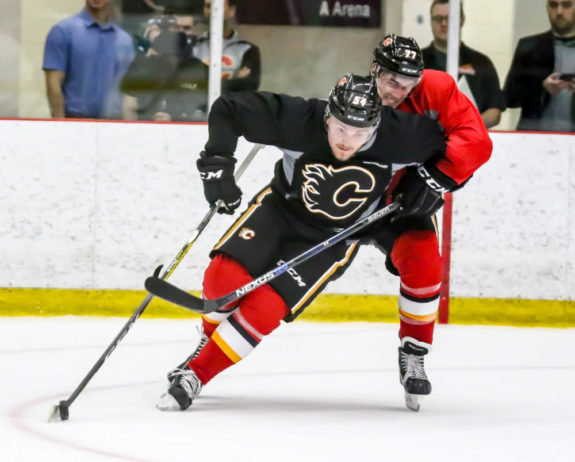 The Swedish defenseman could be a very useful piece in the Flames defense core. If Brad Treliving opts to not bring back Deryk Engelland or Michael Stone, Andersson could very likely be in the lineup. However, if Treliving brings one of them back or goes from one in free agency, Andersson could work as a good 7th defenseman.
NHLer in the Future?
Morgan Klimchuk
Many Flames fans after the 2015-16 season were calling Klimchuk a bust. In 55 games he had just three goals and six assists. Things turned for the better though, in the 2016-17 season, Klimchuk had 19 goals, 24 assists in 66 games played, good for third on the team in scoring. If the former first rounder can keep up his success next season, I believe he should get a real chance with the team in years to come.
Andrew Mangiapane
No doubt the biggest surprise out of any of the Flames prospects. After putting up 106 points in 59 games with the Barrie Colts, the Flames drafted him in the sixth round of the 2015 NHL Entry Draft. In his first season with the Heat, he scored 20 goals and 21 assists. He along with Mark Jankowski, formed one of the most dangerous duos in the AHL.
Of course, the main reason Mangiapane wasn't picked higher was because of his size. At 5'10" and 182 pound, he is not the biggest and most physical man on the ice. Although what the league is turning into now size seems to be less of an issue, take Johnny Gaudreau as an example.
Whoever watched the Heat in the playoffs knows there is something special about Mangiapane. Yes he can score and yes he is a very fast player, but his real work comes down low working on the forecheck. The ability to work down low and fight for possession and be successful doing it is a very underrated style of play. There are not many players that can play like that and still score, in a year or two I really could see Mangiapane getting time in the NHL.
Oliver Kylington
It was a good season for Oliver Kylington, not great but good. His scoring numbers went up, scoring six goals and picked up 21 assists. Offensively this was a much better year, he had 15 more points than last year, but his defensive play still needs work. Constantly throughout the season Kylington would cough up a bad turnover or make a bad pass leading to a goal. Given that Kylington is still only 20 years old, he still has much time to develop. If Kylington can develop his defensive game and still produce, he could be a very important piece for the Flames in the future.
Ryan Lomberg
Flames management clearly saw something in Lomberg that they really liked. The 22-year-old inked his first NHL contract during the 2016-17 season. Lomberg finished the season with 29 points in 68 games played, he also had a plus-15 on the year. Lomberg is a bit of a wild-card, it's hard to tell right now if he can play in the NHL or just be a career long AHLer, but he absolutely has the potential to be up in the NHL.
Bust?
Emile Poirier
I do not want to call Poirier a bust yet but it is hard not to. This year Emile Poirier played 43 games, only getting six goals and 11 assists. Not the production you would want from a former first round pick. Poirier left the team on a personal leave a little over halfway through the season and did not return. I do not think he will never play in the NHL, but I do think his future with the Flames is coming to a close.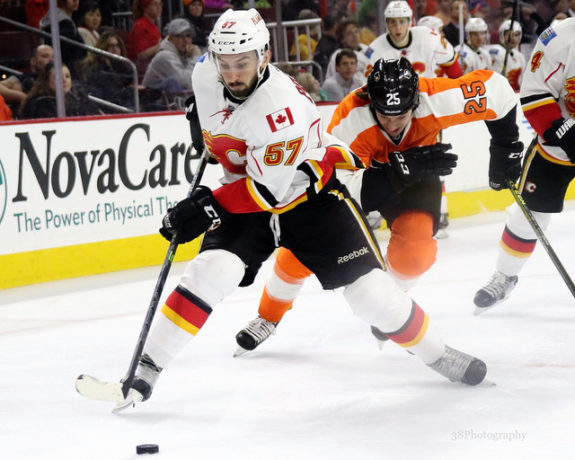 Over the past two years, Poirier has 46 points in 103 games played, not what the Flames were expecting. The 22-year-old has one year left on his entry-level deal, if he wants to stick around he needs to have a very solid season in Stockton next year.
Goaltenders
I've talked about Gillies many times, I along with many Flames fans believe he is ready for the NHL. But the Flames must choose between Gillies or Rittich this year. Both are RFA's and with Parsons coming up, it would be difficult to develop Rittich, Parsons and Gillies. In my opinion, the best thing for the Flames to do is to trade away one of Gillies or Rittich while they are still young. Gillies at 23 and Rittich at 24, both very promising potential starters, their value is very high right now.
Who do you think should be on the Flames roster next year, and who do you think is a bust?