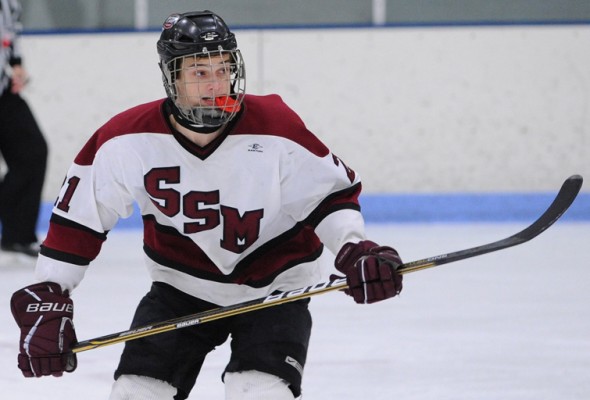 PITTSBURGH — The Pittsburgh Penguins annual prospect development camp is underway this week from the Consol Energy Center and the front office staff is getting their first look at a handful of players they selected in the June draft.
All eyes have been on first rounder defensemen Derrick Pouliot (8th overall) and Olli Maatta (22nd overall) so far. Pouliot and Maatta have shown a few glimpses of what they might be capable of down the road, but both players haven't come close to matching the performances of rookie campers Joe Morrow and Scott Harrington last summer.
Pittsburgh's third pick in this year's draft was forward Teddy Blueger (Round 2 – 52nd overall) out of Shattuck-St. Mary's. Blueger is just 17-years-old, yet he's shown the most offensive ability of any Penguins prospect through the first few days of camp.
The Latvian-born Blueger spent four years in the Shattuck system and scored 88 points in 51 games last season, leading his team to their second consecutive USA Hockey U18 national title. He'll be attending Minnesota State-Mankato of the WCHA in the fall and says his time at Shattuck prepared him well for the collegiate level.
"There was a bit of an adjustment period coming over from Latvia," says Blueger, "but it goes by really fast because you get to know the other guys really well. You go to school with them, play hockey with them, live with them. I really enjoyed the experience of living in dorms and hanging out with the guys."
Blueger says he grew up idolizing Peter Forsberg — hence the reason he's always worn number 21 — but there were only about ten youth teams per age group in Latvia and limited competition.
"Most of the best players go to play somewhere else in Europe or North American once they're about 14," he explains.
While Blueger says he's adjusted well to North American culture and hockey, he embraced the opportunity to represent his home country in this year's World Junior Championship.  The Latvians never won a game in round-robin play at the WJC and were steamrolled by powerhouses like Russia (14-0), but Blueger says the experience was something he'll never forget.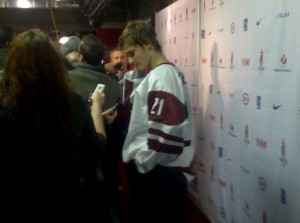 "It was really tough competition and I realized what it takes to play at the top level," he says.  "It was fun to play in that atmosphere in Calgary though with all the fans and the World Juniors being the center of attention."
Heading into the tournament, Blueger was seen as a potential late-round flier in this year's draft.  THW's Chris Ralph caught up with Blueger at the WJC in Calgary and also pointed out that young players in that position rarely produce at a high level, especially on a weaker team. Blueger had just three points in six games, but Penguins Assistant Director of Amateur Scouting Randy Sexton says the WJC's cemented their scouting report on the young player.
"Blueger's team didn't do that well at the World Juniors, but his individual performance really helped form our opinion," explains Sexton.  "At Shattuck they play against US high school teams in Minnesota so it's very difficult to gauge [talent], but on the world stage he performed very well."
[Blueger is #21 in the video below from the 2011 European Youth Olympic Festival]
Penguins amateur scout Dave Allison had Blueger on his radar for a while and convinced Sexton and the rest of the staff to gamble on him late in the second round.
"Blueger showed really steady progress at Shattuck and he fits everything that we were looking for." Sexton says.  "The offensive upside on him is very, very high."
Blueger's offensive performance in this week's prospect camp has shown that Allison may have found a real gem.  In skill drills, Blueger has demonstrated soft hands and nifty moves reminiscent of his new favorite player, Pavel Datsyuk.
"I try to model my game after Datsyuk," says Blueger.  "I like to watch what he does and try some of the moves in practice. I think my strengths are also kind of similar to his. I'm obviously not as good but I think my strengths are hockey sense, vision, stickhandling, and that's what he's the best at."
Crafty stickhandling skills are sometimes nullified at higher levels by bigger and stronger defensemen, but it's the hockey sense and vision that puts Blueger in a class of his own at this year's camp.
He almost always come out of the corner with the puck, utilizing his Datsyuk-ian shiftiness.  On a number of occasions, Blueger has hypnotized his opponents with a move only to pull up and fire a pass through a tight seam to a teammate streaking to the net.  Oftentimes, the player never expects to receive the pass and squanders the opportunity.
The old saying is "you can't teach hockey sense".  Hockey sense is what separates Sidney Crosby and Evgeni Malkin from other very talented hockey players.  They see the play develop in slow motion.
Blueger won't be dishing passes to either of those superstars in the near future, but Penguins fans should keep an eye on this 17-year-old.  He could be a good one.
___________________________________________
*Fan can catch Blueger and the rest of the Penguins prospects in their finale scrimmage on Saturday, July 14.  The scrimmage starts at 3pm and admission to Consol Energy Center is free.  Blueger is wearing #37 in camp.
___________________________________________