The Columbus Blue Jackets are in an unusual spot.
It's not often you see a team that many had going to the playoffs, picking in the Top 10 of the draft. That's just where the Blue Jackets find themselves. They own the eighth overall pick. Since this year's draft is loaded with talent, the Blue Jackets will pick a great player.
That is just the beginning. The Blue Jackets have three picks in the second round, and two picks in the third round. With a total of six picks in the first 69 possible selections of the draft, the Blue Jackets have an opportunity to dramatically improve their organization.
We will look at the Blue Jackets' draft from all angles. We start by introducing you to those responsible for the draft behind the scenes. We then will go round-by-round, pick-by-pick for every Blue Jackets selection and preview what you can expect. We will finish by going over different draft day scenarios in which the Blue Jackets could find themselves.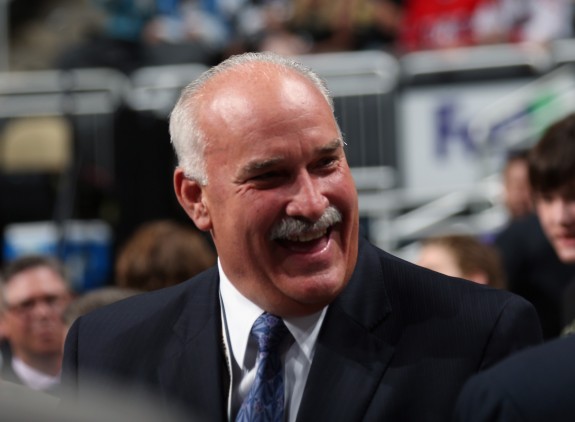 Meet The Scouting Staff
The scouting team spends many hours and days throughout the season preparing for the draft. They go to games. They watch hours of tape. They meet with the other scouting staff to discuss what they have seen. The job the scouting staff does is very demanding. Yet, it is one of the most important jobs on the team. The decisions made on draft night will impact a franchise for many years.
The Blue Jackets amateur staff is made up of 13 members, led by their director Paul Castron and head scout Ville Siren. Castron recently did an interview with Rob Mixer of BlueJackets.com about the events of the Combine and the upcoming draft. You can read the interview here.
#CBJ amateur scouting director Paul Castron said they have "as many as 62" prospect interviews on tap at the Combine this weekend.

— Rob Mixer (@RobMixer) June 4, 2015
The staff met recently at Nationwide Arena to put their final master list together. This involved many conversations about the viewings of players, whether in-person or through video. Many thoughts and opinions were shared. As Castron shared in his interview, there is no such thing as too much information. Any information the staff can get about a player is helpful in determining if the team will draft them.  With so many world-class players to choose from, the scouting team has its work cut out for them.
Previewing The Draft Picks
The Blue Jackets own 10 picks in the draft. Six of those picks will take place in the first 69 picks. The only round the Blue Jackets do not have a pick in is Rd. 4. Besides the eighth overall pick, the Blue Jackets will select at 34th, 38th, 58th, 68th, 69th, 129th, 141st, 159th and 189th. Who could wear union and blue? We go pick-by-pick and see who is available around the time of each pick.
A Recent History Of The 8th Overall Pick
We went back to 1990 to see all of the players who went eighth overall. It is quite a mixed bag. Some really good players went at this spot; others didn't even score an NHL goal. The table below outlines the eighth overall pick since 1990.
| | | | | | | | |
| --- | --- | --- | --- | --- | --- | --- | --- |
| Year | Player | Team | Games Played |  Goals | Assists | Playoff Games | Goals |
| 1990 | Derian Hatcher | North Stars | 1045 | 80 | 251 | 133 | 7 |
| 1991 | Richard Matvichuk | North Stars | 796 | 39 | 139 | 123 | 5 |
| 1992 | Brandon Convery | Maple Leafs | 72 | 9 | 19 | 0 | 0 |
| 1993 | Niklas Sundstrom | Rangers | 750 | 117 | 232 | 59 | 6 |
| 1994 | Jason Wiemer | Lightning | 726 | 90 | 112 | 19 | 1 |
| 1995 | Terry Ryan | Canadiens | 8 | 0 | 0 | 0 | 0 |
| 1996 | Johnathan Aitken | Bruins | 44 | 0 | 1 | 0 | 0 |
| 1997 | Sergei Samsonov | Bruins | 888 | 235 | 336 | 76 | 18 |
| 1998 | Mark Bell | Blackhawks | 450 | 87 | 95 | 9 | 0 |
| 1999 | Taylor Pyatt | Islanders | 859 | 140 | 140 | 69 | 10 |
| 2000 | Nikita Alexeev | Lightning | 159 | 20 | 17 | 11 | 1 |
| 2001 | Pascal Leclaire | Blue Jackets | 173 | | | 3 | |
| 2002 | Pierre-Marc Bouchard | Wild | 593 | 110 | 246 | 21 | 4 |
| 2003 | Braydon Coburn | Thrashers | 618 | 37 | 131 | 72 | 2 |
| 2004 | Alexandre Picard | Blue Jackets | 67 | 0 | 2 | 0 | 0 |
| 2005 | Devin Setoguchi | Sharks | 471 | 127 | 122 | 53 | 15 |
| 2006 | Peter Mueller | Coyotes | 297 | 63 | 97 | 0 | 0 |
| 2007 | Zach Hamill | Bruins | 20 | 0 | 4 | 0 | 0 |
| 2008 | Mikkel Boedker | Coyotes | 383 | 67 | 107 | 20 | 4 |
| 2009 | Scott Glennie | Stars | 1 | 0 | 0 | 0 | 0 |
| 2010 | Alexander Burmistrov | Thrashers | 194 | 23 | 35 | 0 | 0 |
| 2011 | Sean Couturier | Flyers | 287 | 45 | 73 | 18 | 3 |
| 2012 | Derrick Pouliot | Penguins | 34 | 2 | 5 | 0 | 0 |
| 2013 | Rasmus Ristolainen | Sabres | 112 | 10 | 14 | 0 | 0 |
| 2014 | William Nylander | Leafs | 0 | 0 | 0 | 0 | 0 |
The two best players of this group are Derien Hatcher and Sergei Samsonov. Each had long, successful careers. Others, such as Alexandre Picard, didn't even register one NHL goal. A total of 32 percent (8 of 25 picks) played in at least 500 NHL games. Having the eighth pick is nice, but it's not a guarantee of success.
Round 1 – 8th Overall Pick
Who are the Blue Jackets considering at eighth overall? First, we need to consider what the needs of the Blue Jackets are. Their three biggest desires are defense, right-wing and backup goaltender. The team is already on record as saying that they will draft their best available player, no matter the position.
On defense, Ivan Provorov and Zach Werenski are considerations. Each have the potential to become elite, franchise defensemen. Up front, Mikko Rantanen is considered the best right winger available. Centers Pavel Zacha and Mathew Barzal are intriguing options. Mitch Marner and Lawson Crouse might slip depending on how the draft goes. Don't expect the team to draft a goalie in the first round. The Blue Jackets have plenty of good options available.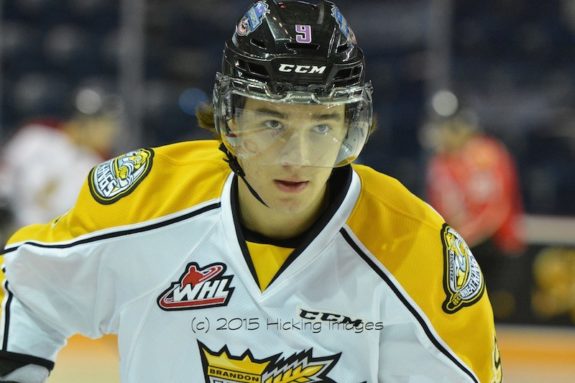 What do we think will happen? Assuming they keep the pick, the Blue Jackets will likely have a choice between Werenski and Rantanen. Each player would fill a huge need. The choice will depend on who the team has ranked higher. I think the chance to draft a franchise defenseman will ultimately win out. We expect to hear Zach Werenski's name called out on draft night.
Round 2 – 34th Overall Pick
What the Blue Jackets do in this round will determine how successful their draft was. They will make the first of their three second-round selections at 34th overall. Again, the best available player on their board will go at this spot.
A lot of talk has centered around the rise of Jack Roslovic. Blue Jackets fans will know him, considering that he was raised in Columbus. Roslovic admitted at the Combine that he interviewed with the Blue Jackets. He acknowledged that it's an honor for any team to draft him, but having the Blue Jackets draft him would be a nice option.
Other forwards expected early in the second round are Brock Boeser, Jordan Greenway, and Daniel Sprong. Defensively, watch for names like Noah Juulsen, Jacob Larsson, and Brandon Carlo. The Blue Jackets may even look at a goaltender, especially if either Mackenzie Blackwood or Ilya Samsonov are still on the board. By this point in the draft, anything can happen. The team will select based on how the first round goes.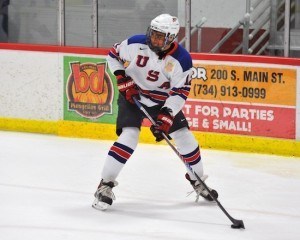 If I had to venture a guess here, I'd lean toward Juulsen. Good, right-handed defensemen are hard to find. Juulsen would fill an immediate need for the Blue Jackets in that spot. If Roslovic is still available, that's a strong possibility.
Round 2- 38th Overall Pick
Any of the above names could potentially end up in this spot. Some other names to look out for include Vince Dunn, Nicolas Meloche, Zachary Senyshyn and Travis Dermott. Ideally, the Blue Jackets should have two defensemen drafted after this pick. Want some other possibilities? Check out our recent mock draft.
Dunn is considered by many as one of the best offensive defensemen in the entire draft. If he can improve his defense, he could become one of the best prospects in this draft. The Blue Jackets should take a chance on him at 38th if he is still available. His offensive instincts are something the team desperately needs on their blue line.
Round 2 – 58th Overall Pick
The Blue Jackets will make their fourth selection of the draft at 58th overall. Some names to look out for at this point are Thomas Novak, Graham Knott, Rasmus Andersson and Nikita Korostelev. Novak is a good two-way center. Knott is a solid left-wing option. Andersson is considered as a defensive sleeper. Korostelev would fill a need at right wing. Because of how deep this draft is, players in this spot would normally go earlier in the second round. Remember Duncan Keith went 54th overall in his draft year. This pick is just as important as any other pick the team has.
Round 3 – 68th & 69th Overall Pick
Not often does a team get two picks in a row. The Blue Jackets get that opportunity early in the third round. With it, assuming no trades, they'll once again pick the best available. The possibility exists that second-round talent will still be available.
Players like Parker Wotherspoon, Simon Bourque, Keegan Kolesar and Michael Spacek could go in the second round, but have the chance to go in the third round when the Blue Jackets make these picks. Given the number of picks, there is no excuse if the team doesn't address their needs in this draft.
By this point in the draft, these players have good talent, but have questions that need answered. With proper development, these players are capable of becoming serviceable NHL players. The key now is looking for value.
My hope is that the Blue Jackets get one of Wotherspoon or Bourque with the first pick. Then I hope they land Kolesar with the second pick. Kolesar is a potential top-six right wing, who plays an honest, hard game. At 220 pounds, Kolesar is the kind of player that teammates love and opponents hate.
Round 5 – 129th & 141st Overall Picks
The same thing goes in the fifth round as it does in any other round. The Blue Jackets will draft the best available player remaining. An interesting name to watch here is Doug Blaisdell. He's a 6-foot-3-inch and 205-pound defenseman who plays well in his own end. Blaisdell doesn't have much offensive upside. But someone who is defensively responsible at this point in the draft is worth the investment.
Another possibility in the fifth round is a goalie, if the team doesn't address that early on. Goalies like Liam Herbst and Samuel Montembault are expected to go around this spot. The Blue Jackets need depth, especially if Anton Forsberg is not ready. With Oscar Dansk playing in Sweden next season, the Blue Jackets may need to address their future in net with this pick.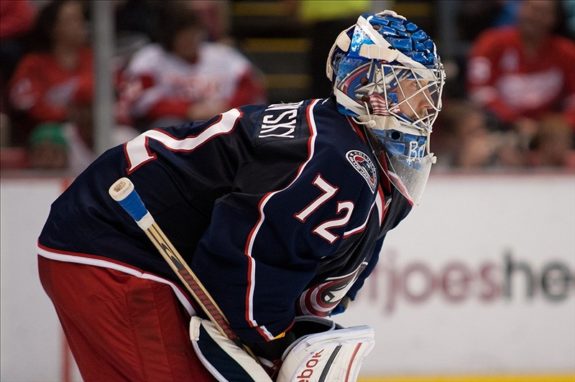 Rounds 6 & 7 – 159th & 189th Overall Picks
Don't discount these picks. Keep in mind the Blue Jackets drafted Cam Atkinson in the sixth round, 157th overall. Like previous rounds, the team will draft best available.
An interesting sixth-round name to watch is Pius Suter — the only player in the OHL to score more even-strength goals this season than Connor McDavid. Size is what is limiting Suter's upside. His overall skill and ability to play in all three zones make him worth a look here.
Finally in the seventh round, a name to watch is Samuel Laberge. He's a rugged, 210-pound left winger who plays for Rimouski in the Quebec League. His team made it to the Memorial Cup, after winning the QMJHL championship. Laberge can score, and is not afraid to drop the gloves.
Will We See Any Trades?
Trades are a hot topic. The Blue Jackets have made it public that they are looking for a defenseman. They are even willing to include former first-round pick Kerby Rychel to make that happen. Which teams make for good trade partners?
New Jersey tops that list; they have an abundance of defensemen. The Blue Jackets have an excess of forwards. A swap of players and/or draft picks only makes sense. General managers Jarmo Kekalainen and Ray Shero talked at the Combine and are also good friends. The dynamics are there for a trade to happen.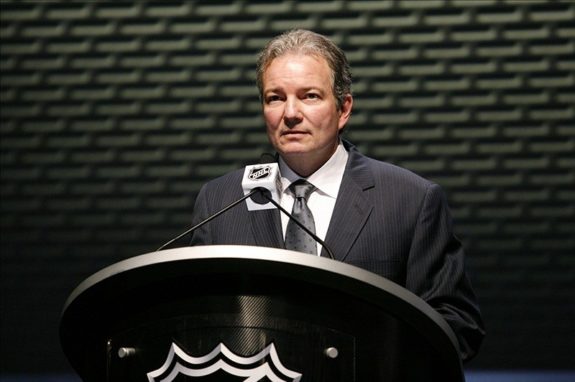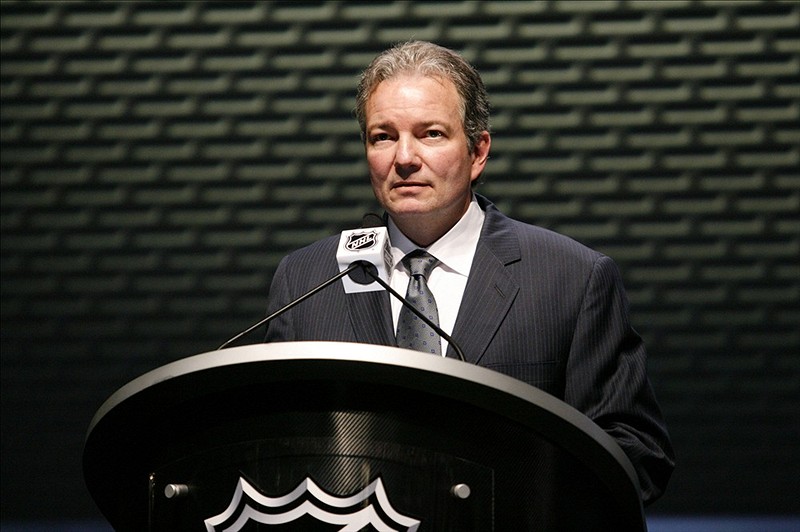 The other possible trade partners I see are Boston, Carolina, Toronto, and Arizona. In the Bruins' case, Dougie Hamilton is worth monitoring. If the Bruins can't re-sign him, the Blue Jackets could either offer sheet Hamilton, or make a trade. Hamilton has No. 1 defenseman upside, and is a perfect fit for the Blue Jackets.
The other three teams mentioned could make trades if the Blue Jackets want to trade up. I see this as an unlikely scenario, given who will expectedly be available at eighth overall. But if Noah Hanifin or Provorov are high on the Blue Jackets' list, they will see if they can trade up to between third and fifth. Those spots are up for grabs. If a team gives them the right trade offer, they will pull the trigger.
The Blue Jackets have also successfully traded down in recent drafts. They drafted Oliver Bjorkstrand this way. If a team has a player in mind that is worth trading up for, Columbus will have no issue trading down later in the draft.
NBCSN will carry the first round of the draft on Friday, June 26. The remainder of the draft will air Saturday, June 27.
Need More Blue Jackets Draft Content?
Check out SB Nation's The Cannon War Room draft coverage here.
The Union and Blue offer their take on whom the Blue Jackets will draft eighth overall here.
The new Buckeye State Hockey got to talk Blue Jackets draft with The Hockey News correspondent Ryan Kennedy.
Fox Sports Ohio gives us the current state of the defense.