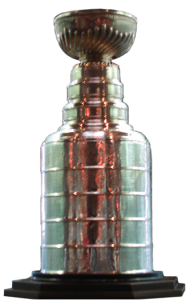 On December 5th, 1970, the Stanley Cup, or at least a significant piece of it, was in fact stolen.
In a piece of the NHL's lesser known history, thieves stole the Stanley Cup, Conn Smythe Trophy and the Bill Masterson Trophy from the Hockey Hall of Fame in Toronto.
Following the Toronto Maple Leafs Stanley Cup championship in 1962, the original bowl and trophy collar were retired and placed on display in the Hall of Fame. The Conn Smythe and Bill Masterson trophies, stolen from their displays in early December, were recovered by police, however the original Stanley Cup collar would remain missing for much longer.
In a storyline almost too surreal to be true, the original collar remained at large for an entire seven years!
Yet, in a plot twist rivaling a great mystery story, an anonymous call was placed to the police identifying the likely whereabouts of the original Stanley Cup collar. A Toronto cleaning store, in particular the back storage room, was where the greatly important piece of hockey history was rumoured to be located.
Following a police search, the collar was found "wrapped like a christmas present", finally recovered after seven years of slumber.
One of the thieves reportedly threatened to toss the Stanley Cup into Lake Ontario if the charges were not dropped.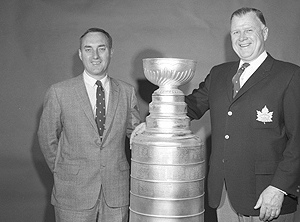 Seemingly safe after its theft, the Stanley Cup was almost stolen once again, this time in 1977 after seven men approached the Cup with a large gym bag. However, an aware Hall of Fame worker noticed the men and chased them out of the building. In their car, police found copies of the Hockey Hall of Fame floor plan and lists of the equipment necessary to steal Lord Stanley's Cup. Fortunately, despite all of its well documented travels in more recent history, the Stanley Cup has managed to remain safe, whether it be in the hands of players, executives, or on display in the Hockey Hall of Fame.
Purchased in 1892 by Lord Stanley himself, governor-general of Canada, the silver punch bowl which became the Stanley Cup cost Stanley roughly $48, or what amounts to a little over $1000 dollars today. At 34 pounds, annual engraving on the trophy comes at a cost of $1000 dollars, almost equal to the original cost of the bowl.
Clearly the Stanley Cup has a substantial monetary value, yet its history and symbolic significance in hockey history are what make Lord Stanley's Cup an invaluable, priceless object.