In his first full-season… well more like half-season thanks to the lockout… Brendan Smith was one of the Detroit Red Wings worst skaters.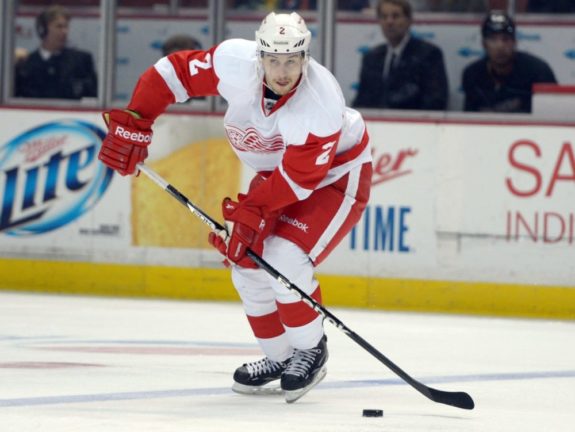 Smith went 0-8-8 in 34 games this season and made a number of noticeable blunders along the way. His most recent post-season blunders against the Chicago Blackhawks are still seared into the minds of fans.
Brendan Smith got caught down low as the second man into the corner to cover Niklas Hjalmarsson, leaving Michal Handzus wide open for a tying goal in Game 6 of the series.
Then later in the third period of the same game, Smith was unable to stop Bryan Bickell from potting the go-ahead goal off a rebound.
It's painful to watch, but those are the expected growing-pains of a player in their rookie season. A rookie season in which Smith was pretty much thrown to the wolves.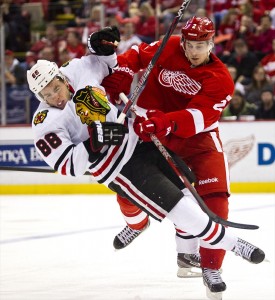 Players like Kronwall, Ericsson, and Kindl enjoyed the benefits of playing on a better team, and in a defensive corps that included Lidstrom, Rafalski, and Stuart in their rookie seasons. Smith had no such luxury. The Red Wings on two separate occasions dressed four different rookies at defense this postseason.
The better blue-lines from the rookie seasons of Kronwall, Ericsson, and Kindl allowed them to play lower pressure minutes in the bottom pairing. Unlike them, Smith got  thrown directly into the deep end, and sunk.
Smith certainly wasn't all bad though. Despite inconsistencies he had his flashes of brilliance as well.
In game 2 of the Chicago series Smith joins the rush and nets the game-winning goal off a feed from Henrik Zetterberg.
While Smith is not the Calder candidate that some thought he might be at the beginning of the season, he's still a standout young defensemen who has a lot more room to grow.
He moves the puck well, he skates well enough to probably be a forward in some systems, and he plays with his head up. He just seems to lack mature decision-making. But those mistakes are almost expected of a rookie, hence the phrase rookie mistake.
Simply put, not all Red Wings prospects can be as good as Lidstrom was at the age of 24. Ericsson and Kindl both needed lots of time to mature, and it looks like Smith will need a little time too.
If anything Smith appears to be a lot like Kronwall when he was in his rookie season.  The horrible defensive plays Kronwall executed as a new NHL player are still in the memory of many Red Wing fans.
Smith is growing up fast. Here's hoping he'll be better moving forward.
Detroit Red Wings writer for The Hockey Writers and Michigan State hockey writer for spartanavenue.com