Okay, so maybe the title is a little misleading. The Los Angeles Kings have struggled through much of the unofficial first half of the season but are clearly better than the New Jersey Devils (LA's recent 5-3 home loss to the Devils notwithstanding).
Last Season's Devils
So how are the Kings comparable to the team they defeated in 2012 for their first Stanley Cup in franchise history? To avoid confusion, we are not talking about the 2011-12 New Jersey Devils. We are talking about the 2013-14 Devils. A very mundane, mediocre team that missed the playoffs, like this year's squad projects to as well. As of now the 2014-15 Kings are a bubble team, as were last year's Devils. Going further, the teams share one major reason for their precarious position in the standings: a horrible record in shootouts.
Last season, the Devils were an astonishing 0-13 in games decided by a shootout. Even just winning five or six of those games probably would have been enough to get the Devils into the playoffs.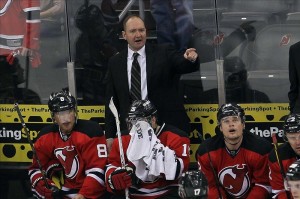 After their 13th shootout loss in their penultimate game of last season, then-head coach Peter DeBoer expressed his lament for the Devils' position as a result of their ineptitude in the skills competition.
"It's tough," DeBoer said. "We've lost two of our last 12 in regulation and unfortunately we walk out of the rink 5-2-5. If we win those five shootouts, we're 10-2 and you should be feeling a lot better about yourselves. I feel for our group because we shouldn't feel as badly as we do."
The bottom line, though, was that New Jersey missed the playoffs by a fairly slim margin, so that bad feeling was inevitable.
This Season's Kings
This season, the Kings are dangerously beginning to head down that same path the Devils walked — and fell on — last year. At a pedestrian 20-15-12 as of the All-Star break — putting them on the outside of the playoff picture looking in — the defending Stanley Cup champions are undoubtedly disappointed with the season they have had to this point. Perhaps, though, they wouldn't feel as badly if they had more success in shootouts.
The Kings do have one win in shootouts, but seven losses. What's even more alarming is their stunning inability to score at all in shootouts, especially given the skill they have in their lineup (Anze Kopitar, Jeff Carter, and Marian Gaborik, to name a few).
Kings have 0 goals on their last 22 shootout attempts.

— Jon Rosen (@lakingsinsider) January 18, 2015
Yes, you read that correctly. 0 for 22. 0 for 22 (did it sink in yet?). Like the Devils experienced last season when they scored on an abysmally low four out of 45 attempts, the law of averages doesn't even seem to be working in the Kings' favor.
It's never a surprise when head coach Darryl Sutter is (sometimes comically) terse in his responses to questions from the media, but he may very well have been at somewhat of a loss for words when asked about his team's failure in yet another shootout following a 3-2 shootout loss to the rival Anaheim Ducks on January 17.
"Another shootout. Just can't pick the right guys." — Kings head coach Darryl Sutter, following a 3-2 shootout loss to Anaheim on January 17.
Despite the brevity of his response though, Sutter opened the door for a further look into the Kings' shootout statistics this season. Below is a breakdown of how all of LA's individual shooters have fared on shootout attempts in the 2014-15 campaign: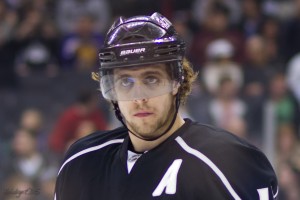 Jeff Carter: 1-for-7
Marian Gaborik: 1-for-4
Anze Kopitar: 0-for-7
Tyler Toffoli: 0-for-3
Dwight King: 0-for-1
Mike Richards: 0-for-1
Jarret Stoll: 0-for-1
Drew Doughty: o-for-1
Trevor Lewis: 0-for-1
Dustin Brown: 0-for-1
Justin Williams: 0-for-1
That sums to a team total of 2-for-28 — a success rate of 7%, which is actually slightly worse than New Jersey's 9% success rate last year. Sutter has clearly tried a lot of different players, as evidenced by the fact that seven Kings are 0-for-1. Perhaps it's time for less Kopitar (as blasphemous as that might sound) and a little more Doughty, Brown, and Williams (Richards would be another option but the Kings just waived him). Maybe some more defensemen, such as Alec Martinez, Jake Muzzin, should also get some opportunities. After all, it can't get much worse, right?
Meanwhile, on the other side of the ice, goaltender Jonathan Quick isn't helping his team either with a meager .600 save percentage (eight goals allowed on 20 attempts) this season, which ranks him close to the bottom of the league's number-one goalies.
That said, the bigger problem is the Kings' inability to score; as they say, "You can't win if you don't score." Potting a few more goals in the shootout would take some pressure of Quick and perhaps help him overall, as he must be feeling that he has to be absolutely perfect in order for Los Angeles to have any chance.
Sutter will surely keep trying new shooters, and whoever is out there will need to start scoring before the Kings complete the journey of the Devils: shootout failure and absence from the postseason.