Please "Click Here" for "Notes Up Front" and the "Legend" for various topics covered below in my "Live Updated" NHL 2011 Draft Preview article. 
Vladislav Namestnikov
Date of Birth:  November 22, 1992
Hometown:  Voskresensk, RUS
Ht:  6-0  Wt:  166
Shoots:  Left
Position:  Center
NHL Draft Eligibility:  2011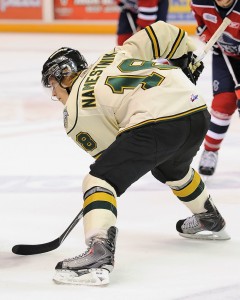 One Timer: 
Russian prospects too often get red flagged early on in their development mainly because of the lack of transfer agreement between the NHL and KHL.  Recently, we are noticing a trend of Russian players coming to North American to follow their NHL dreams before the KHL get their hooks in them.  The London Knights' star forward, Vladislav Namestnikov,  is the latest example of a player dedicated to take a North American approach to an NHL career.  Fortunately for Namestnikov, he has no contract obligations to the Kontinental Hockey League and, for once, we may see a Russian star player rise in the draft rather than fall.
Namestnikov arrived in North America for the first time as an infant as his father, Evgeny, competed in the IHL, AHL and NHL establishing his professional hockey career.  Over a decade later, Namestnikov would return to North American to joing the London Knights' organization after being made the 20th overall selection of the 2010 CHL Import Draft.  Namestnikov razzled and dazzled the opposition in his first OHL campaign finishing fifth among rookie scoring leaders trailing country-mates Yakupov, Galchenyuk and Khokhlachev. 
Vladislav's accomplishments extend off the ice as well.  The young Russian learned the english language from a young age and people are shocked when Namestnikov speaks to find out he has almost no trace of a Russian accent.  Namestnikov could possibly land a tutoring job teaching players like Datsyuk and Ovechkin english if his hockey career falls through. 
On the ice, the speedy russian made a seemless transition to the North American game and it is reflected as he carries himself with loads of confidence.  Namestnikov is an elusive pivot who can create space with the combination of his quick feet and high hockey intelligence.  Namestnikov excels in the offensive zone as he puts on a clinic with his superb puckhandling and passing skills often creating a nightmare for his opposition.  Opposing defensemen must respect Namestnikov as he can dangle one-on-one or thread the needle to a teammate in the blink of an eye.  
Scouts absolutely love the tool box of offensive skills that Namestnikov brings to the rink every night but the intangibles are what really separates the emerging Knight from other prospects. Namestnikov competes hard and has shown a drive to become a better all-around player as he works on developing to become a better defensive player.  As a smaller player, Namestnikov often plays with no fear as he drives to the net, thrives in tight areas of the rink and does not shy away from physical play.  The talented Namestnikov projects to be a playmaker but his goal totals (in the OHL and International play) have scouts thrilled about his sniping abilities as well.  Namestnikov finished second in team scoring with 68 points and led the Knights in goal scoring with 30 goals.
The city of Voskresensk has been home to many NHL Russian stars including Andrei Markov, Igor Larionov, Sergei Berezin and Valeri Kamensky but Vladislav Namestnikov is hoping that it will be his name that the hockey world remembers the most.
Top Prospects Game:
Namestnikov competed for Team Orr in the CHL Top Prospects game and recorded the primary assist on Dougie Hamilton's powerplay goal.
Statistics:
Scout's Honour:
– NHL Central Scouting's Chris Edwards
"Vlad plays a high-energy, two-way game he's very aggressive on the forecheck and backcheck and has the ability to beat defenders outside and cut back to the net. He has an excellent wrist shot that he can release with accuracy on the rush. "I find him most effective at center, but he is versatile enough to play a solid game on the wing, he's very responsible defensively and is not afraid of getting involved and battling for pucks. He'll take the body and take a hit to make a play."
– E.J. McGuire, NHL's former Director of Central Scouting
"Vladislav has all the skills and talent to be a great player.  He has a high understanding of the game and an ability to make things happen. And he compensates for a lack of size with straight-ahead speed."
– Matias Stozyk of Elite Prospects
"A very skilled offensive center. A reliable finisher. A good passer and playmaker. An excellent skater. Takes advantage of open space very well. Needs to gain strength"
– Kirk Luedeke of Bruins2011DraftWatch
"Skilled Russian came over to the OHL this season and played very well, finishing second to Bruins prospect Jared Knight (25 goals 70 points) in scoring for London with 30 goals and 68 points in as many games. He's a late-92 birthdate who made an immediate impact with his team and adjusted well to the North American game. Namestnikov led all Knights players with 30 markers this season and has high-end skills and nice wheels. He's very average-sized at 6-0 and about 170, so will have a lot of off-ice work to do in order to get his body ready for the pro hockey grind, but he's highly adept at handling the puck, setting up the play and thinks the game at an advanced level. He speaks perfect English, as he spent much of his youth in the U.S. and Canada while his dad, Evgeny, was playing in the NHL and AHL"
– HockeyProspect.com's 2011 NHL Draft Guide
Bio/Interview(s)/Link(s):
Kirk Luedeke – Vladislav Namestnikov: A guy you should know
Dan Sallows.com – Player Profile:  Vladislav Namestnikov
International Tournaments:
World Under-17 Challenge (8G – 2A -10P in 5 GP)
2010 Under-18 World Championships (5G – 2A -7P in 7GP)
ETA: 2-3 years
Risk-Reward Analysis:
Risk:  2.0/5  Reward:  4.0/5
NHL Potential:
Top 6 Playmaking Center
Strengths:
High Hockey IQ
Excellent Vision
Effortless Skater
Elite Playmaking Skills
Highly Accurate Shot
Elusive Player
Defensively Responsible
Flaws/Aspects He Needs to Work On:
Needs to add to his overall strength
Utilizing his body efficiently will be crucial in him surviving the rigors of the NHL
Fantasy Hockey Potential:
Offensive: 7.5/10 Defensive: 7.5/10
NHL Player Comparison:
Igor Larionov
Video(s):
NHL Draft Video – Vladislav Namestnikov 2010/2011 Compilation
ANewsChannel's Introduction of Namestnikov
Highlight Package by YouTube's 'hockeysemin'
Off the Iron (Interesting Notes):
– Vladislav comes from deep hockey bloodlines and athletic genes.  His father, Evgeny, was drafted with the 117th overall pick (1991) of the Vancouver Canucks.  Evgeny played 43 NHL career games with the Canucks, New York Islanders and Nashville Predators from 1993 to 2000 before returning to play in Russia.
-Vladislav's mother was an elite Russian figure skater and was the sister of former NHLer Vyacheslav 'Slava' Kozlov who played with the Detroit Red Wings, Buffalo Sabres and Atlanta Thrashers.
– Favourite NHL Player: Detroit Red Wings' Pavel Datsyuk
Brendan Ross is THW's Detroit Red Wings' writer and also specializes in prospect and fantasy writings.   Twitter:  @rossyyoungblood
THW's The Next Ones prospect profile template design architect: Chris Ralph 
This document is the intellectual property of Brendan Ross and cannot be used or duplicated in any way without expressed written consent. Any use of this document without the expressed written consent of Brendan Ross will result in public exposure and legal prosecution.
My passion for the game has led me to writing about hockey, specifically dealing with the future of hockey and it's prospects.
You can find more of my work at DobberProspects.com, TheHockeyGuys.net and OHLWriters.com
Outside of the rink, I enjoy spending time with my friends, golfing, kayaking and fishing as well as competing in several of my own hockey leagues.
If you so do choose, please feel free to follow my thoughts and work on twitter @RossyYoungblood