The Toronto Maple Leafs are almost ready to go for the 2017-18 NHL season. They will embark upon a campaign full of expectations set on them from management, coaches, the fans and themselves. They were a young group last year and were upstarts who found some success.
They were a young group last year and were upstarts who found some success. This year the expectations are raised and the group is ready to deal with the increase in pressure.
There are some key players on the Leafs. This article will dive into three of them and what makes them so important for the 2017-18 Leafs squad.
#3) Patrick Marleau
The veteran of almost 1500 NHL games, Patrick Marleau is going to be a key cog in the Maple Leafs offensive this season. After spending his entire career with the San Jose Sharks, Marleau decided to jump ship and head for Toronto, where he signed a three-year, $18.75 million contract.
Mike Babcock knows Marleau from their time together at the Olympics. The Leafs head coach vouched for bringing the forward to Toronto and knows the exact way he can contribute.
Patrick Marleau works on his craft. pic.twitter.com/NJExIlyR2v

— Chris Johnston (@reporterchris) September 27, 2017
For one, he's extremely durable and doesn't miss a lot of time. He's sneaky fast and can hold his own in the defensive zone. He's also a leader and will excel in a mentor role for the Leafs young guns like Auston Matthews, Mitch Marner and William Nylander.
He's one of the top three most important Maple Leafs because of the contract. He's the Leafs highest paid player and is expected to produce a decent stat line this year. Leafs fans of the recent past have seen the team bring in an aged veteran who was expected to perform. The experiment more often than not fell short of everyone's expectations.
For my own two cents, I think the addition of Marleau was a great one and that he'll be a key piece on a powerful Leafs team.
#2) Auston Matthews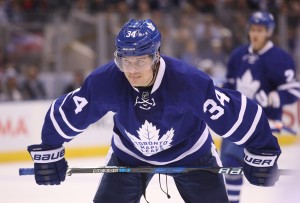 The former first overall pick had quite the rookie season in the NHL. It started with a four-goal debut against the Ottawa Senators and finished with a playoff berth against the Washington Capitals.
In between, there were many spectacular goals, highlights and a Calder trophy to top it all off. It's tough to follow up a season in which you score 40 goals as a rookie.
Matthews will be tasked with doing exactly that. He's the face of the Maple Leafs and loads of pressure will be on his shoulders moving forward. He not only handled expectations last year, he absolutely destroyed them.
He's the offensive engine that drives this team and after a dominant preseason, it looks like he's hungry and ready to take the next step to stardom in the NHL.
#1) Frederik Andersen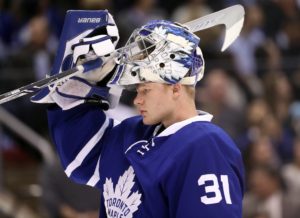 Leafs goaltender Frederik Andersen tops the list of most important Leafs for the upcoming season. The Danish-born goaltender is listed in the top position for one key reason. He's the best goalie the Leafs have had in a while and if he gets hurt for an extended amount of time, the Leafs will face a very tough uphill climb.
Andersen is so paramount to the Leafs success. He plays the lions share of the games and with that comes fatigue. You want your star goaltender rested and ready to go for the playoffs, a spot the Leafs are aiming to return to this coming season.
If Andersen goes down, the Buds will need to rely on Curtis McElhinney, a backup who has had flashes of great play but for the most part, has been below average.
Andersen is one of the keys to the Leafs success. When he's healthy and on his game, he's calm, cool and steady. The Leafs will need that Andersen in net if they hope to achieve greatness.
My name is Anthony Fusco. Through school, I completed a joint degree involving an Honours B.A. in Journalism from Wilfrid Laurier University and a Videography and Broadcasting degree through Conestoga College.
I currently work for the University of Toronto as a Varsity Sports Announcer and for the Toronto Maple Leafs as part of their game presentation squad.
I'm also the play by play voice of the Kelowna Falcons, a baseball team located in British Columbia.
My goal is to one day be a hockey broadcaster.