Urho Vaakanainen
2016-17 Team: SM-Liga Blues
Date of Birth: January 1, 1999
Place of Birth: Joensuu, Finland
Ht: 6'1" Wt: 185 lbs.
Position: Defenceman
NHL Draft Eligibility: 2017 first-year eligible
Twitter: @UVaakanainen
Rankings
THW Alternate Rankings: 27th (March)
Future Considerations: 29th (Spring)
ISS: 25th (March)
Bob McKenzie: 24th (Mid-season)
Craig Button: 57th (March)
Jeff Marek: 22nd (March)
Urho Vaakanainen is a classic stay-at-home defenseman that has the uncanny knack to anticipate a transitional rush heading into his own zone. He seems more polished in front of the net than his peers, and is often described as playing beyond his years of experience. Vaakanainen is patient and rarely allows a streaking forward a clear path to the goal. Plus, he disrupts the passing lane, and smart enough to use the boards when clearing the puck out of the zone. These attributes make him the ideal candidate to preserve a one-goal lead late in games.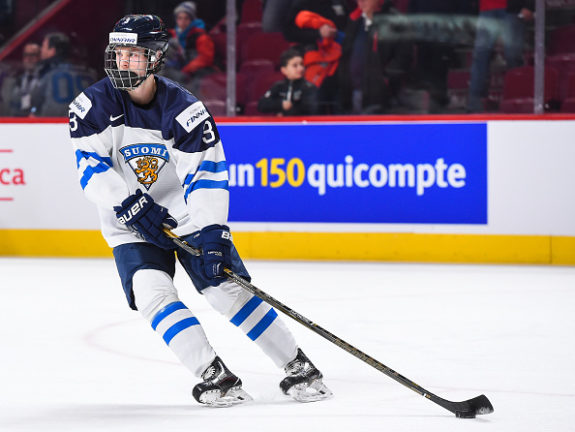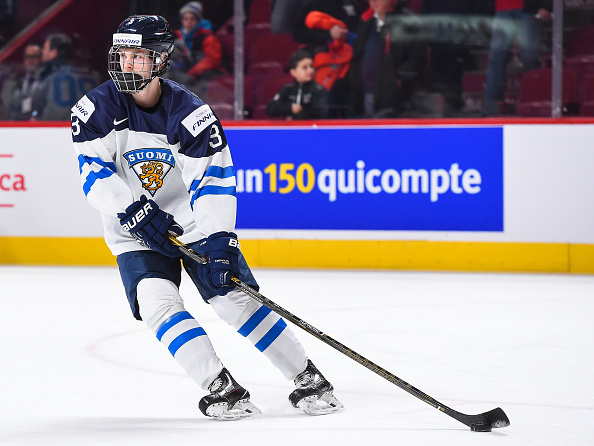 Vaakanainen began receiving international attention after making his professional debut with the SM-Liga Blues at the ripe old age of 16-years old. He didn't disappoint as Vaakanainen scored his first goal and added five assists in 25 games. In his second full season, Vaakanainen netted two goals and six points in 41 games, and also added three points in 14 playoff games. At the recently completed IHF Under-18 World Championships, Vaakanainen was a key member of the Finnish team that was a silver medalist winner in the competition.
NHL Draft Projection
Clearly, Vaakanainen is the best defenceman of the first-year eligible draft class, but he's an offensive liability. Vaakanainen has a hard, but inaccurate slap shot, and if he can improve on putting the puck more on net, this subtle change will gain more rebound and deflection scoring opportunities. Suddenly, Vaakanainen becomes a consistent point producer from the backend.
Surprisingly, he's an excellent puck mover which makes him a viable candidate to lead the rush on the power play. His passing skills are pinpoint accurate, so it isn't out of the ordinary to see Vaakanainen hit a streaking teammate on the tape with a quick pass for an easy goal.
Vaakanainen isn't your ideal clear-out defenceman, as he tends to pick his opportunity to initiate contact either in front of the net or along the boards. Rarely does he put himself in a position to take a crunching check from an opponent. This makes him the perfect partner for a top offensive defenceman, who loves taking chances in heavy traffic. Vaakanainen is reliable enough to be the last line of defense.
Quotable
"Vaakanainen is a very good player and probably is one of the best defensive prospects available for the NHL Draft." – Windsor Spitfires GM Warren Rychel
Statistics
Strengths
Great On-Ice Vision
Solid Puck Handling
Excellent Penalty-Killer
Very Mobile Skater
Fluid Strides
Under Construction (Improvements to Make)
Needs to Become More of a Playmaker
Improve Shooting Skills
Lack of Experience
NHL Potential
Recent draft speculation has Vaakanainen being selected from the 15th overall pick to the end of the first round. Playing two seasons in Finland's top league has shown that he's ready to compete at the NHL level. However, Vaakanainen cannot turn around the fortunes of a struggling franchise by himself, but if surrounded by other rising young stars then you'll see a sharp improvement in the standings.
It would be smart for the team that selects Vaakanainen to leave in Europe for the next two seasons, and allow him to add muscle to his slender body frame. Plus, this move helps to develop his overall game and make him a more viable top-four defenceman candidate.
Risk-Reward Analysis
Risk – 2/5, Reward – 4/5
Fantasy Hockey Potential
Offense – 4.5/10, Defense – 8.5/10
Awards/Achievements
The Windsor Spitfires in the 2016 CHL Import Draft chose Vaakanainen, but he elected to remain in Finland and play another season for the Blues.
Interviews/Profile Links
Videos