Washington Capitals 2012 first round draft selection Tom Wilson came to Washington after dominant seasons with the Plymouth Whalers of the Ontario Hockey League (OHL), drawing comparisons to elite power forwards in hockey including Milan Lucic. He sat on the fourth line for 82 games his rookie season, never playing with above average NHL forwards on his line for a substantial time period.
This season, Wilson needs to play more and with players that compliment his style of play. He recorded ten points in his 82 game rookie campaign, playing alongside enforcer Aaron Volpatti and veteran center Jay Beagle. He averaged 7:56 minutes of ice time per game, with almost all of that time coming during even strength play. He netted one power play goal on the season and averaged just five seconds on the Capitals strong man advantage unit during the 2013-14 season.
The Capitals have just over one million dollars remaining in salary cap space heading into the upcoming season. All that's left to decide is who the 23rd player on the roster will be, barring a trade of defenseman Mike Green to free up cap space and a more competent number two center. The final roster spot will likely be filled internally it seems, with forward Michael Latta becoming a possibility to fill that void and even receive playing time if new head coach Barry Trotz sits Aaron Volpatti with regularity. Capitals forward prospect Andre Burakovsky is another option at Washington's disposal to provide some offense, but he could however see a stint in the American Hockey League before joining the Capitals after coming over from Sweden just over a year ago.
There are some issues to be worked out though before he can attempt to have a strong sophomore season in the National Hockey League. Wilson suffered an ankle injury after a fall in Ontario, but is expected to return during training camp. Wilson had surgery on his fractured left fibula and his agent characterized the injury as a "routine break" to Alex Prewitt of the Washington Post.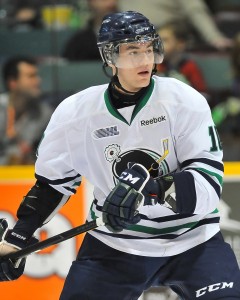 "Certain guys around the league. That's just part of sometimes training, part of being human on this planet Earth that you're going to get hurt. It's unfortunate. I was really excited about Tom having a really good summer then coming into camp. But it's a setback. He's young. He'll be, I'm sure, pushing to be ready for the start of training camp. If he comes in late, then he'll have some catching up to do." -Barry Trotz
Finding a third line role for Wilson is an optimal goal for the Capitals and the second year forward. He's not a flashy player, Wilson strengths include separating his opponent from the puck and play physical around the net. He brings a physical element to the game that some of his teammates don't provide to the group. With the loss of center Mikhail Grabovski to the New York Islanders, Wilson's a candidate to see time on the Capitals second power play unit.
Below is my suggestion for Washington's line combinations at this moment in time to get Wilson more minutes. While this third line option with Brooks Laich and Eric Fehr doesn't give Wilson a dominant playmaker, they're an uptick on what he saw on the ice with him last season. Along with getting a chance on the second man advantage squad, Wilson could receive close to 14 minutes per game in this scenario, almost double what he saw last season. He'll likely be eased into games to begin the season due to his surgery this summer.
Evgeny Kuznetsov-Nicklas Backstrom-Alex Ovechkin
Joel Ward-Marcus Johansson-Troy Brouwer
Eric Fehr-Brooks Laich-Tom Wilson
Jason Chimera-Jay Beagle-Michael Latta
Zone Starts
Although he played on the fourth line last season, Wilson saw a decent amount of offensive zone starts, albeit with abysmal line mates. He started in the offensive zone 53.3% of the time according to Extra Skater, but produced just a 45% Corsi-For percentage (CF%) and a -3.1% Corsi-Relative. Below, The Hockey Writers shows similar players with similar CF% Relative numbers.
| Player | CF% | CF% Relative | ZS% |
| --- | --- | --- | --- |
| Tom Wilson | 45% | -3.10% | 53.30% |
| Nick Spaling | 45.30% | -3.20% | 50.70% |
| Steve Ott | 44.50% | -3.30% | 46.90% |
| Drew Miller | 48.80% | -3.30% | 45.90% |
| Mike Fisher | 46.40% | -3.40% | 45.10% |
While some players on this list played against stiffer competition and more talented forwards, Wilson's possession numbers were anemic and he didn't provide much offense. Last season, the former Plymouth Whalers force was one the ice for 241 shots for and 310 shots against during five-on-five play.
There some some key takeaways from this chart and important notes. Latta, Kuznetsov and Chimera played sparingly with Wilson, small sample size is still in effect there. However, Wilson did improve the play of his main line mates (Wilson/Volpatti); in fact his primary line mates posted lower possession numbers when they didn't play with him.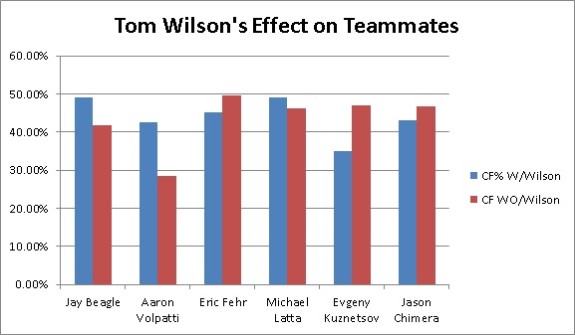 There are parts of his game that need refined along with his five-on-five play. He plays physical which is what the Capitals want, but it needs to come at an under controlled pace. An example was in in December in a game against the Philadelphia Flyers, where he charged Brayden Schenn from the red line resulting in a costly penalty.
Along with discipline, Wilson's shot needs a lot of work as well. He's never going to be a sniper in all likelihood, but being able to have a respectable shot will do wonders for his line mates and his production alone.
This season is huge for Wilson and the Capitals bottom six. He'll need to produce to keep Washington in the hunt for a playoff spot in the improving Metropolitan division. While GM Brian MacLellan hauled in talented pieces for the blue line, it came at an enormous cost. The loss of Grabovski puts extra onus on the rest of Washington's forwards to replace his offensive abilities. Wilson could have a spot on Washington's second line if Troy Brouwer's future isn't with the Capitals long-term, giving Wilson a trial run in the 2014-15 season.
Matthew Speck covers the Washington Capitals organization for The Hockey Writers. He provides coverage of both Washington at the NHL level and prospect related content. Matthew also covers local sports for the Lebanon Daily News in Central Pennsylvania. You can email him at mspeck21@yahoo.com with any questions or comments.