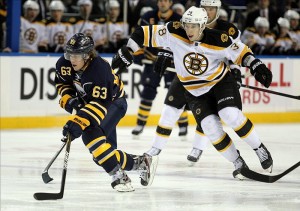 It seems that the free trade market has, for the most part, died down. All the double-digit scorers have been snapped up, and even some of the riskier players have been grabbed by teams willing to take a gamble with the abundance of funds they have left.
As most fans know, though, Boston was one team unable to take part in the free agent frenzy this year. The franchise surpassed the cap ceiling by two hundred grand with the signing of RFA forward Jordan Caron- and GM Peter Chiarelli is still only sitting with a twenty-person roster. In addition, Caron officially became the first- and only- right wing signed by Boston for 2014. Fans are freaking out.
 I'm going to need all the Boston fans to take a big, deep breath. Raise your arms above your head, close your eyes, and think about the Stanley Cup. Feel better? Good.
A number of fans have been complaining that Chiarelli doesn't know what to do for his team. Re-signing an above average defenseman like Matt Bartkowski for $1.25 million before coming to terms with Torey Krug on a contract? Agreeing to ANYTHING with Jordan Caron before Reilly Smith? What is he doing?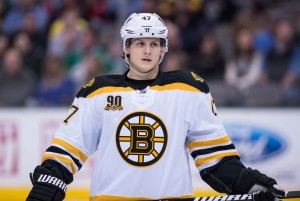 You have to look at the numbers, though. In my last post, I broke down where Boston was spending- and where they were overspending. At the time, had they signed Bartkowski to the league-mandated qualifying offer Boston was required to lay out, the team would have been spending just over $18 million on the blue line alone.
Of course, that also suggested that Torey Krug will be offered only $900k, which is almost certainly inaccurate. If Bartkowski, who put up inconsistent numbers at best, inked a seven-figure contract? Krug should be looking at two, possibly three million.
The Bruins woes aren't in defense, though; they're up front. Of the $38 million Boston has tied up in forwards, less than a million of that is in the right wing. Smith still hasn't been renewed, and while $4 million in cap relief will appear in October (for more on that, read the post prior to this- I explain Marc Savard's LTIR pretty clearly there), that still looks grim.
Assume Smith, like Krug, deserves $2.5 million in cap space. That would still leave the team short two right wingers, with $40 million already tied up in offense alone.
No rational GM would leave a team like that going into the preseason. If Krug re-signs for $3 million, the team will be sitting on $21 million in defensive talent. With prospects David Warsofsky and Joe Morrow banging down the door from Providence, the team can afford to ship off some solid players- in return, of course, for that much-needed right wing.
Who should go?
A good friend of mine called me up when Caron and Bartkowski got signed over Smith and Krug, six seconds away from cardiac arrest. How could the team do this? they shrieked. We're going to lose our amazing players, and be stuck with the guys we don't want!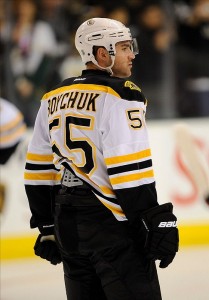 Not so fast. Both Reilly Smith and Torey Krug, much like Caron and Bartkowski, became restricted free agents on July 1st. Free agency could take days to explain, so I'll try to summarize as best I can:
A restricted free agent is somewhat limited in his "free" agency. It's all relatively long and messy, but the skinny behind free agency is that another team is unable to sign an RFA freely. Should a team extend an RFA a qualifying offer, then even if he rejects it, he wont necessarily get to sign with another team. Any offer sheet he signs by another team can be matched by his current team- and he has to take it.
This is where Bartkowski and Caron's contracts come in. By signing them, Chiarelli effectively turned them into movable pieces. Combined with one of the team's many centerman prospects, Bartkowski would make a nice package with Adam McQuaid- and if he can trade for a better right wing, Caron could sweeten this deal even more.
On defense, this deal would leave Boston with Zdeno Chara, Dennis Seidenberg, and Johnny Boychuk as veterans, with Dougie Hamilton, Torey Krug, and Kevan Miller as explosive young talent. On offense, it would allow Loui Eriksson to move up to the first line, Smith to stay, and a prospect to fill in the fourth line below whoever Boston acquires.
Of course, if Chiarelli is looking to get the most bang for his buck, I would suggest a one-two defense package consisting of Bartkowski and Boychuk. Combined, the two blue liners have a cap hit almost equivalent to the bonus overage penalty Boston is facing from last season.
This sum, which falls just under five million dollars, would be enough to pick up a valuable right wing piece (and who knows, maybe a prospect or a pick, as well). In the stead of Boychuk as a veteran, McQuaid would assume a bridge role to connect the young players to the old.
What team would still make that kind of deal, though?
In an article by THW writer Anatoliy Metter, he argued that the Islanders were left with a huge hole when UFA Dan Boyle chose to sign elsewhere. The team had pinned relatively high hopes on the veteran blue-liner hopping on board for the 2014-2015 season, so it's possible they would be most interested in the Boychuck/Bartkowski package.
This would give them not only the veteran defenseman that they want, but an extra man in the instance that one is needed. Boston had such a surplus of defensemen last year that the younger players were on a rotating schedule to be healthy scratched-in contrast, the Isles could benefit from the acquisition of two more men.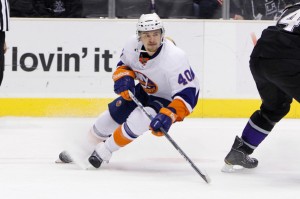 In exchange, it would most likely serve Boston best to snag Michael Grabner and a prospect, preferably a defenseman like Griffin Reinhart who won't be NHL ready for three or four more years. Grabner is a perfectly respectable right wing who could assume a spot on the third line with Carl Soderberg and Chris Kelly, while Reinhart would compensate for the lack of blue liners picked up by Boston in this year's entry draft.
Another team that could potentially bite at a Boston trade is the Minnesota Wild. In contrast, though, I would expect them to find the McQuaid-Bartkowski-Caron-prospect package far more appealing. They're a team that's done a fantastic job of balancing out youth with experience (take note, Colorado), and these mid-twenties players would fit into their system quite well.
In addition, the team is not only short on reliable defense, but they lack a solid fourth line right wing, as well. Caron could step into this role in Minnesota nicely.
While I can only dream that the Wild would offer up Nino Niederreiter, he's another RFA- like Reilly Smith- who hasn't been signed yet, suggesting that he's not going anywhere. Boston fans could instead expect to see Kyle Brodziak headed their way- he, like Grabner,would fill in on the third line quite well.