With their summer in full swing, the Windsor Spitfires are looking towards the 2023-24 Ontario Hockey League (OHL) season. There is a lot on general manager Bill Bowler's plate but the biggest item might be his "overage" situation.
The overage (20-year-old) rule in the OHL is a unique one. At the start of the season, teams can carry up to four of them but only three are allowed to dress for any given game. After going for broke last season, Bowler finds himself with an excess of overagers (2003-born) heading into next season, any of whom could play every night. This includes – forwards Brett Harrison (Boston Bruins), Oliver Peer, Alex Christopoulos, and Jacob Maillet, plus defencemen James Jodoin, Daniil Sobolev, and Jacob Holmes. It's a tricky situation but one that Bowler must navigate for the future of the club. Who could return, who could get traded, and who's gone for good? Let's dig in.
Veteran Firepower Up Front
The Spitfires have several forwards who could return for a final season. However, it's going to be a tough group to crack. Here are the eligible forwards.
Forward Oliver Peer
This is one of the feel-good stories for the Spitfires. After going undrafted into the OHL, the Spitfires' scouting staff saw Peer in the summer of 2021 and invited him to training camp for 2021-22. The 6-foot, 170-pound winger seemed like just another free agent until he hit the ice. That's where he took over.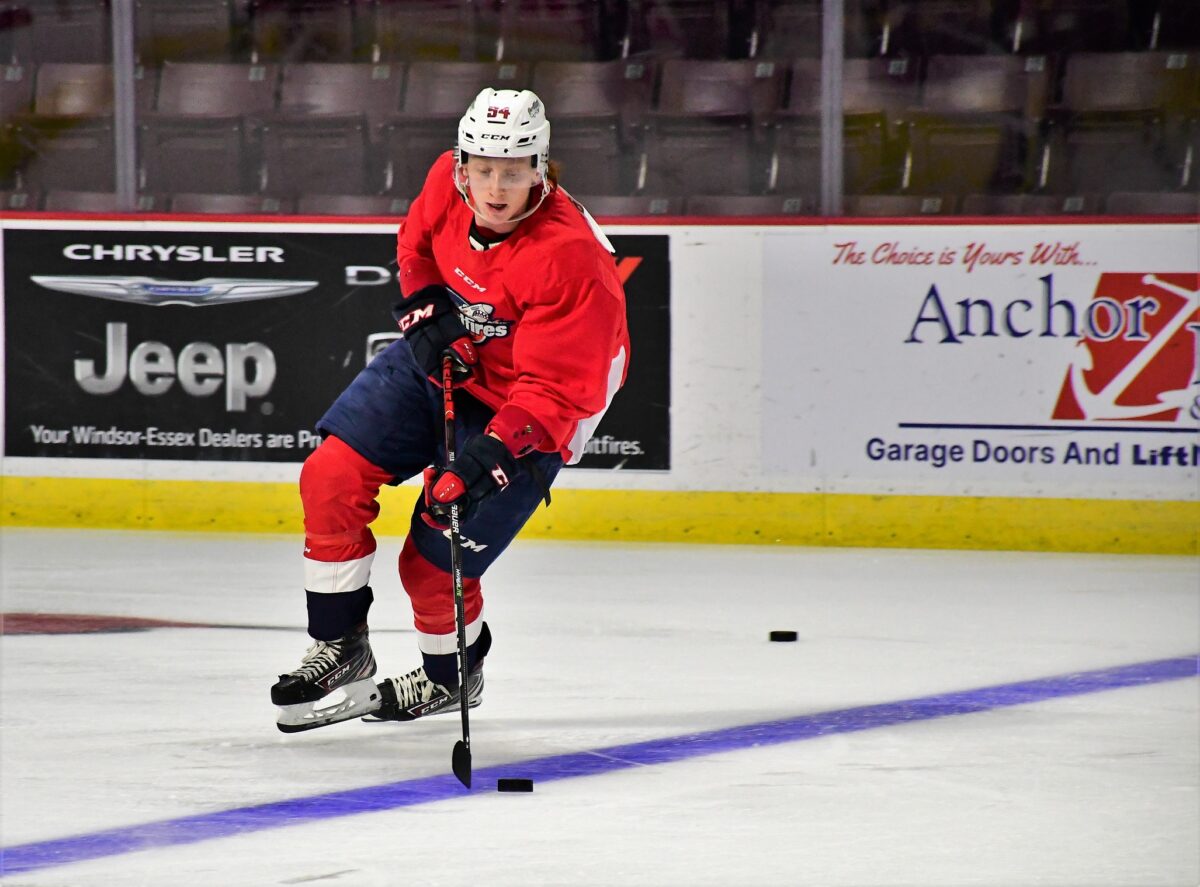 His speed and tenacity won over the Spitfires' brass and they offered him a spot on the team. He ran with that and has gone from a fourth-line depth player to a legitimate top-six producer. He zips around the ice with ease and won second place for Best Skater in the Western Conference in the annual OHL Coaches Poll. His speed and intelligence create scoring chances and get under opponents' skins quite easily. The happy-go-lucky Burlington native is quick-witted and offensively savvy, putting up 22 goals and 67 points in 63 games last season after nine points in 50 games in his rookie campaign.
Related: OHL: Windsor Spitfires Recognized in 2022-23 Coaches Poll
---
Latest News & Highlights
---
The Spitfires are going to need leadership and offence next season and Peer feels like an ideal candidate to take one of the overage positions. While Bowler could trade him on a high note, this feels like a perfect chance to finish a neat story with the club.
Forward Jacob Maillet
Maillet came to the Spitfires in a December 2021 trade with the Guelph Storm. He was their second-round pick in 2019 but needed a chance to show his talents.
After 12 points in 74 games with the Storm from 2019-21, he had 25 points in 46 games with the Spitfires in 2021-22 and then broke through with 76 points in 67 games in 2022-23. For much of the season, he was paired with captain Matthew Maggio (New York Islanders) and the two had incredible chemistry.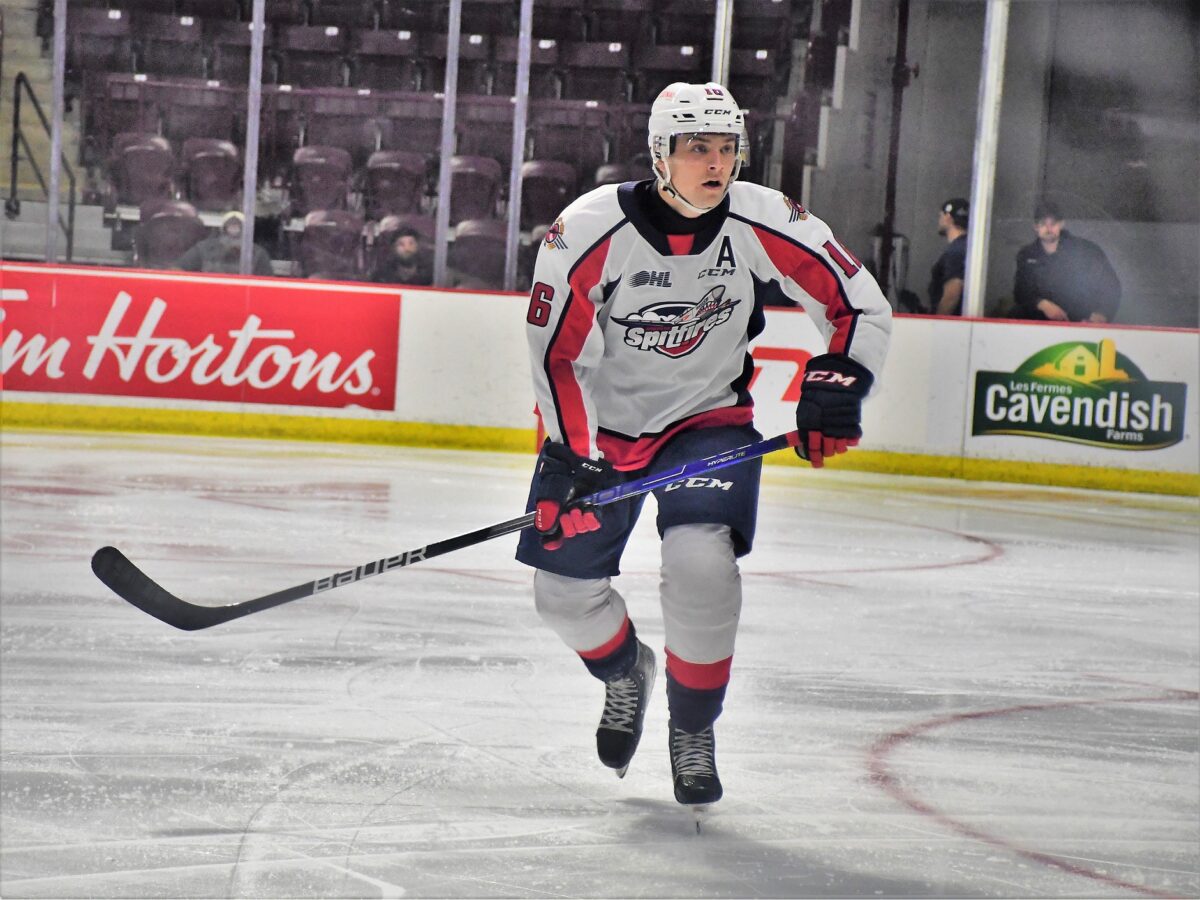 Not only did Maillet excel offensively but he was a defensive gem, being named both the Most Underrated Player and Best Defensive Forward in the Western Conference by the coaches poll. The Spitfires even gave him an alternate captain's "A" for his work in the room.
While Maillet might fetch a fair bit in a trade, his leadership ability and his breakout offensive season point towards a good chance at an overage season.
Forward Alex Christopoulos
When you think of dynamic offensive OHL forwards, Christopoulos is starting to come to mind almost immediately. The North Bay Battalion's third-round pick in 2019 came to the club following a November 2021 trade and stunned everyone.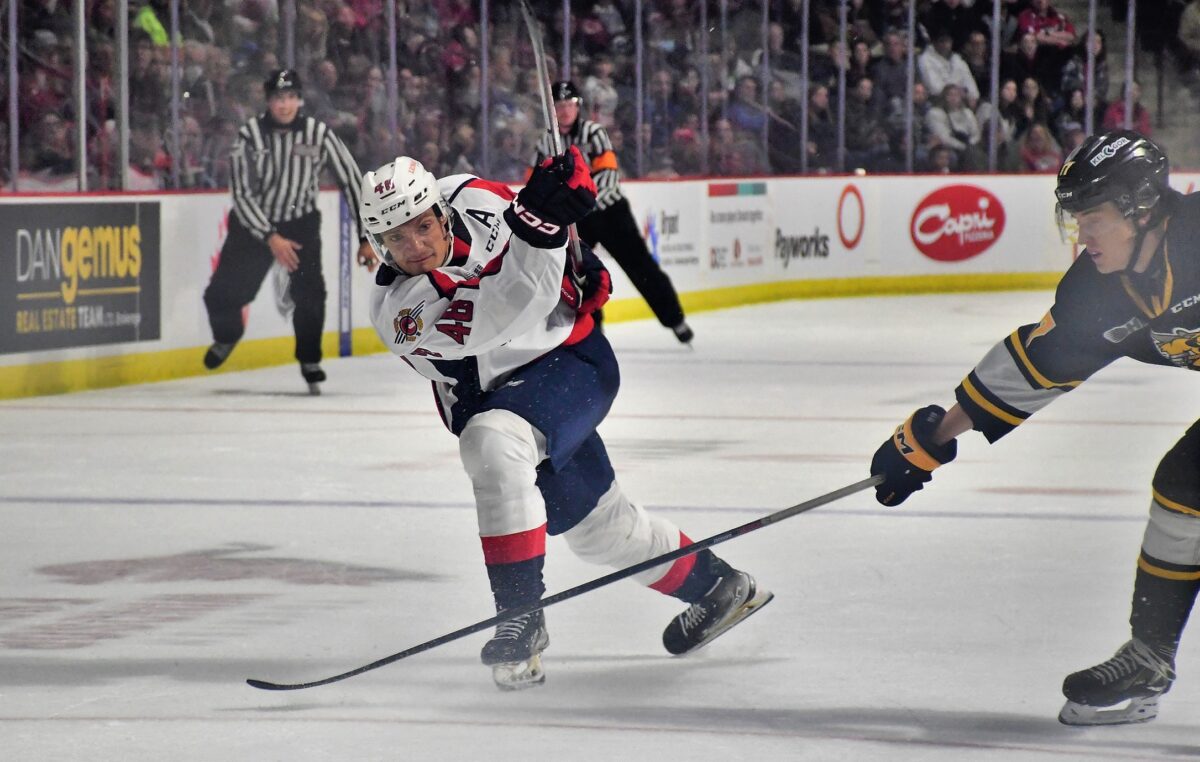 While they knew he had potential, the 5-foot-10, 200-pound Richmond Hill native went from 14 goals and 24 points in 68 games in 2021-22 to 49 goals and 74 points in 68 games in 2022-23. He's soft-spoken off the ice but a ball of energy and emotion during games and it felt like he could score every time he hit the ice. He was even named the Most Improved Player in the Western Conference in the coaches poll.
Here's the issue – Bowler could likely get a hefty return for the 20-year-old. This is why he's the third one on this list. As great as his season was, that only elevates his value. Most Spitfires' fans would love to see him return and go for the 50-goal club, just like Maggio did last season. However, if the team can get several picks or even some youth back, you have to look at that option. If he does return, though, expect a huge offensive season and possible leadership options.
Forwards Jackson McLlwain and Patrick McManus
Last season, the Spitfires had numerous injuries throughout the season, forcing Bowler to call up several Junior B players at various times. Those included forwards Jackson McLlwain, 19, and Patrick McManus, 20. While both played well in limited action (McLlwain saw 20 games while McManus saw four games plus two more in the playoffs), it's not expected that they will be full-time members next season.
Jodoin Leads Defensive Candidates
It's tough to say how many defencemen will grab an overage spot but the club has three legitimate candidates. They are…
Defenceman James Jodoin
There's little question that the Spitfires are going to be a younger roster in 2023-24, which is where the 6-foot-3, 215-pound Jodoin comes into play.
The Spitfires' fourth-round pick in 2019 spent a season with the LaSalle Vipers Junior B team before transitioning to the OHL in 2021-22. He made the club out of hard work and enthusiasm and hasn't looked back. After starting out as a defenceman in his rookie season, the club needed him up front for several games in 2022-23 (due to injuries). The result was a kid who could play anywhere and do just about anything the team needed, whether it was a timely goal or team protection.
Jodoin is as close to a 90s throwback as you will find in the OHL. He's not going to put up the triple-digit penalty minutes that his style might have seen in past eras but he'll throw the body, lead the room, and chip in some points where he can. Don't be surprised if the Spitfires give him a shot at his final season.
Defenceman Daniil Sobolev
Sobolev might be the most complicated situation of the entire puzzle.
Each club in the Canadian Hockey League (CHL) is allowed two import players, those who primarily reside outside of Canada or the United States. The Spitfires drafted him in 2020 out of Russia and he's been a fixture on defence ever since. He was good enough to be the Montreal Canadiens' fifth-round pick in 2021, but, as of May 19, they have yet to sign him. Add in that the Spitfires have 19-year-old defenceman Rodwin Dionicio (Switzerland) as their other import player and that the 2023 CHL Import Draft is on July 5 and there's no easy answer.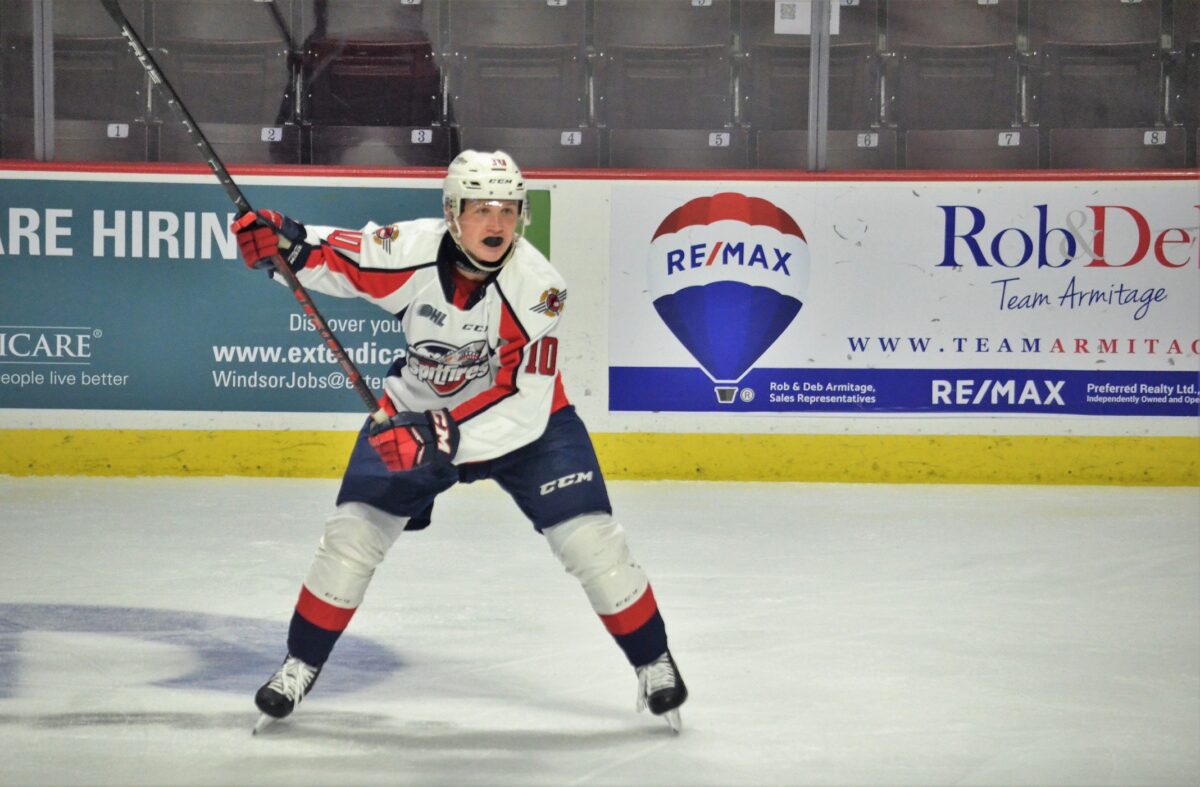 Should Sobolev return to the Spitfires, he brings plenty of veteran experience with him. The 6-foot-1, 217-pound St. Petersburg, Russia native provides some offence, scoring nine points in 48 games last season, but is more known for his physical play, being named third-best Bodychecker in the Western Conference in the coaches poll. He's a quiet, physical force that could be a big help to the club in his final season.
This isn't going to be an easy decision for the Spitfires to make, in either direction. We'll have to see what happens over the next month.
Defenceman Jacob Holmes
When Bowler went all-in at the January trade deadline, one of his acquisitions was the veteran defenceman Holmes. The 6-foot-2, 211-pounder was the former captain of the Sudbury Wolves and seemed to be a great fit in the Spitfires' room.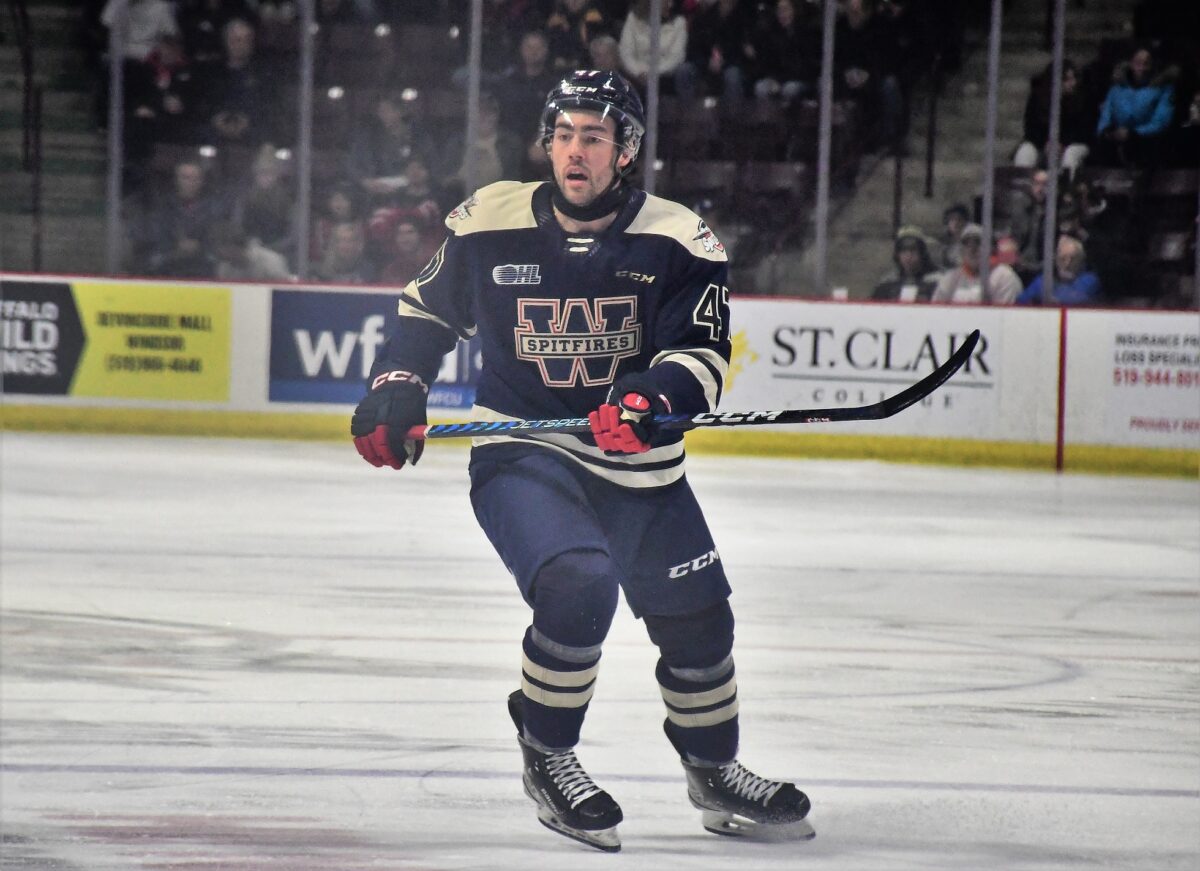 Holmes wasn't flash-and-dash but played an honest, simple game that resulted in success. Whether they needed someone to chip in offensively, provide a big stop around the goal, or simply help a teammate, he was willing. Bowler gave up five picks for him, mostly in 2025 and beyond, but the price was worth it as he stabilized the Spitfires' zone.
However, with such a talented overage pool, does the Dallas Stars' prospect have a chance to return for a final season? It's tough to say. He hasn't been signed by the Stars (as of May 19) and he could have significant trade value to a club that's looking to make a solid run next season. This might be a big toss-up for Bowler and his staff this summer.
Say Goodbye to Harrison
While the aforementioned players have a chance to return next season, one player that we (likely) say goodbye to is Harrison.
Acquired from the Oshawa Generals at the deadline for six picks, the 6-foot-3, 185-pounder came as advertised. He was a rock offensively with 18 goals and 36 points in 30 games in the second half, showing creativity and chemistry on the ice along with leadership and professionalism off of it. Despite all of the positives, this was nothing more than a short story.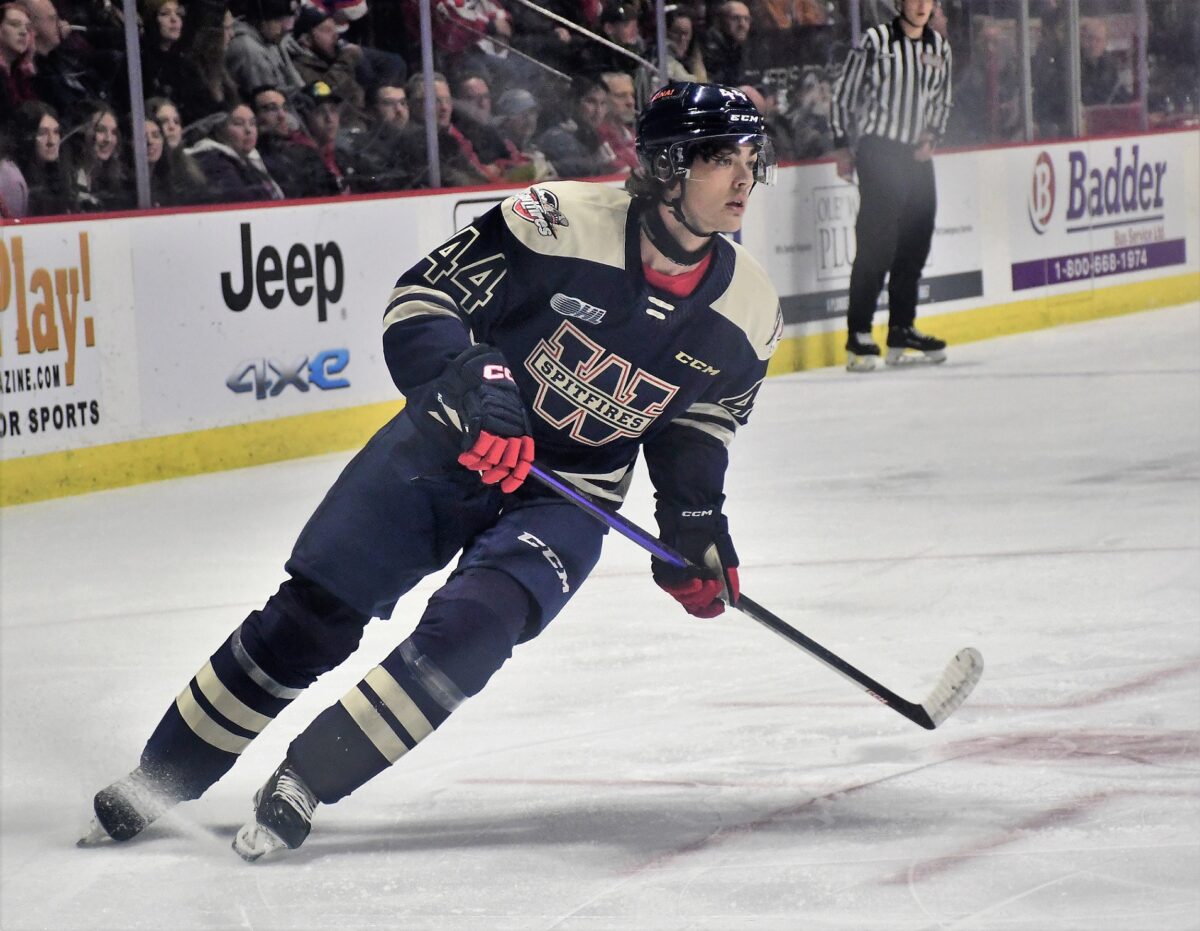 While Harrison, 19, is eligible to return for a final season in the OHL, it's not (likely) happening. He signed with the Bruins in August 2022 and has already moved on to the Providence Bruins (American Hockey League (AHL)). It was a fun few months while it lasted.
It's going to be a busy summer for Bowler, and figuring out his overage situation is at the forefront. Who sticks around? Who moves on? We will all have to sit back and watch as it all unfolds.
---
---