It's taken a month but the Windsor Spitfires are finding their game in the OHL's Western Conference. Despite two key players out of the lineup, the Spitfires grabbed a couple of wins this weekend, making a statement that's heard loud-and-clear.
October wasn't a great month for the team as the Spitfires, who went 4-6-0-1 and struggled to find any consistency. November has started better, though, as the team grabbed two more wins this weekend against conference foes. It improved their record this month to 4-1-0-0.
The wins come with first-rounders Will Cuylle and Jean-Luc Foudy both at the World Under-17 Challenge, along with 16-year-old forward Kyle McDonald. Instead, goaltending shut the door and veterans stepped up, including Dallas Stars' prospect Curtis Douglas, who recorded a rare feat on Sunday afternoon.
Spitfires Calm the Storm
On opening night this season, the Spitfires defeated the Guelph Storm at home 3-2 in overtime thanks to veteran Luke Kutkevicius. It continued a long line of close games between the teams, as three-of-four meetings last season were settled by two or fewer goals.
Saturday night was no different as the two teams met at the WFCU Centre in Windsor. Despite the Storm being near the conference lead in goals scored, it was a goaltenders battle between Storm goaltender Anthony Popovich and Spitfires goaltender Michael DiPietro.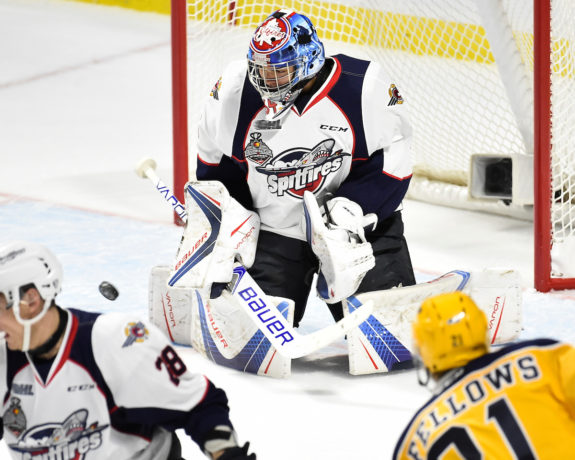 Spitfires' alternate captain Chris Playfair was the only one to beat Popovich over 60 minutes, scoring early in the second period. On the other side, Storm veteran Isaac Ratcliffe parked himself next to DiPietro on a power play and put home a backdoor pass late in the second to tie it up at one.
However, 60 minutes solved nothing. Neither did a creative overtime that saw seven shots between the teams. It was up to the shootout to decide their fate. The Spitfires' only shootout was a loss against the Erie Otters in October, while the Storm lost one to the Saginaw Spirit earlier this month.
On this night, the Storm scored two quick ones on DiPietro to take a serious grasp on the two points. Douglas and Kutkevicius had other ideas, though. They each made moves on Popovich before sliding the puck behind him, tying the shootout at two. DiPietro made the next six saves and Daniel D'Amico put home the winner in the eighth round to give the Spitfires the 2-1 win.
The win brought the Spitfires to the .500-mark with a 9-9-0-1 record. Getting over that mark, though, was going to be tough with another high offence team coming in on Sunday afternoon.
Teaching Spirit How to Dougie
Coming off of back-to-back wins at home on Friday and Saturday, the Spirit were riding momentum as they pulled up to the WFCU Centre on Sunday afternoon.  That momentum lasted about nine minutes.
That's when the Spirit met the six-foot-nine 250-pound Douglas, who had eight points in 11 games coming into this match. Douglas slid one past Spirit goaltender Cameron Lamour midway through the first, then added a second just two minutes later, giving the Spitfires a 2-0 lead. The Spirit immediately pulled Lamour in favour of Ivan Prosvetov. He didn't fare any better as Douglas completed the natural hat-trick just two minutes later.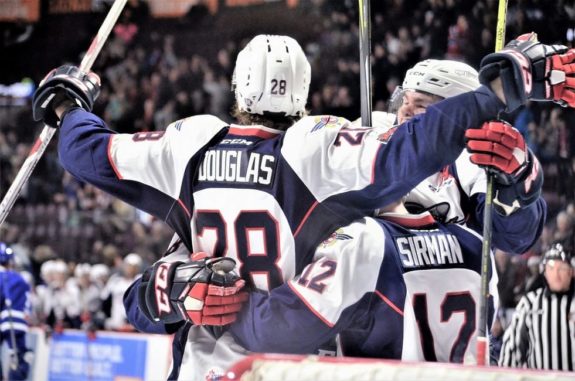 Prosvetov settled in during the second period, allowing nothing past him until the 11:14 mark. That's when Spitfires' veteran Tyler Angle made it 4-0. They weren't done there as D'Amico snapped one past Prosvetov's glove and then tipped home a second one shortly after. The route was on with a 6-0 Spitfires lead.
Damian Giroux spoiled DiPietro's shutout bid 16-seconds later, as the Spitfires took a 6-1 lead into the room after 40-minutes. Cole Purboo added one in the third period for a 7-1 Spitfires final.
With the win, the Spitfires improve to 10-9-0-1 on the season, good for 21 points and sixth spot in the conference. They sit one point back of the Spirit for fifth and just four points back of the Storm for the third spot.
This was a statement game by both the Spitfires and their veterans. They've stepped up their game and team optimism is at a season high.
"I think that's the best our offence has looked all year," Douglas told windsorspitfires.com after the game.
"We're just going to have to keep building off that."
It was Douglas' first career hat-trick and, rightfully, he was named the first star of the game.
Here are some highlights:
HIGHLIGHTS presented by @FrankBrewingCo: Things are rolling, friends. Dougie natural hat-trick. Meeks with two more goals. Tyler Angle ripping. Mikey's unreal RN. Spits 7. @SpiritHockey 1. pic.twitter.com/CeBDZlX6jq

— Windsor Spitfires (@SpitsHockey) November 12, 2018
The Kids Are Back in Town
The Under-17 Challenge ended on Sunday afternoon as Team Russia won gold over Team Finland. Team Canada finished fourth (Red), fifth (Black) and sixth (White) in the tournament. With the tournament over, Cuylle, Foudy and McDonald will now head back to the Spitfires. They'll likely dress for Thursday nights game at home against the Oshawa Generals. Foudy's 12 points led the Spitfires before he left.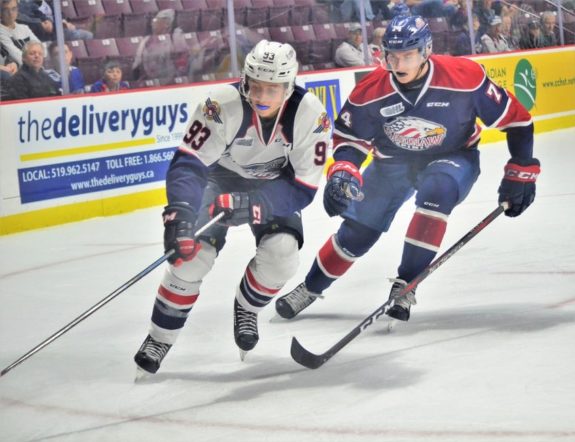 What does this mean for the lineup?
Before they left, head coach Trevor Letowski had game-by-game decisions to make. The Spitfires have 13 forwards and seven defencemen who could all dress on a regular basis. With three forwards returning, someone has to sit, along with one defenceman.
One option is to sit McDonald but he had three points in four games before going to the tournament. Another option is to go back to the rotating healthy scratches that the team became famous for. That might not be the best option for chemistry, though.
When you've won four-of-five games, you don't fix what's not broken. Cuylle and Foudy were on the same team at the Under-17s so figure out how to put them together on a line with someone. Create four lines and find the odd man out.
Hockey isn't that simple, though, is it?
Letowski and his staff have a few days to sort this out. The puck drops against the Generals on Thursday night at 7:05 p.m.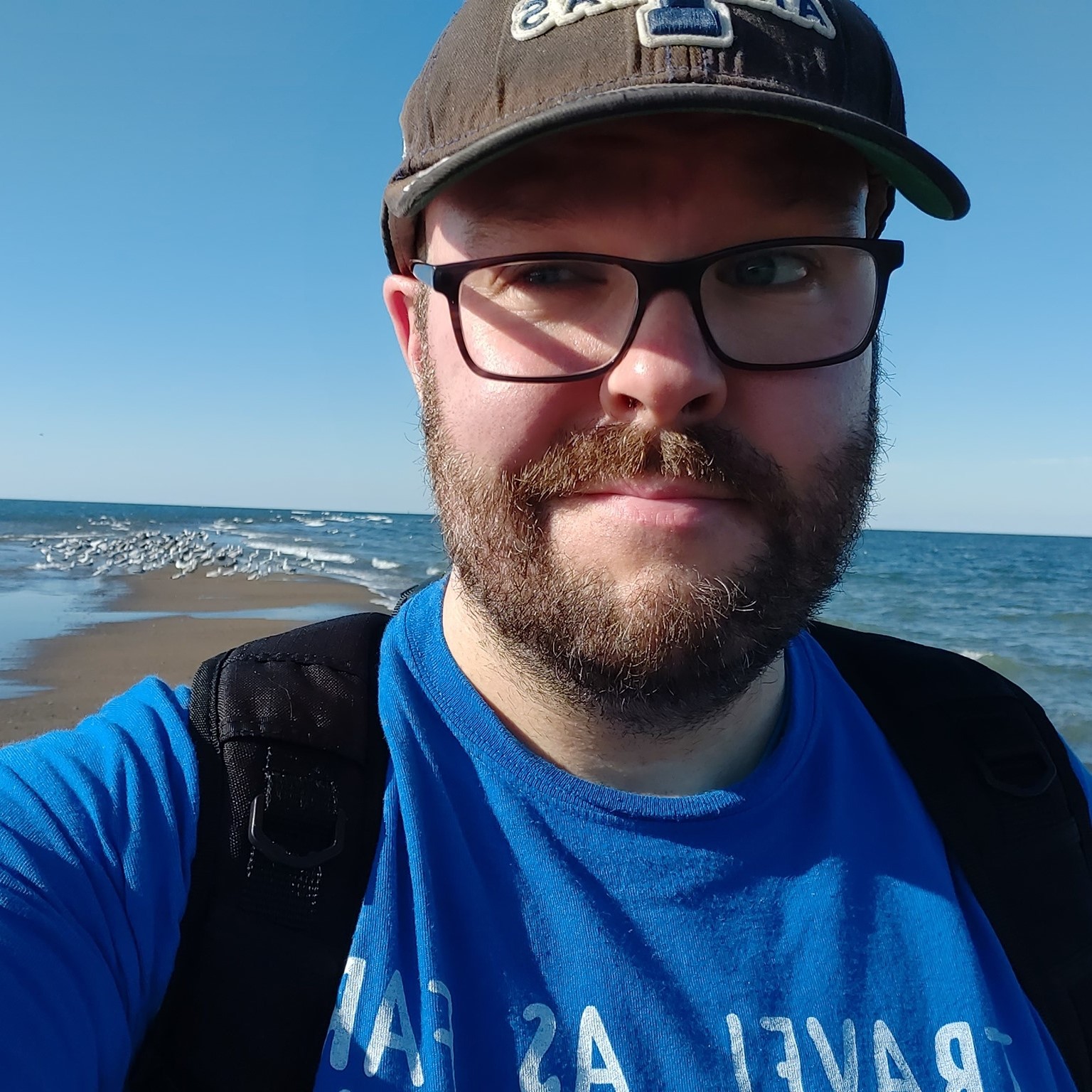 A nearly life-long resident of Windsor, ON, I graduated from St. Clair College (Journalism) and University of Windsor (Communications) and have attended Windsor Spitfires' (and OHL) games for 30-years. My areas include multimedia journalism and photography.