The 2018 NHL Draft has come and gone. As the teams and newly-drafted players head home, Jim Nill, the Dallas Stars, and their eight new prospects will stay right where they are.
In many ways, it was a typical draft for Jim Nill and company. The Stars' GM loves the big boys, and he went big. The average height of this year's class is 6-foot-2 with an average weight of around 201 pounds, none more hulking than the fourth-round pick Curtis Douglas who clocks in at almost 6-foot-9 and 250 pounds.
Also typical of Nill is his affinity for the Ontario Hockey League, nabbing four OHLers and then using his other four picks on two Swedes and two forwards from the Western Hockey League.
Entering the 2018 Draft, Nill had only selected five centers with his 36 picks as the Stars' GM. Perhaps acknowledging the whole down the middle in their system, Nill used four picks on centers, the most drafted position in Dallas' 2018 class. Also showing his want for wingers, Nill nabbed three of them, two lefties and a righty, to bolster the Stars' development. Nill used his penultimate pick for a defenseman, the lone drafted D-man by the organization. And for the first time in his tenure in Dallas, he failed to pick a goaltender.
All-in-all, the Stars drafted some promising prospects with plenty of potential for the National Hockey League.
Ty Dellandrea, C – Round 1, Pick #13
The Stars opened the draft with the lucky No. 13 pick and went a bit off the board by taking Ty Dellandrea, a center from the OHL's Flint Firebirds. At first, I wasn't a huge fan of the pick, especially with Joe Veleno and Rasmus Kupari still on the board. But the more I looked into the newest Stars prospect, the more I liked the pick.
Dellandrea improved all season. The Flint center was No. 76 on NHL Central Scouting's North American midterm list but climbed to No. 25 by season's end. Therefore, taking him at No. 13 isn't as much of a stretch as initially perceived. He is an all-around solid selection and was one of the few bright spots on a very bad Firebirds team that finished second-to-last in the OHL last season. The sophomore center put up 59 points (27 goals, 32 assists) in 67 games and led the club in goals.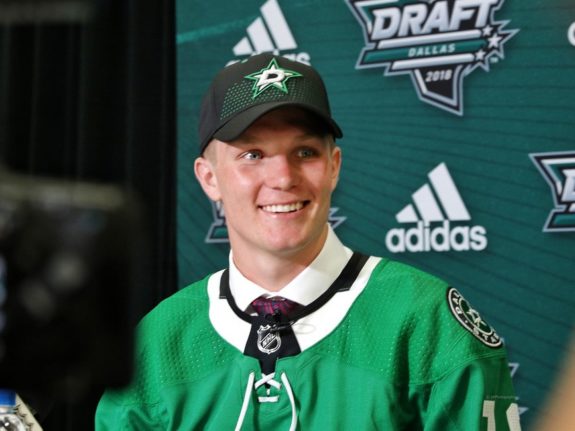 The main reason Nill drafted the Firebirds' assistant captain is his character. It's also why I like this pick so much. "Character" appeared in just about every scouting report on the Toronto, Ontario native. Many cited his can-do attitude and his never-quit effort, despite playing on a team that was eliminated from playoff contention just two months into the season.
The 17-year-old is a leader both on and off the ice. He's a guy that could be the captain in Dallas a few years down the road. Dellandrea also may be ready for NHL ice sooner than most think.
Grade: B+
Related: Dallas Stars Draft Ty Dellandrea With No. 13
Albin Eriksson, RW – Round 2, Pick #44
Jim Nill nabbed his first of four big wingers at No. 44, taking Albin (pronounced "Alvin") Eriksson of Skelleftea in the Swedish Elite League (SHL). The 6-foot-4, 207-pound right winger plays a skill game. His most notable attribute is his stick-handling ability and his ability to create off the rush. He's good at using his body to protect the puck and is strong on his skates. He was No. 22 on NHL Central Scouting's list of European skaters.
The winger appeared in 17 SHL games but only managed one assist playing at Sweden's highest level of professional hockey. He was much better in the Swedish Junior League, ranked fourth (tied) in the SuperElit with 22 goals. He finished the season with 40 points in 38 contests. The right winger was also an impressive plus-18 but had 86 penalty minutes, a testament to the type of game that he plays.
The Bollnas, Sweden native is a big fan of fellow countryman and Stars defenseman, John Klingberg.
Grade: B-
Oskar Back, C – Round 3, Pick # 75
The Stars went for back-to-back Swedish right-wingers, taking Oskar Back in the third round. Like the Stars' second-rounder, Back played in both the SHL and the SuperElit. NHL Central Scouting gave Back a "B" rating, indicating he's a second or third round candidate, so the Stars were right on the money with this one.
A native of Karlstad, Sweden, Back is known as a playmaker who's more likely to pass to a teammate than try to score. He tallied 22 assists and added 10 goals for a total of 32 points in 38 games with Farjestad BK of the SuperElit. The right-winger dressed in 14 games of the SHL but failed to record any points.
The 6-foot-3, 205-pound winger is committed to play for BIK Kaklskoga in the Allsvenskan next season, so it will be at least one more year of overseas development before he makes the jump to the North American game.
Grade: C+
Adam Mascherin, LW – Round 4, Pick #100
This is the pick I'm most excited about. Mascherin was initially drafted by the Florida Panthers in the second round of the 2016 Draft but decided he didn't want to play for Florida and refused a contract, waiting the required two seasons to re-enter the draft.
The left winger wore the "A" for the Kitchener Rangers this past season and put up a career-high 40 goals and added 46 helpers for a total of 86 points in 67 games. The Maple, Ontario native finished eighth (tied) in goals and was ninth in points in the OHL. Believe it or not, this was actually a statistical drop-off for the 20-year-old winger.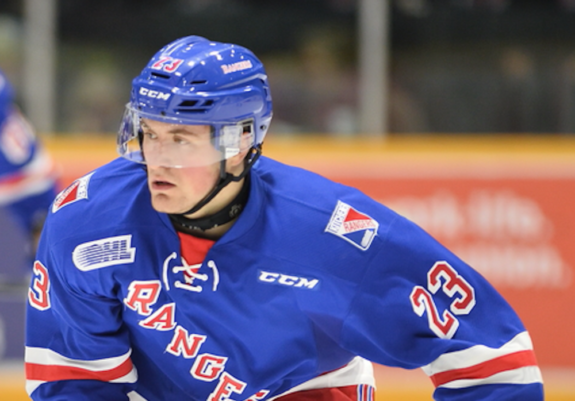 During the 2016-17 campaign, Mascherin hit the century mark, notching 100 points (35 goals, 65 assist) in just 65 games. In total, since the Panthers took him in 2016, the winger has scored an impressive 186 points (75 goals, 111 assists) in 132 games with Kitchener.
The 5-foot-10, 205-pound left winger is a talented pure goal scorer. He uses his speed to outwork opponents and finishes with a deadly shot. The Stars have been lacking a pure-scoring winger in their prospect pool, instead opting for the taller, playmaking wingers; this is an exciting and refreshing pick for Dallas.
Mascherin is a guy that can step into the NHL sooner rather than later. He figures to be the most NHL-ready of the Stars' drafted prospects, given his age and the fact that he's turning pro right away, committing to the Texas Stars for next season.
Expect Stars fourth-round pick Adam Mascherin to play in the AHL with the Texas Stars next year.

— Sean Shapiro (@seanshapiro) June 23, 2018
Grade: A-
Related: Adam Mascherin Prospect Profile
Curtis Douglas, C – Round 4, Pick #106
The Stars went big – and I mean big – with pick No. 106, taking Curtis Douglas with their second fourth-round selection. Douglas is listed at 6-foot-8.5 and 248 pounds, the biggest kid in the draft.
After struggling as a member of the Barrie Colts, only managing 18 points (7 goals, 11 assists) in 28 games, Douglas was traded to the Windsor Spitfires and turned it on. In Windsor, he was a point-per-game center playing in the Spitfires' top six, notching 28 points (15 goals, 13 assists) in 28 games. Between the two teams, the hulking pivot recorded a very respectable 46 points in 56 games total.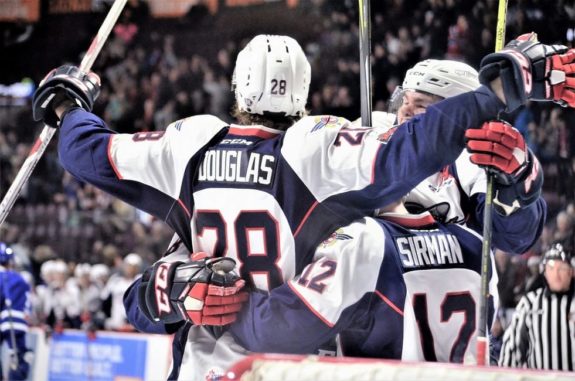 The Oakville, Ontario native can use his frame well. By most accounts, he has strong puck skills and decent speed. Given his size, Douglas does play a physical game and can punish players with huge checks. After being taken by Dallas, Douglas told Bruce Levine he likes to model his game after Brian Boyle or Ryan Reeves. That tells you all you need to know about his playing style.
Like most players taken after the first 100, Douglas will be a project player and might not get a chance in the NHL until years down the road, but if it pans out, the Stars could have a very intimidating forward lining up against their opponents each night.
Grade: C+
Riley Damiani, C – Round 5, Pick #137
While his dad may have missed him getting drafted, we Stars fans certainly did not. With Dallas notorious for drafting some quality talent in the fifth round (i.e., Jamie Benn, 2007; Klingberg, 2010), Damiani is someone I'll keep my eye on in the next few years. You never know.
NHL Central Scouting had him ranked as the No. 100 North American skater, so with the Stars grabbing him at #137 is pretty decent. THW's own Mark Scheig said this of the 18-year-old pivot:
"Damiani is a candidate for my annual steal of the draft article which comes out in June. He jumped up 19 spots to 100th on the final Central Scouting list.
Not only can Damiani score, he can skate and makes smart decisions with the puck. He can also play both special teams units… For my money, he might be one of the best overall values of this draft."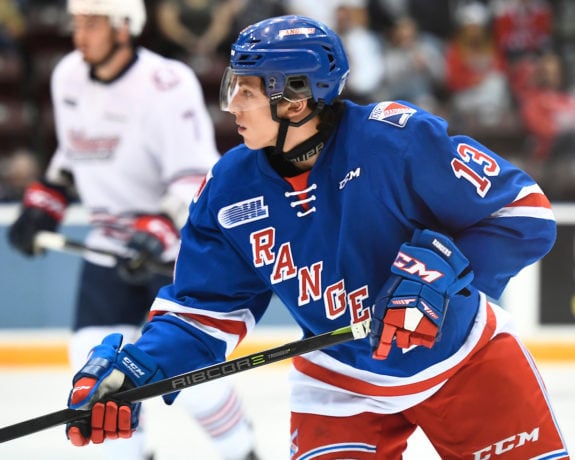 A teammate of Stars' fourth-rounder Adam Mascherin, Damiani brings hard work and two-way versatility to the Dallas development system. He plays with a lot of heart and tenacity despite his smaller size. At a mere 5-foot-9 and 163 pounds, he is the smallest player drafted by the Stars.
The Mississauga, Ontario native tallied 37 points in 64 games in Kitchener. His 19 goals were ranked fifth on the team. It was a decent improvement from last season when the forward only managed nine goals through 62 games.
Grade: B+
Related: 5 Underrated OHL Draft Prospects
Dawson Barteaux, D – Round 6, Pick #168
At last Dallas drafted a defenseman. As with the past three drafts, Nill only selected one D-man, perhaps a sign that the front office is content with their defensive prospect pool. To be fair, drafting Miro Heiskanen third-overall last year probably helped speed up the Stars' defense development.
Barteaux is another playmaking defenseman, using his ability to exit the zone and move the puck more than using his body to shutdown the opposition. The blueliner notched 32 points in 64 games with the Red Deer Rebels of the WHL. His 29 assists ranked second among Rebels defensemen and fifth on the roster.
At 6-foot, 180-pounds, Barteaux has a frame more suited to be a forward and he plays like one too. In a pretty deep defensive pool in Dallas, it'll be interesting to see if he can separate himself and stand out among the saturation of blueliners in Big D.
Grade: C-
Jermaine Louwen, LW/RW – Round 7, Pick #199
Jermaine Louwen has the best story of the draft, hands down. The Mandeville, Jamaica native made history by becoming the first Jamaican-born player drafted into the NHL. At 20 years of age, Louwen is a little older than most prospects, but that doesn't mean he's more developed. The Kamloops Blazers' left winger will need plenty of time before reaching NHL ice.
The 6-foot-4 winger brings some nice size to the Stars' pipeline. THW's Larry Fisher said this of the left winger:
"He's always been a physical presence as a big body, but Loewen has become an offensive force of late and a true power forward that is proving to be a handful for anybody and everybody."
Louwen finally came into his own this past season, setting a career high in goals, assists, and points. In 66 games, the left winger notched 36 goals and 28 assists for 64 points.
Grade: C+
2018 Dallas Stars Draft Class Grade: B-
All-in-all, the Stars did fairly well at this year's draft. They didn't draft any flashy, big-name players but rather opted for utility and depth. After drafting only five centers during his previous five drafts, Nill took four centers to address Dallas' developmental depth down the middle.
Stars fans should be excited for the first-round selection of Ty Dellandrea, who I think will be the surprise of the draft class a few seasons down the road. Adam Mascherin could be the next high-scoring winger in the NHL sooner rather than later. Riley Damiani is another name to keep on eye on.
Overall, it was another solid draft for Nill and company. With Development Camp right around the corner, Stars fans will have the opportunity to see all eight of the Dallas draftees in action in the coming days. But it may be years and years before we see what these guys can really do.