Thirty days hath November, but you can bet Patrik Laine wishes it hath way more.
The past month was prolific for the Winnipeg Jets' Finnish phenom—the best of his three-year NHL career—and chock full of memorable and historic performances that will be remembered around the hockey world for years to come.
Laine Had Video Game Numbers in November
Laine's stat line for the penultimate month of 2018 looks like someone's who's been playing NHL 19's "Be a Pro" mode on rookie difficulty.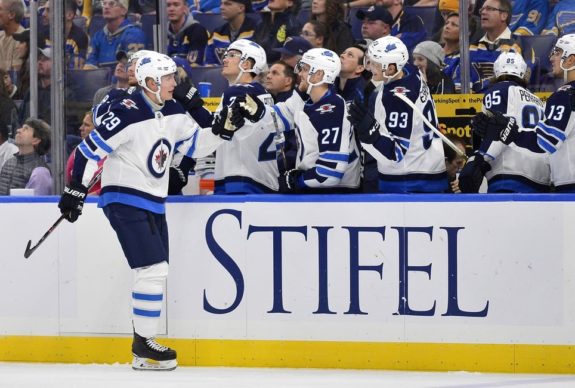 Laine had 18 goals and one assist for 19 points in just 12 games. He scored a hat trick in three different countries and scored on a third of his shots. He became the first player to score 18 goals in a calendar month since Mario Lemieux accomplished the feat in December of 1996.
On Monday, he was named the NHL's First Star of the Week, and on Thursday, he became the fourth-youngest player in NHL history to score 100 career goals with his first period tally against the Chicago Blackhawks.
Laine's Homecoming Boosted His Confidence
The Jets' pair of 2018 Global Series games in Helsinki got the sniper off on the right foot. Coming off a very tough October—one of his worst months as a professional—we explored how a trip to his old stomping grounds could be just what he needed to get back on track.
It turned out better than anyone expected. Much to the delight of his ardent fans, Laine notched four goals—including a hat trick on Nov. 1—in a homecoming that was truly a sight to behold.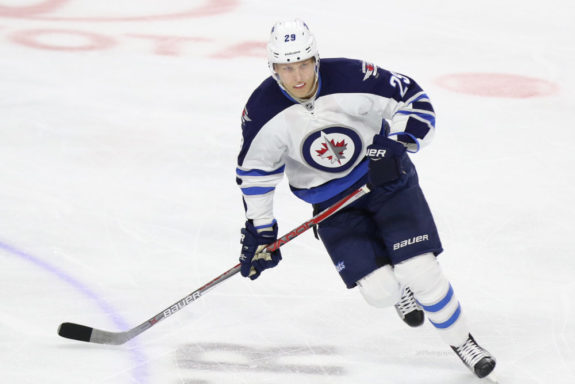 "I don't think you guys can even imagine how good that feels," Laine said after scoring the hat trick. "It might be different if I had played really well in the first games that we played. I was a pretty bad player. Now, getting rewarded like that was pretty awesome."
"That was kind of the turning point for me," Laine said recently. "It was a good trip for me, overall, to get back home and play a good two games. After that it's been pretty good." (from 'In the Laine of fire', Winnipeg Free Press, 11/26/18.) 
It was a turning point indeed, but just the beginning of his resurgent month.
Laine Exploded on Jets' Four-Game Road Swing
Upon the Jets' return to North America, it was clear that Laine still had issues to work out, but also that his confidence was growing. During the Jets' near-perfect four game homestand between Nov. 9 and Nov. 16, he had a goal and an assist.
However, it was upon departing Winnipeg for the West Coast that Laine burst high above any clouds that were raining on his parade.
In Vancouver on Nov. 19, Laine outdid Elias Pettersson and the rest of the Canucks in a 6-3 victory. He showcased his ridiculous release on a pair of one-timers and then deposited one into an empty cage for his second hat trick of the month.
Riding a wave of personal momentum, he tallied three more goals against Calgary Flames and Minnesota Wild, before putting up a historic performance against the St. Louis Blues.
Joining Elite Lists and Making a Millionaire
"Hat Trick" Laine was obviously not satisfied with three measly goals as the Jets limped into St. Louis Saturday after demoralizing losses to the Flames and Wild. Nor was he satisfied with four.
With his prolific five-goal performance, Laine added his name to a number of lists festooned with some of the league's all-time elite and set a number of records.
He became the first player to score five goals in a single game since Johan Franzen in 2011 and just the third player in the 21st century to accomplish the feat.
He joined Don Murdoch and Wayne Gretzky as the third player in NHL history to have a five-goal game before his 21st birthday.
He broke his own record for most goals scored by a single player in one month (12) since relocation to Winnipeg when he scored his second of the night.
He broke the Thrashers/Jets franchise record of 14 goals in a single month, which was set by Ilya Kovalchuk in Nov. 2007, when he scored his fourth of the game.
He became just the fifth player since 1959-60 (the year shots started being tracked) to score five goals on five shots.
He became the first-ever Jets 2.0 player to score five goals in one game (Willy Lidstrom and Alexei Zhamnov did it for the Jets 1.0.)
He became the ninth player in NHL history to score 11 goals over four consecutive team games played (among Joe Malone, Mario Lemieux, Alexander Mogilny, and others.)
His teammates were agape when he lit the lamp for a fifth time and shamelessly watched big-screen replays of him wiring one glove side on Jake Allen. The NHL official Twitter account couldn't believe it either, tweeting "This is not a joke. @PatrikLaine29 has FIVE FREAKIN' GOALS."
If that weren't enough, he also won Winnipegger Christopher Haley more than a million bucks thanks to the Safeway/Sobey's Score & Win contest.
Laine Looked Multi-Dimensional
Laine is not a one-trick pony who can only stand in one spot and wait for a power play one-timer. In October, however, he looked like a danger on the man-advantage but a liability everywhere else, including 5-on-5.
Laine is at his best when he moves his feet and is most dangerous when he uses his speed to generate chances from different areas. His five-goal game is a perfect example of how much better he's playing than last month—if he was playing like he was in October, he wouldn't have scored four of them.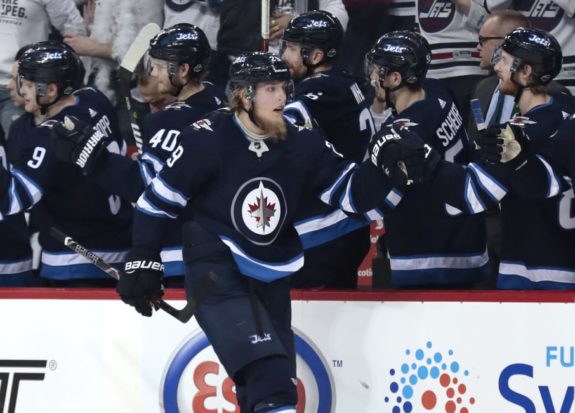 Only one goal came from his power-play "office" by the left-wing circle. His first and third came from the right wing. His fourth and fifth came from in front of the net, with the fourth in particular illustrating a hardworking net-front presence that was absent from his game earlier this season.
Laine has readily debunked the narrative that he's incapable of scoring 5-on-5—he scored 11 out of 18 at even strength. This has led some, such as TSN 1290's Kevin Olszewski, to feign concern about his lack of power-play production.
Laine Bolstered by His Linemates
On Nov. 6, Paul Maurice struck gold with a new line combination and hasn't stopped mining it since. He might need a vault to keep it all.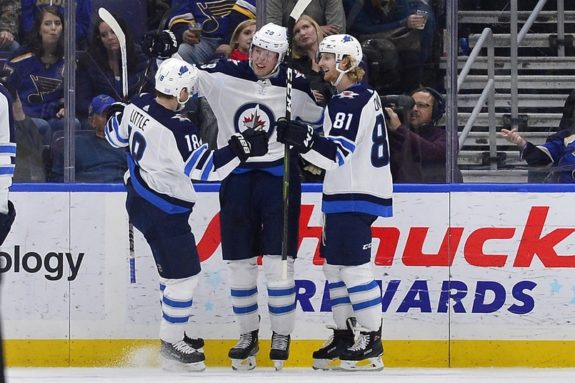 On Nov. 16 against the Buffalo Sabres, Maurice brought out his line blender. Laine was playing with Mark Scheiefele and Blake Wheeler, but Maurice moved him to the second line with Bryan Little and Kyle Connor to replace Nikolaj Ehlers, who went to the top line.
The Laine/Little/Connor combination is the Jets' second line, but right now, it's just as heady as their first. The trio has produced 15 goals and 13 assists for 30 points in their first six full games together. Laine's scored 13 in that span, and Connor and Little have drawn 13 combined 13 helpers on those 13 goals. Both had four against St. Louis alone.
Connor has generally been pegged as more of a sniper than a playmaker but has seamlessly transitioned into his new role as a line driver. That's been key to Laine's resurgence.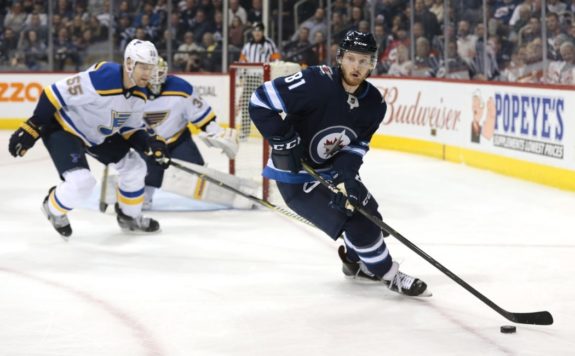 "His speed and ability to exit the defensive zone has freed Little to focus on his defensive responsibilities as his chemistry with Laine has the young Finn feeling as comfortable as he has all season," Sportsnet's Sean Reynolds wrote recently.
"He's become the ultimate set-up man for hockey's best pure scorer, a true two-way player who makes everyone around him better," Mike McIntyre wrote in a piece in the wake of Laine's five goal game. (from 'Big salaries and a big contest win', Winnipeg Free Press, 11/25/2018.)
Connor's perfect one-touch pass on Laine's first goal in Vancouver, his slick saucer on Laine's third goal in St. Louis off the rush, and his dogged puck pursuit behind the net on Laine's fourth are just three examples of the ability he's developed.
What Will December Bring for Laine?
While it will be hard for Laine to score as many goals in December as he did in November (sorry, Jets fans), the key to keeping it going is simple, according to the Finn.
"It's pretty easy to play hockey right with those guys (Connor and Little)," Laine said postgame Saturday. "I've just got to keep working hard and doing the things we're doing."
Laine can be an enigma and will still be prone to ups and downs, but three things are clear: his confidence is at an all-time high, his rough start to the year is a distant memory, and he's been set up for continued success. The Jets would likely be happy if Laine could produce even half the goals he did in November while playing well defensively.
With 15 games in December, including a number of key matchups, the Jets need continued production from number 29. Their young gun looks primed to bring it. Don't look away.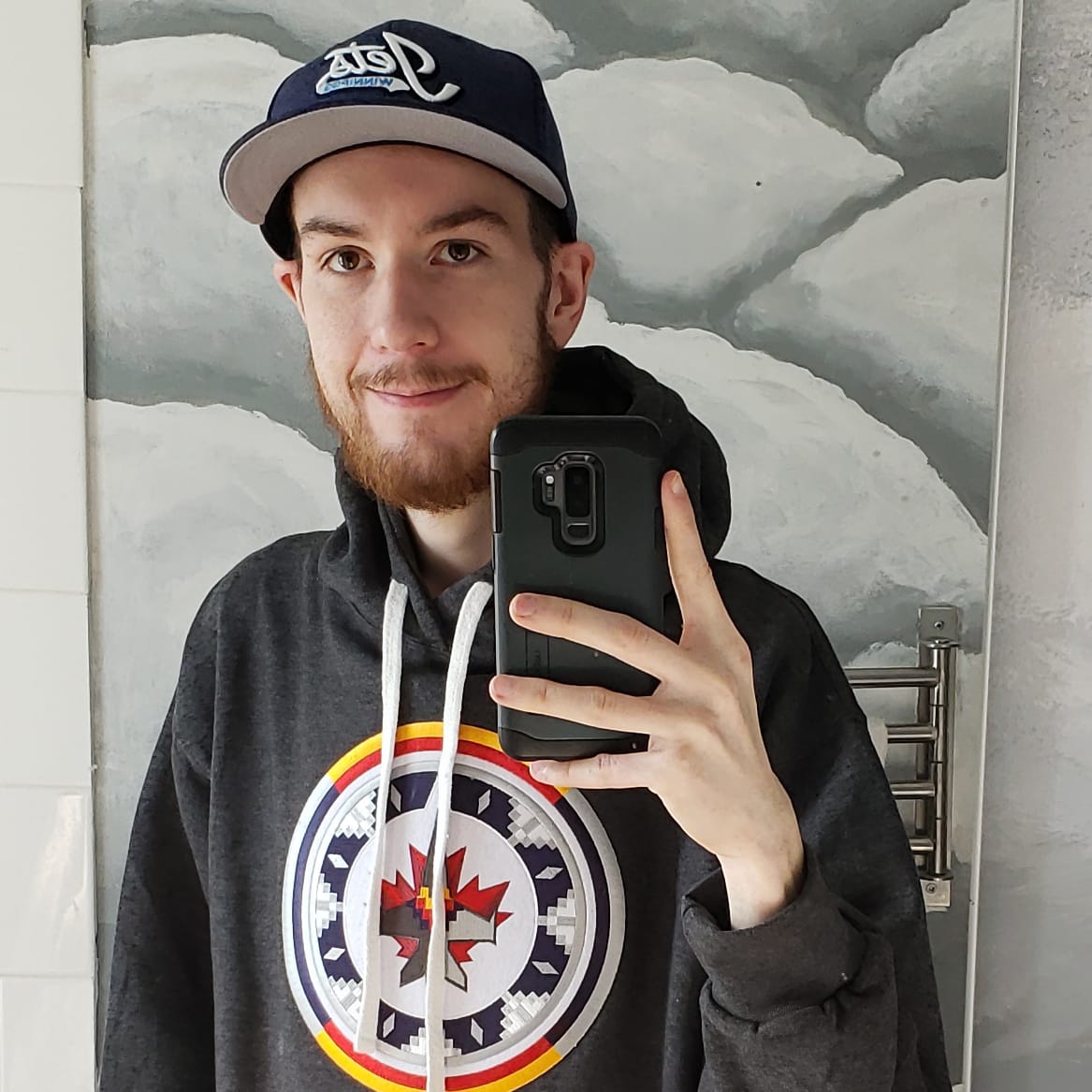 Declan Schroeder is a 27-year-old communications specialist and freelance journalist in Winnipeg, Manitoba. He holds a diploma in Creative Communications with a major in journalism from Red River College and a bachelors in Rhetoric and Communications from the University of Winnipeg.
Deeply rooted in the city's hockey culture, the original Jets skipped town when he was two and the 2.0 version came onto the scene when he was 17.