WINNIPEG — Defenceman Josh Morrissey scored the early winner and added an assist as the Winnipeg Jets routed the visiting Philadelphia Flyers 7-1 on Sunday.
Winnipeg's power play struck three times, and seven different players found the net, as the Jets improved to 10-4-2 on home ice.
Kyle Connor, Brandon Tanev, Dustin Byfuglien, Blake Wheeler, Bryan Little, and Tyler Myers also scored for Winnipeg (18-9-2).
Mark Scheifele had an assist on all three of Winnipeg's second-period goals, while Nikolaj Ehlers and Patrik Laine each recorded a pair of assists.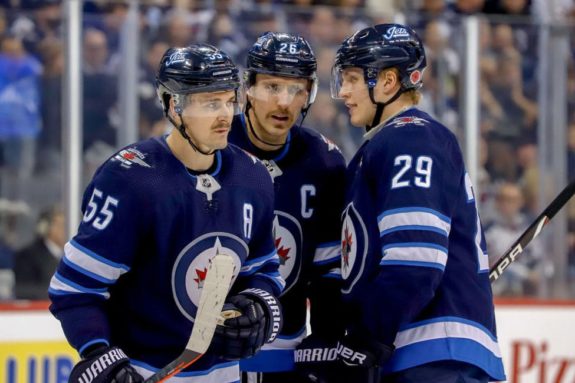 Jakub Voracek scored his eighth goal of the season for the Flyers (12-13-3).
The Jets' power play was 3-for-6 on the afternoon, while the Flyers went 0 for 2 on the man advantage.
Connor Hellebuyck made 34 saves to capture his 13th win of the season.
Philadelphia's Michal Neuvirth, in just his second appearance of the season, allowed three goals on 10 shots before being replaced by Anthony Stolarz in the second period. Stolarz stopped 21 shots.
Connor's shot from the high slot found its way through traffic for his 11th of the season to open scoring for Winnipeg midway through the first. It was Connor's first goal in 10 games.
Morrissey struck less than three minutes later on the power play with Radko Gudas off for roughing Scheifele. Morrissey — who returned to the Jets lineup Sunday after missing the last two games with a lower-body injury — beat a screened Neuvirth with a slapshot for his third goal of the season.
Related THW Content: Q & A with Josh Morrissey of the Winnipeg Jets
Winnipeg scored three times in the second period, with the first chasing Neuvirth from the game after allowing three goals on 10 shots as Tanev jumped on a rebound for his fifth goal of the season.
Five seconds into their second power play of the game, Byfuglien's point shot made its way through for his third of the season, making it 4-1 for the Jets.
Wheeler's short-handed breakaway goal late in the second period was the Winnipeg captain's 15th-career short-handed point, setting a new Jets franchise record.
Philadelphia's Robert Hagg was handed a game misconduct in the second period for a hit from behind on Connor.
The Jets wrap up a four-game home stand this week as they host the Chicago Blackhawks on Tuesday and the Edmonton Oilers on Thursday.
In the midst of a five-game road trip spanning 10 days, the Flyers now travel through Calgary, Edmonton, and Vancouver beginning on Wednesday, as Philadelphia plays 10 of their 14 games in December away from home.
Darrin Bauming, The Canadian Press