Mark Scheifele going down with an injury could've been a tremendous blow to the Winnipeg Jets' season. Instead, it hardly seems to have slowed them down.
There aren't many teams that could so easily absorb the loss of their number one center. Yet after six sessions sans Scheifele, the Jets are 5-0-1.
At the time of Scheifele's injury, it looked like the Jets were being given their first real test. If that is the case, they've so far passed with flying colors.
The wins are impressive enough on Winnipeg's part, putting up five wins against a string of varied opponents (two games against the Sabres haven't hurt) but a closer breakdown of their play in that stretch is especially impressive.
Losing their top centre to injury hasn't negatively affected the #NHLJets yet, as evidenced by these impressive key stats in the absence of Mark Scheifele pic.twitter.com/zWD1A2ekTN

— StatsCentre (@StatsCentre) January 11, 2018
The numbers don't lie. Scheifele affects the Jets in every major area of the game, and yet every major area of the game has been chugging along since his injury. The penalty kill has been nearly flawless. The power play has been lethal. Their record has reflected both these things.
Now, nobody in their right mind would suggest the Jets aren't missing Scheifele. What this stretch of play means is that when Scheifele comes back it will be like the world's best trade-deadline acquisition for an already-strong team, rather than a desperately needed return.
For a Jets team neck-deep in a fight for the top spot in the central, and in the midst of their most important season yet, this couldn't be a better response. It doesn't happen, however, without players rallying in the absence of one of their leaders.
Wheeler, Connor Answer the Call
Teams don't weather the storm of losing a big-name player without other players pitching in to help carry the load. In Winnipeg's case, a number of players have stepped up. Marko Dano, once the odd man out in Winnipeg, has been a great fill-in.
Some players, however, have stepped up more than others. While an entirely separate article could be dedicated to every player who's turned up the offense (especially after a seven-goal outing against the Sabres), a few players in particular stand out.
It should hardly surprise anyone that Blake Wheeler is one of them. The Jets' most dependable leader is a consummate pro, and he has only used Scheifele's absence to show that he can still take the team on his back.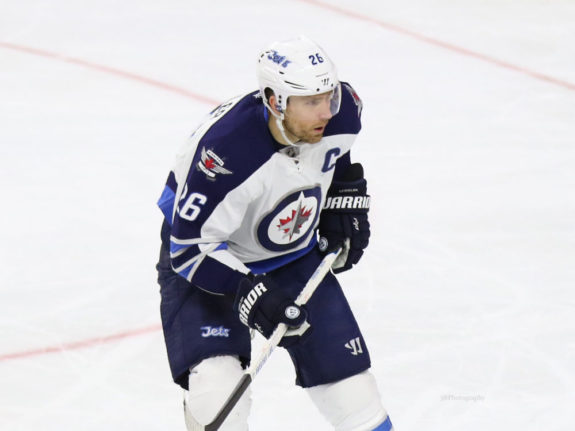 Wheeler has been scorching the scoresheet the past six games, putting up five goals and five assists. Considered by many to be underrated, he's earned an All-Star berth and lots of other attention outside of Winnipeg this season.
Of course, Wheeler can't do it all himself, but thanks to Kyle Connor, he hasn't had to. Connor had a quiet game against San Jose on Jan. 7, but two nights later he showed off some of the most confidence we've seen from him since turning pro.
#NHLJets fourth goal and WHAT A BEAUTY IT IS!!

Kyle Connor dances in and goes ROOF! pic.twitter.com/GfGKCUWP1i

— JetsNation (@NHLJetsNation) January 10, 2018
In a previous article on Connor, I pointed out that he often kicks his offense into high gear after Christmas. If that's true, he couldn't have picked a better time. He's been overshadowed in the Calder Trophy race by Brock Boeser's incredible season, but Connor is very quietly on pace for 30 goals.
Also worth noting, in that last game against the Sabres, both Nikolaj Ehlers and Patrik Laine broke lengthy goal droughts. It would be great to see the two of them get back to their sniping ways.
The Jets have a number of players (most of their forwards in fact) on pace for career years but Wheeler and Connor, Scheifele's linemates before the injury, haven't missed a beat in his absence.
Scheifele Timed it Perfectly
There's never a good time to lose your number-one center to injury. That said, if you're going to lose him for 6-8 weeks, the Jets picked a good batch. They'll have a five-day break and the All-Star game in that span.
One concern for the Jets is that a five-day break might halt the momentum they've been building up. After all, taking five days off after going on a tear isn't a recipe for continued success.
Meanwhile, right before that five-day break, the Jets get a much tougher test than the Buffalo Sabres. They'll go back-to-back against Chicago and Minnesota for their next two games.
And all the while, the Jets will be keeping an eye on the Central Division standings. Nashville has been charging hard and has games in hand, but St. Louis is four points back having played two extra games. The Jets are doing better than treading water.
As mentioned above, that turns Scheifele from a desperately needed return to almost like a trade acquisition. It also means the Jets don't have to rush him back. The last thing the Jets need is for Scheifele to re-aggravate the injury before what now seems like an inevitable playoff run.
It could've been a disastrous few weeks for the Winnipeg Jets. Instead, it's been some of the most fun Jets fans have had in years. And all this without arguably their best player.