Young Guns
With one game at hand on the Vancouver Canucks, the Tampa Bay Lightning have the best record in hockey at the moment, and the teams' young guns are contributing their piece of the puzzle.
The youngsters are stepping up, pulling together and getting the job done for the Bolts. By youngsters, the reference gravitates toward the five players on the roster who are 22 years old or younger, which are Jonathan Drouin (19), Cédric Paquette (21), Nikita Kucherov (21), Vladislav Namestnikov (21) and Brett Connolly (22).
Drouin, Paquette and Namestnikov have been skating on the same line in recent games, and they've been dominant together. They've combined for four goals and six assists in the last four contests. When you look at their numbers, take into consideration their entry-level salaries and remember that all three are rookies, you'll appreciate their effort that much more.
Numbers
The five youngsters have put up 16 goals and 17 assists for 33 points in 59 combined contests. They have also stepped up for a collective plus-18 rating. When you compare their production to the likes of Patrick Kane and Jonathan Toews, their numbers stand out. Kane and Toews have 10 goals and 13 assists for 23 points in 32 combined games. Also, they have a collective minus-1 rating.
Projected Average Numbers
Through 16 games, Kane and Toews are combining to average 5.00 goals and 6.50 assists for 11.50 points, as well as a minus-0.10 rating, per player. Tampa's youngsters are projected to average 4.34 goals and 4.61 assists for 8.95 points, as well as a plus-4.88 rating, per player through each of their first 16 contests.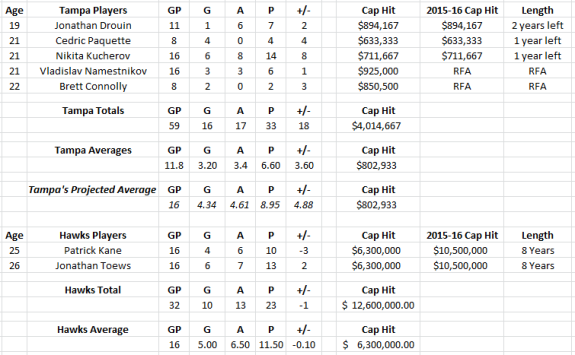 Salary Cap Hit
The Bolts' young guns are averaging an $802,933 cap hit per player, or $4,014,667 total. On the other hand, Kane and Toews are hitting the cap hard with $6,300,000 apiece, more than three times Tampa's take. Also, they signed 8-year extensions that will go in to affect next season with a $10,500,000 cap hit per player, per year. Next season, the Hawks duo will be hitting the cap more than five times harder than the Bolts youngsters if Tampa Bay signs Namestnikov and Connolly to fair extensions.
Looking at the five, and comparing them to superstars Patrick Kane and Jonathan Toews, you see that the Lightning youngsters are stacking up to the two pretty well on the score sheet, and extremely well on the pocketbook.
Jarrod Heil attends the University of Central Florida where he is studying journalism and writing & rhetoric. Also, he's a staff writer for the college's student-run newspaper which is affiliated with Gannett Company, Inc.