The 2023 Arizona Coyotes rookie camp is about to get underway, and there is excitement in the air. With prospects and recent draft picks, there is plenty of young talent represented here. Arizona has some of its best young stars in this tournament, as some of them will be taking the ice for the first time as part of the organization.
The rookie tournament takes place from Friday, Sept. 15 through Monday, Sept. 18 in Las Vegas, Nevada. The tournament includes prospects and draft picks from the Coyotes, Los Angeles Kings, Anaheim Ducks, San Jose Sharks, Colorado Avalanche, and the host team, the Vegas Golden Knights.
Coyotes' Young Talent Takes the Ice For Rookie Camp
The roster is listed below by position. The prospects will be out to not only get the attention of management ahead of the new season but fans as well. The rookie tournament has five divisions with all teams represented that will play a round-robin type of tournament.
Forwards: Ben Boyd, Logan Cooley, Josh Doan, Elliott Ekefjard, Drew Elliott, Conor Geekie, Dylan Guenther, Lukas Hes, Michael Lombardi, Julian Lutz, Cam MacDonald, Micah Miller, Reggie Newman, Josh Prokop, Aku Raty, and Reece Vitelli.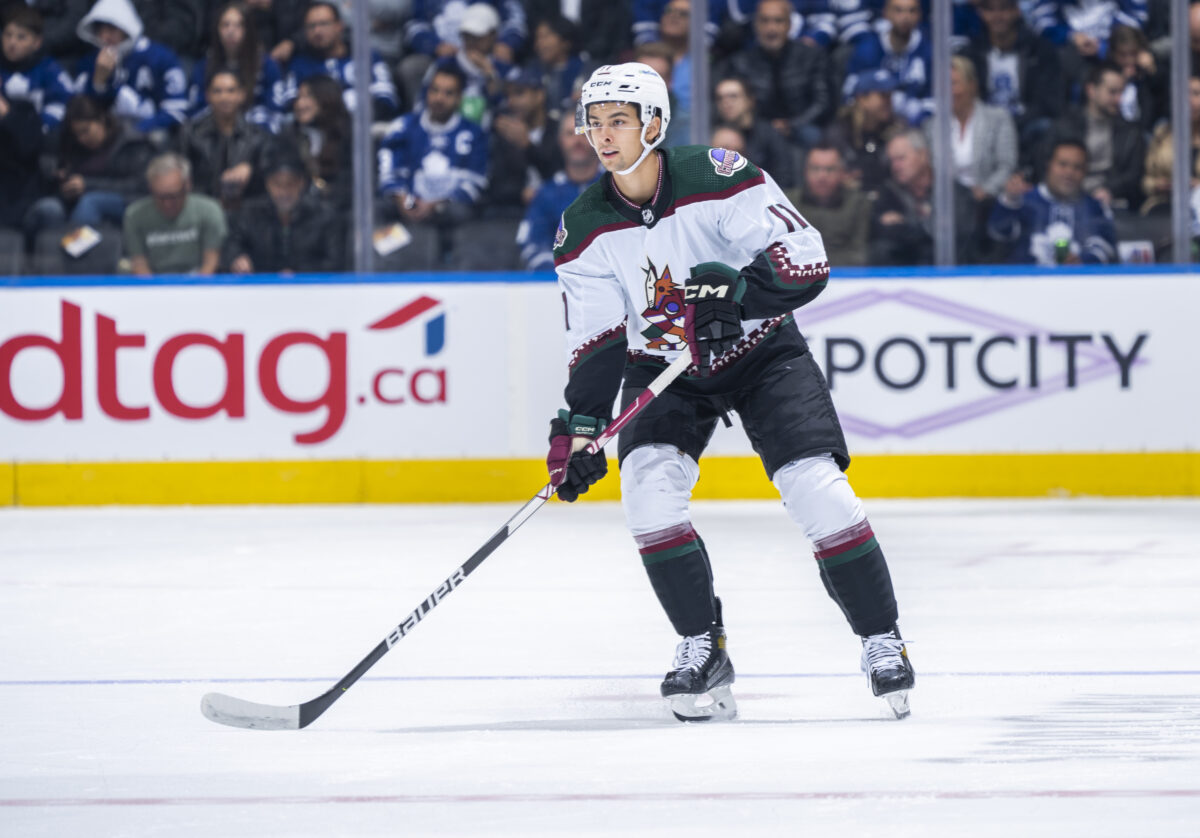 Defensemen: Terrell Goldsmith, Braden Hache, Justin Kipke, Maveric Lamoureaux, Jeremy Langlois, Montana Onyebuchi, Maksymilian Szuber, and Ryder Thompson.
Goaltenders: Andrew Oke, Mathias Rousseau, Anson Thornton
In total, there will be 27 players at this tournament representing the Arizona organization. Some of these players were high draft picks who hoped to further their development through this camp. Cooley (third overall, 2022), Geekie (11th overall, 2022), Lamoureaux (29th overall, 2022), and Guenther (ninth overall, 2021) are prospects that management will focus on to see how they develop under pressure.
Related: Coyotes Prospects Out to Prove Something
---
Latest News & Highlights
---
The Coyote's rookie tournament schedule is as follows: Friday, Sept. 15 against the Avalanche; Saturday, Sept. 16 against the Kings; and Monday, Sept. 18 versus the Sharks. All games will be played at City National Arena. Games against the Avalanche and Kings will start at 3:30 p.m., while the game against the Sharks will have an early 10:00 a.m. start.
Coyotes' Top-Ranked Prospects in the Tournament
Cooley will be participating as one of the bigger prospects in the organization. The 5-foot-10 and 174-pound center was drafted in the 2022 NHL Draft (third overall) and is seeking a big tournament to further his place in the prospect pool. He has NHL speed, is a good face-off man, and has an excellent shot from anywhere on the ice. Last season, he split time with the USA U20 team and the University of Minnesota Golden Gophers of the NCAA, totaling 29 goals and 45 assists for 74 points and 44 penalty minutes in 46 games.
Geekie is a 6-foot-3 and 194-pound center who was drafted 11th overall in the 2022 NHL Draft. The big center plays a 200-foot, physical game and is not afraid to play below the goal line. While his goal-scoring and passing are there, he will need to work on his skating and this tournament could be beneficial to him. Last season for the Winnipeg Ice of the Western Hockey League (WHL), he posted 35 goals, 42 assists, and 53 penalty minutes in 66 games. While he has played extremely well in the WHL, he may need another season in junior with a stop or two in the American Hockey League (AHL) with the Tucson Roadrunners.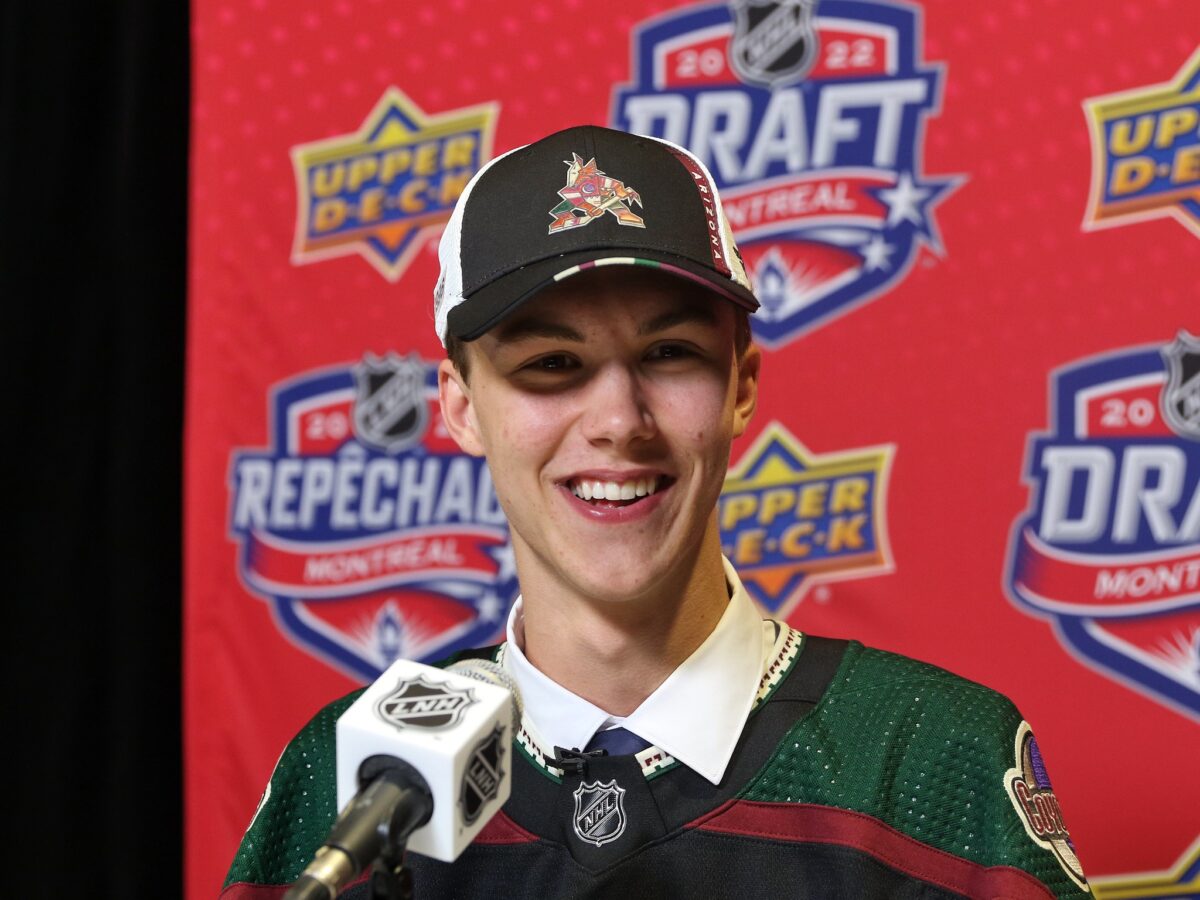 Lamoureaux is a massive defenseman at 6-foot-7 and 200 pounds. He brings a size and toughness element to the Coyote's defense that the organization lacks. Drafted 29th overall in 2022, he can create offense in the offensive zone with his heavy shot, or play a physical style and give the opposition little room to move in the defensive zone. Playing last season with the Quebec Major Junior Hockey League's (QMJHL) Drummondville Voltigeurs, he recorded five goals, 14 assists, and 62 penalty minutes in 35 games. There are not many defensemen his size that have the mobility of a forward, using that to his advantage.
Rousseau is a goaltender that is under the radar. At 5-foot-11 and 172 pounds, he is not an imposing figure but he makes up for that with his quickness and agility between the pipes. Playing for the QMJHL Halifax Mooseheads last season, he posted a record of 36-7-2 with a 2.48 goals-against average (GAA), a .912 save percentage, and four shutouts. He plays his angles well, has good side-to-side movement, and is physical for a goaltender. His wins, shutouts, and save percentage were career highs, while his GAA was a career low. He is one of, if not the best, goaltending prospect at the Coyotes' rookie camp.
This short rookie tournament should be fun for prospects but also shows how far they have come since last season. There is a lot of pressure on these young players as some will be getting invited to the Arizona main camp. There, they will play against NHL competition, which will be a good measuring stick to see where they are in their careers.
---

---