The New York Islanders have been forced into making a few call-ups over the past weeks after their regulars have gone down with a variety of injuries. One of these players who was fortunate enough to be given an opportunity was Calvin de Hann, a talented defenseman who the Islanders selected 12th overall in the 2009 entry draft.
While Islanders fans got their first actual game action glimpse at what many expect to be a first or at worst second liner down the road, I was thinking to myself, where will these Islanders be down that road. Will talented forwards like Matt Moulson and P.A. Parenteau still be around? Will de Hann and Aaron Ness be the Islanders top d-pairing? Will Rick DiPietro either have been bought out or have finally found a way to stay healthy? And most importantly, will there even be a New York Islanders?
Locked Up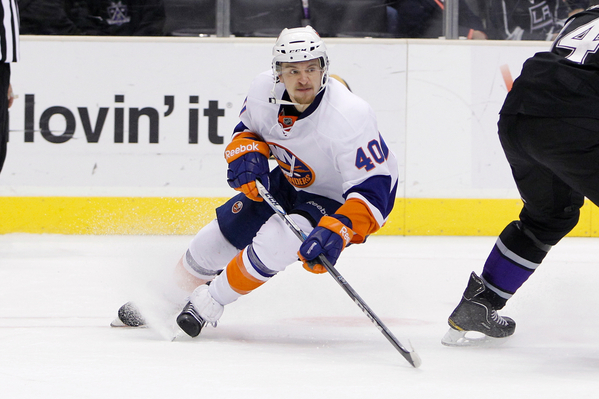 This past offseason the New York Islanders made some big contract signing's mainly on two of their best and youngest forwards. John Tavares, the face of the franchise, and Michael Grabner, the leading scorer last season, are locked up for six and five years respectively, so baring a trade they will still be around. Of course Rick DiPietro will also be around five years from now, unless the Islanders do another Alexei Yashin buyout or send him down to Bridgeport. The Islanders also gave Kyle Okposo a five-year contract this past spring, so he is likely to still be around in five years also. The rest of the roster spots are up for grabs, with the hope that players like Matt Moulson and Andrew MacDonald will continue to perform at the same level and receive extensions.
Behind the Bench
The Islanders have gone through a lot of coaches of late, and five years is a long time to keep the same coach when a team is continuously failing to make the playoffs. Not all Islanders' fans are sure Jack Capuano is the coach of the future, despite a great second half last season. If Capuano is not behind the bench, it is anyone's guess who could be his replacement. For all we know there could be multiple coaches cycled through in this five-year span, but if Capuano is still in charge than that likely means the Islanders have had some sort of success in the past seasons.
Who's in Charge
Charles Wang has been an owner of the Islanders since 2000, but as he told The Associated Press in 2009, if he could go back on the decision he would. Despite this regret, Wang has stated many times that he is willing to spend on the Islanders if it means they are going to win, with the contracts given to DiPietro and Yashin as prime examples. The big question is, with the Lighthouse Project seemingly dead and the team struggling year-after-year will Wang sell the Islanders. Both Jeff Wilpon of the New York Mets and Nelson Peltz the former owner of Snapple and board director of Wendy's have expressed interest in buying the team from Wang. Wang may want to cut his losses with the Islanders and get out of the professional sports business, and fortunately he will have perspective buyers not only in the New York metro region but also around the country. In five years I don't think anyone would be shocked to see the Islanders owned by someone other than Wang.
The other man in charge of the Islanders is Garth Snow, who is the GM for the team. Many Islanders fans have been unhappy with Snow, and blame him for a lot of the moves that have backfired for the Islanders. There are arguments to be had about Snow being a good GM, mainly when it comes to the Islanders' draft picks. If Wang were to go Snow would obviously also have to be addressed, but I think there is some value to having an ex-player make personnel decisions.
Kings, Queens or Bust
The biggest questions Islanders fans face is, will there even be a New York Islanders. The team has had multiple failed attempts at building a new arena where the team currently plays in Nassau County, and with their lease up in 2015 they will need to make a decision soon. If things do not workout in Uniondale all hope may not be lost for the Islanders, as their are options in both Queens and Brooklyn. As stated above their is potential that Jeff Wilpon could buy the team and build them an arena close to Citi Field, where the Mets play. Another option would be to move the team to Brooklyn and have them play there. Both of these options would keep the team on Long Island, allowing them to keep their Islanders name.
Of course there are other options outside of New York, such as Kansas City and Quebec. Kansas City has wanted a team since they lost the Kansas City Scouts, and the Quebec Nordiques' fans have made themselves known at past Islanders games. Hockey is much bigger in Canada than in the U.S., so the NHL may have an interest in putting another team there, but on the other hand a successful Islanders team can tap into the largest television market in the world.
It is really hard to guess where the Islanders will be five years from now, but my best guess would be they will stay on Long Island. Maybe this is just wishful thinking, but I think there are people on Long Island that do not want to see the team go.
Chris has written for various blogs about various teams, including the New York Jets and New York Islanders. He is currently a junior at the University of Maryland, where he is studying the dying field of print journalism.