As the calendars turn to May, the Anaheim Ducks are in their first full month of the off-season. Finishing with a league-worst record of 23-47-12, the Ducks have failed to reach the postseason for the fifth consecutive year. One of the more consistent franchises of the 2010s, their playoff drought is now the fourth-longest active in the parity-driven NHL.
Related: Evaluating Ducks' Drysdale as His Free Agency Looms
Even as the Honda Center closes its doors to Ducks fans for the summer, there will be no shortage of activity to look out for. Starting this month, Anaheim will be center stage for the NHL Draft Lottery as the most likely landing spot for Connor Bedard. Additionally, several key pieces to the Ducks' future will need to sign contracts this summer. Finally, the Ducks will have to bring in new faces, including free-agent signings, as well as a new head coach for the 2023-24 season.
Best Odds in the Draft Lottery
Watching the Ducks wasn't always easy this year, but their futility is going to pay immediate dividends. By finishing with the league's worst record (23-47-12, 58 points), Anaheim has a 25.5% chance at the top pick in this summer's draft. This was a good year to be bad, with generational talent Connor Bedard as the prize. Bedard has dominated major-junior since receiving exceptional status to play at age fifteen. He's the most anticipated prospect since Connor McDavid in 2015.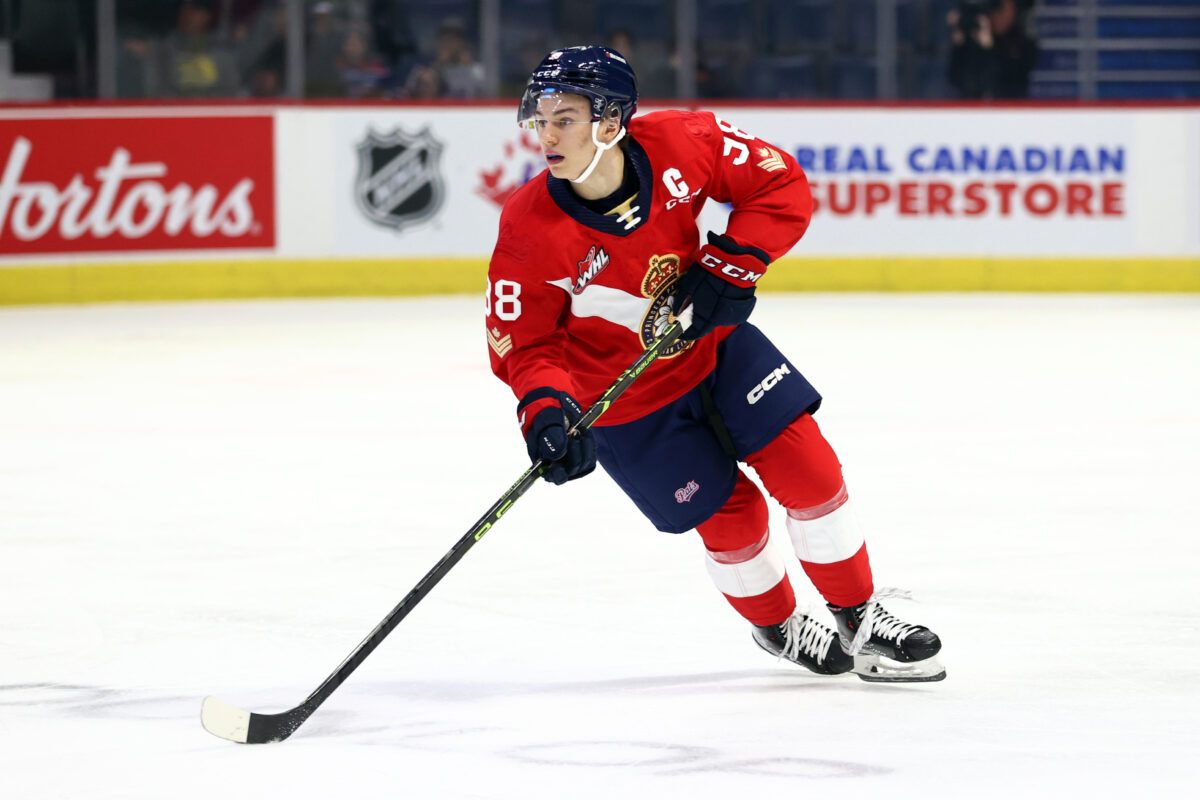 Even if the Ducks don't get lucky during the May 8 draft lottery, they can fall no further than the third overall pick. While missing out on Bedard would be disappointing, this is one of the most top-heavy drafts in recent years, with Adam Fantilli and Leo Carlsson among two of the best consolation prizes a team could ask for. Regardless of what position Anaheim drafts from, they'll wind up with a new top prospect in their system, who will almost certainly appear on next year's opening night roster.
Priority Re-signs: Zegras, Terry & Drysdale
With several years committed to their current rebuild, the Ducks have managed to shed or weathered most of their more burdensome contracts. In fact, Ryan Strome, Cam Fowler, and John Gibson are the only three players under contract for the 2025-26 season. This will be changing at some point over the summer as several key pieces to Anaheim's future have become restricted free agents (RFA). Trevor Zegras and Jamie Drysdale are coming off their entry-level contracts, so they won't get the benefit of arbitration. Troy Terry, however, signed his first contract at 21 years old and has played in the three seasons necessary to become eligible for arbitration.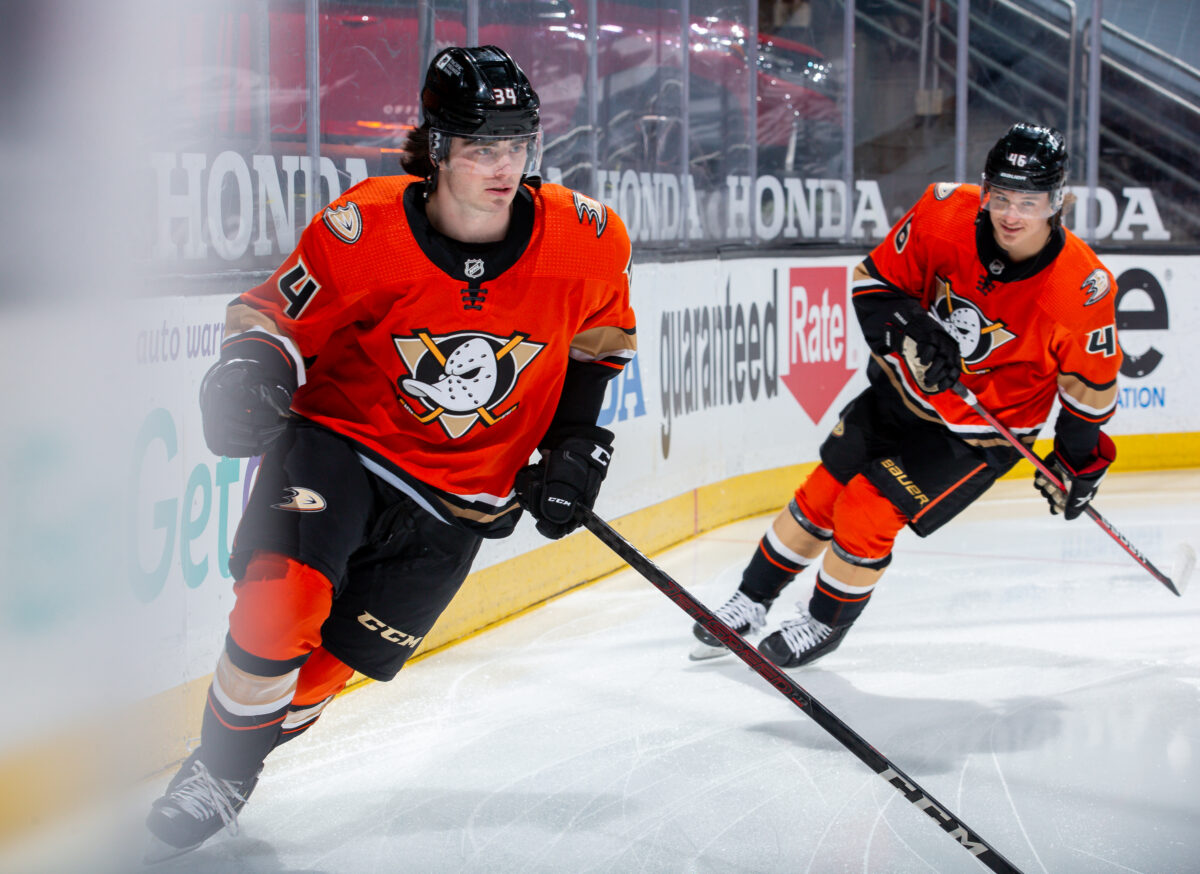 Anaheim has no shortage of cap space to work with, so I can't imagine a struggle to work out deals for Zegras and Terry, even with arbitration at the latter's disposal. Both forwards should see term in the six-to-eight-year range, with slightly more money going to Zegras as he plays the more demanding center position.
Drysdale's case is tricker but manageable. The 21-year-old is still the franchise's gem defensive prospect, but the prospect room is getting bigger. Unfortunately, a shoulder injury cut his 2021-22 season short after only eight games, which could have helped improve his body of work going into contract negotiations. Touted as a smooth-skating offensive defenseman with great passing, Drysdale has 40 points in 113 NHL games. Missing significant time while being an undersized defenseman will also draw some red flags, even after appearing in 81 games as a teenager the year prior. I would expect a shorter deal to get done for Drysdale as a "prove-it" deal. This would likely keep him as an RFA but with arbitration rights after two more years.
Free Agent Targets
The Ducks have a handful of contracts coming off the books this summer, so they have the ability to go into the July 1 free agency period with a few roster spots available and plenty of cap space left over after Zegras, Terry, and Drysdale receive their new deals. With solid prospect depth down the middle and on defense, the Ducks can specifically target wingers.
---
Latest News & Highlights
---
The issue with this year's free agent class is that it isn't particularly deep with the type of players Anaheim should be targeting. Tyler Bertuzzi and Max Domi are two of the more intriguing players available, but the list thins out and gets progressively older. Patrick Kane, Vladamir Tarasenko, and Max Pacioretty are all on the wrong side of their 30th birthday, and none are quite old enough to take advantage of an incentive-laden 35+ contract.
While they do have the cash to spend, the Ducks would be smart to invest carefully in players who will reach the twilight of their careers by the end of the term. Especially because next season's free agent class promises to be stronger, headlined by a Maple Leafs' superstar born in California. I can't begin to fathom what the Auston Matthews courting process will look like. However, potentially adding Bedard to a young group with Zegras and McTavish should make the Ducks an appealing destination for high-end free agents.
Search for the New Ducks' Coach
Anaheim parted ways with their head coach Dallas Eakins after his contract expired after the season. Eakins went 100-147-44 in four seasons with the Ducks, failing to qualify for the playoffs each year. This means general manager Pat Verbeek will conduct his first head coaching search since taking over the job last year. He indicated he wants to find a coach before the draft, but he also won't feel forced by an arbitrary deadline.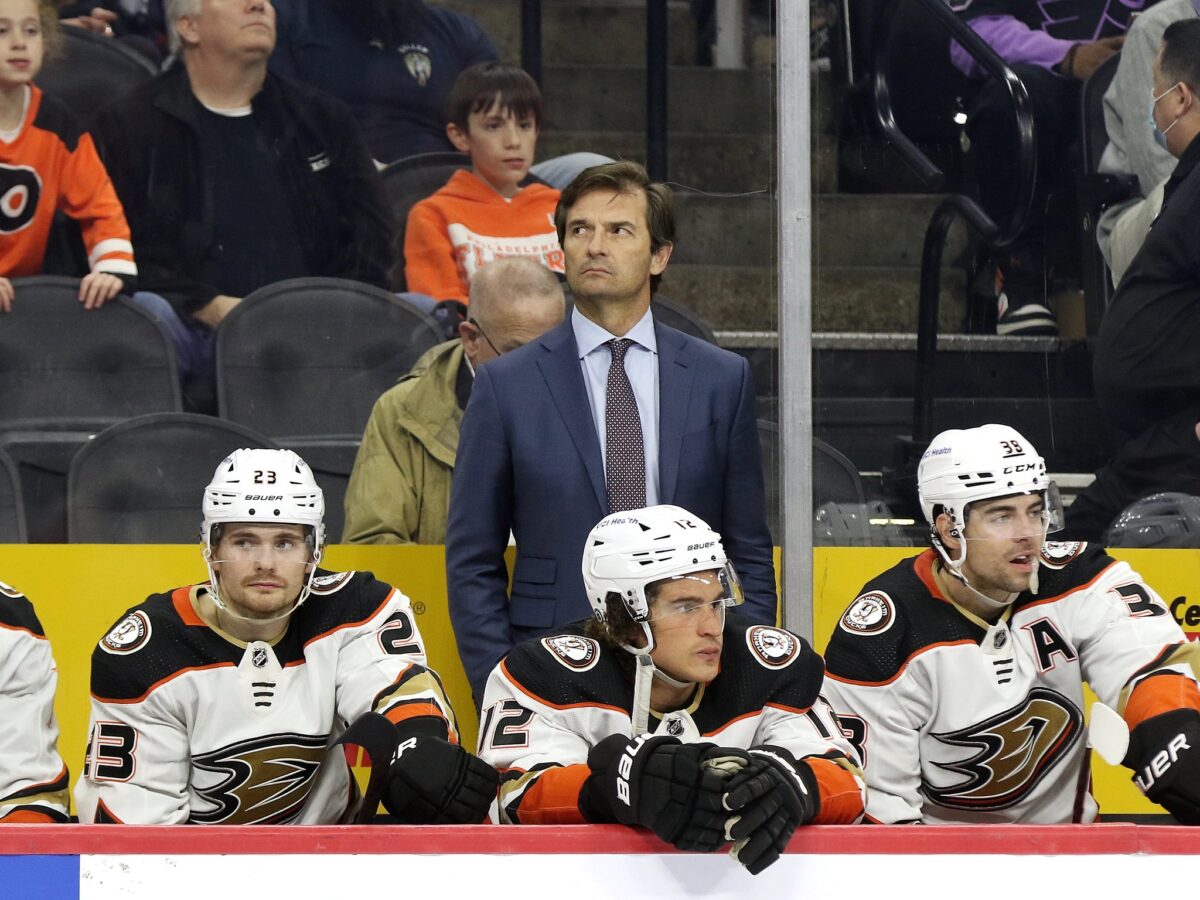 The Ducks have already made a significant coaching hire, bringing in Matt McIlvane to coach the San Diego Gulls, Anaheim's American Hockey League affiliate. McIlvane, 37, brings over an impressive resume from Europe, including five league championships in the last eight seasons. He's an up-and-comer with a coaching style conducive to the modern player, and his arrival suggests Verbeek sees him as an NHL coach shortly. That being said, I don't expect the Ducks to hire a stopgap coach just to be succeeded by McIlvane. General managers can only hire and fire so many coaches before their jobs are the ones in danger, so I'd expect Anaheim's next head coaching hire to keep their job for at least a few years.
---
---
Our off-season coverage of the Ducks will continue with player grades, draft coverage, and more.