ICYMI: Check out Part 1 of our Chuck Fletcher series courtesy of our own Alli Baker, where she breaks down notable trades made by the Wild GM thus far during his tenure in Minnesota.
Well, the losing continues for Minnesota as does the frustration and anxiety for the fans. Much of the Wild's woes during this current skid has been a testament to their lack of scoring goals on a consistent basis. Year in and year out, it is one of many reoccurring and underlying themes that holds them back from contending. This slump in particular has even resulted in Chuck Fletcher and owner Craig Leipold denying our beloved Michael Russo's interview requests.
One of the underlying factors to the scoring issue has been Chuck Fletcher's inability to draft and/or develop a true goal-scorer for his club. This could be a more subtle reason for the Wild's inept ability at consistently putting pucks in the net, but when looking around the league at other draft picks, it seems glaringly obvious. Not since the Marion Gaborik days, has a Wild draft choice been able to truly produce at a top-line level.
Here, we will break down each and every draft that Chuck Fletcher has orchestrated for the Wild over the previous seven off-seasons, to include where he went right, where he went utterly wrong, and what he potentially missed out on. (These will contain solely the notable draft picks, not every pick).
2009 Draft
Nick Leddy
Matt Hackett
Darcy Kuemper
Erik Haula
Only two of the Wild's six selections in 2009 are still with the organization (Kuemper, Haula). The 16th overall pick, Nick Leddy, was abruptly traded out of Minnesota before his potential could really be tapped into (as we have all seen recently), so it's hard to think otherwise that he was a wasted first round pick. Matt Hackett, Minnesota's third round choice, also was traded away before being seen as anything other than an AHL goaltender. The Wild have stuck with (at least for now), Darcy Kuemper as their permanent backup, and Erik Haula as a teasing 4th liner for the current time-being.
Missed Opportunities
Marcus Johansson, Ryan O'Reilly, Tomas Tatar and Anders Lee are the most notable missed opportunities from the '09 draft class. Johansson was the only player here chosen in the first round after Fletcher's pick at 17, while the rest of these guys were all believe it or not, second or later round picks. Obviously, it was impossible to predict how these guys were going to turn out, hence Fletcher not choosing them, but in hind sight, it's hard not to wonder what could have been had he used some of his selections on any of them.
2010 Draft
Mikael Granlund
Brett Bulmer
Jason Zucker
Johan Gustafsson
Finnish center Mikael Granlund, picked at 7th overall, was Chuck Fletcher's first choice as the future top-line anchor in Minnesota. While he has yet to truly own that title, the trust was put in Granlund to one day take the reigns from Captain Mikko Koivu. Second rounder Brett "The Bust" Bulmer, never made a meaningful statement to secure a roster spot with the big boys. Goalie Johan Gustafsson walked, after making a short lived career as the starting net-minder for the Houston Aeros/Iowa Wild. Jason Zucker has proved to be a steal as a third round selection. While Zucker's been hugely inconsistent this season, he is still a promising goal-scoring forward that will be re-signed this summer.
Missed Opportunities
Strictly looking at first rounders taken in the 2010 class is an especially tough pill to swallow. Fletcher went with Mikael Granlund before notables Jaden Schwartz, Vladimir Tarasenko, Nick Bjugstad, Evgeny Kuznetsov and Brock Nelson. Vladimir freakin' Tarasenko? Nick Bjugstad? Sigh.
2011 Draft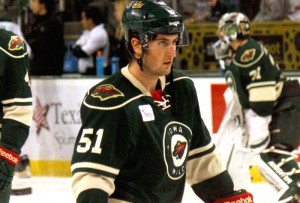 Jonas Brodin
Zack Phillips
Mario Lucia
Tyler Graovac
Steve Michalek (Goaltender)
Another bust in the first round, Zack Phillips never proved himself worthy at a Wild training camp and eventually was traded to Boston for fellow disgruntled former first-round pick Jared Knight. This one was costly when looking over the players Fletcher missed in the second round after the Phillips pick. The potential trade-chip Jonas Brodin was Fletcher's first of two first round selections that year, and has played in Minnesota since 2012. Brodin's been relatively solid on the blue line albeit a non factor offensively. Tyler Graovac out of the 7th round gained a following in Iowa last year, and earned his shot centering the third line for the Wild to open the 2015-16 season. An injury set him back though on opening night in Colorado, and he has yet to regain his footing in the AHL since. Mario Lucia of Notre Dame, is one bright spot here, as he finishes up a highly respectable collegiate career with the Irish before making the transition to the pros.
Missed Opportunities
Let's focus on second rounders that were taken in 2011, following Fletcher's 28th overall first-round pick of Zack Phillips. Boone Jenner, Brandon Saad, Nikita Kucherov and Tomas Jurco top out the list of missed opportunities. All provide their current team with top-six scoring talent that is sorely missing in Minnesota, and now would be a staple in Minnesota for years to come had they wound up with the Wild. Again, that's if they panned out for the Wild the same way they have now for their respective teams.
2012 Draft
Matt Dumba
Christoph Bertschy
Louis Nanne
John Draeger
Adam Gilmour
The 2012 draft was a decent one for the Wild, as Fletcher began stockpiling his prospect pool with young talent. Matt Dumba's offensive and big-hitting potential was enough for the Wild to warrant using their first round selection on him. Dumba has spent the majority of each of the last two years in Minnesota, where he's been underutilized (from an offensive standpoint) on the back end. Now, he could be dangled as a trade candidate due to the current mess. Switzerland native Christoph Bertschy has spent this year in Iowa putting up decent numbers and finding his number called when the Wild need forward depth. Edina native Louis Nanne and Boston College prospect Adam Gilmour are expected to fill out roster spots in Iowa next season as well.
Missed Opportunities
It begins to get a little tougher to diagnose whether or not these are actual missed opportunities when discussing the 2012 draft and beyond, due to their recency, but because three centers were taken after Fletcher's first round pick of Matt Dumba, it makes it worth noting at the very least. Filip Forsberg, Mikhail Grigorenko, and Zemgus Girgensons were taken 11th, 12th, and 14th respectively, after Dumba at 7th overall. Hard to say Dumba wasn't, or won't be worth it in the long run, especially at the time this draft took place with Mikael Granlund expected to slide into the lineup as the "future" top-line center that season.
2013 Draft
Gustav Olofsson
Kurtis Gabriel
Dylan Labbe
The Wild did not have a first round selection in 2013, due to the Jason Pominville trade with Buffalo. The Sabres used that pick to draft future defensive star Nikita Zadorav, who now finds himself with the rival Colorado Avalanche. Minnesota did not choose until 46th overall because of this move, making this year's draft a relatively uneventful one. With their second round pick, Chuck Fletcher chose Colorado College defenseman Gustav Olofsson, a good sized two-way defender that played with the Tigers for one year. Gustav shows promise and reinforces the notion of the Wild haveing strong defensive depth. "Fan favorite" Kurtis Gabriel was a surprising third round selection in 2013, and a wasted one at that. Gabriel is proving to be a 3rd round draft pick "enforcer."
Missed Opportunities
Not much worth mentioning here, because as we stated above, the Wild did not select until 46th overall.
2014 Draft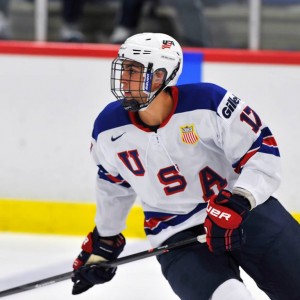 Alex Tuch
Louie Belpedio
Reid Duke
Pavel Jenys
2014 was a good draft year in the eyes of most, with skilled wingers Alex Tuch and Louie Belpedio coming out of the first and third rounds respectively. Tuch was a member of the 2015 U.S. World Juniors team, while Belpedio will represent the Wild in the upcoming 2016 tournament. Both of these guys will undoubtedly be fun to watch when they make their much anticipated debut for the Wild organization. Tuch in particular could be a head turner one day.
Missed Opportunity
We can't really say much here either, as most fans are pleased and excited for Alex Tuch's bright future in Minnesota. However, despite this player's flaws, I very clearly remember the intrigue behind Islanders prospect Josh Ho-Sang being a potential pick of Fletcher's. Whether that was a good non selection on Fletcher's part or not, time will tell. Ho-Sang's offensive prowess and rumored conceitedness/greediness with the puck, would have maybe been a welcome sight for Wild fans, who have grown accustomed to a pass happy team that treats said puck like a hot potato.
2015 Draft
Joel Eriksson-Ek
Jordan Greenway
Kirill Kaprizov
The latest draft with Chuck Fletcher at the helm saw the selection of center Joel (pronounced "Yule") Eriksson-Ek out of Sweden. This was the "safe" choice in my opinion, and maybe the reason why Fletcher decided to go with the defensively responsible Ek. His offensive numbers don't jump out at you by any means, but he's bigger bodied than Granlund and his style is very reminiscent of a young Mikko Koivu. Again, without a second round pick, the Wild selected Jordan Greenway in the third round. Greenway, a big guy and strong net front presence type player, is something the Wild could use plenty of. Overall, between the 2014 and 2015 drafts Chuck Fletcher did a decent job with his picks, filling in some seriously depleted forward depth that was lacking in the system.
Missed Opportunity
Travis Konecny, late first rounder of the Philadelphia Flyers, was a player many thought Chuck Fletcher should have selected over the Koivu-esque, two-way center Eriksson-Ek in the first round. Konecny is more of the pure offensive-minded type forward that the Wild need to continue to stockpile for their future. That being said, Eriksson has put together a nice season thus far for Farjestads BK Karlstad in 2015-16.
Chuck Fletcher: Final Analysis
Is it wrong to say Fletcher drafted incorrectly? Probably. No one knows just how well a player will produce at the NHL level based solely on their play in juniors and beyond. But surely, had a few of these drafts been crafted differently, who knows what could have been.
While it's easy to see where he has gone wrong during his tenure now, no one can say Fletcher hasn't at least tried to put together a winning team in Minnesota. He's been one of the most active GM's every year on the trade front and during free agency, yet the guys he's brought in have not panned out as expected under the current system. So who, or what is to blame for the on-going struggles?
With our Chuck Fletcher series now complete, what is your overall consensus of the General Manager during his time in Minnesota?
I'll give him an A for effort, but a C+/B- range seems more realistic.