Artemi Panarin has been an absolute sensation for the Blackhawks since the season first began back in October. The young Russian sniper currently leads all rookie players in goals, assists, points, and game winning goals. His outstanding production has made him the early favorite for the Calder Trophy, which is awarded annually to the NHL's top rookie.
However, some within the hockey community believe that Panarin's age and ability to play with Patrick Kane make him less of a candidate for this prestigious award. Essentially, these people have begun arguing that a player who is on pace to be the highest scoring rookie since Evgeni Malkin back in the 2006-07 season doesn't deserve to be named the league's top first-year because another player on his line has been too productive. Yes, I understand that Dylan Larkin is also a tremendous talent who would have locked up this award almost any other season. And yes, Connor McDavid is averaging more than a point-per-game, but Panarin has been on another level than any of those players for the entire season, and Kane would likely be the first to admit it.
Discrediting the 'Kane Effect'
One of the major knocks people have on Panarin's Calder credibility is that he has enjoyed the benefit of playing alongside the league's leading scorer in Kane. Conversely, history shows that simply getting to play next to a player as talented as Kane doesn't necessarily lead to production on the scale we've seen from Panarin. Brandon Saad and Brad Richards both posted some of the worst point/game figures of their careers when playing primarily with Kane, and Kris Versteeg's numbers were slightly below his career averages despite playing alongside a productive Kane last season.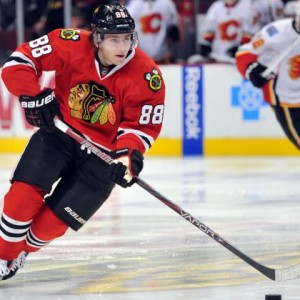 Additionally, Kane has never come close to playing as well as he is right now. Is it just a coincidence that Panarin happens to be playing on the left wing while Kane dominates the league? Absolutely not. Panarin and Kane have been able to make each other more productive than either of them could have been alone, and that should only help Panarin's Calder case.
Measuring the Competition
From another perspective, some people do believe in Panarin's individual talent, but choose a different player for the Calder because of the quality of this season's rookie class. And it's honestly very hard to argue with some of the other choices.
Dylan Larkin is tied with Panarin for the rookie lead in goals and also has a +26 rating while doing almost all of his work at even strength. Jack Eichel scores highlight reel goals on a regular basis while playing almost 19 minutes a night for the lowly Sabres. And Shayne Gostisbehere has already recorded 27 points in just 33 games as a defenseman for the Philadelphia Flyers.
One name I refuse to mention in this category of Calder-contending rookies right now is Connor McDavid. The star of a brutal Oilers team has 18 points in 17 games, but also boasts an absurd 21.9% shooting percentage – a number that just cannot be sustained. Additionally, his small sample size makes it difficult for me to say that he could continue that production for an entire season, as Panarin has been able to.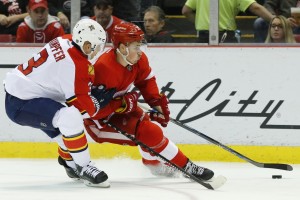 As for the other legitimate candidates, I see Larkin as the only one that I could potentially pick over Panarin at this point. Eichel needs to work on his two-way game before being selected over Larkin or Panarin, while Gostisbehere averages less than 19 minutes of ice time and has scored more than half of his 27 points on the power play.
But I still don't think Larkin is as worthy as Panarin for the Calder. I have heard a lot of talk about the effectiveness of Larkin's two-way play throughout the season, and even seen some lofty comparisons to Jonathan Toews. But the numbers simply don't back-up the assessment that he is a top two-way player at forward.
For one, his impressive +26 rating is badly inflated by his 106.7 PDO rating. His goalies have bailed him out by posting a .955 save percentage at even strength when he is on the ice, making it tough for opponents to lower that +26 rating. On top of that, he has a -0.5 CF%RelTM despite taking nearly 40% of his starts in the offensive zone.
On the other hand, Panarin has a +6.5 CF%RelTM while taking just under 45% of his starts in the offensive zone, and has an exactly average PDO of 100. For those wondering, Panarin also faces opponents with a slightly higher CF% than Larkin, further solidifying him as a true offensive catalyst at the NHL level.
The Calder Goes To…
After reviewing all of this information and comparing Panarin's production to past Blackhawks, recent rookies, and 2015-16's fabulous rookie class, it's tough to consider giving the Calder to anyone other than the Blackhawks' beloved 'Breadman.' Although the speedy Russian might not have as high of a ceiling as players like Eichel or McDavid, he has easily been the best first-year player this season, and not even playing alongside Patrick Kane should limit his trophy potential this offseason.