The Chicago Blackhawks landed the first overall pick in the draft lottery on May 8, and it is assumed that Connor Bedard will be the pick of choice. The selection is a great start and a breath of fresh air for a team going through a total rebuild, but the fun stops there as it is back to business for the organization. The Blackhawks know that to contend for the playoffs, they must build a complete team to complement high-end talent like Bedard. This summer will give them a good starting point, starting at the 2023 NHL Draft. The team has 11 picks in the draft, eight in the first three rounds.
General manager Kyle Davidson mentioned to the media last week that they are unlikely to use all the draft picks. When thinking about all the different moves they could make this summer, my first thought was defenseman Connor Murphy. He has been involved in trade rumors for a while now, and because of the value a trade could bring for both sides, a transaction seems more like a realistic possibility.
Blackhawks Know Murphy Has Value
When looking at the Blackhawks' roster, there is little trade value there. They have 21 players that are free agents, 12 of which are restricted free agents (RFA). Those are the players the teams could include in a trade before free agency because they are still under team control. If the Blackhawks don't want to send an RFA a qualifying offer to keep them around, they can trade their rights to another team. It's similar to what the team did last year when trading Kirby Dach at the 2022 NHL Draft, who was an RFA, to the Montreal Canadiens. As part of the return, the Blackhawks got the 13th overall pick (Frank Nazar).
Related: Canadiens' Only Choice Is to Play Dach at Center in 2023-24
---
Latest News & Highlights
---
The team's RFA's include Philipp Kurashev and Caleb Jones, both of whom the club may choose to re-sign. The rest include depth pieces like Austin Wagner and Alec Regula. It's not the strongest bunch to entice teams to give up good draft capital. The thing about the 2023 Draft is that because it is considered one of the deepest classes the NHL has seen in a while, teams are guarding their picks. It's different from last year's, where organizations could be more easily swayed to part with some selections because that group was not considered the most elite. Therefore, if teams want to move up in the 2023 Draft, they likely won't be able to sway others with a pick-for-pick swap. They are going to want substance in return. That is where Murphy comes in.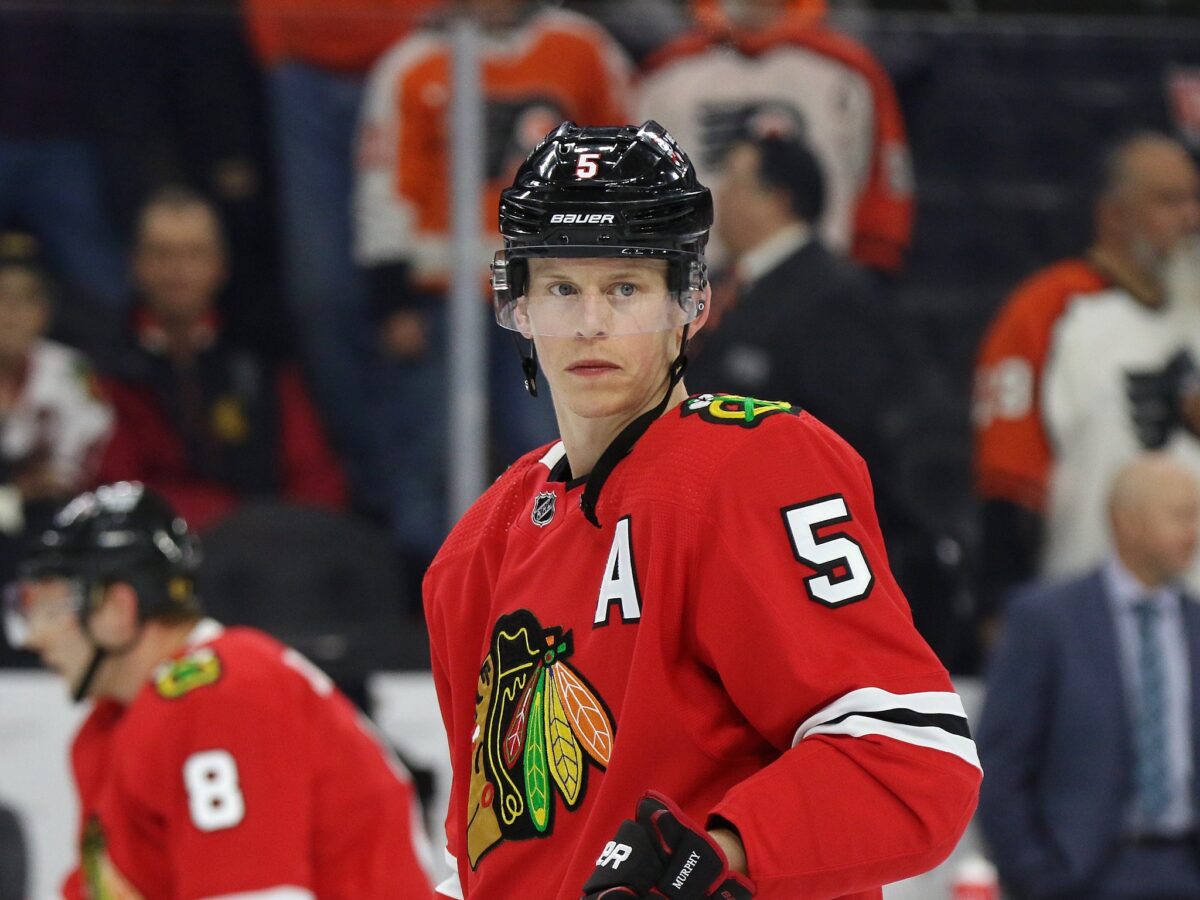 Murphy has been in the trade rumor mill because of the impact he carries. He is a solid depth defenseman that every team needs, especially playoff teams. There is always interest in his services, but nothing ever comes to fruition, and it may have to do with his contract. He signed a four-year, $17.6 million contract ($4.4 million AAV) in August 2021 that officially kicked in this past season. The term and the cap hit likely carried some reservations for teams in a flat salary cap era. But with the latest news that the salary cap could increase by $1 million or more next season, other clubs may be more willing to take on his salary.
If there are still reservations, the Blackhawks have over $41 million in salary cap space, so they could retain salary, like they did when they sent Jake McCabe to the Toronto Maple Leafs. If they do so, they could ask for more in a package. The other roadblock is that Murphy has a 10-team no-trade list in his contract, so he has some control over where he goes in a possible trade, but that could be worked out.
Blackhawks Won't Take Moving Murphy Lightly
The Blackhawks know that Murphy is valuable, probably the most on the current roster, but they would not take moving him lightly. It would be something they would weigh whether the cost is worth the reward. He is beloved in the locker room. He is their alternate captain, and if he sticks around, he may be in consideration to be the next Blackhawks' captain. He is 21st in Blackhawks history for most games played by a defenseman, with 373 games played, and at 30 years old, he is still putting up career numbers.
This past season, Murphy set a career-high in goals (seven) and blocked shots (160). He has been everything and more for the team: reliable, physical, their penalty kill leader, and overall heartbeat on defense since being acquired from the Arizona Coyotes in 2017. However, Davidson has clarified that he will part with fan favorites if he deems it necessary. Look at Alex DeBrincat, Patrick Kane, Brandon Hagel, etc. He also clarified that anyone worth anything is worth exploring a deal for. When talking about moving up in the draft, Davidson stated:
"It's definitely something we're exploring. I think the level of success we reach will be dictatcted by the level of player we can acquire. And logic dictates that the higher you are in the draft, the better chance you have of getting a good player. And so we're going to explore the opportuniteis available to us to potentially move up again."
You never know how the draft is going to play out. There are always "off the board" picks and surprises that other teams make. The Blackhawks currently have the first and 19th overall pick in the first round. What's to say that if a player they like is still available in a spot they didn't think he would be, they wouldn't be aggressive in trying to move up or add more picks/players, no matter what a package looks like to get it done? The team understands the Hawks will not be fixed overnight with Bedard. They were third-worst in the NHL for a reason. Davidson remarked on a five-year rebuilding plan, and that timeline could be faster depending on how their draft picks and acquisitions pan out, but they have to use all available options to improve. Overall, no one on the Blackhawks is safe if management decides their departure helps the team in the long run, even if it is difficult.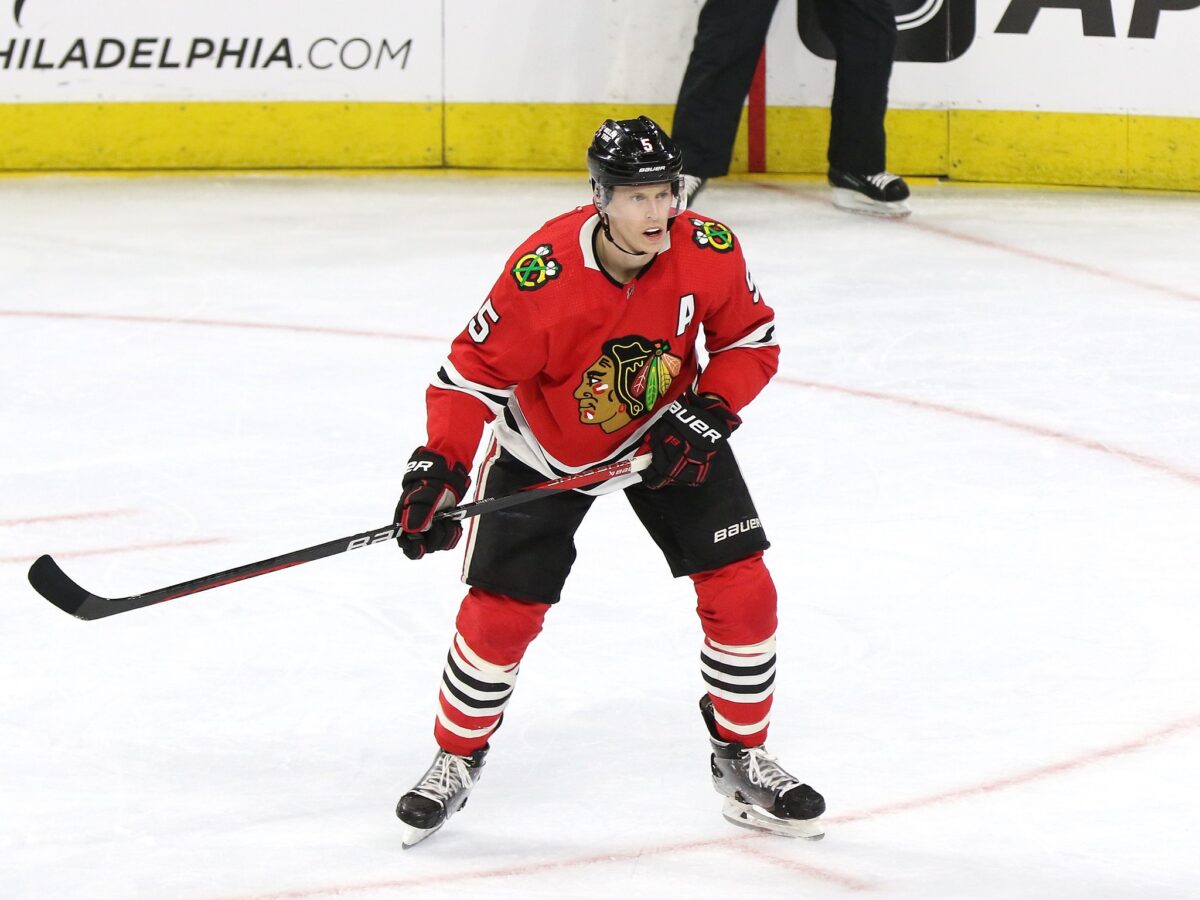 I don't believe the Blackhawks will move on from Murphy unless the opportunity is too good to pass up. Along with Seth Jones, he is considered a defenceman that will help develop the new young core, but there is also a logjam. With Isaak Phillips, Alex Vlasic, and possibly Kevin Korchinski joining the fold more regularly next season, there aren't enough spots for everyone. The Blackhawks love Murphy, but it's hard to think that they haven't considered the possibility of moving him in the right circumstances with the state they're in.
Related: Blackhawks: 3 Potential Landing Spots for Connor Murphy
Davidson said at the trade deadline in March that he took calls on several players. It's unclear if any of them were about Murphy, but I assume so. They may resume talks if that is the case. In the NHL, you have to give to get, and if the Blackhawks could get a haul for him, then they will certainly consider it. It may not have to come to that, but this draft seems different, and Murphy's future in Chicago seems more questionable than it did before.
---
---