It's been a while since we've done a Chicago Blackhawks roundtable. With the 2022-23 season coming to a close, we figured a collaborative session was due. It's been a long and winding road for the team this season, with lots of ups and downs and not much success. But that's what happens during a rebuild. Today our crew of Brooke LoFurno, Connor Smith and Gail Kauchak put our heads together to discuss some thoughts regarding the rest of the season, as well as narratives about the future for the Blackhawks.
Related – Blackhawks News & Rumors: Reichel, Tinordi, Toews & More 
For our first topic, let's discuss the final stretch of this 2022-23 campaign. Many fans and followers of the sport are all about the Blackhawks losing out in their remaining games, in the name of finishing lowest in the standings and having the best shot at wonder-prospect Connor Bedard.
But players and coaches don't tank. They will be looking to do what they can to find success as the season winds down. Wins or losses aside, what is something you're looking to see from the Blackhawks in these remaining games?
Thoughts on the Blackhawks' Remaining Games
Brooke:
I'm looking to see how the Blackhawks address the power play in the remaining games. It is extremely hard to find the right combinations with Max Domi and Patrick Kane gone; however, this is a good test for the team. They have gone 2-for-22 on the power play in their last eight games and are second-worst in the NHL with a 15.74% success rate. They have actually had decent looking opportunities recently and nothing to show for it, so I am looking to see if they can finally break through.
With Seth Jones, Tyler Johnson, Taylor Raddysh, and Lukas Reichel on the man-advantage, they should be able to score more than they have. If they can get any sort of rhythm going, that can be a confidence builder for next season.
Connor:
I'm personally looking forward to watching the Blackhawks' younger players and prospects continue developing. Since coming up from the American Hockey League's (AHL) Rockford IceHogs earlier this month, I've been pleased with Reichel's growth. He might even be the Blackhawks' best forward, and I think this stint could give him good confidence before he likely heads back down for the Calder Cup Playoffs.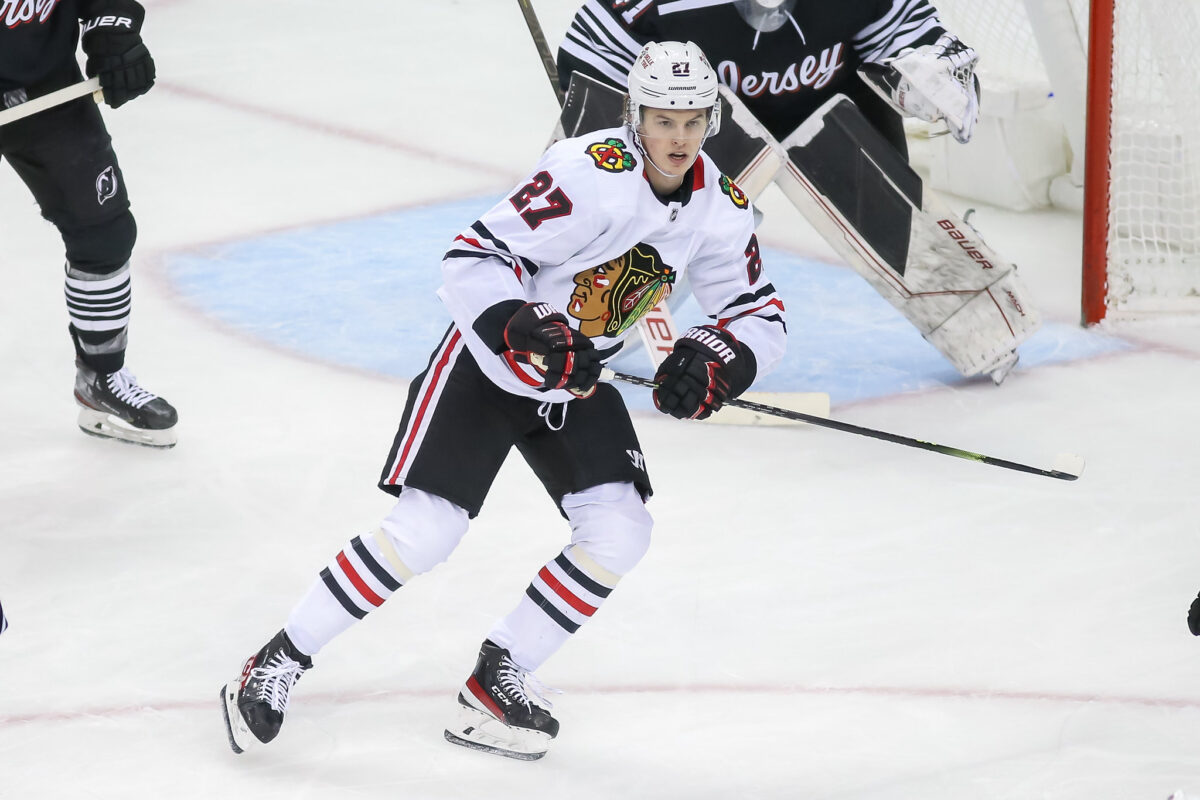 I'm also excited to watch defensive prospect Alex Vlasic grow. He was one of Chicago's lone bright spots in his season debut, the 4-2 loss to the Dallas Stars on Mar. 28. Vlasic lead all defensemen in time on ice (TOI) with 19:53 while playing on the second pairing with Connor Murphy. Barring injuries or setbacks, I wouldn't be shocked if he becomes an NHL regular next season. He has the size; it's just a matter of more seasoning at this point.
Gail:
Head coach Luke Richardson recently talked about small goals the staff and players try to make as they go, and he also mentioned that the younger guys are going to get an opportunity down the stretch to prove themselves. This later comment correlates with Vlasic being called up to the Blackhawks on Mar. 28. In that vein, I'm looking to see continued growth and development despite the lateness in the season.
But I guess in the overall picture, I'd like to see those mini-goals and development manifest themselves in some more actual goals scored. The Blackhawks as a group have had so much trouble finishing lately. In the last seven games, they've only scored nine goals overall, with just two games with two goals and even a shutout loss to the Colorado Avalanche.
I think it would be nice if they could finish off the season with a bit of a flourish in the way of scoring some more goals.  
Related – Blackhawks' Taylor Raddysh Making a Statement with Point Streak
Our next topic delves into the future of the team. It's pretty amazing the number of players the Blackhawks have that will become free agents at the end of this season. As the organization continues their rebuild, they will have to make a number of decisions about who to keep in the fold.
Blackhawks' Restricted Free Agents at the End of This Season
Anders Bjork (F)
Austin Wagner (F)
Philipp Kurashev (F)
Joey Anderson (F)
Caleb Jones (D)
Ian Mitchell (D)
Jakub Galvas (D)
Alec Regula (D)
Arvid Soderblom (G)
Blackhawks' Unrestricted Free Agents at the End of This Season
Andreas Athanasiou (F)
Jujhar Khaira (F)
Jarred Tinordi (D)
Andreas Englund (D)
Alex Stalock (G)
Jonathan Toews (F)
Anton Khudobin (G)
Buddy Robinson (F)
Brett Seney (F) (already signed!)
---
Latest News & Highlights
---
Which Free Agents Will Be Re-Signed With the Blackhawks?
From the names above, discuss a player you think will be re-signed and continue with the Blackhawks next season, and why.
Brooke:
I think Kurashev gets re-signed. That one seems like a no-brainer. He's 23 years old and has improved every season the past three years. His 25 points in 70 games is a career-high for him and he can only get better. Plus, he has really shown his value to the Blackhawks being able to drive offense on every line he's on, and now having formed chemistry with Reichel is a big sell for the future of the team.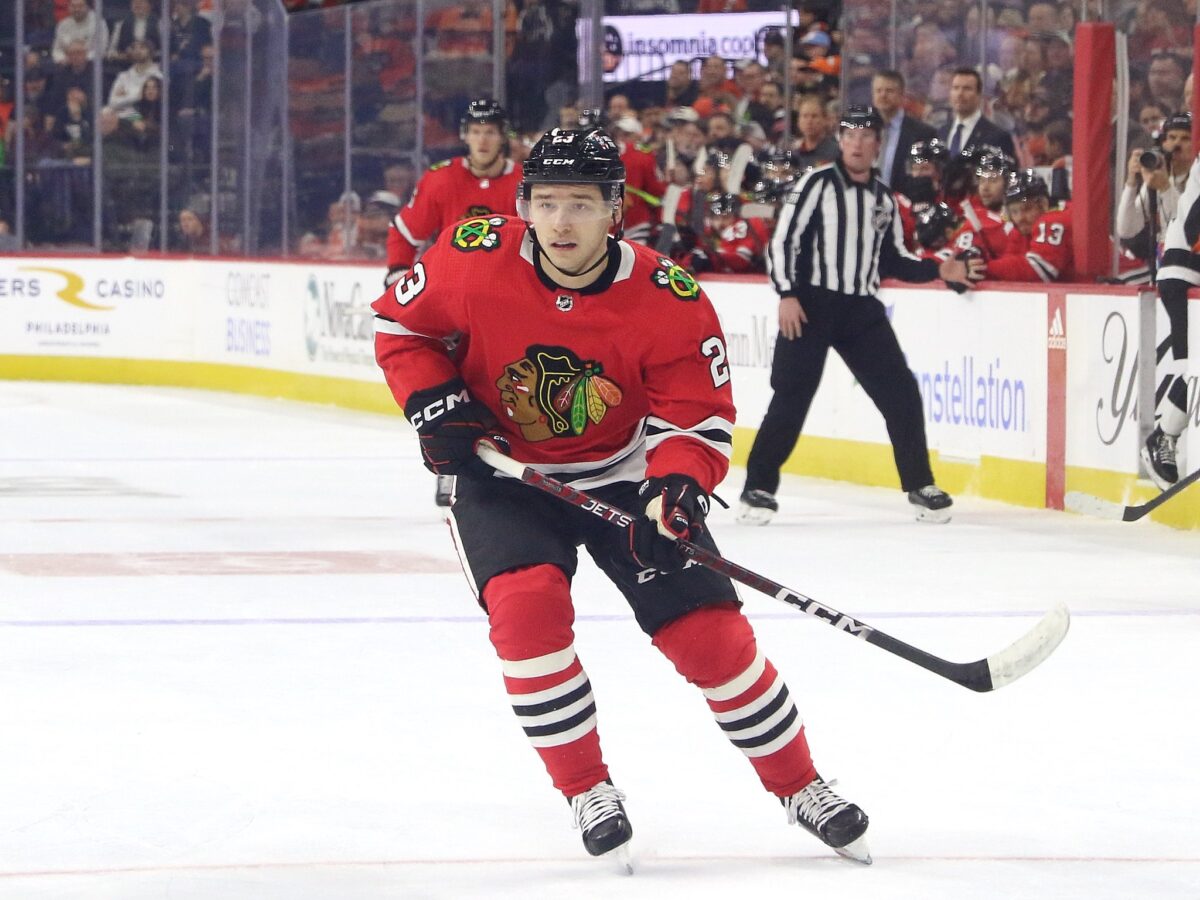 Kurashev's speed and skill is exactly what the Blackhawks want, and the fact that they have him on a one-year, $750,000 this season is a steal. I don't think the Hawks want to part with him anytime soon.
Connor:
I'd say there's a good chance Tinordi stays around next season. Although health has been a concern, he has gotten opportunities with the Blackhawks he wouldn't have with other clubs. He'd likely be a seventh/AHL defenseman on, say, two-thirds of NHL teams.
The Blackhawks don't need Tinordi, but he has carved out a nice role. He was developing some solid chemistry with Murphy before his recent hip injury, and his style fits the "Chicago brand" nicely, similar to Domi before he was moved. I've also been pleased with Tinordi's leadership abilities. I think the Blackhawks re-sign Tinordi for one more year, with the possibility of flipping him to a contender should he stay healthy.
Gail:
I believe the Blackhawks will re-sign winger Anderson. Ever since he came to the Blackhawks from the Toronto Maple Leafs on Feb. 27, Anderson has fit seamlessly into the team culture and persona. As a matter of fact, there was almost no transition period. It was like he'd been with the team all along.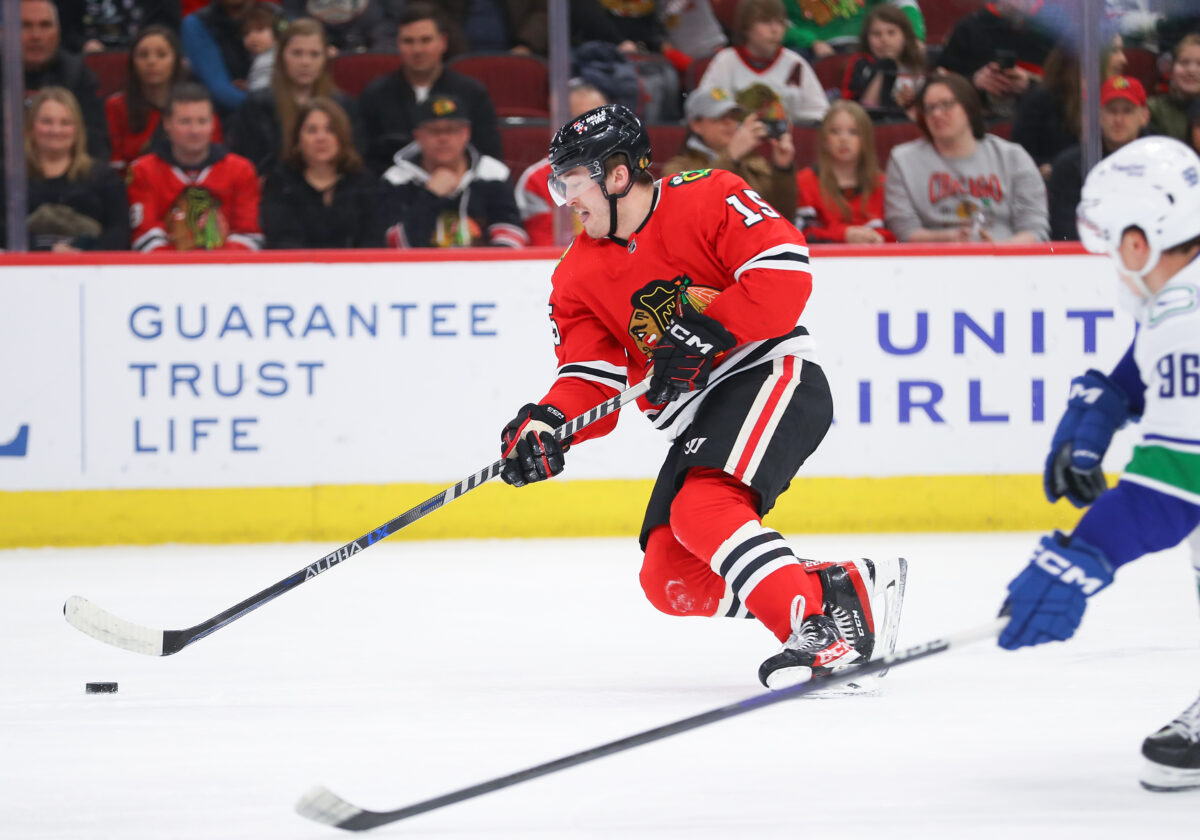 Anderson stepped right onto a line with Khaira and Boris Katchouk, and the trio has been making an impact ever since. In 16 games played with the Blackhawks, the Minnesota native has contributed three goals and five points. This is pretty impressive considering he's slotted into a bottom-six role. His job is more to be tenacious on the forecheck and hard to play against. Which he's done an excellent job of as well, by the way. He's also been a big contributor on the penalty kill.
Anderson is 24 years old and his current contract has a cap hit of $750,000. In other words, he's young and cheap and fits right into what the Blackhawks are looking for in their rebuild. He's also looking for a team where he can prove himself as a regular NHL player. Chicago could easily be that place.
Which Free Agents Won't Return for the Blackhawks?
Conversely, name a player you think will NOT be re-signed with the Blackhawks, and why.
Brooke:
As much as I like Khaira, he is someone I don't think will be re-signed. He has done so well for the Blackhawks after missing so much time with a back injury, and it's unfortunate that his two-year tenure has mostly been plagued by injuries. Because when he is in the lineup, he does all the little things a bottom-six forward needs to do to win games.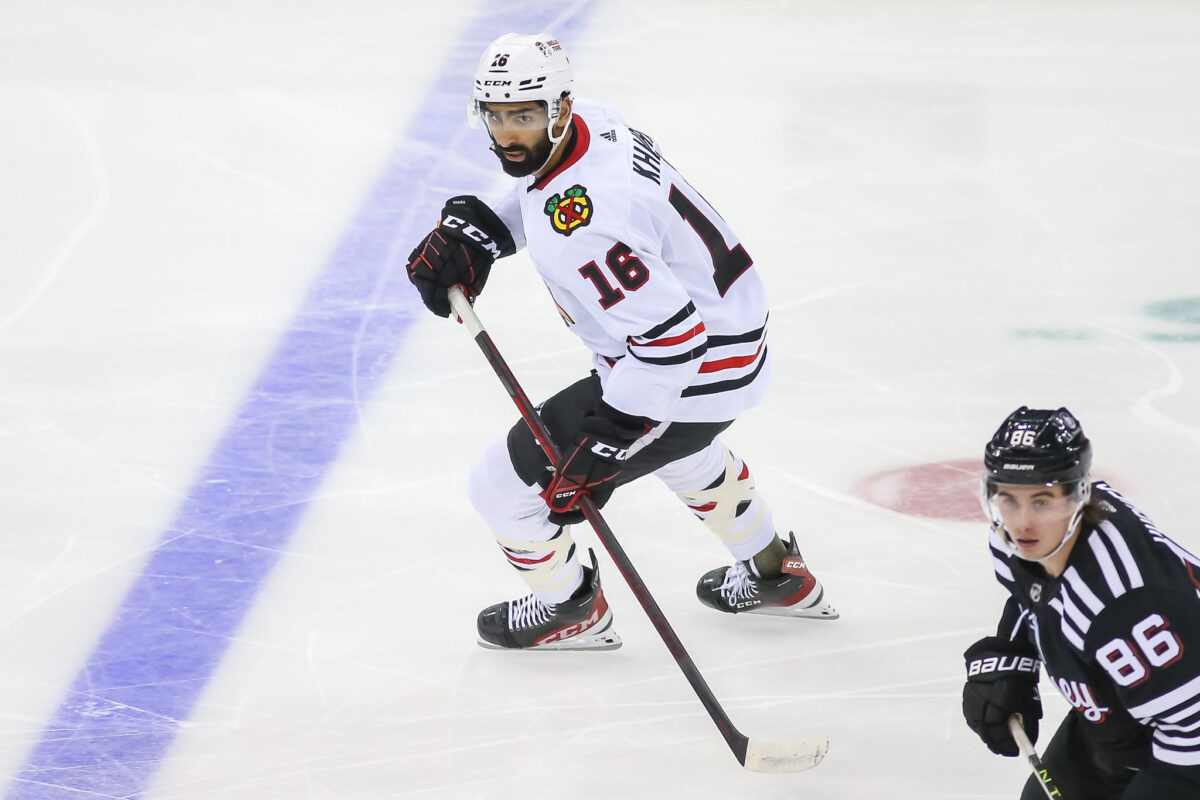 But considering the fact that the Blackhawks have so many players like him, I don't see how he fits into the future. With MacKenzie Entwistle, Colin Blackwell, Katchouk, and even possibly prospects like Frank Nazar joining the team next season, it seems like there isn't enough room. Although, with the way Khaira has contributed (6 points in last 13 games), he will garner interest on the market, for sure.
Connor:
I've said this before: it's time for the Blackhawks to let go of Mitchell. The team might be realizing it, too. He was healthy scratched for three straight games before Tuesday's loss and has spent much of March playing on the third pairing with Nikita Zaitsev. He also has just two assists this month and is on an 18-game goalless drought.
There could still be opportunities for Mitchell around the league. That said, the Blackhawks seem to be eyeing bigger defensemen such as Vlasic, and Mitchell doesn't seem to fit their overall mold right now. I'd expect both parties to move on this offseason.
Gail:
Maybe Toews should be left out of this exercise. Let's face it; we all know the captain is probably headed toward retirement. He practiced with the team on Mar. 28 for the first time since his last game on Jan. 28, but afterwards discussed how his body just isn't cooperating with him.
"I feel like I have much more to give with my experience. … But when day after day is just you're just pushing through pain. It's just like, to what end?"

—Jonathan Toews, when asked whether he's thought about retiring after this season pic.twitter.com/nXMT6KdGN2

— Phillip Thompson (@_phil_thompson) March 28, 2023
I think we would all be extremely surprised if Toews signed with the Blackhawks, or any team for that matter, next season. At this point we're all hopeful he can just return to the team for one last game or two down the stretch. "It's definitely on my mind this could be my last few weeks in Chicago," said Toews.
The long-standing captain of the Blackhawks will have a legacy of success no matter what. If this is really the end, Toews certainly wasn't able to go out on his own terms. Perhaps having a chance to at least say goodbye on his terms would be a fitting consolation prize.
Blackhawk With the Most Points
As always, let's end with something fun. Taylor Raddysh is currently leading the Blackhawks with 33 points. But Seth Jones (32 points) and Andreas Athanasiou (28 points) are breathing down his neck, with a few others not too far behind. Anything can happen in these last handful of games. You never know who might go on a hot streak.
That said, which player do you predict will end the 2022-23 season with the most points for the Blackhawks?
Brooke:
I'll say Jones will finish with the most points. He finished third-best last season behind Kane and Alex DeBrincat, and I think he has a good chance to finish first this year. He's been preaching lately about playing with pride and continuing to build a strong foundation for next year so it means a lot to him to produce for the team. I could see him playing with a lot of fire to end the season and ultimately become the team's leading scorer.
Connor:
I'm tempted to say Raddysh. However, consistency has been an issue, and I just don't buy him having another stretch similar to when he posted seven points in four games earlier this month. I'll go with the conservative choice in Jones.
Jones has been a staple of the top pairing all season and leads the team in minutes, averaging 24:34 per game. He's had a relatively quiet month of March with just five points in 14 games, but he just seems due for a nice little streak. With eight games remaining, I don't think a goal or two and perhaps a few assists are out of the question.
Gail:
I'm not really sure I believe this will happen, but I always like to root for the underdog! I'm cheering for Tyler Johnson to end the season with the most points. After going 15 games without a goal, Johnson notched his ninth tally of the season on Mar. 28 versus the Stars. This is a veteran that's won two Stanley Cups with the Tampa Bay Lightning, and he's become a leader and a mentor on this rebuilding Blackhawks team.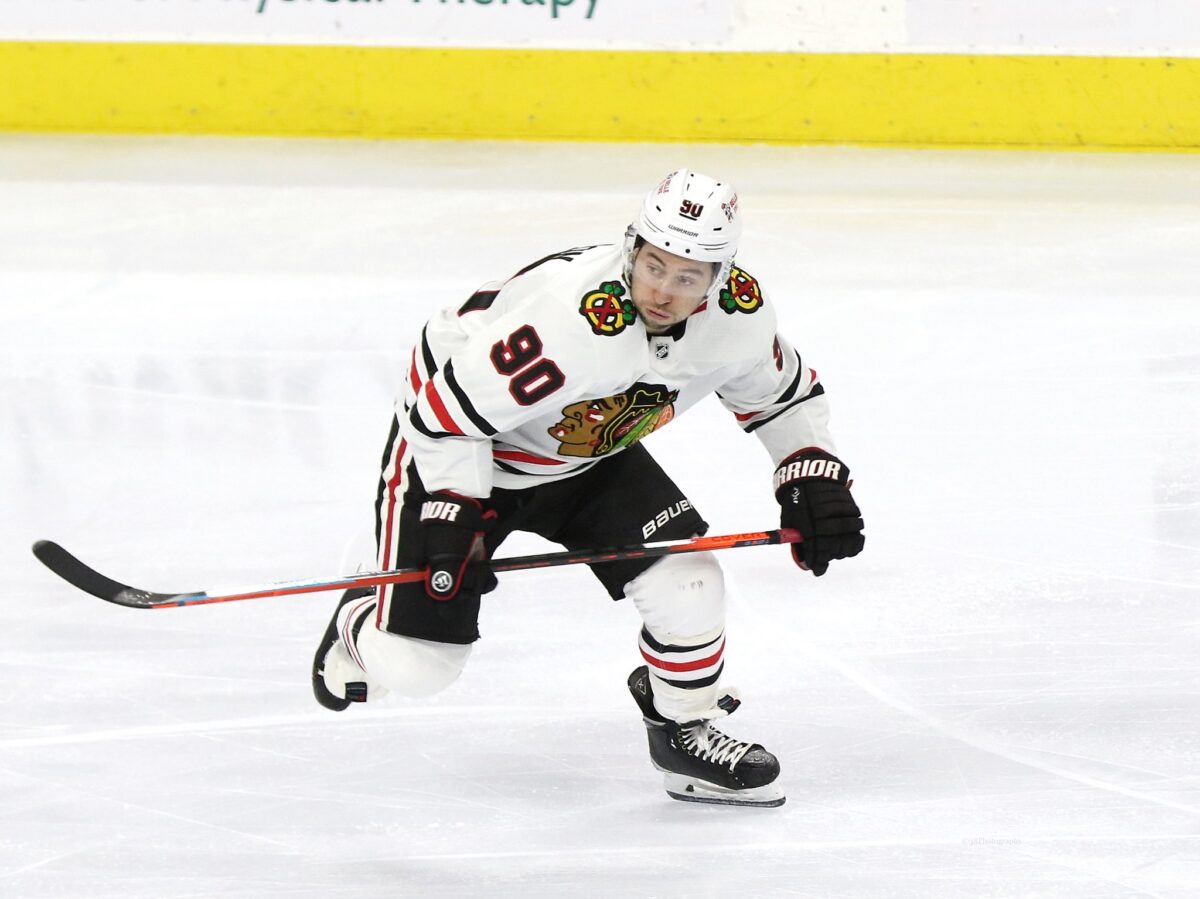 In the contest against the Vancouver Canucks on Mar. 26, Johnson registered five shots on goal and narrowly missed a couple of tallies. Despite the recent goal drought, the 32-year-old and his linemates of Raddysh and Jason Dickinson have been a dangerous trio.
Johnson currently sits in fourth place on the team with 27 points, comprised of his nine goals and 18 assists. The veteran has been quite vocal about his disappointment in the team's many losses, and their need to play better. I'd love to see Johnson leading a charge of offensive production throughout the remaining games.
Bonus Round: Pride Night Positives
For my final thought, I'd like to share some inspiration I gained from the Blackhawks' recent Pride Night on Mar. 26. There was a lot of controversy surrounding the "organizational decision" to NOT wear special warmup jerseys for the event. It was yet another blow to the integrity of an organization that's endured numerous public relations failures over the past few years.
All this continued negativity can be exhausting. But if you look at it in a different light, the Blackhawks' Pride Night celebrated numerous LGBTQIA+ initiatives that will hopefully foster more inclusiveness for all. In that spirit, I'd like to share this tweet from Jon Hansen, host of the Chicago Blackhawks.
Don't think pride nights matters? 19 years ago I wrote a letter to myself writing down for the first time that I was gay.

In the letter I acknowledged I'd never be out at work nor able to marry the person I love.

Wrong on both because of nights like these changing ❤️ and 🧠! pic.twitter.com/xzXBvCq3K9

— Jon Hansen (@JonHansenTalks) March 26, 2023
Hansen went on to say he hopes nights like these will help all those kids out there that are scared of their place in this world, just like he was.
It's disappointing that the organization stole the warmup jersey part of this lovely evening from all of us. It would have been the icing on the cake. But let's not get so caught up in this negative that we forget the positives that come out of these celebrations, so astutely expressed by Hansen.  
Related – Blackhawks Bytes: Tinordi, Dickinson, Katchouk, Toews
Thank you for reading our latest Blackhawks Roundtable edition. The season might be winding down, but we here at The Hockey Writers are excited for postseason analysis, player grades, and of course, draft coverage. This will be an important offseason for the Chicago Blackhawks, so stay tuned for all of our news and analysis as we watch it unfold together.
Never a dull moment!