Welcome to another edition of Blackhawks Bytes, a series featuring quotes and comments from players, coaches, management, journalists and fans alike concerning everything Chicago Blackhawks. The purpose of this ongoing column is to capture a slice of the existing outlook, attitudes and culture surrounding the team. Please join me as we have some fun with the everyday, albeit fascinating aspect of human nature; the power of words.
Related – Blackhawks Bytes Deadline Edition: Johnson, Lafferty, Kane, Domi
The Blackhawks winding down their 2022-23 campaign. As they near the end of this rebuilding season, fans have been pleasantly surprised with the team's fight and compete level. But this group currently lacks superstar power now that trade deadline moves have decimated their roster. It's been tough to watch all the losses; yet encouraging to see the growth, development and future potential. Here are some of the latest quips and quotes surrounding the Blackhawks as we near the end of March.
Tinordi the Bouncer
Did you ever wonder what hockey players would be doing if they weren't hockey players? Well, apparently head coach Luke Richardson has an idea of what Jarred Tinordi would be good at.
Luke Richardson on Jarred Tinordi: "If you owned a bar, you'd hire him as your bouncer. He looks in control and people are unsure and they don't mess around." #Blackhawks

— Charlie Roumeliotis (@CRoumeliotis) March 13, 2023
All kidding aside, the 6-foot-6, 229-pound defenseman has earned the respect of fans and players alike with his fearless play. Just this season alone, Tinordi had his chin cut by a skate blade which required over 50 stitches. Shortly after that, he was hit by a puck that caused a fracture to his face and sidelined him for almost two months. Yet the very game upon his return Tinordi participated in a fight, of which he's had four so far this season.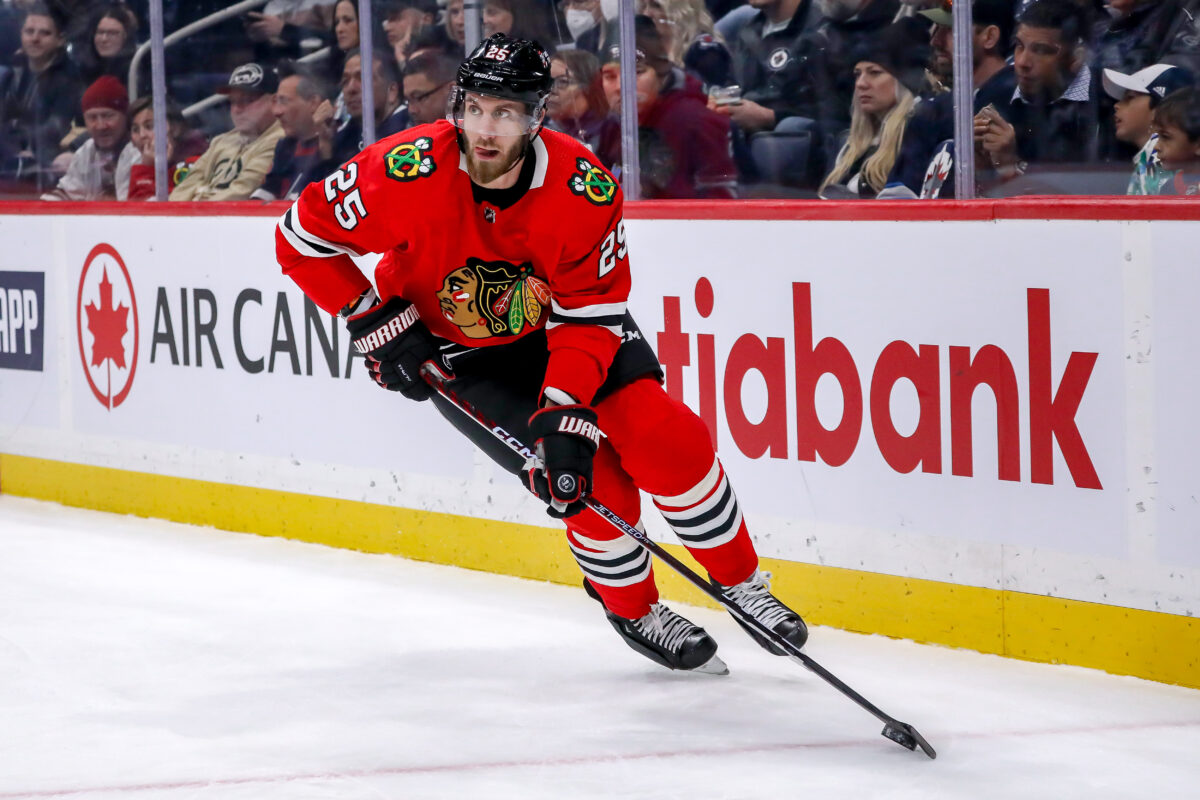 Tinordi himself knows that fighting is an aspect of his game that's necessary for his success. He might not revel in it, but he doesn't mind it either.
That's something that I can do. And I think I'd rather have me do it than some guy that's not really in his comfort zone to go out there and do that. I think it's contagious. Like, you see a couple of guys doing that and makes you want to play a little bit harder, to play a little bit tougher. I think that kind of thing is good for the room when you got guys sticking up for each other like that. So, I think it's good all around.

(from 'Facial fracture never deterred Blackhawks' Jarred Tinordi from playing his game', The AthleticCHI – 3/14/23)
It appears Tinordi will continue to drop the gloves when needed for the good of the team. Just like a bouncer defends the sanctity of his drinking establishment.
Dickinson a Future General Manager?
Forward Jason Dickinson has been a surprise bright spot for the Blackhawks this season. He was picked up from the Vancouver Canucks just before the 2022-23 season started in exchange for defenseman Riley Stillman. With this move, the Canucks gained $1.3 million in cap space, but they also gave up of 2024 second-round pick. Blackhawks' general manager Kyle Davidson took advantage of the cap-strapped Canucks to gain another future asset, which was the real reason for the trade. At the time, no one really knew how Dickinson would pan out.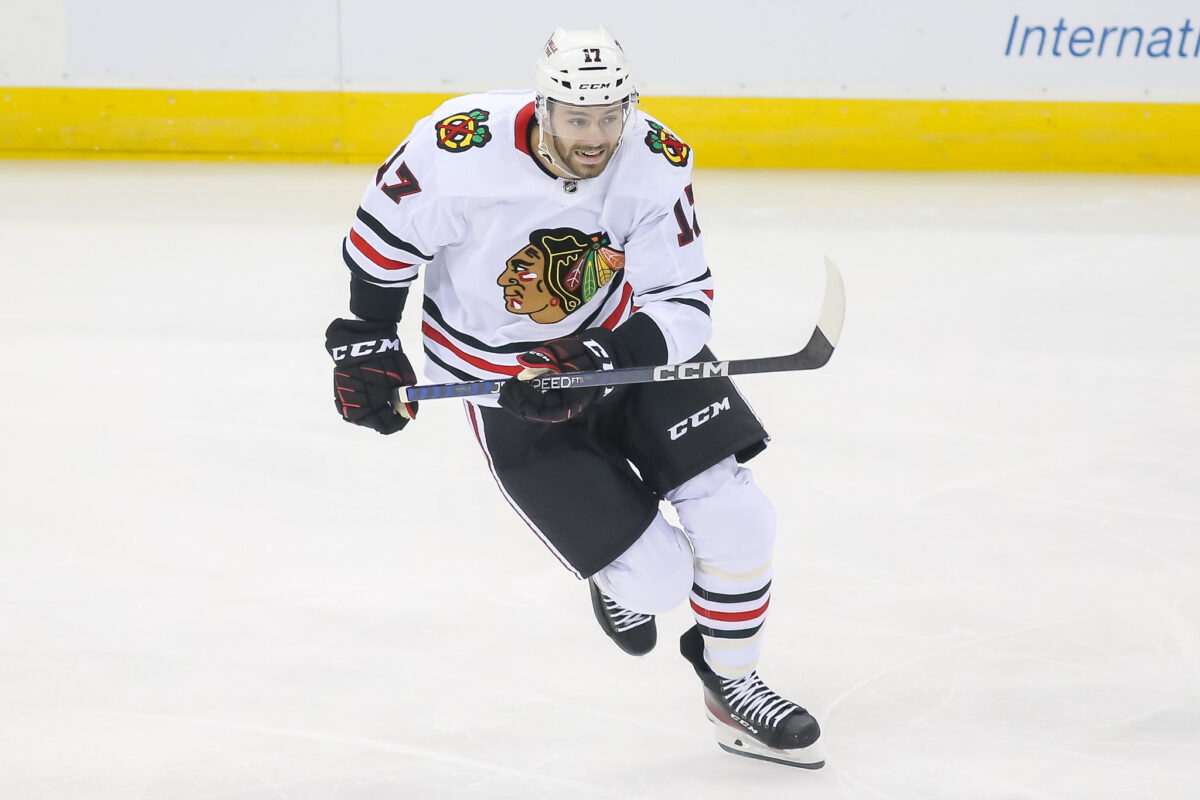 The Georgetown, Ontario native hit the ground running, notching two goals and five points in his first four games. But after that he kind of fell off the radar. He became a bit of a streaky player, adding a goal or a few points here and there.
Until he was deployed on the top line with Patrick Kane for six games right around the All-Star break. In that span, he contributed three goals and five points, building his confidence and proving he could produce with other skilled players.
---
Latest News & Highlights
---
After that, Dickinson has struggled a little bit. But so has the rest of the roster. What he has done is establish himself as a staple on this team. He's hard to play against and he competes, which is the identity Coach Richardson is trying to build now and moving forward. It's hard to find success on this gutted team, but Dickinson says he has a very tactical mind and understands that this is how it works.
The [crappy] part about the business side is guys are going to move on. Teams have to get picks. They have to start building for the future. … It's really the only way to build a team.
Could Dickinson end up as a general manager of a hockey club in the future? He's certainly thought about it.
I look at everything like a puzzle. They're building their puzzle right now. All those draft picks are pieces of the puzzle that they're going to turn into … something, whether it's a pick that pans out or a pick that gets flipped for a player that's ready to play in the NHL. The easiest way to build your team is to have assets. The teams that struggle are the teams that don't have assets.
Dickinson has a reasonable $2.65 million cap hit next season before he becomes a free agent in the summer of 2024. For now, I could see the Blackhawks utilizing him as a role player for their rebuild. After all, at 27 years old, Dickinson should have a long playing career ahead of him. Time will tell if it eventually carries over to a management position for the sport that he loves.
Katchouk Catches Fire
Can we just give some love to Boris Katchouk?! This is a guy that was the odd man out numerous times this season. Considered a fourth line grinder, he seemed expendable while other players were given opportunities instead. But injuries and a depleted post-trade deadline roster have given Katchouk another shot, and he's ran with it.
BORIS ARE YOU SERIOUS RIGHT NOW pic.twitter.com/lx5DwCTGqN

— Chicago Blackhawks (@NHLBlackhawks) March 15, 2023
Placed on a line with Jujhar Khaira and Joey Anderson, Katchouk recently had a stretch of three games where he notched a goal and four assists. To put that in perspective, in his other 43 games he's only tallied three goals and the same amount of assists.
This new trio credits relentless forechecking for their success. Anderson has two goals and an assist in that same span of three games, and Khaira is credited with a goal and two assists. Said Katchouk,
It's just [about] forcing them to go up the wall or forcing them to go behind the net. The first forechecker forces them one way, and then the second guy is right behind in close support to get the puck.
Out of respect for their efforts, these three players have technically been promoted from the fourth line to the third line, and they've been the starting line at puck drop for numerous games. Can they keep it up moving forward? I wouldn't put it past them.
Toews Considering Retirement
Yeah, this has been on the back of everyone's mind ever since Jonathan Toews had the "flu" for two weeks, and hasn't played since Jan. 28. The captain of the Blackhawks has since come forward to say he's dealing with health issues from long-Covid, along with his previous diagnosis of Chronic Immune Response Syndrome.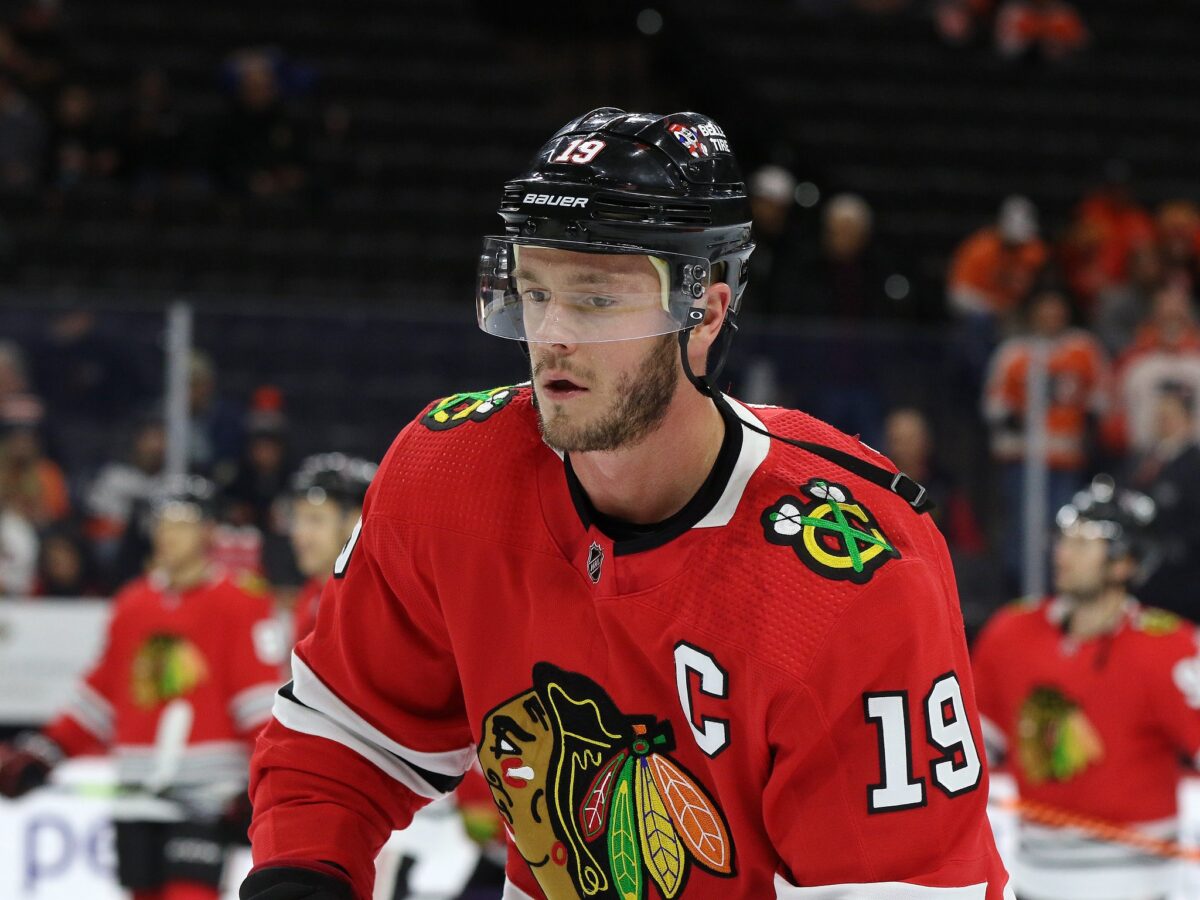 Recently, John Dietz of the Daily Herald released an exclusive story saying Toews is seriously considering retirement. This is a very sad state of affairs. But I don't think it's really a surprise to anyone. Toews hinted at this when he stopped playing.
It has been really challenging to play through these symptoms. In the last few weeks, it has reached the point where I had no choice but to step back and concentrate on getting healthy. I am thankful for the patience and support of my teammates, the coaching staff, and the entire Blackhawks organization.

(from 'End of the road for Toews? Blackhawks captain 'seriously considering' retirement, sources say', The Daily Herald – 3/17/23)
Nothing is official, and we await more news on the situation. But the question remains. If this is really the end for Toews, would you want him to play again this season so the fans can give him an appropriate goodbye? Usually this isn't an option, but it could be in this situation. Regardless, prayers for Toews' health and well-being.
Related – Blackhawks: Revisiting the Brandon Hagel Trade 1 Year Later
Thank you for tuning in to another edition of Blackhawks Bytes! This season is mercifully nearing it's end. But keep it here at The Hockey Writers for exclusive analysis on the end of the season, and the future of the Blackhawks moving forward. It's a rebuild, but there is never a shortage of news and information for those diehards out there!