Welcome to the trade deadline edition of Blackhawks Bytes, a series featuring quotes and comments from players, coaches, management, journalists and fans alike concerning everything Chicago Blackhawks. The purpose of this ongoing column is to capture a slice of the existing outlook, attitudes and culture surrounding the team. Please join me as we have some fun with the everyday, albeit fascinating aspect of human nature; the power of words.
Related – Blackhawks Bytes: Richardson's Insight, Stauber's Big Night, More
It's certainly been a rough week for the Blackhawks and their fan base. The team has seen numerous players leave for different destinations, all in the name of the rebuild. Logic told us this would happen. But when it actually does happen, it's still rough. No matter how much you prepare, it's hard to say goodbye. It appears the Blackhawks' players have built a very strong bond this season, and it shows by some of the recent messages from the players. Today we take a walk down this bittersweet and nostalgic road in the latest Blackhawks Bytes.
Ode to Johnson
The first player casualty was defenseman Jack Johnson, who returned to the Colorado Avalanche in the wake of their injury woes on the blue line. Johnson won a Stanley Cup with the Avs last season, and the organization felt he would be a solid depth piece for another run. This is a great opportunity for the 36-year-old veteran, and the Blackhawks received a younger defenseman, Andreas Englund, in return.  As it turns out, Johnson didn't even ask for a trade. He addressed the Colorado media on Feb. 27 upon his return.
No, I never asked anything. The GM in Chicago, Kyle Davidson, he was unbelievable with his communication with me. He said there's an opportunity to come back and said he'd like to help do that for me. Like I said, I have nothing but unreal things to say about Chicago. Players, management, coaches, everyone, I had such a great experience with them. The GMs were the ones that made it happen, I never asked for anything.
It's great to see the Blackhawks' organization doing right by this veteran player and giving him another chance at a Cup. These acts are the kind of things players will take note of as the Blackhawks attempt to lure other players to Chicago in the future.
Speaking of which, center Max Domi has made it clear he'd love to stay in Chicago and be a part of what they're building (Yeah, I know. More on this later). His leadership qualities showed with his farewell to his now former teammate.
You're not going to find a better human being out there than this legend right here. So many great memories in such a short period of time. Going to miss ya tons brother. Go get another cup! Good luck champ! 👊❤️ pic.twitter.com/7s7s4I7bV9

— Max Domi (@maxdomi) February 27, 2023
Domi calls Johnson a legend, and says "you're not going to find a better human being out there". Well deserved praise for the veteran; he certainly was a class act during his time in Chicago. Best of luck to JJ!
Lafferty's Farewell
In the second round of trades, the Blackhawks moved defenseman Jake McCabe and forward Sam Lafferty to the Toronto Maple Leafs on Monday afternoon. Both were integral pieces of any success the Blackhawks had this season. McCabe had established himself as solid top-pairing partner alongside Seth Jones.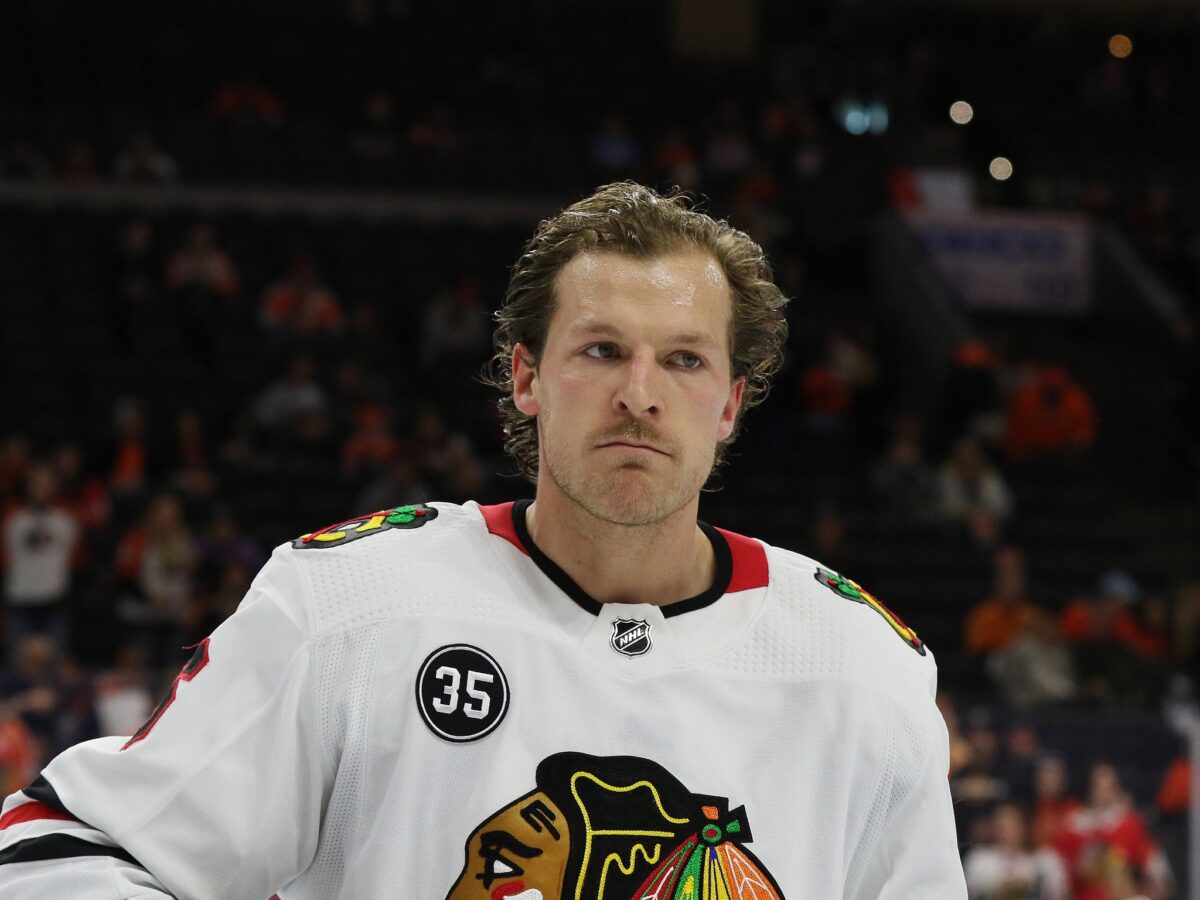 Lafferty exceeded expectations by contributing 10 goals and 21 points in 51 games with the Blackhawks this season. His four shorthanded goals also leads the league in a three-way tie with Bo Horvat and Reilly Smith.
Both McCabe and Lafferty found their way into the hearts of the fans not just because of their success, but because of their tenacity and strong work ethic. They were the kind of players that embodied the identity the Blackhawks are trying to emulate.
---
Latest News & Highlights
---
But rebuilding is all about leveraging your current assets for future assets, and these players unfortunately fell prey to the business side of hockey. The return from the Maple Leafs was a 2025 first-round draft pick, a 2026 second round draft pick, and forwards Joey Anderson and Pavel Gogolev. Said Davidson about the trade,
In our effort to acquire future assets and continue the rebuild, draft picks and prospects are the currency that is valuable to us at this time. We were able to get some really high-valued assets in this trade. Obviously, it's not easy moving on from two good players . . . but you have to give something to get something, and we're happy with the return.
This didn't deter Lafferty from expressing his appreciation for his time in Chicago.
when Sam asks the admin to pass along a message 🥹 pic.twitter.com/iR8N1H4bzb

— Chicago Blackhawks (@NHLBlackhawks) February 28, 2023
It's safe to say the fans loved Lafferty's time with the Blackhawks as well. Hopefully these two can enjoy a playoff push with the Maple Leafs!
Kane Says Goodbye
It was the worst kept secret for many days, but it became officially official on Feb. 28. Patrick Kane was traded to the New York Rangers, the only destination he really wanted.
As we all know, Kane was the face of the franchise for 16 years. Among other things, he led the Blackhawks to three Stanley Cups. His legacy in Chicago will never be forgotten, and the memories are endless. It's a bittersweet ending that comes with a lot of emotions for the fans, the organization, Kane's teammates, and Kane himself.
From Kaner ❤️: pic.twitter.com/0yQQswMWAd

— Chicago Blackhawks (@NHLBlackhawks) March 1, 2023
I still wonder if Kane would have stayed if he was offered/promised a legitimate extension from the Blackhawks. Why else did it take so long for him to make up his mind, and then only name one team he wished to be traded to? Well, we will probably never know.
Related – Blackhawks' Patrick Kane Trade Brings Concern and Hope to Team
There are a plethora of write-ups and goodbye videos one can read and view on Kane. They will all likely make you very sad for an era that's now over. But I'd like to share Kane's simple speech when he was awarded the victory belt after the win over the Vegas Golden Knights on Mar. 21. Kane contributed an integral primary assist in this 3-2 shootout win, and then there was his buzzer-beater goal that was regrettably called off due to the clock expiring. While he played one more game against the Dallas Stars, this ended up being Kane's last game at the United Center.
the belt? who else but 𝐡𝐢𝐦 pic.twitter.com/vEXneZQFc9

— Chicago Blackhawks (@NHLBlackhawks) February 22, 2023
Did he know at the time it was his last hoorah, essentially making this his goodbye? Kane spoke about the team sticking together and playing for each other. He also said he enjoyed playing with them, and that the standings don't reflect what a good team they've become.
He's now made the decision to go chase another Cup, but he left his teammates with a good message and words of encouragement. Now it's their job to "keep it rolling" without him.  
Domi Departs for Dallas
Just when we all thought we couldn't take any more, the Blackhawks dealt Domi to the Dallas Stars Thursday night, the day before the Mar. 3 deadline. The 28-year-old became a fan favorite this year in Chicago, as well as a beloved leader in the locker room. He was expected to be a complementary piece when the Blackhawks signed him to a one-year deal back in July. But Domi surprised everyone by becoming the top producer to date this season with 18 goals, 31 assists and 49 points. His 53.7% success rate in the faceoff circle didn't hurt either.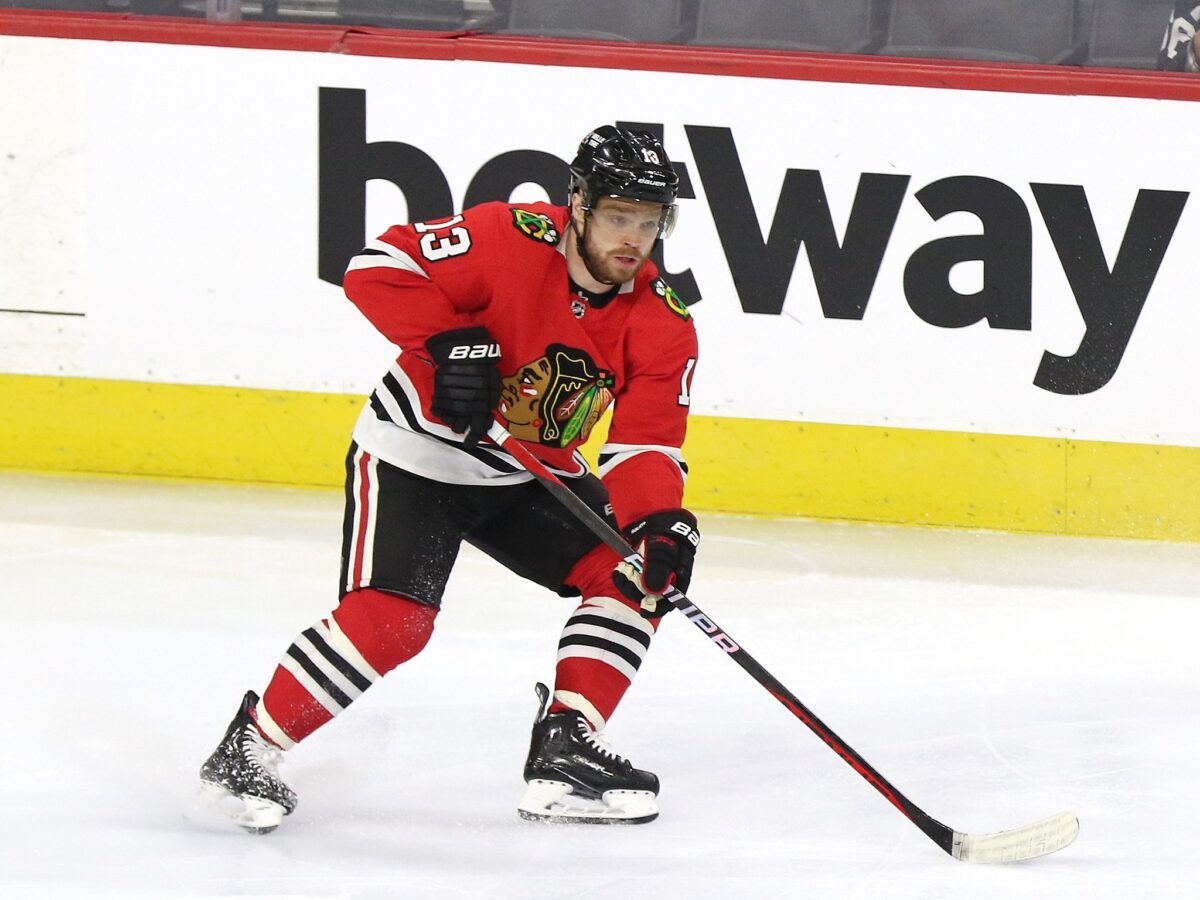 Domi obviously impressed more than just the Blackhawks, because the Stars were willing to give up a 2025 second-round pick and goaltender Anton Khudobin for Domi (and AHL netminder Dylan Wells).
As I alluded to earlier, Domi loved it in Chicago and indicated he would embrace being a part of the rebuild. Many thought the feisty center was a shoo-in for an extension with the Blackhawks. If he didn't get traded, that is.
I personally would be extremely surprised if the Blackhawks don't re-sign Domi in the offseason. So, hopefully this is just a temporary goodbye. Here's an interview from Feb. 27 during the Blackhawks/Anaheim Ducks game.
"You like my lisp, sharpy" 😂 pic.twitter.com/GVOoJxmGbu

— Blackhawks Talk (@NBCSBlackhawks) February 28, 2023
As you can see from this exchange, Domi exudes a natural energy and fun-loving personality that will be hard to replace in the locker room and on the ice. Again, hopefully it will be a short-lived absence.
Related –  Blackhawks News & Rumors: Kane, Gust, Athanasiou & More
The trade deadline has now come and gone, and the Blackhawks are left with a much-depleted team to work with for the next 21 games. It will be interesting to see what head coach Luke Richardson can get out of the remaining roster. But the bigger picture is the rebuild, and the Blackhawks are well on their way, with heavy draft pick returns from the above departed players.
Be sure to keep it here at The Hockey Writers for all the latest news and analysis on the Blackhawks moving forward. In the coming days and weeks, we'll get to know the new additions to the team, and follow along with the continued growth and development through the rest of the season.