New Jersey Devils general manager Tom Fitzgerald continued to bolster his lineup ahead of the 3:00 P.M. NHL Trade Deadline by acquiring depth forward Curtis Lazar from the Vancouver Canucks in exchange for New Jersey's fourth-round pick in the 2024 NHL Draft.
Quick Hits You Need to Know
Draft: 2013 – Ottawa Senators, 1st Round, 17th pick (17th overall)
Age: 28
Position: Listed as a center. During his media availability, he said he's comfortable playing both center and right wing.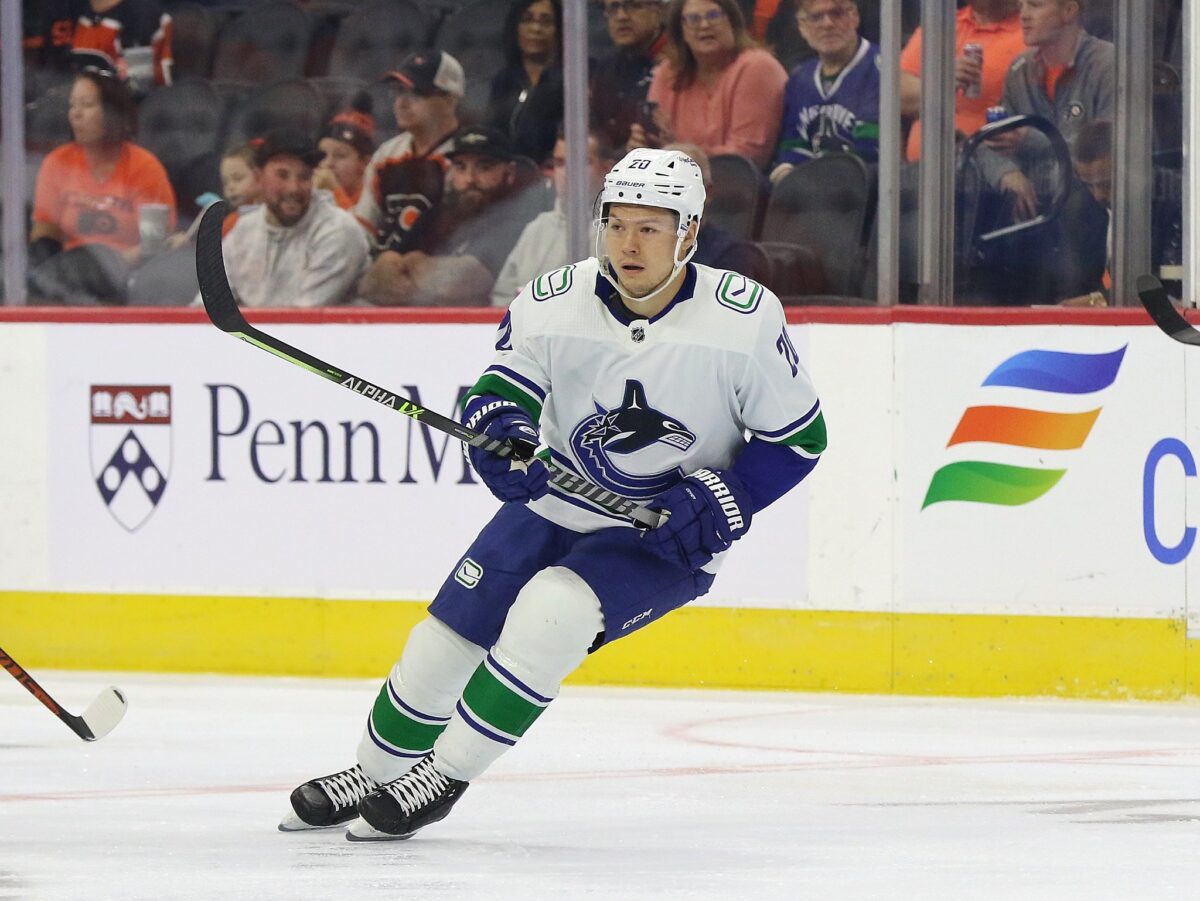 Previous Played For: Ottawa Senators, Calgary Flames, Buffalo Sabres, Boston Bruins, and recently, the Vancouver Canucks.

2022-23 Season: Lazar has collected five points (three goals and two assists) in 45 games with the Canucks this season. He was third on the team with hits (124) and sixth in blocks (49). His faceoff win percentage is 51.9, and he played a majority of the season on a line with Dakota Joshua and Nils Aman.
Current Contract: The Canucks signed Lazar to a three-year contract on July 13, 2022, with an annual average value of $1 million, which expires at the end of the 2024-25 season.
Lazar's Media Availability
The newest Devils forward joined the zoom conference from his place in Vancouver. Sporting a green t-shirt and a giant smile, one of the first things the Devils forward said was, "I just really think I need a laptop. Mine breaks and then here we are."
As he set his screen up for the call, he stated that he was looking for one of his kid's toys in order to make his setup work. The Lazar family unit includes Curtis, his wife Reanne, and his son Owen. The couple is expecting their second son this June. During his availability, Lazar shared that he had previously played with Erik Haula when they were both on the Boston Bruins and Dougie Hamilton as members of the Calgary Flames. Additionally, he shared that he spends his summer training with Damon Severson.
What He Brings to New Jersey
"Don't expect too much creativity from me. Just meat and potatoes hockey."
Lazar is a player who had to reinvent himself to stay in the NHL after being a first-round pick in 2013.

"I was a first-round pick way back in the day who had offensive potential, I guess, and that kind of didn't come true," he said. "So you know to stay in the league, I had to find something that I was good at, and that's being strong defensively, killing penalties, and taking faceoffs. …That's the role that I am, and I wouldn't change it for anything really."
Lazar is expected to fill a bottom-six role with the Devils. As I previously discussed in a recent article, the team's "BMW" Line has struggled to find consistency this season. And with the departure of Fabian Zetterlund, who played on the team's third line, it made sense that GM Fitzgerald traded for another depth forward.
Related: 4 New Jersey Devils Trade Deadline Thoughts
---
Latest News & Highlights
---
I asked my colleague Matthew Zator, who covers the Vancouver Canucks, what Devils fans can expect from their newest winger.

"Lazar is probably the ideal bottom-six center for a playoff team like the Devils. He can win faceoffs, throw the body, and block shots as evidenced by his 124 hits and 49 blocks this season with the Canucks. He spent most of his time on a line with the aforementioned Joshua and Aman. Arguably the most effective trio former head coach Bruce Boudreau deployed, they provided physicality every shift and would score the occasional goal as well. All in all, Lazar could be one of the most under-the-radar additions of this year's trade deadline. As we all know, it's not the stars that make the most difference in the playoffs, it's utility players like him."
Lazar's Connection to Devils Assistant Coach Chris Taylor
During the zoom call, Lazar shared that he has previously played for Devils assistant coach Chris Taylor during his time with the Sabres organization. He credited Taylor with his development.
"Chris Taylor was a big part of my development in Rochester. I owe a lot of my rejuvenating of my career to him. There's still some stuff that I do to this day that he introduced me to," Lazar said about the Devils' assistant coach. "I was in a pretty good mindset (in Rochester) but what he got out of me was just never be content, every day's an opportunity to work on yourself, improve your game, and that really helped me."
All in all, this acquisition may not be as flashy as others throughout the league. But as my colleague mentioned, the stars get their team into the postseason, but it's the depth players, like Lazar, who potentially make the difference in a seven-game series.


---
---