Welcome to the New Jersey Devils 3 Up, 3 Down for the 2022-23 season. Moving forward, this will be a monthly column chronicling the highs and lows from the previous month of action.
Another month is in the books for the New Jersey Devils. The team continued to prove their resiliency by earning impressive comeback victories and stealing two points on more than one occasion. The Devils are one point behind the Carolina Hurricanes to claim first place in the Metropolitan Division.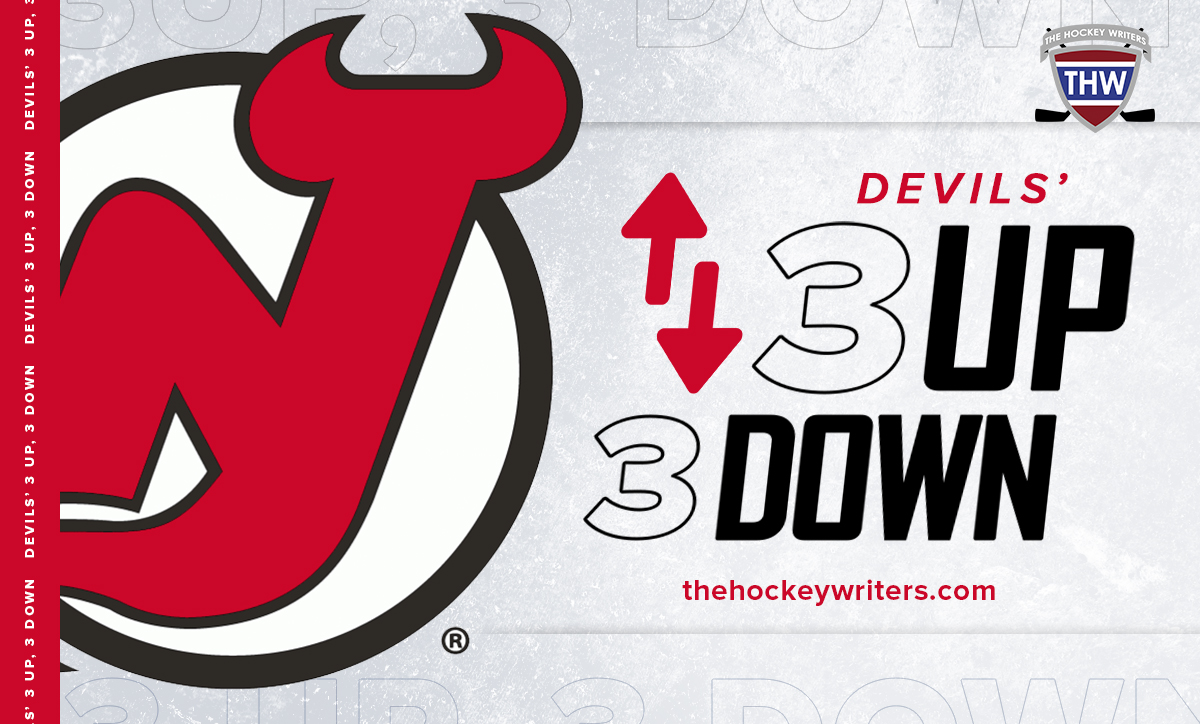 Here's a look at some of the good and bad from the past month for the Devils.
Plus 1: The Addition of Timo Meier
I would be remiss if I didn't mention the trade for Timo Meier, right? The Devils have not extended him to a long-term deal, but as general manager (GM) Tom Fitzgerald explained during his media availability, "we're very confident that what the organization can provide and sell is something that we believe Timo will buy."
Related: Devils Land Timo Meier: What's Next?
---
Latest News & Highlights
---
Of course, in order to get something you have to give something up, and for New Jersey, that included a couple of picks, along with Shakir Mukhamadullin, Nikita Okhotiuk, Andreas Johnsson, and Fabian Zetterlund. The Devils' GM gave the impression that Mukhamadullin was the hardest piece to part with.

"I personally think (Mukhamadullin) is going to be a tremendous NHL player," said Fitzgerald. "But that's the cost of doing business, giving up a prospect like that. Yes, his name is not Hughes or Nemec, but he's still an everyday NHL player that we believe was going to be a top-four (defenseman). Quite honestly, I think he would have helped us this year as a depth defenseman that could come in and help play. With that being said, you have to give to get, and giving (him up) is not easy."
On Feb. 27, head coach Lindy Ruff was asked about Zetterlund's departure and said, "He played well and gave us everything he had. You know, I think in what we gained, we lost something, but he gave us everything he had, and he was a big part of where we're at right now."
Minus 1: The Struggling BMW Line
Ruff's fourth line has struggled, so much so that Nathan Bastian found himself the odd man out and served as a healthy scratch for four games. Miles Wood scored one goal and two assists last month, while Michael McLeod finished with three assists, and Bastian netted one goal.
On Feb. 18, Wood only saw 4:48 of ice time, and after the game, Ruff said he decided to roll three lines, acknowledging Wood's struggles. While players like Bastian, Jesper Boqvist, and Zetterlund all spent time watching the game from the suite, Wood was never pulled out of the lineup.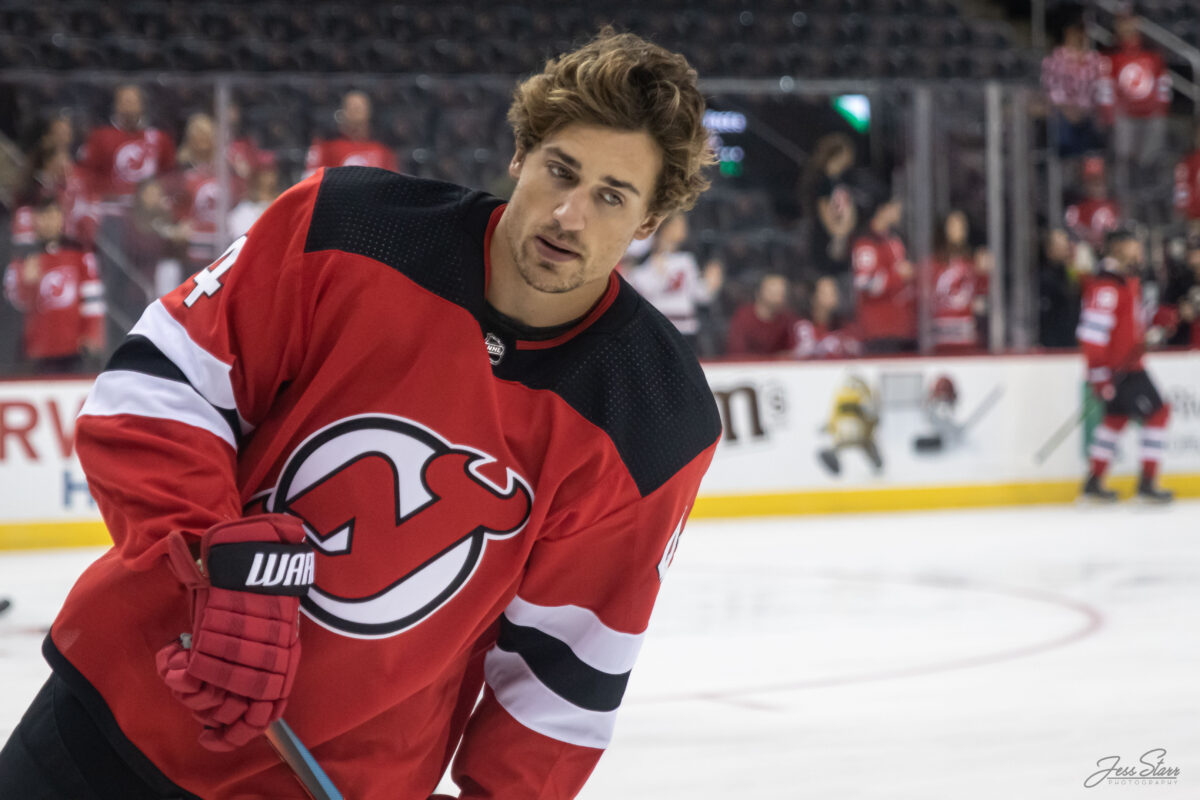 "Just the belief that we need the size, we need the speed," said Ruff. "I know he's struggled, but I've tried to remain a believer that he's the type of guy that can muscle his way through…I'm trying to believe in him, give him his opportunity to find his footing, and get back to playing really good hockey for us."
The trio slowly started finding their rhythm toward the end of the month and, in their last five contests, combined for five points. On Feb. 25, McLeod dropped the gloves for the third time in his career, fighting Nick Seeler of the Philadelphia Flyers. Fitzgerald met with his team earlier this week to see if there were any areas they could improve before the March 3 NHL Trade Deadline, and because of the fourth line's struggles, the organization might focus on finding another depth forward.
Plus 2: The Play of Dawson Mercer
It was a big month for 21-year-old Dawson Mercer. He was a point-per-game player in February with 10 points (eight goals, two assists) in 10 games. He ended the month on a six-game goal streak and has fully taken advantage of playing on the top line alongside Nico Hischier and Tomas Tatar.
Related: Devils' Mercer Continues to Prove He Is Part of Young Core
Additionally, he set a new franchise record by appearing in 141 consecutive games to start his NHL career, surpassing Scott Gomez, who was in the building for the 2003 Stanley Cup championship celebration. After the game, Gomez gave Mercer a puck for breaking his record.
"It's pretty special," said Mercer. "Something that I've been proud of all throughout my career, and for him to be in the building and witness that fantastic night that they had, that special moment. For him to be there and give it to me, it's a special time."
Minus 2: Turnovers & Giveaways & and Odd Man Rushes, Oh my!
The Devils did not play their best hockey last month. Through 10 games, they had 96 giveaways, led by Jack Hughes with 58, but considering his style of play and how often he has the puck, it makes sense. Defenseman Dougie Hamilton ranked second with 53.

It started on Feb. 6, when the Devils blew a 4-1 lead against the Vancouver Canucks, but managed to earn a 5-4 overtime victory in front of their home fans. Ten days later, the Devils suffered their first regulation loss of the month, thanks mostly to turnovers in the defensive zones that led to a 4-2 loss versus the St. Louis Blues.
"I thought we had a terrible night in our own end," Ruff said post-game. "I thought we got beat to pucks. Some of our puck play led to goals against. Turned-over pucks. I think when you turn over pucks, especially against their top line a couple of times, you put yourself in a lot of trouble."
The Devils' defensive game struggled in February, but more times than not the team was celebrating after the final horn, which brings us to our next positive of the month.
Plus 3: 7-2-1 Record
The Devils had a solid month, according to the standings. Their two regulation losses were versus the Blues and Montreal Canadiens, while they fell in the shootout to the Minnesota Wild. The team's ability to win games without putting forth their best effort was impressive.

"Even if we don't bring our best game, we've shown we can win games," said Ryan Graves on Feb. 11. "I don't think we ever feel like we stole a point. We feel we have a good enough team that we should win night in and night out."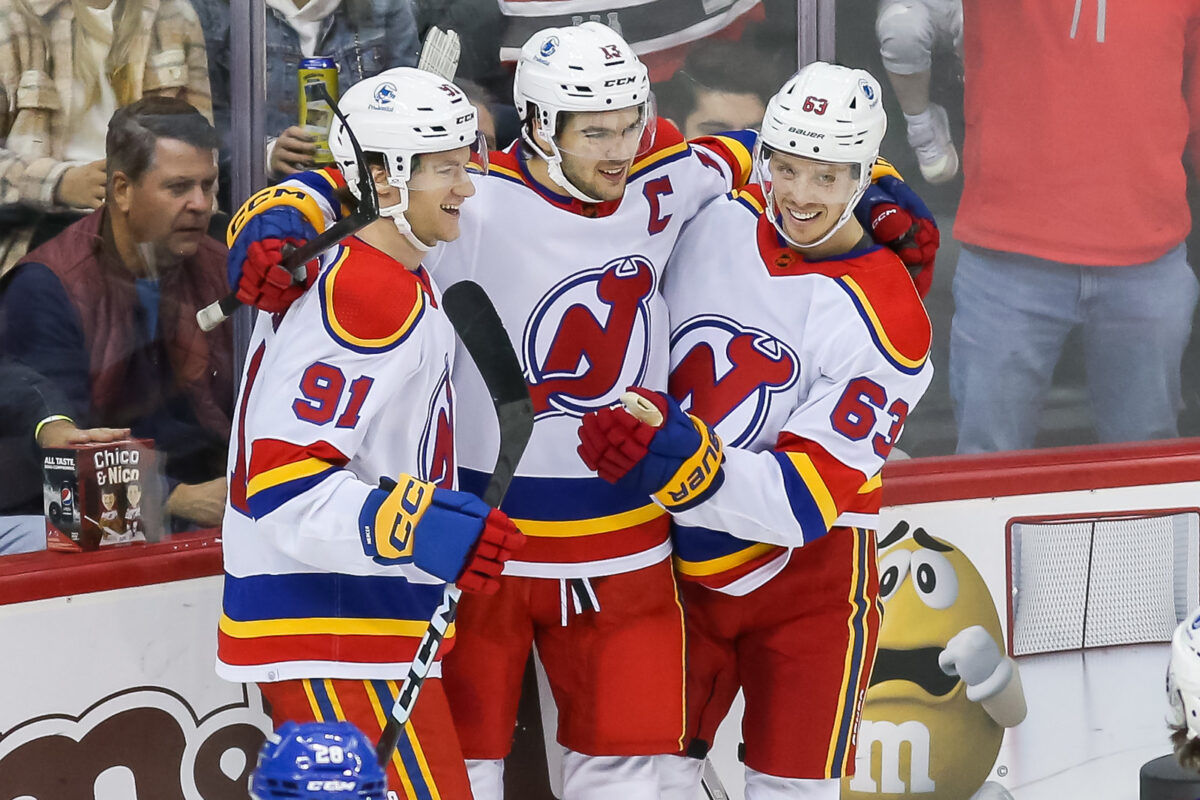 Of their 10 opponents, only five are currently in a playoff spot. Some could argue they had an easy schedule, but considering Hughes missed four games with an injury, the team showed that they do not need to rely on their star to get the job done.
Minus 3: Slow Starts Haunted The Team… Again
The opposition scored the first goal in eight of 10 games in February. Slow starts have been an issue throughout the season, and New Jersey's 21 comeback wins lead the NHL. The club also has nine overtime victories, which, according to Devils PR, tied a franchise record for OT wins in a single season.
The last thing the Devils want is to concede the first goal when they are in the playoffs. This is an area they will continue to work on as they fight for first place in the Division.
That does it for this edition of the Devils' 3 Up, 3 Down. The team will continue their three-game road trip against the Vegas Golden Knights on March 3, who recently acquired Ivan Barbashev from the Blues and Teddy Blueger from the Pittsburgh Penguins.
---
---