The Chicago Blackhawks are almost halfway through the season, and now the focus has been shifted toward the trade deadline on March 3. Up to this point, all the attention has been on what Patrick Kane and Jonathan Toews will decide to do. However, this past week, there have been many rumors surrounding other team players that should be addressed. 
Our Blackhawks team, comprised of myself, Gail Kauchak, and Connor Smith, have come together in this edition of "Blackhawks Roundtable" to share our thoughts on some of the recent trending storylines.
1. Domi's Possible Blackhawks Extension
When the Blackhawks signed Max Domi to a one-year, $3 million contract over the summer, the thought process was that he would be a good placeholder on the top six but ultimately be a trade deadline commodity for assets. However, NHL insiders Elliotte Friedman and Jeff Marek reported on the 32 Thoughts Podcast that the Blackhawks are talking about possibly extending Domi and that moving him at the deadline is not guaranteed. He has had a good season, as he is the second-best scorer on the team behind Patrick Kane with 26 points in 38 games. Is extending Domi the right move?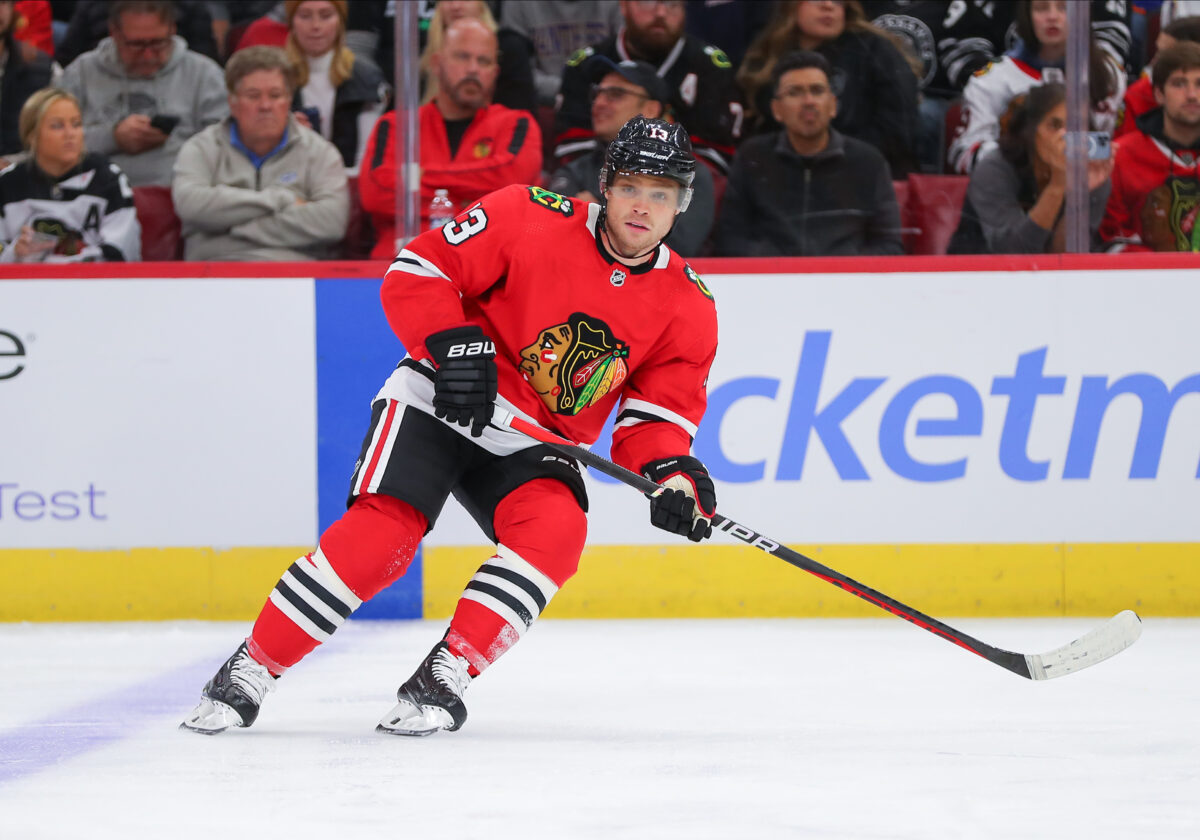 Gail:
I actually wrote about this in my Christmas wishes post. Domi made it very clear he wanted to come to Chicago as soon as he heard Luke Richardson was named as the head coach of the Blackhawks. He played under Richardson when the latter was an assistant coach with the Montreal Canadiens, so Domi knows what the newest bench boss brings to the table. His respect for him was enough to commit to a rebuilding team. That said, Domi only has so much control over the situation. His one-year, $3 million contract doesn't have a no-movement clause, so the organization could still easily trade him if they received the right return. According to a recent article from The Athletic, the Blackhawks would likely start by asking for a first-round draft pick for Domi. But they're more likely to get a second-round pick for him. (from 'Blackhawks trade deadline big board 1.0: Latest on Patrick Kane, Jonathan Toews and more,' The Athletic, 1/1/23)
Related: Blackhawks Getting Much-Needed Passion & Fire From Max Domi
---
Latest News & Highlights
---
But, if the organization doesn't get the kind of return they feel would be beneficial, I don't think it would be a bad decision to keep Domi in the fold, especially if he's expressed interest in staying. After all, the 27-year-old is tied with Jonathan Toews leading the team with 11 goals, and he's currently in second place in assists and points. He sports a 55.9 percent faceoff success rate, plus brings energy and physicality to the ice. He represents a solid overall player to complement a rebuild.
2. Blackhawks & McCabe Possibly Parting Ways
Defenseman Jake McCabe recently spoke to Mark Lazerus of The Athletic about his unhappiness with the team's trajectory, despite the fact he is having a strong season being the only player on the team who is a "plus," with a plus-3 rating. He stated, "I don't really give a (expletive) about my personal stats, to be honest with you. It's all about winning. I've lost a lot in this league, and it's getting old." (from 'Jake McCabe's bounce-back provides little solace in another lost Blackhawks season,' The AthleticNHL, 12/29/2022) Freidman mentioned the Blackhawks are in no rush to move him, but recognize his desire to win and will listen to trade calls. Should the Blackhawks be shopping McCabe?
Connor:
The Blackhawks are in a tough spot with McCabe, no doubt. Despite the constant losing, he's arguably been their most well-rounded defenseman this season, which has been awesome to see after undergoing spine surgery this past offseason. He's shown some great leadership traits, and you need that for a rebuilding club. However, I do believe it would be in the Blackhawks' best interests to move on from McCabe and find him a suitor. After the team's 3-1 loss Dec. 29 against the St. Louis Blues, he told The Athletic he values team success over individual stats. Before coming to Chicago, McCabe spent his whole NHL career (eight seasons) with the Buffalo Sabres, who've been a regular bottom-feeder for most of the last decade. He hasn't exactly had many opportunities to win consistently.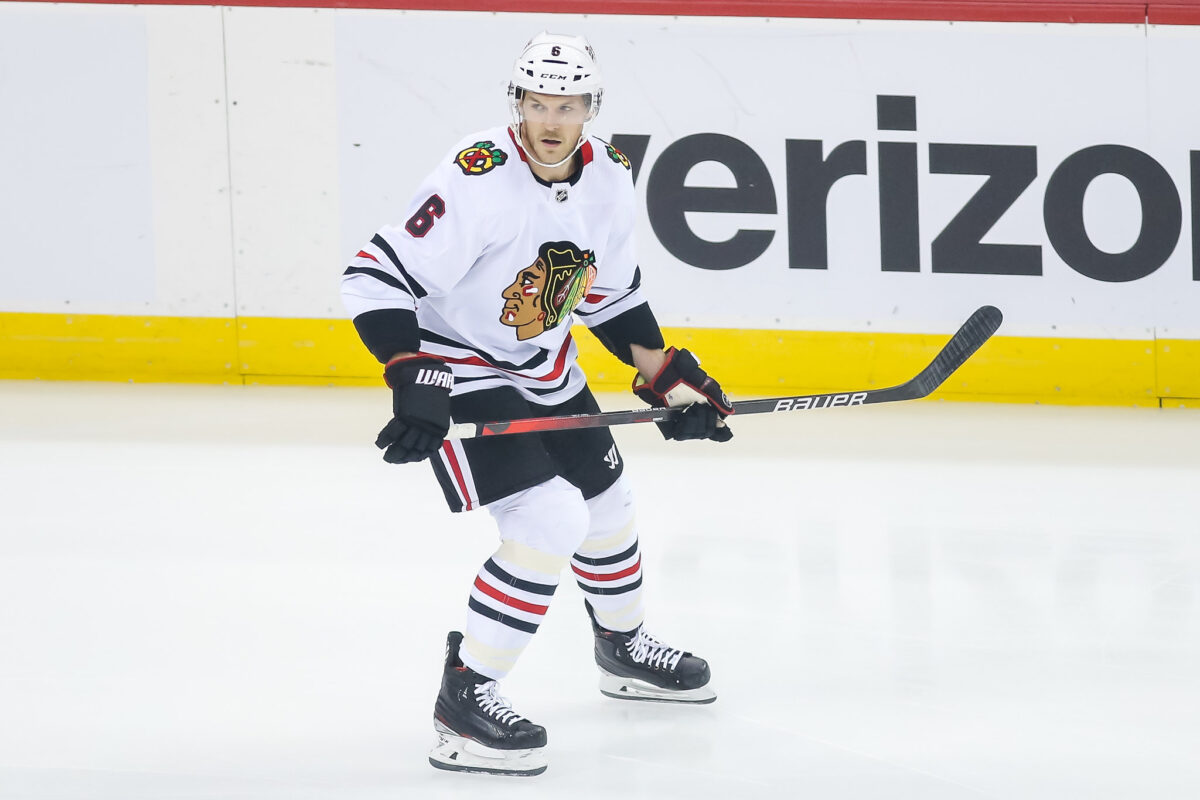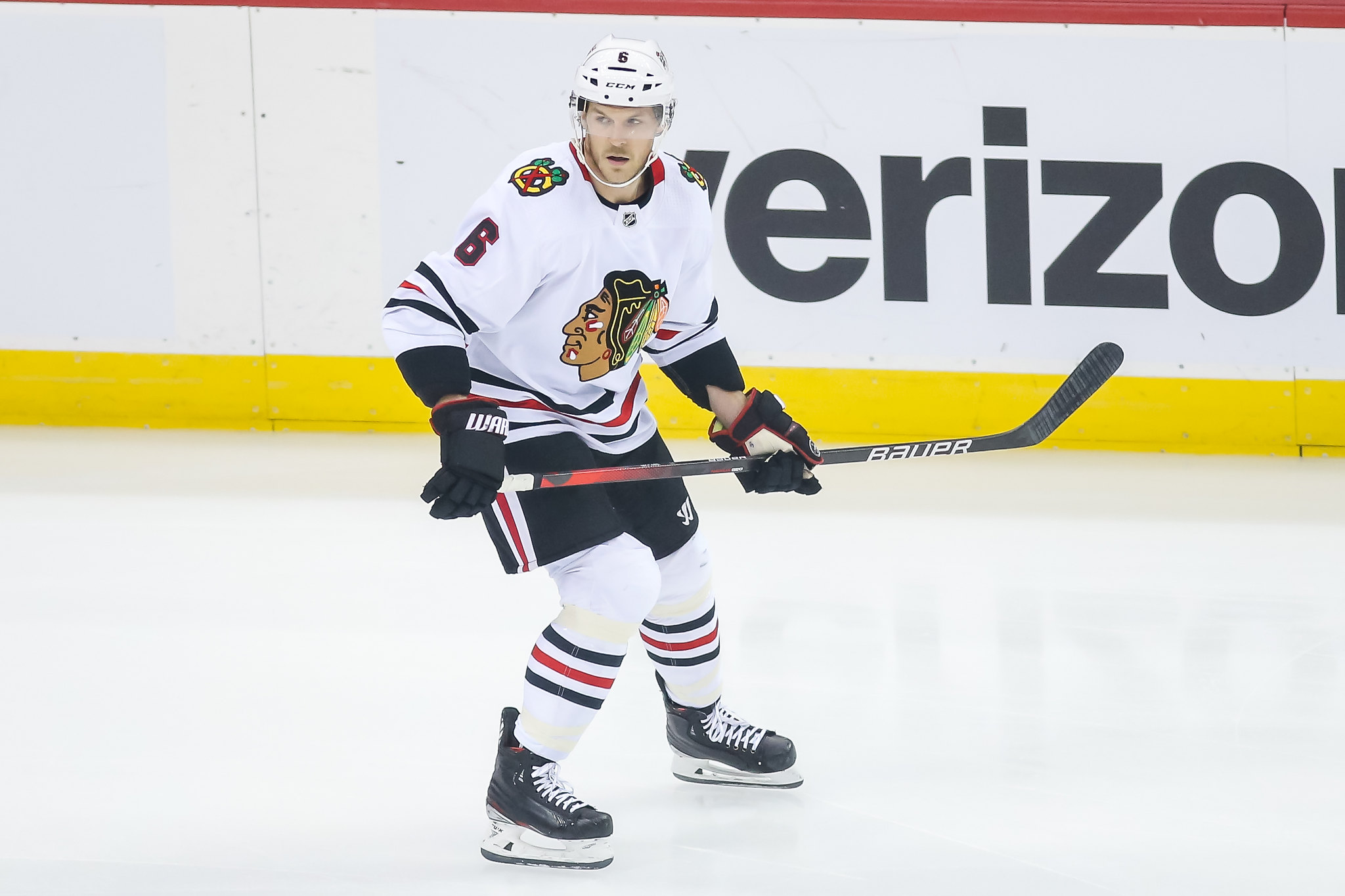 Now, McCabe does have a seven-team no-trade clause. He's also in the second season of a four-year, $16 million contract, so it's not like the Blackhawks brought him in to flip him later, compared to Domi and Andreas Athanasiou. This obviously could reduce his market as he wouldn't be a pure rental, and you could make a pretty good argument this is a lengthy term for a player of McCabe's caliber, a good-but-not great shutdown defenseman. That said, he remains a serviceable top-four option, which many contenders could use right now even if he were to get a lessened role on another team.
Patience will be key for general manager (GM) Kyle Davidson this deadline, and certainly not every move will be a hit for the Blackhawks. For McCabe's sake, however, he's one veteran in particular the team should focus on moving. Maybe he's enjoying it here more than we think, but he'd fit in great on many contenders. It'd be just as good for his confidence to play some meaningful hockey down the stretch, which the Blackhawks won't be doing for years.
3. Blackhawks May Be Shopping Connor Murphy
It's hard to talk about the possibility of McCabe getting moved and not mention Connor Murphy. Both defensemen are in similar situations, as Murphy has yet to play in a true playoff series (Edmonton playoff bubble excluded) in his 10-year career. In addition, he has been linked to the Toronto Maple Leafs for a while, as they need a depth defenseman. The scouting for the trade deadline has begun, and it was reported that representatives for the Blackhawks attended the Maple Leafs and St. Louis Blues game on Jan. 3, which raises some possible questions. Are the Blackhawks possibly shopping Murphy?
Related: Blackhawks Have the Answer to Maple Leafs' Defense Dilemma
Brooke:
It is a possibility that there is a Murphy connection to the Maple Leafs, and maybe one they are exploring. Just because there were representatives at the game doesn't mean anything concrete, but you have to wonder when it comes to the Blackhawks. Murphy is 29 years old, and like McCabe, won't be playing meaningful hockey for a long time if he stays in Chicago. His $17.6 million contract runs through the 2025-26 season, and he has a 10-team no trade list, so moving him may be tricky due to term and because there may be limited options. However, if the Blackhawks are shopping McCabe, they must shop Murphy. Their defense pipeline has many prospects, such as Ian Mitchell, Isaak Phillips, Alex Vlasic, Jakub Galvas, and more to come. Moving him would give prospects more opportunity to prove themselves while aiding a rebuild.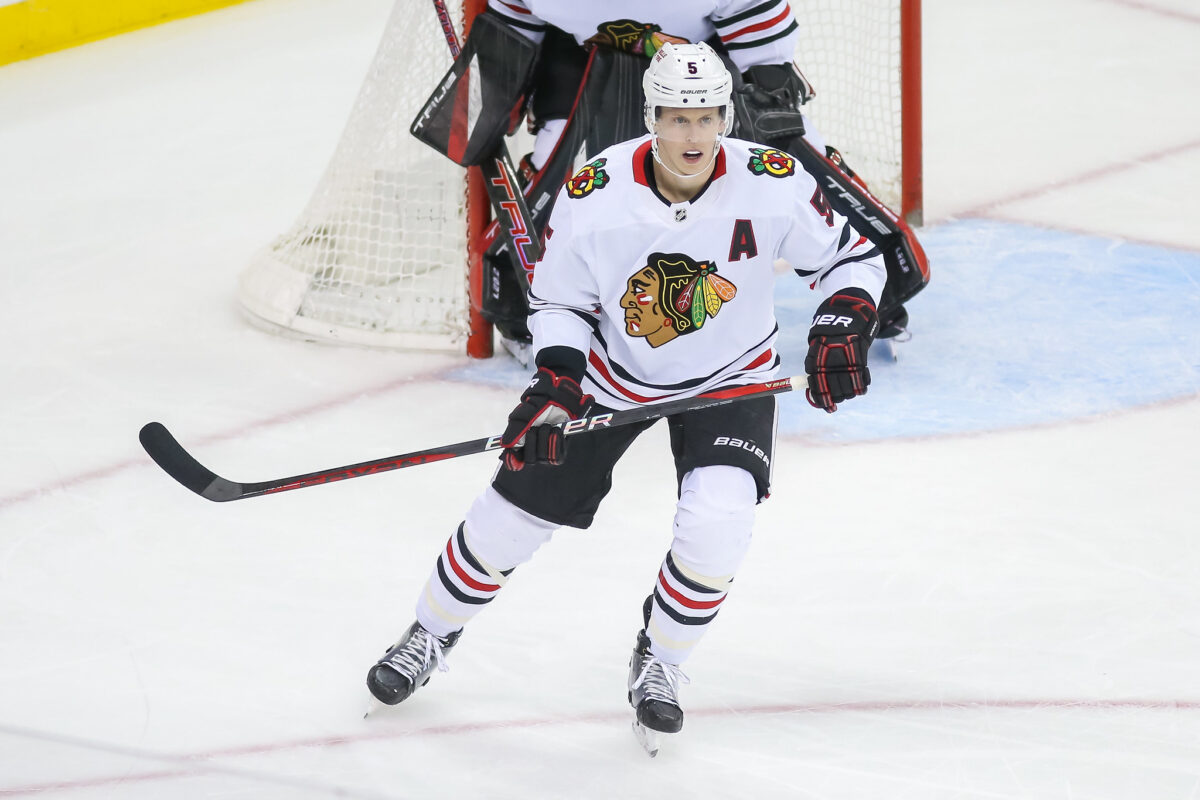 However, it can't be overstated how much Murphy has meant to the Blackhawks over the last six years. He has been their most reliable defenseman who is beloved in the city and the locker room. Even this season, he is fourth-best on the blue line in points, with five points in 38 games. Moving him likely isn't at the top of their priority list as they think so highly of him, and I believe they would be more than happy to keep him if he wants to stay. Yet, when it comes down to it, I think they are listening, as they should.
Bonus: Blackhawks' All-Stars
When it comes to the 2023 NHL All-Star Game, defenseman Seth Jones was voted to be the Blackhawks' representative at the All-Star game. Now, fans get to vote in the remaining players through Jan. 17. Which other Hawks player would you select to join Jones in Sunrise, Florida?
Gail: Toews
No offense to Seth Jones; he likely got the call because they needed more defensemen for the festivities. But if you're going to pick one of the best players on the Blackhawks, I would still go with Jonathan Toews. Sure, you might say Patrick Kane here, and I'm not going to argue with you. But Kaner is dealing with an injury of some sort; he should rest and recuperate. Toews might not be the player he once was, but on this rebuilding team he still represents one of their best players. He's tied with Domi for a team-high 11 goals, and is in third place with 20 points. He also boasts a league-high 64.2 faceoff percentage. Besides, Toews hasn't been to an All-Star Game since 2017. Give the captain one last hoorah and a chance to be honored as one of the best in the game. Who knows how much longer he's going to be around.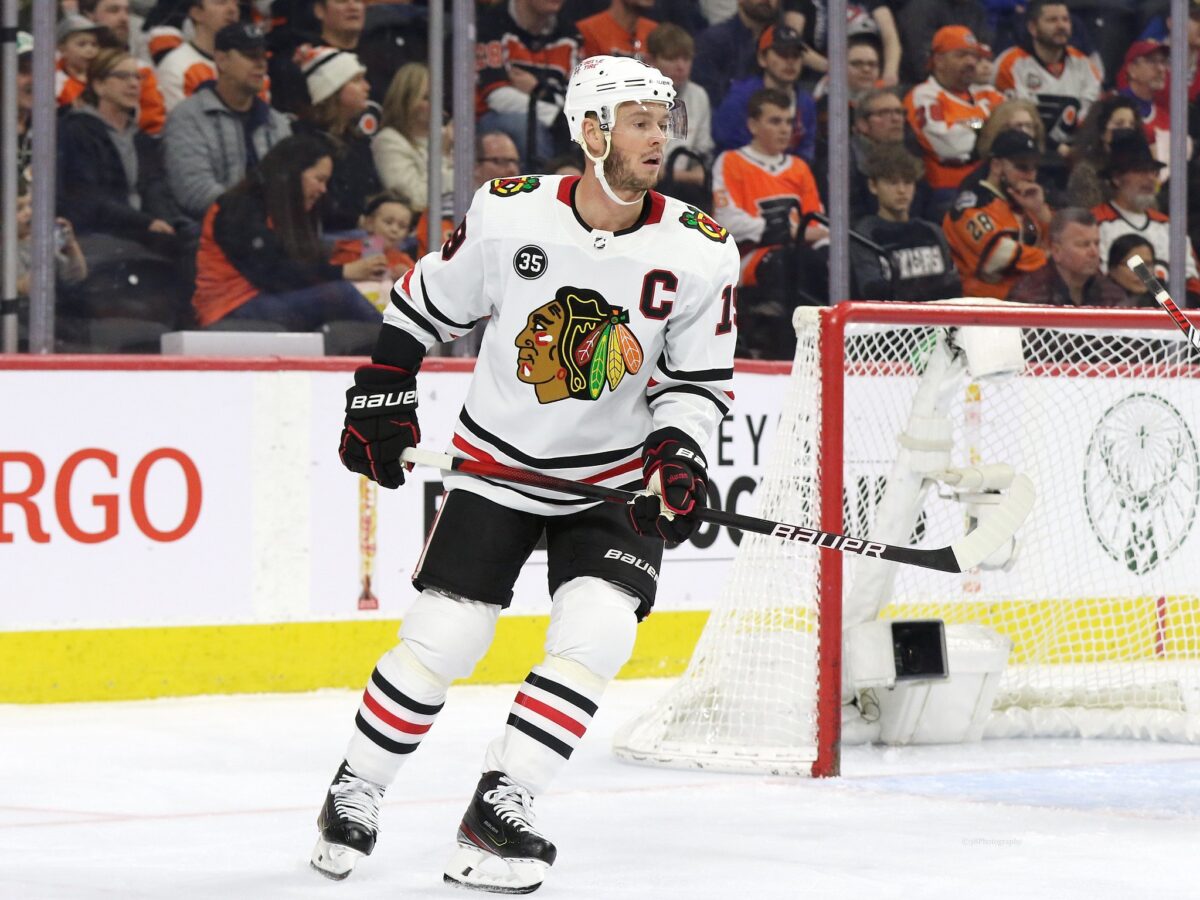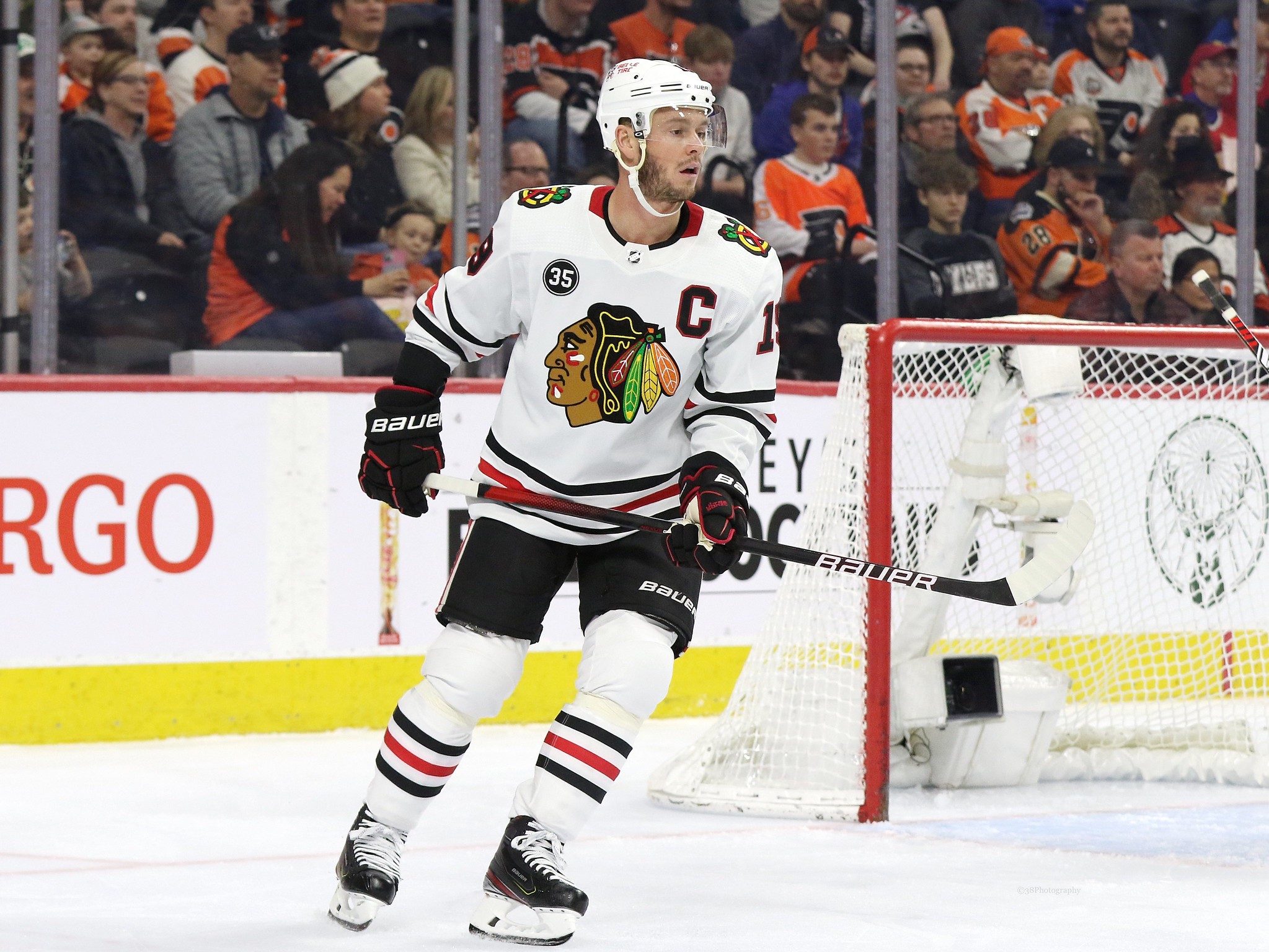 Connor: Domi
While he's cooled down a bit since scoring at a point-per-game pace over the Blackhawks' first seven games, Domi has been one of the team's most versatile and reliable forwards this season. The hustle and the work ethic is consistently there, and though he's nowhere close to matching his career-high of 72 points, he's embraced the team's culture well under head coach Luke Richardson. Aside from his performance, he also brings great character, which you love to see from an All-Star. It remains to be seen where he'll be after deadline day, but I'll go with Domi should the team get another representative.
Brooke: Stalock
Goaltender Alex Stalock would be a good pick. He has been so much fun to watch with the energy he brings. He always looks like he is having a blast. Despite Chicago being the worst team in the league, he has a solid 5-5-1 record with a 2.50 goals-against average and a .921 save percentage in 12 games. He also recorded the team's first shutout of the season against the Arizona Coyotes on Jan. 6. It has been incredible to watch him perform at such a high level because he has dealt with such adversity. He was diagnosed with Myocarditis in 2020 and missed almost all last season, then got a concussion that had him miss a month of game time this year. The 35-year-old has never made the All-Star team during his 11-year career, so that would be a feel-good story if he made it. Furthermore, he has been one of the Blackhawks' best players this year. 
What do you say, Blackhawks fans? Who should stay, and who should go? The team will surely be busy between now and the trade deadline, so keep your eyes on these three players going forward!
---
---
Just a small-town girl with Midwestern charm, combined with a love of dogs, writing, frappuccinos, Chicago-isms, sports, and a whole lot of Blackhawks hockey. I have covered the Chicago Blackhawks since 2020 and am passionate about sharing in-depth analysis within the team and highlighting the fun because, after all, hockey is fun! You can quickly connect with me on Twitter: @brooke_lofo.