For those of you that follow along on a regular basis, you might know that Alex DeBrincat has already been chosen by The Hockey Writer's staff as the Chicago Blackhawks' Star of the Week not once, but twice already this season. Well, I'm here to tell you I believe he deserves it yet again as we head into the half-way point of the 2020-21 season. DeBrincat's career milestones, as well as his contributions this past week in the three-game series against the Tampa Bay Lightning, deserves recognition. Here's the why and the how.
The Big 100 and Then Some
This past Friday night DeBrincat procured his 100th and 101st career goals. His 100th goal was also his 200th point, having been credited with his 100th assist two games prior. This lends to DeBrincat being a very well-rounded and balanced player. He's also improved on the defensive side of his game, buying into that relentless style of play that is the Blackhawks motto this season. His playmaking ability and responsibility on both sides of the puck continue to make him a huge asset for the Blackhawks.
The 23-year-old accomplished his 100 goals in only 255 games, with only four other active U.S. born players able to do this in less time.
Alex DeBrincat scored his 100th career regular-season goal on Friday (255 GP). Only four active U.S.-born players required fewer games to reach the mark: Auston Matthews (187 GP), Bobby Ryan (230 GP), Kyle Connor (245 GP) and Jake Guentzel (249 GP). #NHLStats pic.twitter.com/5Bgk5spZMc

— NHL Public Relations (@PR_NHL) March 6, 2021
He also joins a select group of Blackhawks' players who scored 100 or more goals in their fourth season, including linemate and partner-in-crime Patrick Kane. Now we all know Kane just recently scored his 400th goal and is on track (or already is, depending on who you ask) to be one of the best American-born players of all-time. Heck, I'll go a step further and say Kane could easily be one of the best hockey players of all-time, period. Anyway, you get the idea.
Related – Blackhawks Prove They Can Hang With the Lightning
In case you were wondering, it took Kane 306 games to reach 100 career-goals, 51 more games than DeBrincat. I think it's safe to say that the Cat, as fans affectionately call him, is on his way to a long and productive career.
DeBrincat's Current Numbers
Getting back to this past week, on Thursday DeBrincat added to the score to make it a 2-0 game with a goal in the second period against the Lightning. He was at the right place at the right time in front of the net, and tipped in a shot from Kane. We already discussed the winger's two-goal outing from Friday above.
Sunday unfortunately marked the end of an eight-game point streak for DeBrincat. But in that streak he recorded six goals and six assists, including five tallies in the last four games. He currently leads the team with 14 goals, and sits second place on the team (behind Kane) with 14 assists and 28 points. Being on the top line and the top power play unit, these two consistently lead all forwards in ice time. It's clear DeBrincat is joining Kane as a driving force behind the Blackhawks' success.
A Rising Star
DeBrincat proved he was a talented hockey player even before his NHL career when he played for the OHL Erie Otters. He was especially good at scoring goals. And yes, despite his diminutive size (5-foot-7), his talents did translate to the NHL. In the 2017-18 season, he made the Blackhawks team straight out of training camp and never looked back.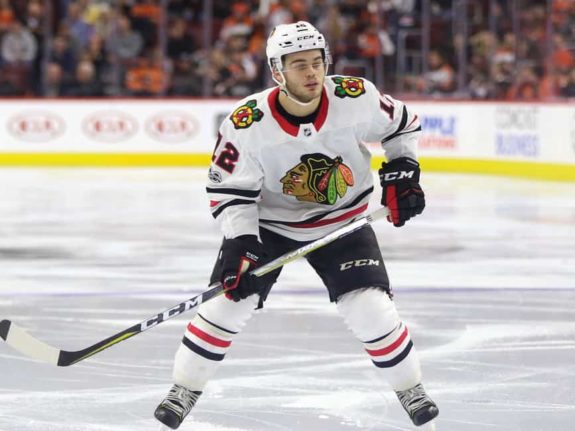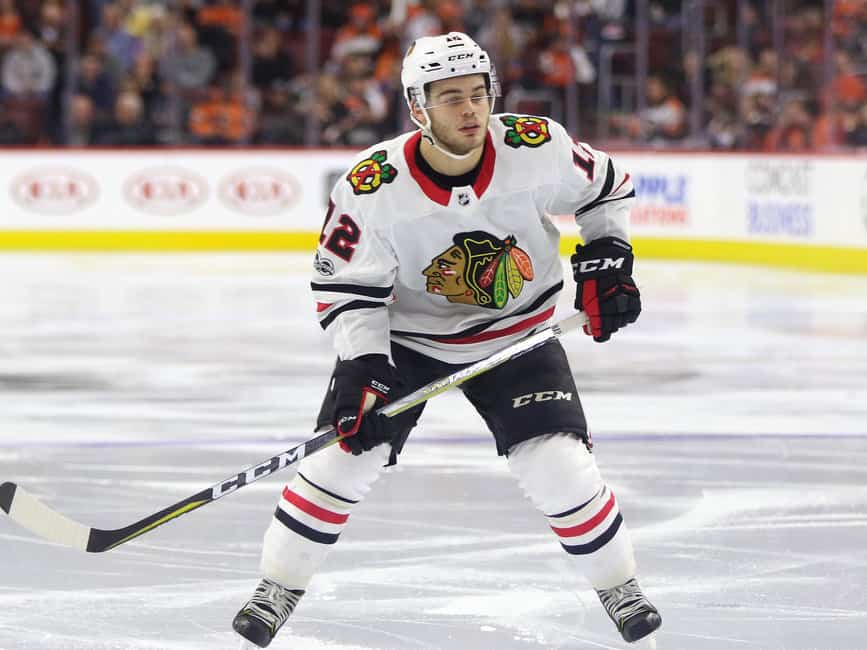 After a 28-goal rookie campaign, he recorded 41!! goals in the 2018-19 season. DeBrincat endured a bit of a slump in production last season, but most hockey fans knew he was still doing a lot of the right things and it would turn around for him. This certainly seems to be the case this season!
To steal a quote from my colleague Greg in his last Star of the Week post regarding DeBrincat, "We could be witnessing a very good player taking the jump to become a superstar." I couldn't agree more.
Related – Blackhawks Have a Challenging Month Ahead of Them
DeBrincat will be looking to start a new streak on Tuesday when the Blackhawks meet the Dallas Stars for their next set of games. How many goals will he score this season? Will he continue his well-rounded play with assists and defensive contributions? And will he surpass Kane with any of his numbers?
All things to keep an eye on as this season continues to unfold. Congratulations to the Cat for being a 3-time Star of the Week!
---
---
Looking for more Blackhawks content? Tune in to The Hockey Writers YouTube Channel or our Facebook Page for our weekly Blackhawks Banter show. Episode 17 is featured below.