Heading into the 2023 NHL Draft, the St. Louis Blues own nine draft picks, three of which are in the first round: 10 (their own), 25 (from the Toronto Maple Leafs), and 29 (from the Dallas Stars via New York Rangers). This will mark the first time the Blues have picked inside the top-10 since 2008 when they selected Alex Pietrangelo fourth overall. This is also the highest the organization has selected in the draft since 2010 when they used the 14th overall pick on Jaden Schwartz.
Dating back to 2014, the Blues have used their last eight first-round picks on forwards. The last non-forward taken was defenseman Jordan Schmaltz at 25th overall in 2012. In owning three first-round picks, general manager Doug Armstrong will have plenty of options (and offers) to consider. He'll have the ability to either inject three high-end prospects into the pipeline, use one or two of them to move up in the first round, or utilize one of their later picks to acquire NHL talent to help the club through their re-tool.

Utilizing the mock draft simulator at FC Hockey, we'll dive into each of their three first-round picks and who I think they could take with each selection.
First Round – 10th Overall: Ryan Leonard, C, U.S. National U18 Team (NTDP)
If Ryan Leonard is still available when the Blues select at 10, they should be sprinting to the podium to make this selection. Few forwards in this class possess a legitimate two-way, 200-foot game at the same level as Leonard. In 57 games this season for the US National U18 team, he posted 51 goals and 94 total points. He's also spent time at every forward position, proving he should be able to easily assimilate into any scheme at the next level.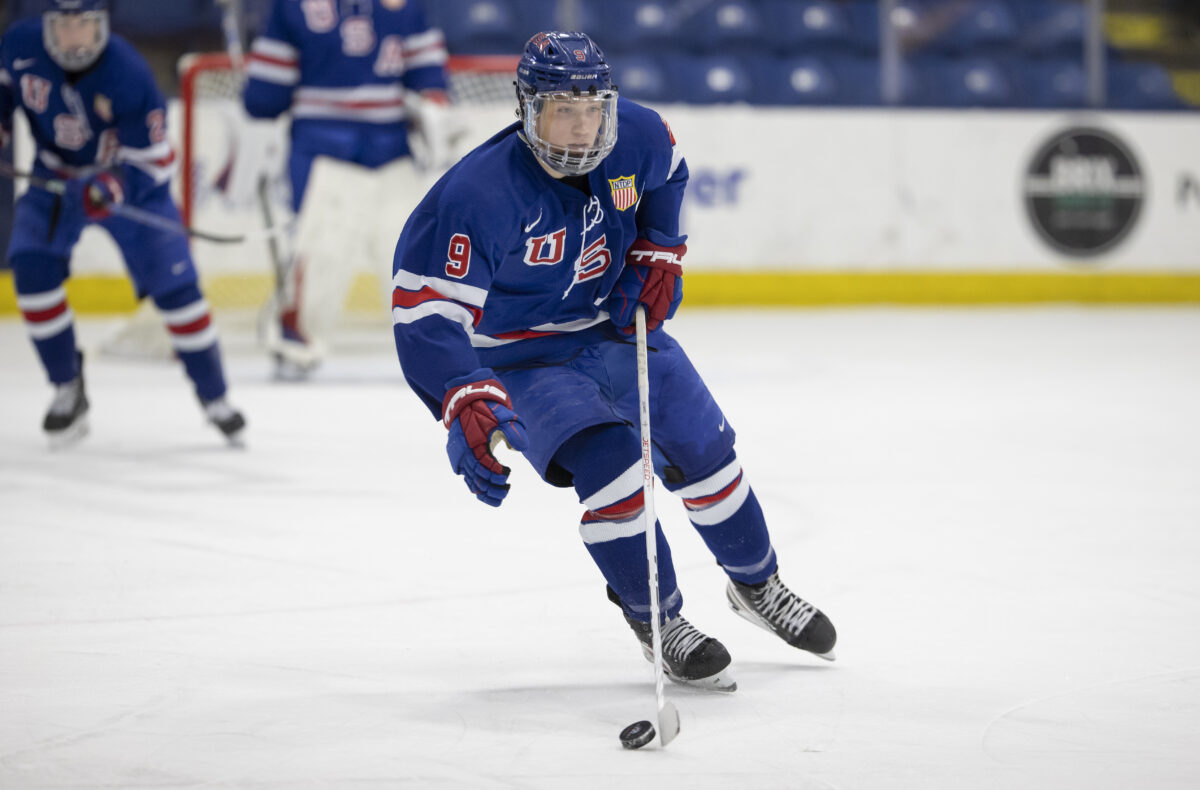 Despite being 6 feet tall, Leonard displays the same physical, gritty, in-your-face play style that was ever present during the 2023 Stanley Cup Final. Many have likened his style to that of Matthew Tkachuk in that he's going to be a complete player at both ends of the ice while doing everything he can to get under the opponent's skin. He's committed to playing at Boston College in 2023-24, but he's one of the few players from this class whose game is close to NHL-ready.
Related: 2023 NHL Draft Guide
In consideration: RD Tom Willander, C Dalibor Dvorsky
First Round – 25th Overall: Oliver Bonk, RD, London Knights (OHL)
With the Blues' lack of top-end defensive talent within their minor league system, many have them taking a defender somewhere within the first round. If they still own this pick come draft night, I believe they will take right-handed defenseman Oliver Bonk. At 6-foot-1 and 180 pounds, he's a solid two-way defender who has enough size and skill to be a projectable top-four blueliner at the NHL level.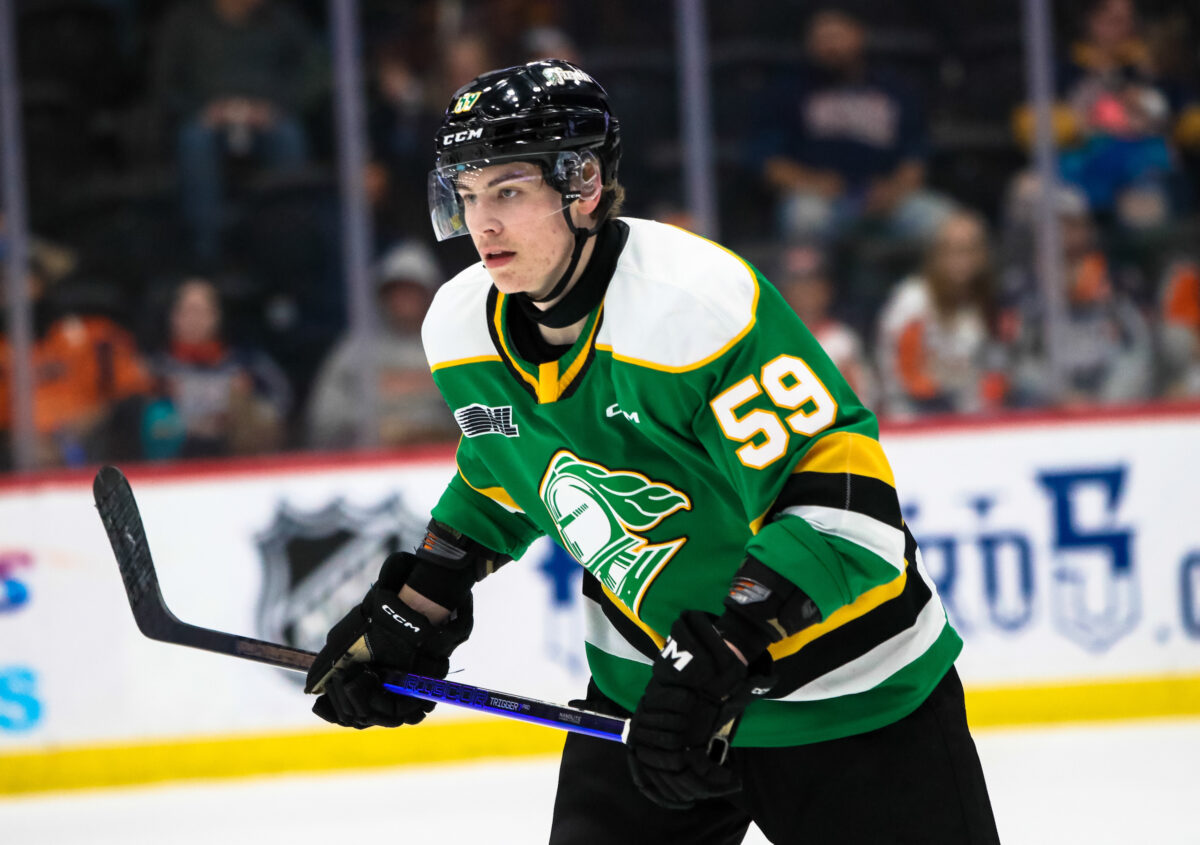 Son of former NHLer Radek Bonk, Oliver had a terrific season for the London Knights of the Ontario Hockey League (OHL). In 67 regular season games, he scored 40 points (10 goals); while registering 11 more points (11 assists) in 21 postseason matches. His greatest skills are perhaps his ability to exit his own zone cleanly, either while skating or with a smooth transition pass, and his willingness to play a physical game. Should he be available at 25, he'd be a terrific selection.
---
Latest News & Highlights
---
In consideration: LD Tanner Molendyk, RW Charlie Stramel
First Round – 29th Overall: David Edstrom, C, Frölunda HC J20 (J20 Nationell)
Rather than going with another defender here like Tanner Molendyk or Etienne Morin, it was too difficult for me not to take 6-foot-3 center David Edstrom. Similar to my previous selections in Leonard and Bonk, Edstrom is another two-way player who takes care of business equally at both ends of the ice. He performed well for Frölunda HC J20 (Sweden's top junior league), scoring at a point-per-game pace with 28 points (15 goals) in 28 games. He followed that up with a solid showing for Sweden at the World Junior Championship with eight points (five goals) in seven games.
He's a smart all-around player with a very high hockey IQ, often opting to make the smaller and smarter play over a more risky one. If he can unlock some of the more aggressive aspects of his game, he could end up being one of the top-10 players taken in this draft. Overall, he's one of the more hardworking players when he's on the ice and is deserving of a first-round selection.
In consideration: G Michael Hrabal, LW Daniil But
If the Blues were able to land these three players in the first round, I think they would have to be extremely pleased with how the draft board fell to them. However, making three selections who are at the very least two-to-three years away would be a signal to the fan base that they are rebuilding. That's why I don't believe they'll be making three selections in the first round when all is said and done. Blues fans should buckle up and be prepared for a very eventful evening on June 28.